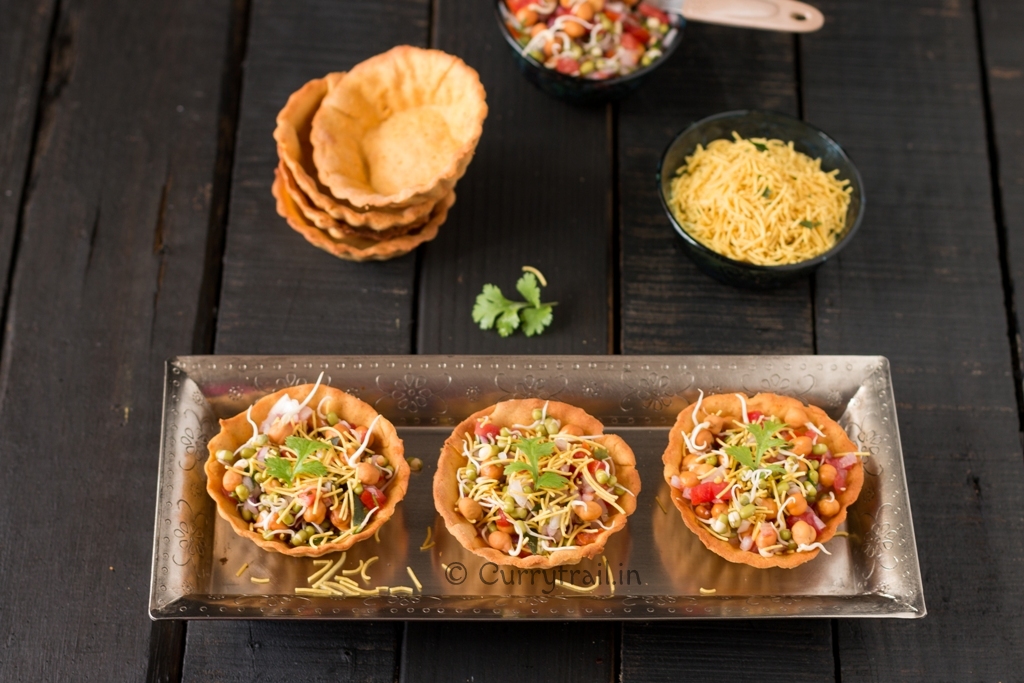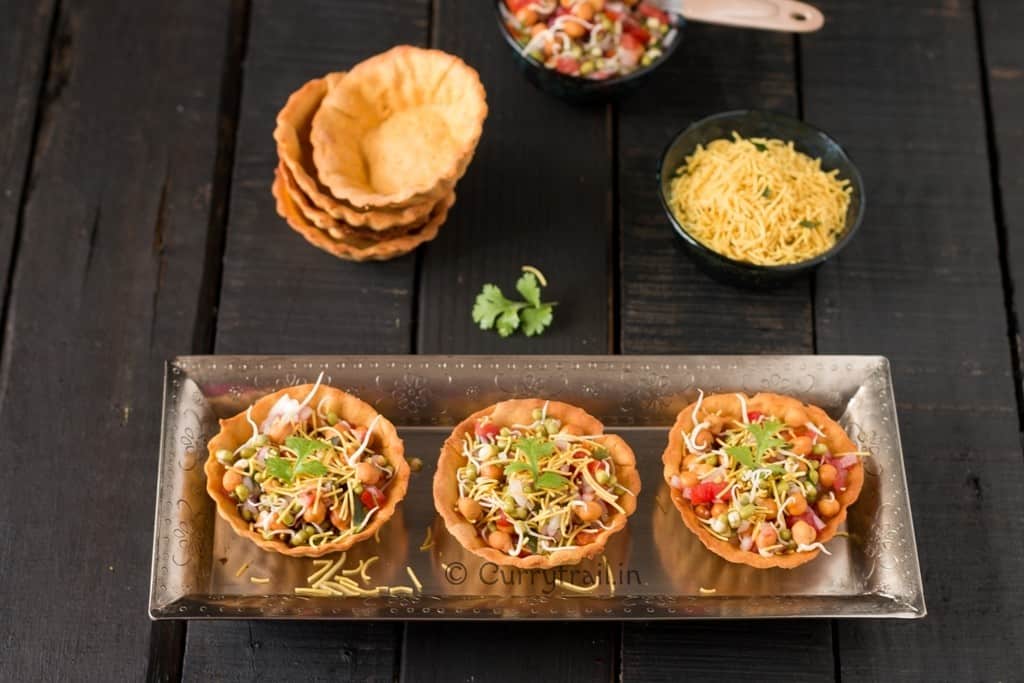 Deserted through the day, the cosy corners and stretched roads comes alive every evening! With the evening cool breeze blowing through my hair, a relaxed leisurely stroll in the evening on the footpath, and busy hustle and bustle in the market which is just a little ahead. Suddenly my nose catches the wafting smell. I turn and I could barely see this humble cart whose wheels are the only part seen from far. It was crowded and covered, there are no chairs to sit nor tables to stand next to. All I could see was people holding plates and bowls made of palm leaf or some kind of leaf and eating some thing. It made me curious! I must have been 12 or 13!
I told mom I wanted to eat that, without a clue of what it was! Mom took us near by and she asked the vendor to give us 2 plates of a name that I never heard before. In the over crowded place I could vaguely hear "masala puri". I thought they were selling puris(deep fried puffed breads). I was trying to go over my toes to check what the vendor was doing and how was he platting it! I was short then, My eyes could barely reach the surface of the cart. Even before I could get a glimpse of what all he had on the surface his cart, the vendor passed 2 plates to mom and mom passed it down to us. Surprised to see no puris I was trying to understand what the dish was. It definitely looked exciting. There was a whole lot of food stuffs on the plate. With all the analyses running in my mind trying to figure out the dish, mom with loud voice said, "Eat fast, we are getting late!" The place I grew up used to get dark and deserted by 8 PM. And we used to walk to the market and back home those days. The dark poorly lit roads were sometimes scary and I would literally run behind my mom who would walk fast so we reach home soon and safe!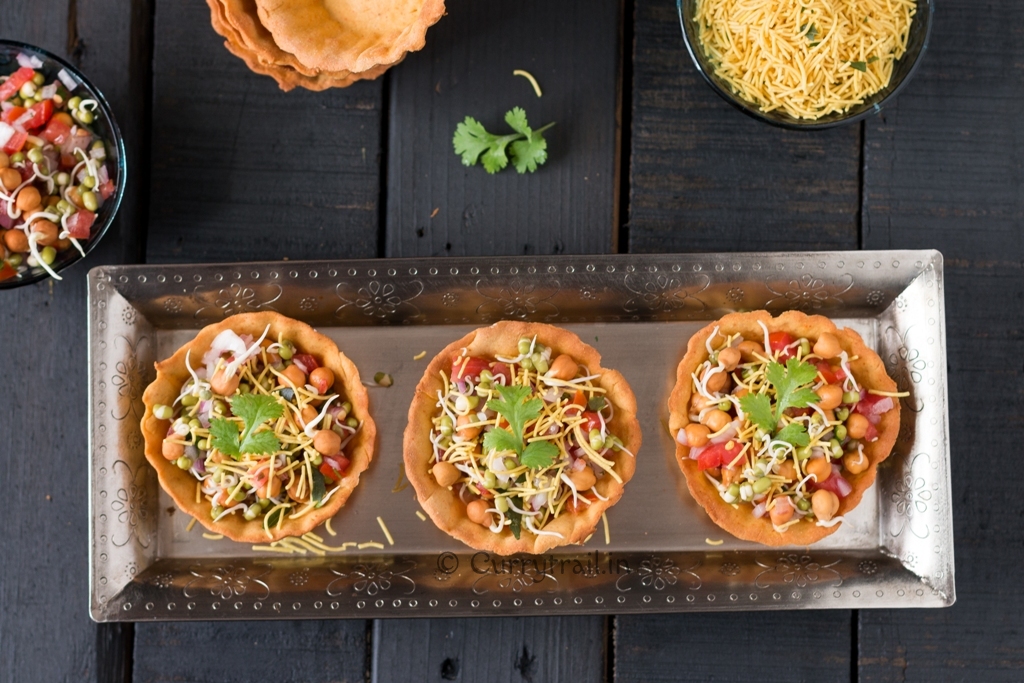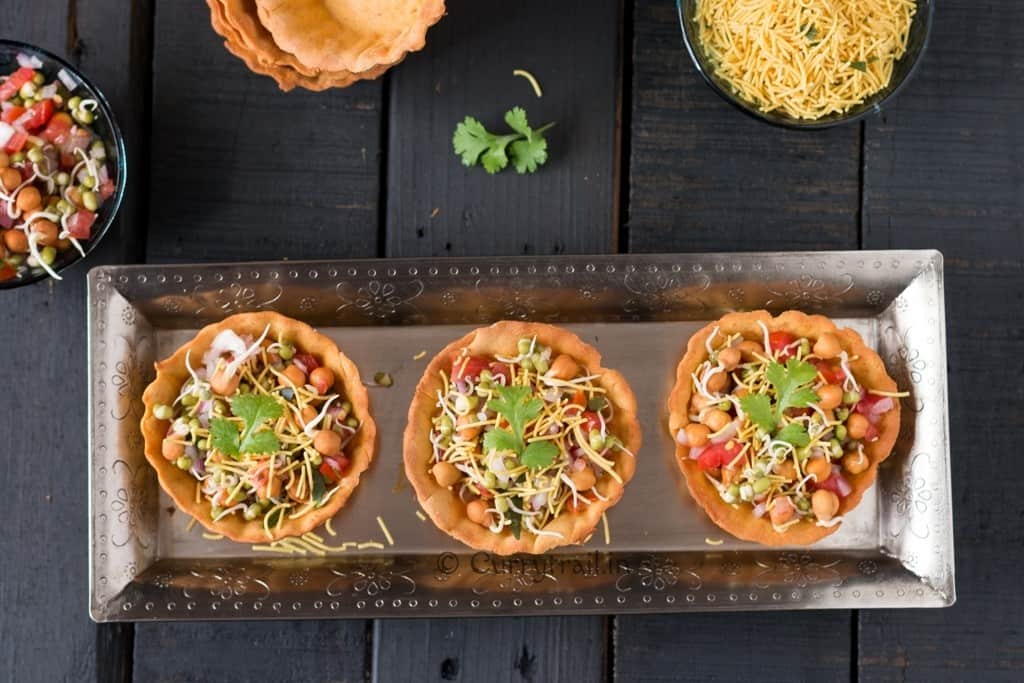 The food was placed on some kind of eco friendly plate with was very flimsy which in turn was placed on a ceramic plate! Those days no plastics were used. We had stainless steel or ceramics. A stainless steel spoon was placed on the plate so I understood this has to be eaten with spoon and not hands. I quickly took the first bite! I still remember the first bite ever… it was like fireworks in my mouth and I'm sure people around me could tell by the way my eyes lit up! That was debut, my first ever chaat I tasted. And I instantly fell in love with it and learnt the words, "chaat", "masala puri", "Bhel puri", "Pani puri"! From then on we would go regularly and I would try out every time a different chaat.
Chaats were not very popular down South, at least those days. We had very few items unlike the actual varieties. There were just 4 items and the vendor would make it with a bit of South Indian influence to the chaat. I guess I liked it much because of the acquired taste. Up North chaat is a cultural tradition. Every region has it's own variations and every region is known for it's own popular chaat item.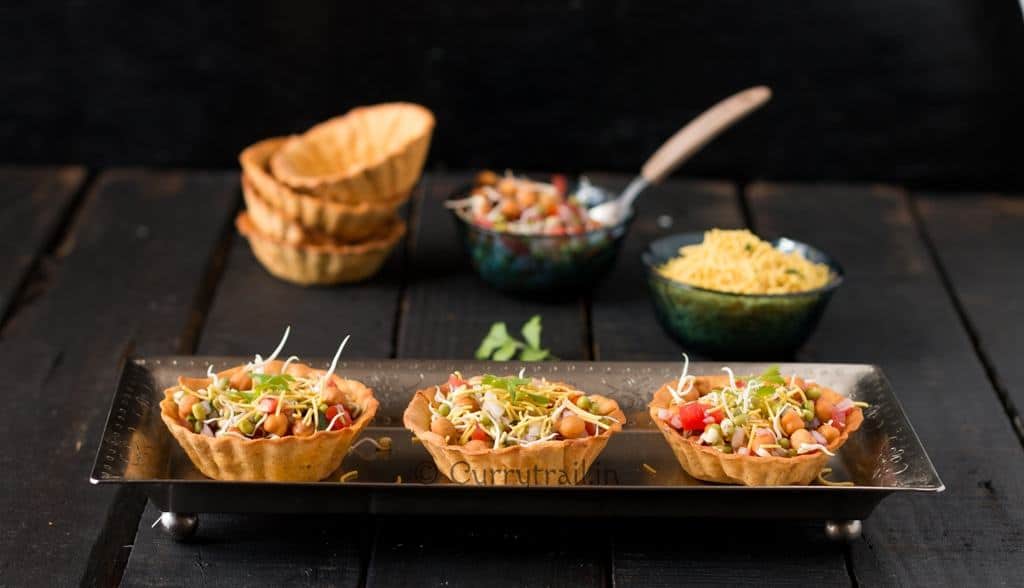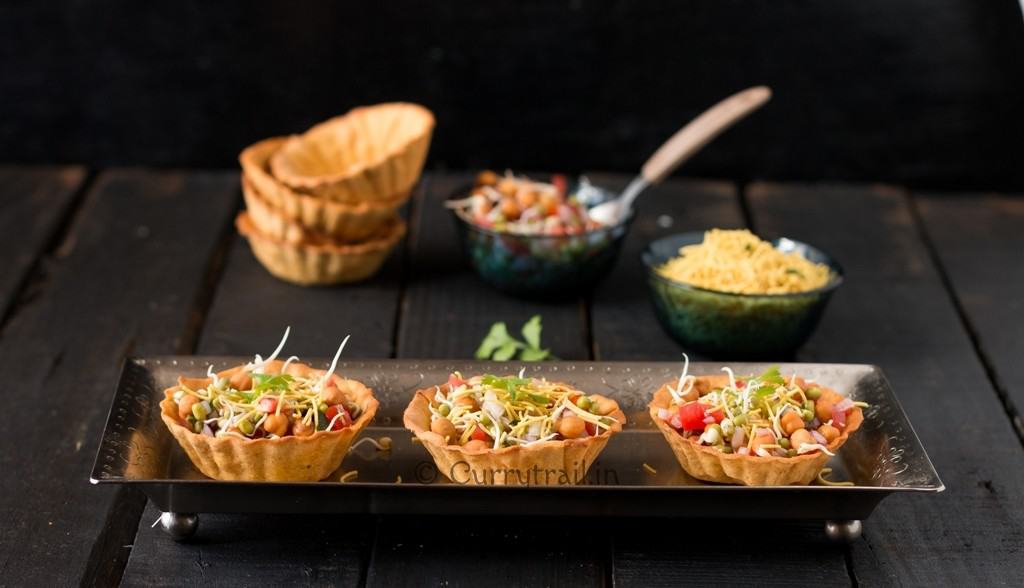 The origin of the word "Chaat" can be derived from the hindi word, "Chatpatta" which be best described as salty, sweet and tangy in most savory snacks and foods. Chaats are considered as finger licking foods, so there is a possibility that the hindi word 'chatna" which means to lick the fingers.
The road side foods are specialty of Indian cities and reflection of India's culture and tradition. Stall vendors of street offers different kinds of delicious and tasty food such as famous chole bhature,Parathas, samosas, dosas, Jhalmuri to variety of chaat items and kulfis and many more! With a variety that is unmatched, eating on the streets is a cultural tradition.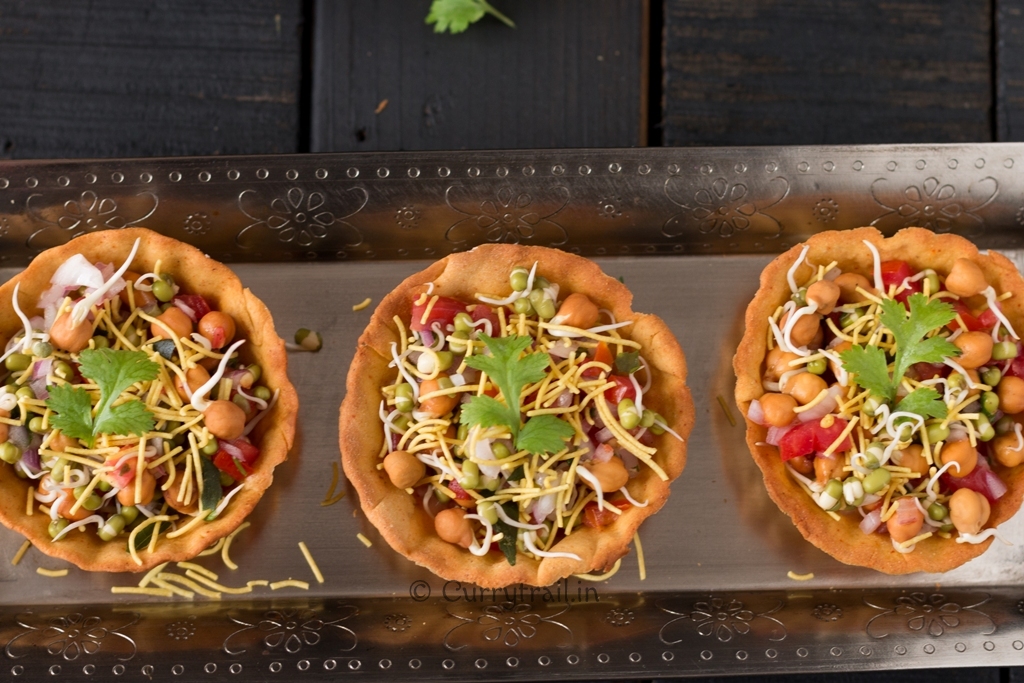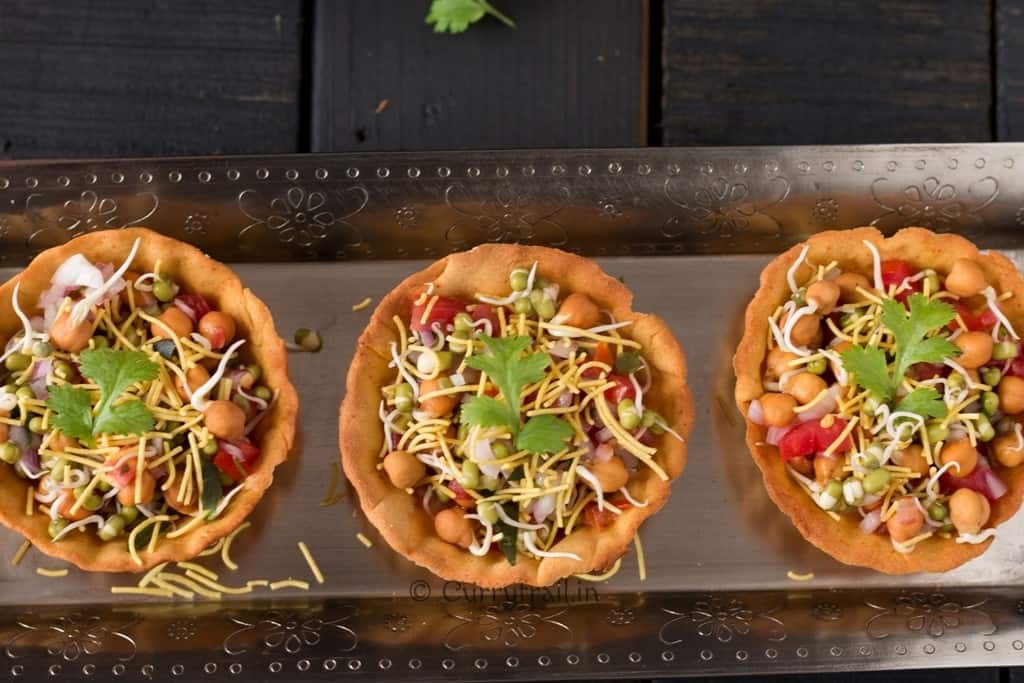 Chaats are best enjoyed when eaten on the road side stall, which is also believed as a traditional way to eat it! But with the taste that is finger licking good comes a question of hygiene and food safety! That should never stop us from savoring our most craved street food, right! When you can make it at home with the prize of 100% hygiene and safe there is also a benefit of making it healthy by adapting the recipe as per your personal choice.
Chaats are not part of the meal, they are eating mid meal snacks as after school snack or in the evenings before the dinner! It can also be served as a appetizer. Having a party or get together, chaats always are welcomed and most liked dish among youngers and adults.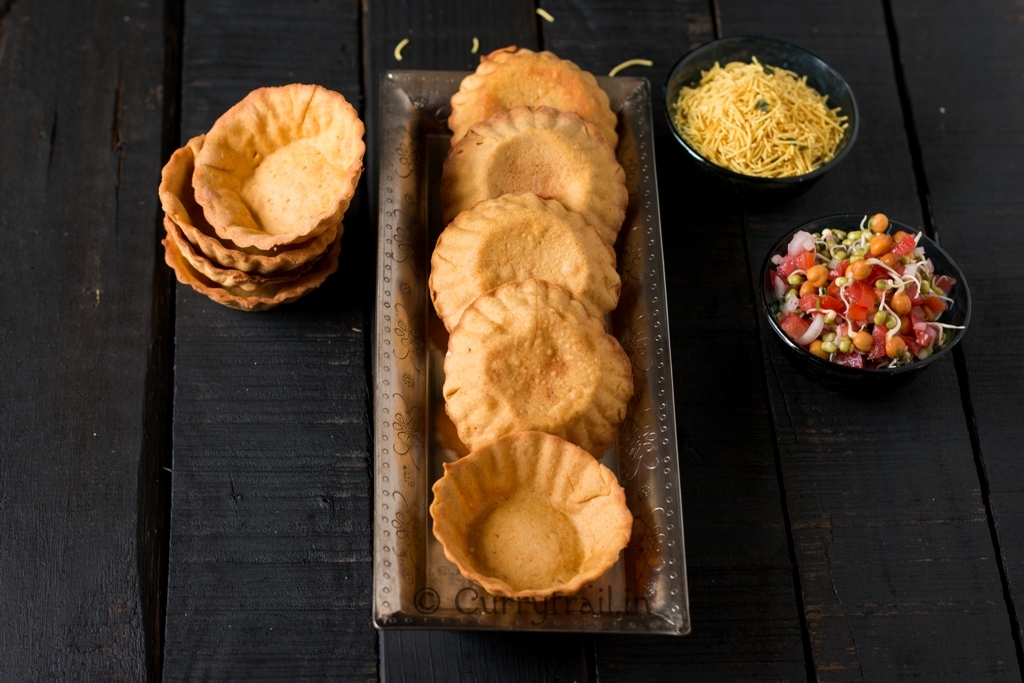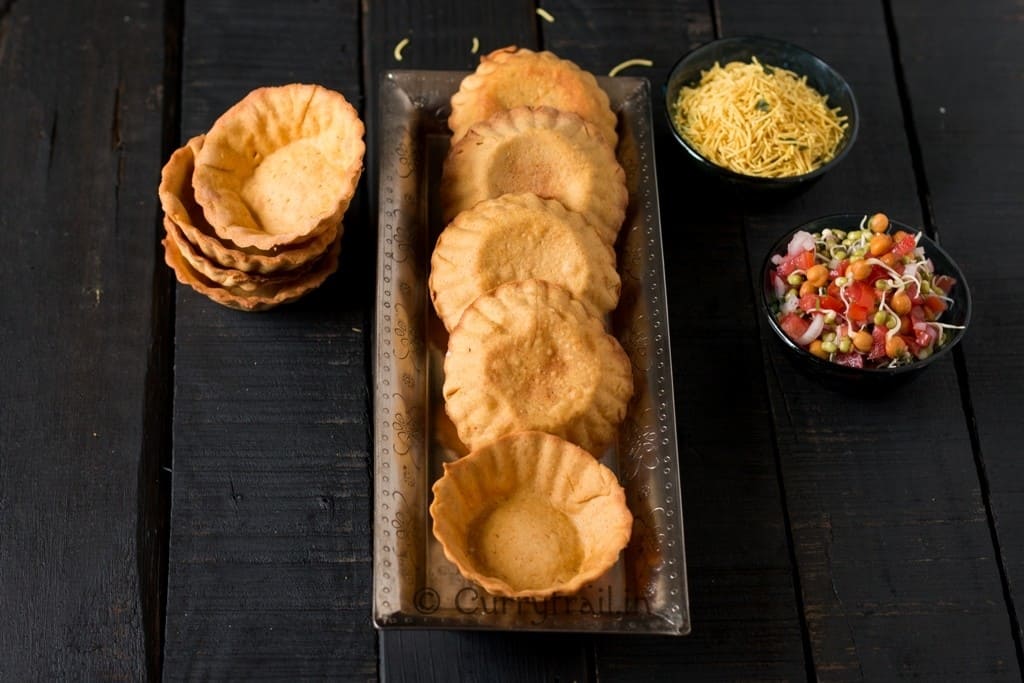 Today i'm presenting to you all a very exciting and fun way to eat chaat which is loaded with all the healthy ingredients, Canape papdi chaat with sprouts. This canape chaat makes a great inclusion in your late evening "chaat party". Not just they are easy to handle and pop into mouth, they can also be made ahead and stored. Impress your guests of all ages with this delicious canape papdi chaat.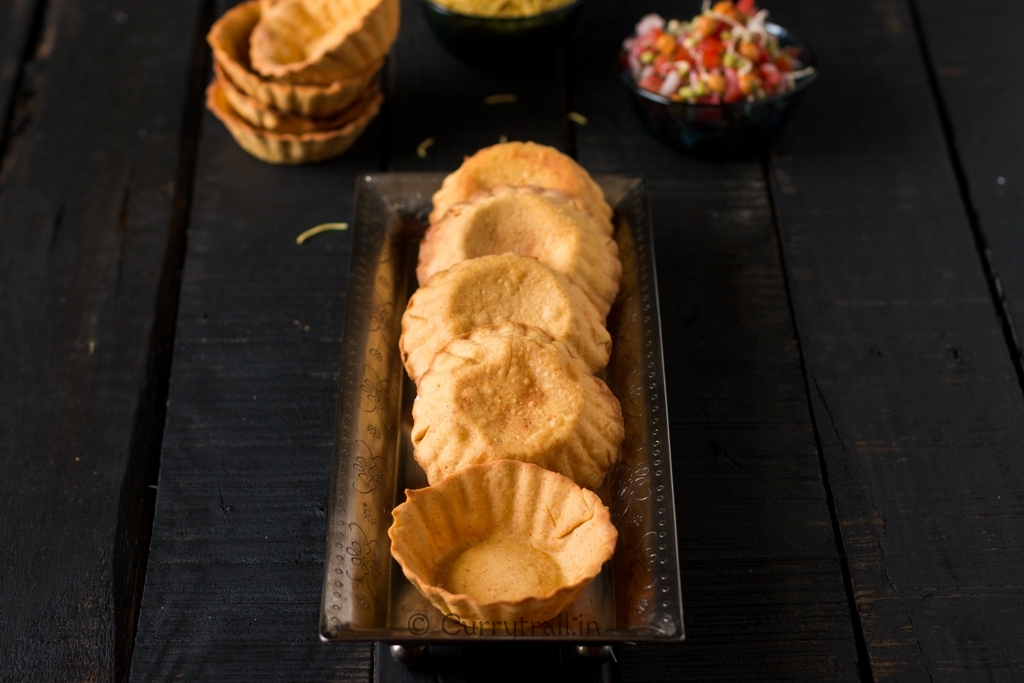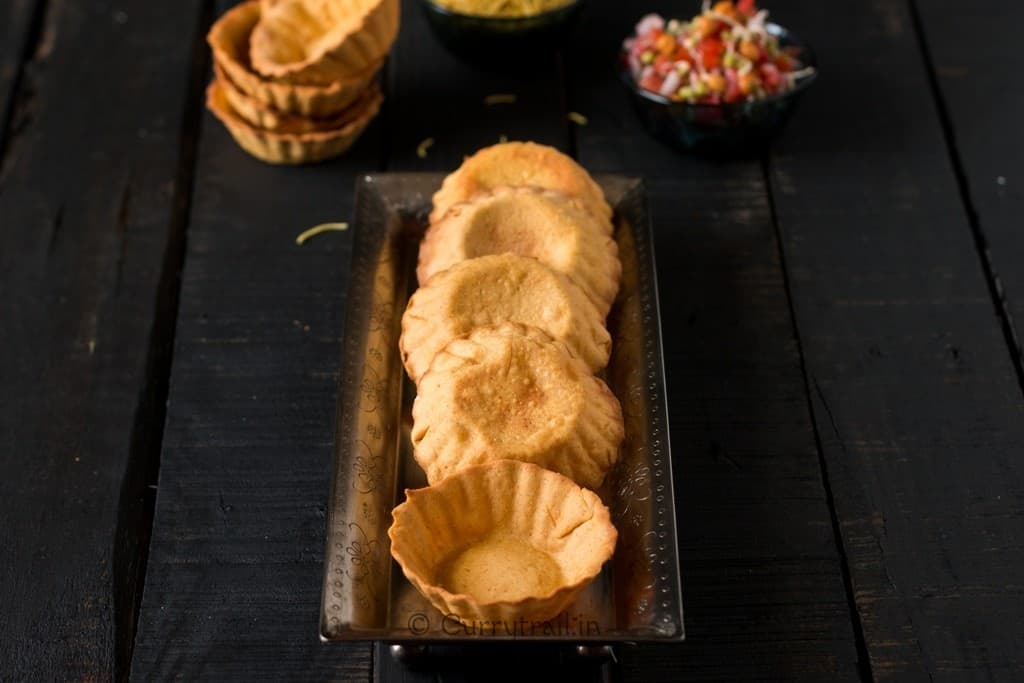 Ingredients
Idea for papadi canapes from litebite
For the canape
1 cup chickpea flour(besan)
1 ½ tablespoons fine oats flour
1 ½ tablespoons wheat flour
1 tablespoon kashmiri red chilli powder
1 tablespoon oil
½ teaspoon cooking soda
Salt to taste
Water as required
For making chaat
½ cup green gram sprouts(moong sprouts, cooked)
½ cup chickpea sprouts(channa sprouts,cooked)
1 onion
1 tomato
¼ cup chopped coriander leaves
2 tablespoon lime juice
1 teaspoon chaat masala
1 green chili, finely chopped
¼ cup sev
Instructions
1. First we make the canape papdi. In a bowl sieve to gather besan, oats flour, wheat flour. Add red chili powder, salt, oil, cooking soda and mix until the flour turn to form crumble.
2. Now add water little by little, mix well till you get a soft and stiff dough. Cover the dough with damp cloth and let it rest for 30 minutes.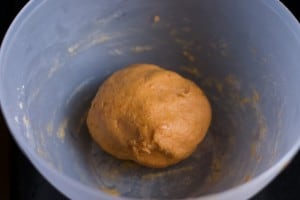 3. Now pinch a small portion of the dough, make it into a ball. Sprinkle wheat flour on a clean surface. Place the ball on the surface and roll it as thin as possible. Cut out smaller round shapes and place them over a greased tart pans pressing them to the edges. Scrap out the extra dough from the edges of the tart pans. Repeat this step for rest of the dough.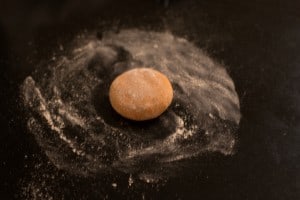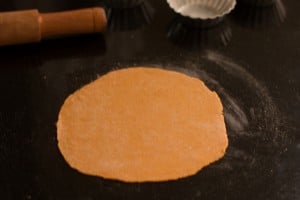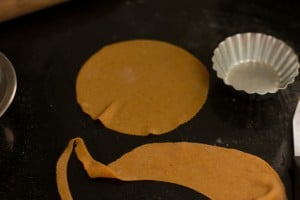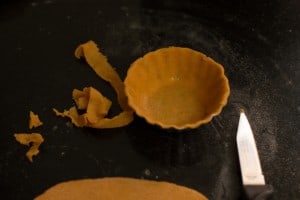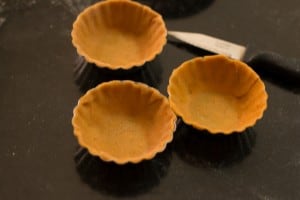 4. Pre heat oven at 150 degree centigrade. Place the tart pans in oven and bake the canape papdis until they start to turn golden brown. Remove from oven, let it cool for some time. Then gently pull the canapes out of the tart pan.
5. These canape papdi cups can be stored in air tight containers for about a week.
6. To make canape chaat, mix all the ingredients mentioned except sev under the list 'for making chaat' in a bowl.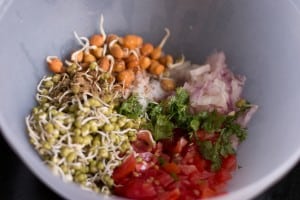 7. Just before serving spoon in the chaat mix into canape papdi cups. Sprinkle some sev over top and serve immediately. If you prefer you could add some yogurt, green chutney and sweet chutney too.
8. If you plan to make these for chaat party, make them ahead and place each ingredient separately. You can involve your guys in making the canape chaat on their own just the way they would prefer!