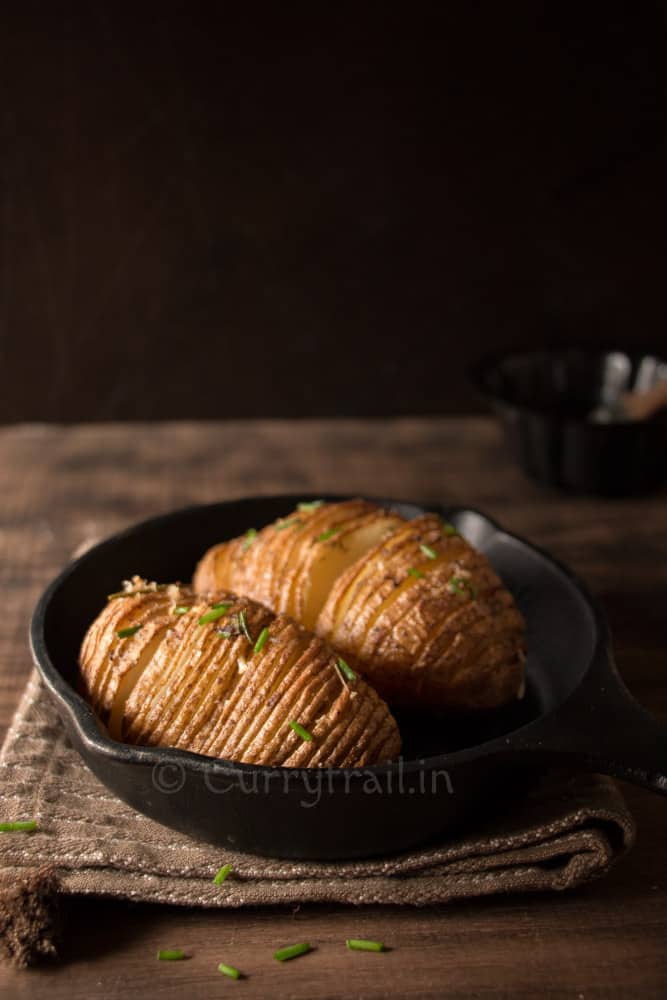 Past few days for some reason I have been experiencing restlessness. I think of doing something and then end up doing nothing at all. Once in a while I experience this and after a few days I get back to normal.
Added to this my site crashed yesterday while trying to back up and I lost a couple of my posts. I couldn't retrieve all of it and the hosting guys said they had a backup of my site 7 days back, which means I lost about 7-8 posts. 2 not-so-pleasant-things happening at the same time made my day worse! I had pictures and recipes of my lost post saved but I did save the story related to the post which I write in the beginning before starting the recipe. My only option was to repost them all. I quickly reposted them all with a simple picture-recipe post and boy that did take a while, as I had to post 9 post. :O 🙁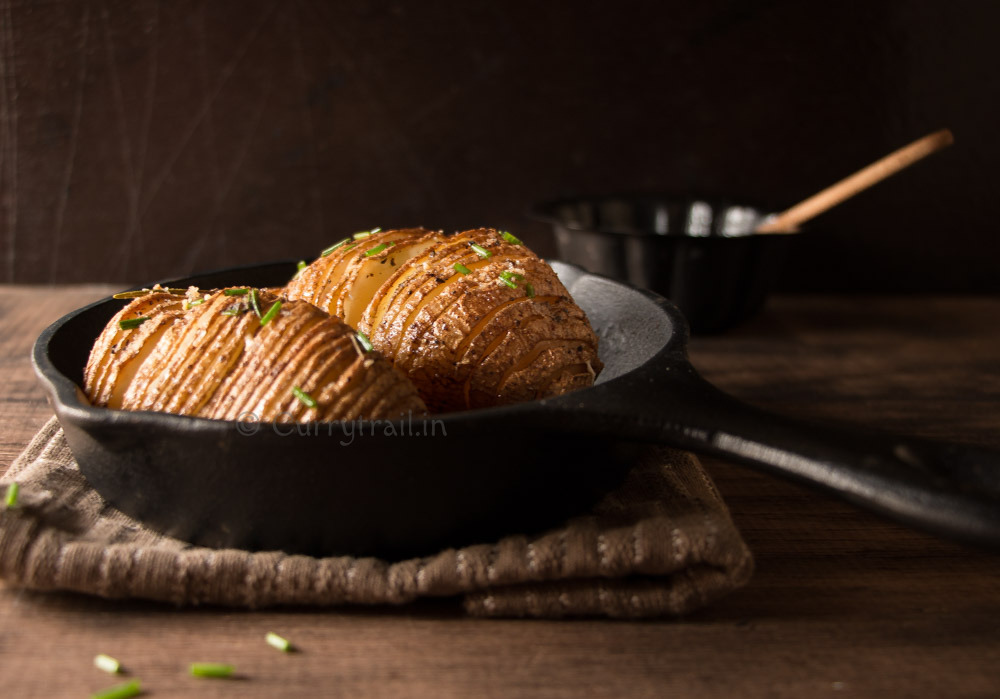 After I was done reposting I simply shutdown my laptop and decided to do nothing. I had cooked lunch for my daughters lunch box early morning, me and my son eat the same food for our lunch. So my plan was no cook, no shoot, no blog. A whole day break did give me some energy and positive feeling and I am feeling so much better today. Glad I did take a break to rejuvenate my soul. 😀 😛
Today I went to the market early in the morning to pick up some veggies and came back home with a bag full of them. What really caught my attention was those earthy rustic looking potatoes which very begging me to be used immediately. Clearly, I didn't want the potatoes to sit next to onions sprouting all over. 😛 I had some big potatoes(oh yes, those are the biggest that I can get here)and "potato hasselback" was on my to-do list from a long time. Since it's easy to make I decided to go for it.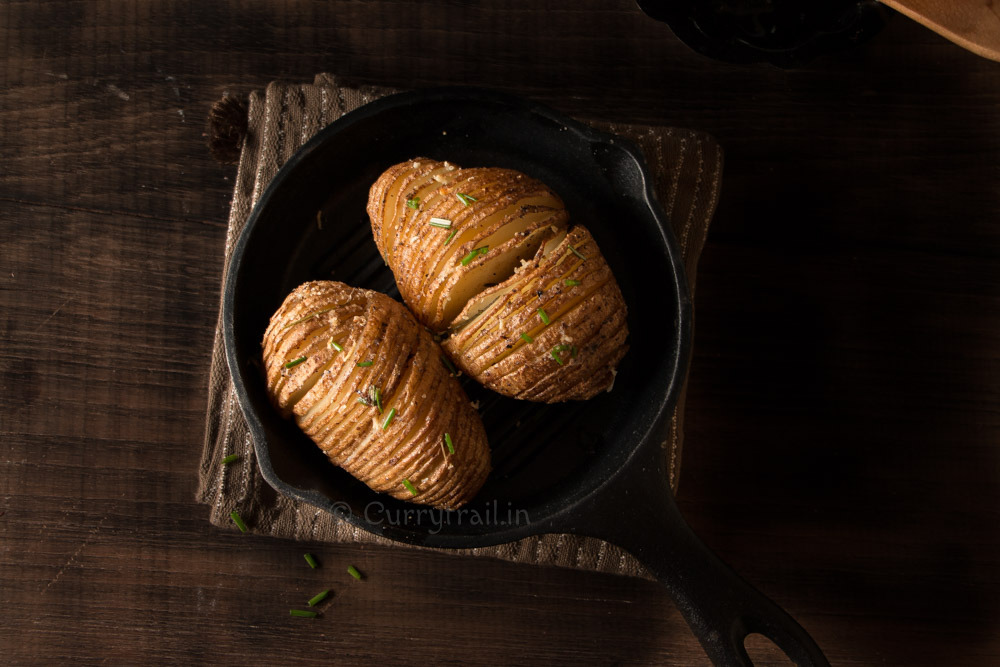 Hasselback potatoes are very popular in the west, potatoes are sliced thinly widthways but held to gather at the base, and they fan out like an accordion when baked. They look hugely impressive, and manage also to combine just about everything that makes potatoes so addictive: the edges are as crisp as any french fry, while underneath is a creamy, mashed potato-like centre.
I kept it simple. I sliced them, brushed with melted garlic butter, seasoned with salt and pepper and baked it. At the end I brushed butter again, added some rosemary and chives and baked further. Best way to eat them is hot right off the oven with grilled fish/chicken or with BBQ chicken and fresh salad. Delicious.
If you prefer to stuff you can add cheese, bacon's, herbs, anything.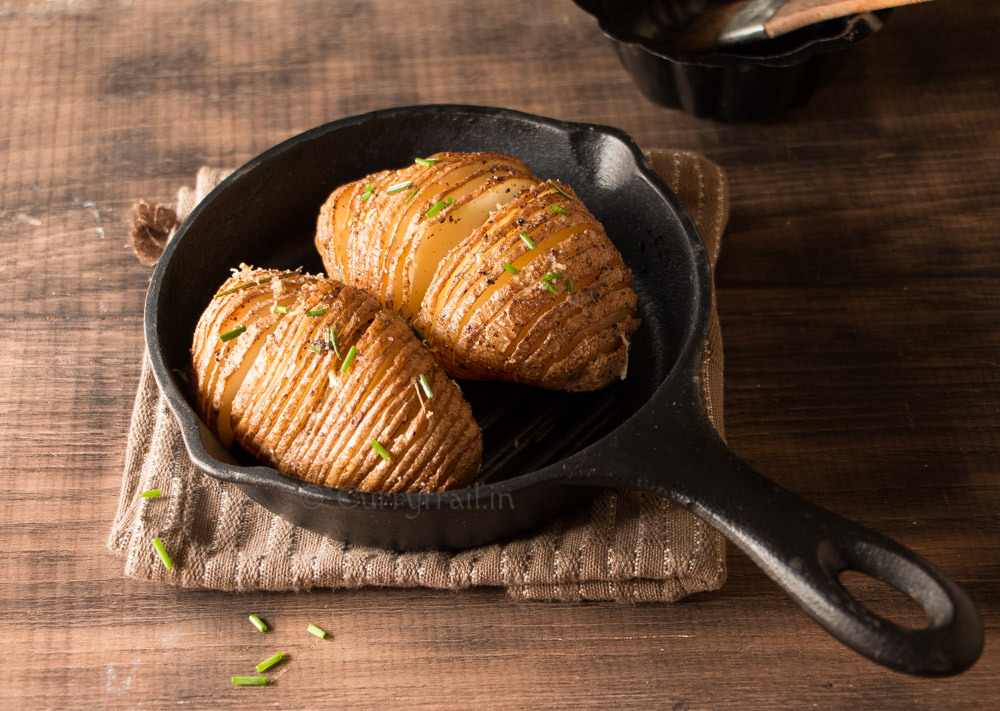 Here's my simple hasselback potatoes recipe-
Ingredients:-
3-4 large sized potatoes
3-4 tbspn of butter
Crushed garlic – 2 cloves
1 tspn of salt
1 tbspn pepper
A few leaves of Rosemary(optional)
Instructions:-
1. Use your kitchen brush and scrub the potatoes to get rid of the dirt. Wash them thoroughly and pat them dry.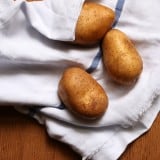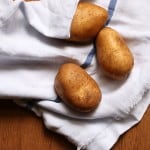 2. Use a very sharp knife to make several vertical cuts from the top of the potatoes most of the way through, stopping about ¼ inch from the bottom. I learnt this trick from a few recipes on net that placing the potatoes in a large serving spoon and then slicing it through will help from cutting the potatoes all the way through the bottom, when the knife touches the spoon edges you can stop. Another trick is to place the potatoes between 2 chop sticks and start slicing them thin, the knife hits the chop stick preventing the potatoes from getting cut all way through bottom.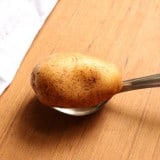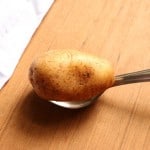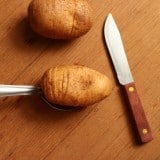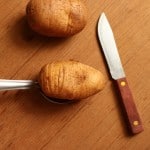 3. Pre heat the oven to 200 Deg Centi. Place the thin sliced potatoes on the baking tray.
4. Add crushed garlic to butter and heat it on low heat stirring constantly. Make sure the butter just melts and not browns/burns.
5. Brush the melted garlic butter all over the potatoes including the bottom side. Brush liberally, and make sure to put garlic pieces from the butter over the potatoes.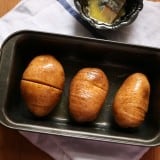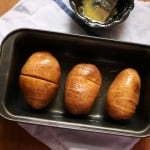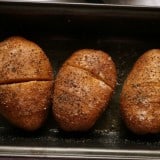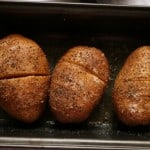 6. Roast the potatoes in pre heated oven for about 25-30 minutes. Remove from oven brush garlic butter again and pop into oven againa nd bake for 20-25 minutes or until the skin of the potatoes turn crisp.
7. Remove hasselback potatoes from oven, at this point add any stuffing or topping like cheese, herbs etc. I sprinkled some finely chopped rosemary and baked for another 5-7 minutes.
8. Once done remove hasselback potatoes from oven, immediately brush them with some more garlic butter and serve immediately. They taste delicious when served immediately hot along with main dish like grilled chicken, BBQ chicken…