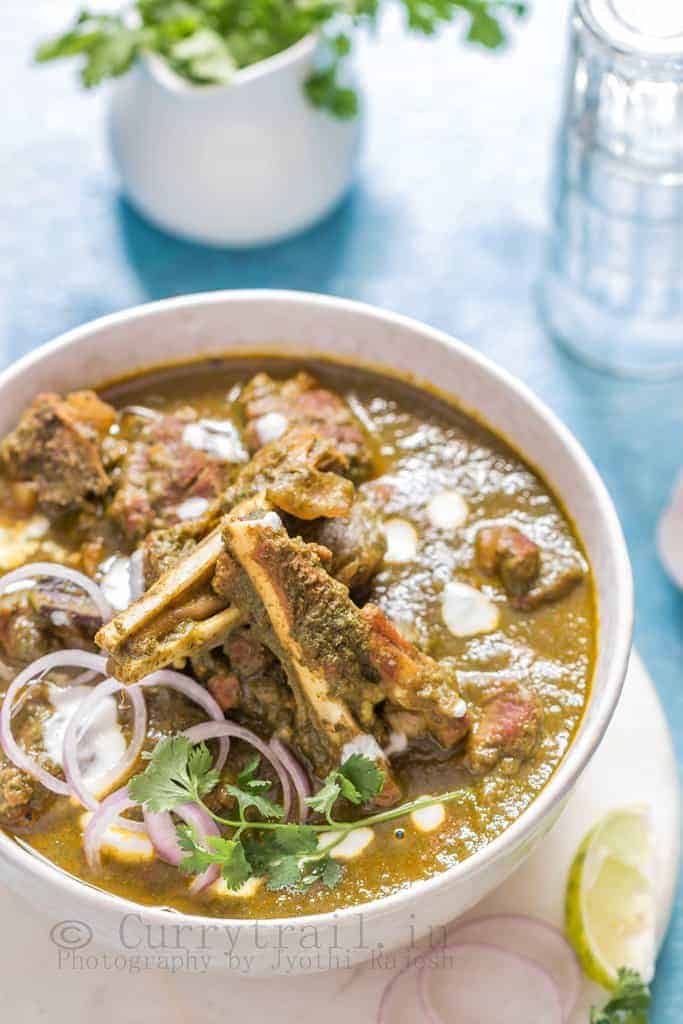 It's been a while I connected with you guys here, in fact a couple of months I guess. Few things have been keeping us busy and I also wanted a little break to relax and get my mind relaxed. The break was a little longer than I expected, but I guess it'll always like that. We take a break just so we can get back to things that we always love to do.
A vacation would have been great, but when you are in a situation where you cant just take off whenever you feel like, with my work, kids, school, hubby's work, then a break is what I wanted. Though I was working on other projects, my classes were going on, I thought I will take a small break from blogging, writing and stuffs. I have been posting a few straight forward recipes now and then without rambling. Have a big collection of recipes lined up to post on blog. Let's see how I manage to post them one by one.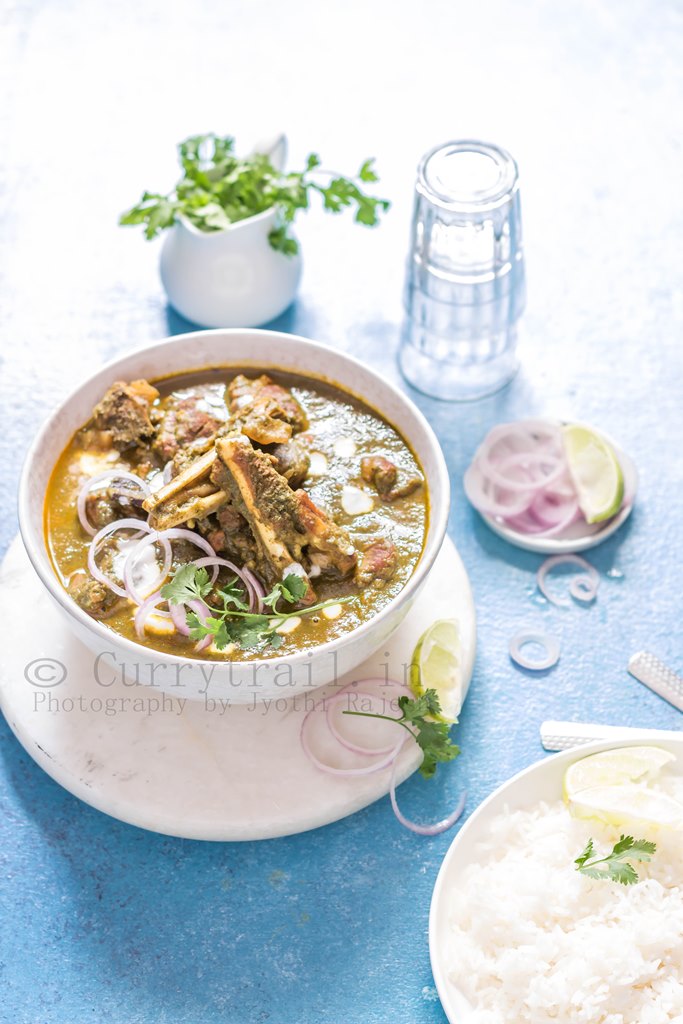 So life has been just good these few months. Busy in a way but good. One change that I have made in my life style is take needed rest every now and then and I also have started watching my diet. I have cut down carbs as much possible, I eat protein rich food and one thing I follow religiously is eat dinner before 7 PM. Dinner is no carbs food, so it's usually grilled/boiled vegetables, or soup or a grilled chicken/fish. Seeing drastic changes in my body, feeling light and energetic and eating small quantities and frequently is making things easy. I do eat rice/roti for lunch, in moderate quantities.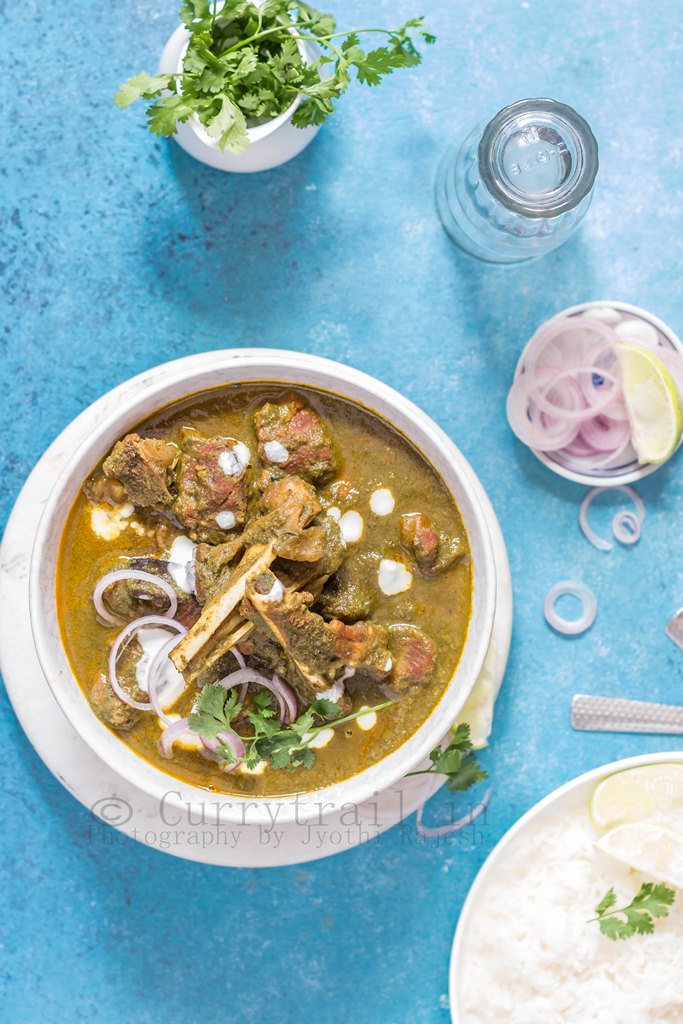 I do have weekends to indulge. I eat my biryanis on Sundays. I do have my weekends for cheat day where I enjoy food that I like to eat.
So when weekend I think of all foods that I want to make and eat. I plan much ahead, and enjoy my weekend thoroughly. If heading out, I keep my indulgence to food that i like!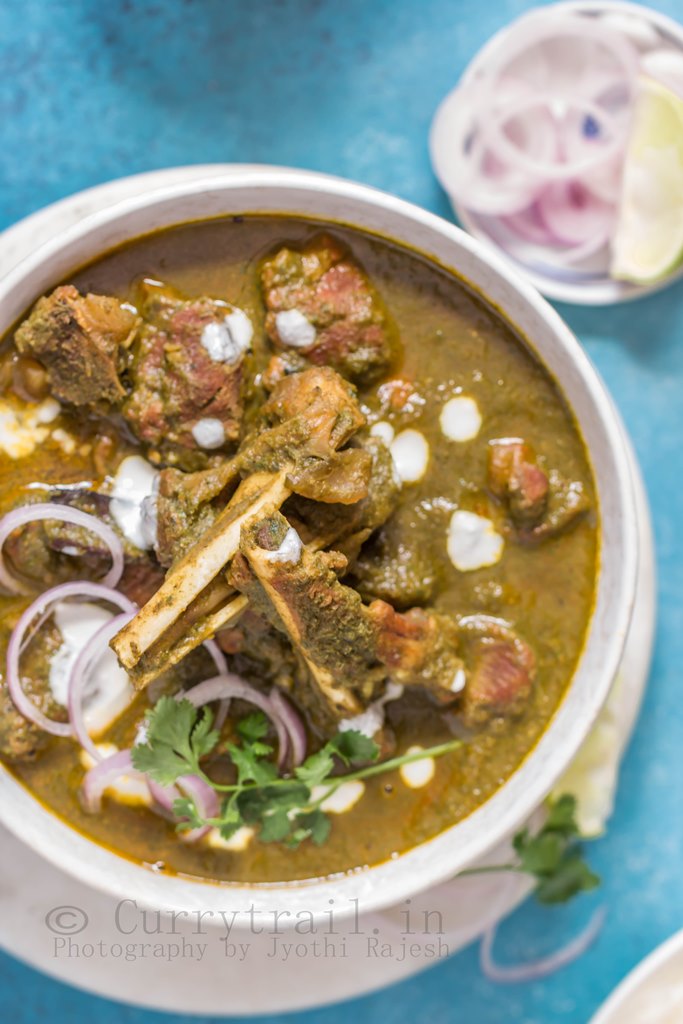 Hariyali or green curry is a curry loaded with fresh herbs like coriander leaves and some mint leaves. A perfect blend of coriander leaves, mint leaves, green chilies and all the spices makes this curry packed with flavors and texture.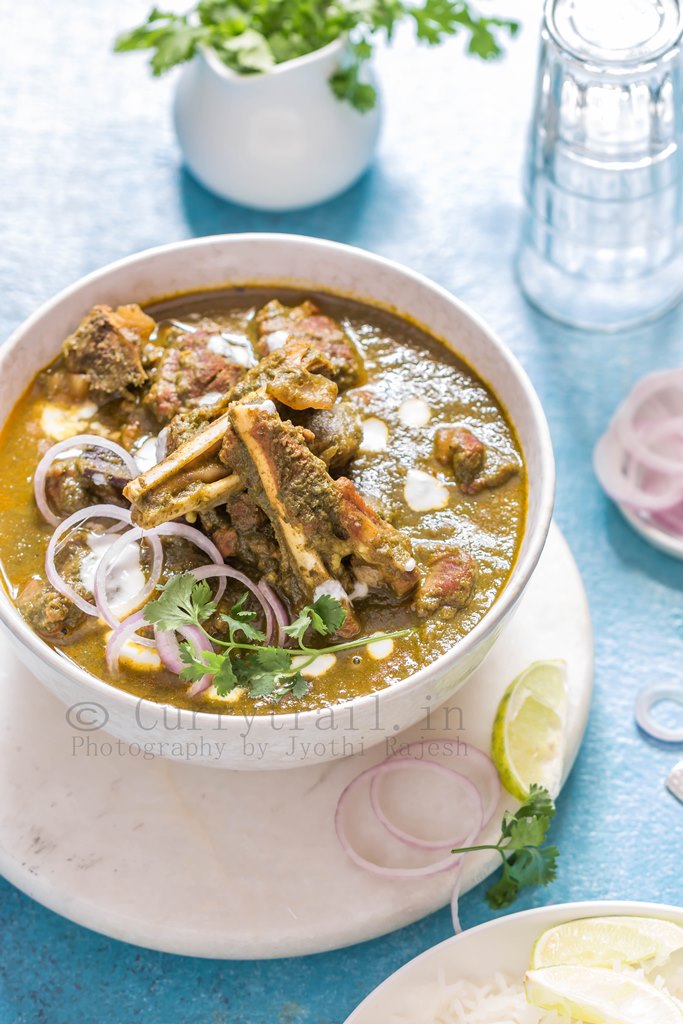 Ingredients
500 grams mutton
2 onions, pureed
2 tomatoes, pureed
Salt to taste
1 teaspoon oil
2 tablespoon fresh cream
For green masala-
2 cups coriander leaves
2 tablespoon mint leaves
6-8 green chilies
2 cloves
2 inch cinnamon stick
2 cardamom seeds
½ star anise
2 tablespoon ginger pieces
2 tablespoon garlic pieces
Method
Clean/rinse mutton pieces. Add 1 teaspoon salt and pressure cook in ½ cup water for about 3 whistles.
Grind all the ingredients mentioned under 'for green masala' together with little water.
Heat oil in a pan. Add onion paste and saute until raw smell of the onions goes off.
Add tomato puree and cook until oil separates from the sides of the pan.
Add green masala paste and cook for 5 minutes.
Add cooked mutton pieces and mix well.
Add salt to taste and little water if required.
Simmer and cook covered for 10-15 minutes.
Whisk cream and add it to the curry.
Serve hot with rice or roti.