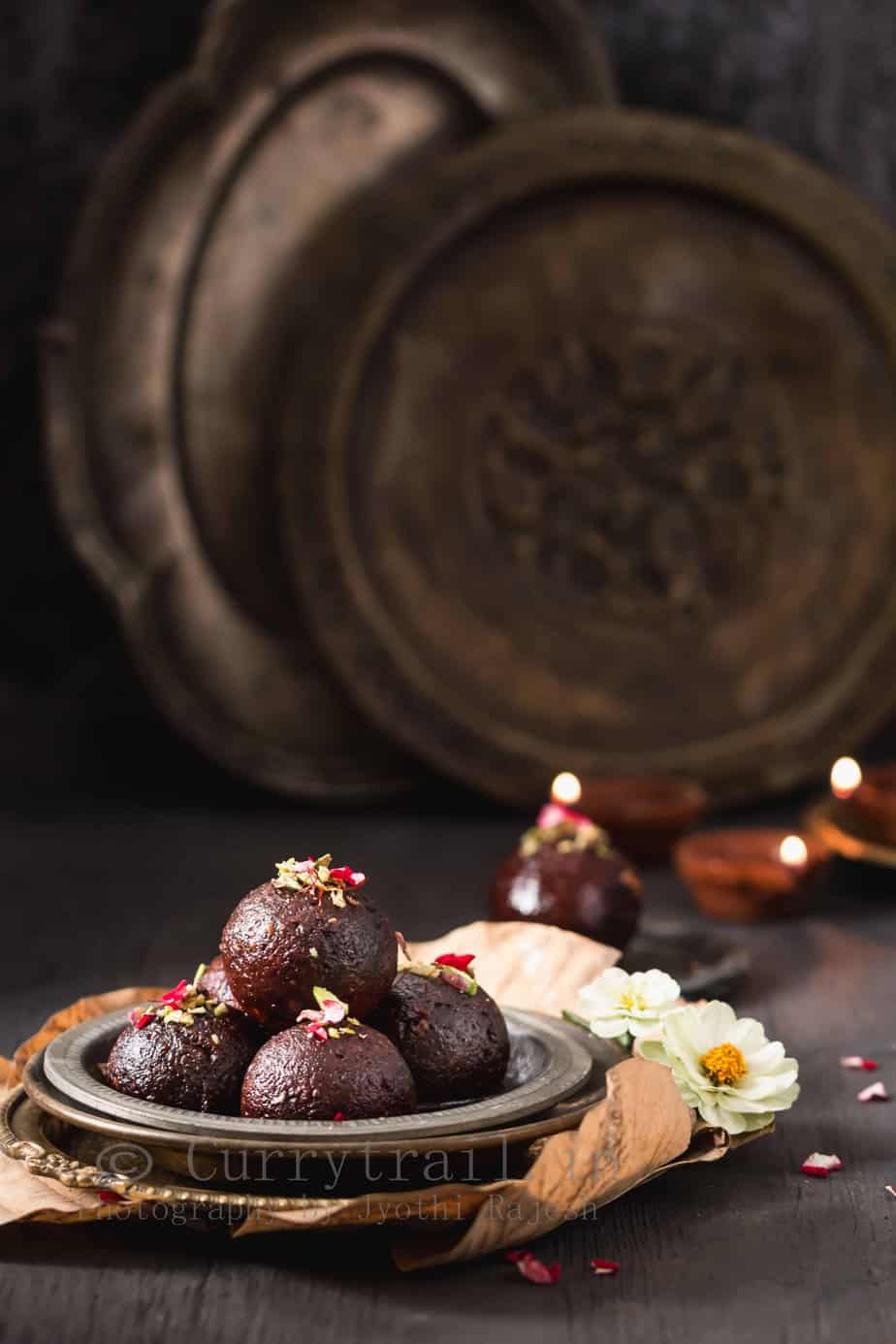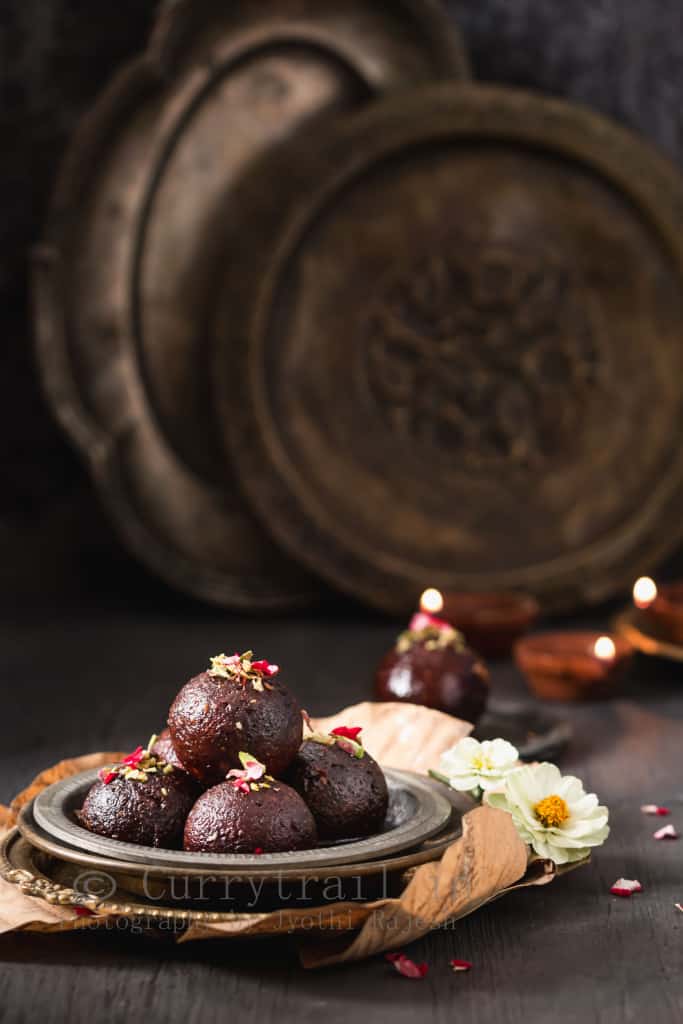 How many jamun lovers here? I won't be surprised to see all hands going up! I won't say I don't like jamun, but yes I don't eat sweets. I see a lot of rolling eyes when I say to people I don't have sweet tooth.  There was a time I would simply reject any dessert offered to me. It did make me look rude to the person offering it to me, but I could not get myself to eat sweets. I also did not like to have my mouth having sweet taste after enjoying a delicious spicy meal. To get rid of that spice taste lingering from my mouth, I definitely did not like that.
After I got marriage I came across a person who loves to eat sweet. In fact his family has the habit of ending every meal on daily basis with a payasam/kheer. No I did not start eating payasam with him, just to impress him, I rejected there too. I clearly said I hate sweets 😛 People at home were shocked! 😀
I made sure I did not deprive my hubby from eating sweets, I cooked for him a lot of sweets. In life there comes a point when suddenly things change and you have no idea why it happens so! Same happened to my life when I was carrying my daughter. I got craving for spicy chutneys along with that once in a while suddenly I would wake with a craving to eat sweet. I have tortured my hubby in the night asking him to buy sweets late at night! :D.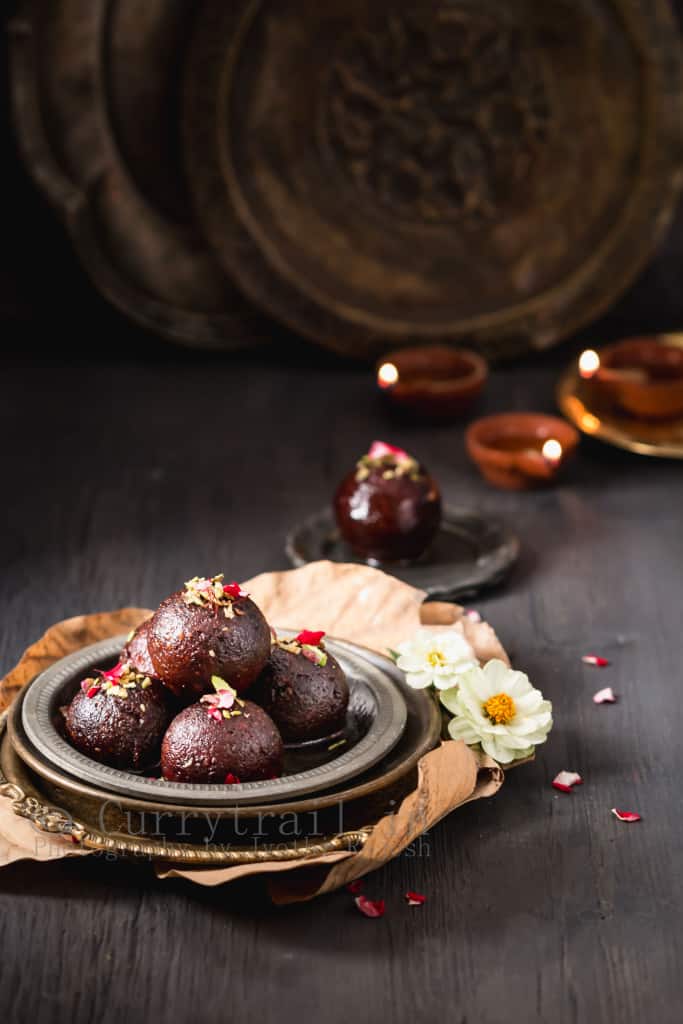 That's how I started slowly eating few specific sweets and kind of liked them too. I don't crave for sweets now, and yes I don't end my meal with desserts even if we are eating out, but I do get myself to eat sweets now and then and I don't hate it that much now 😀
Jamun is my family favorite. Kids simply love it and so does hubby too. Kala jamun is something I have never tried making at home until now. This diwali I wanted to try something new, so I decided to do 2 types of jamun, one of them is this one.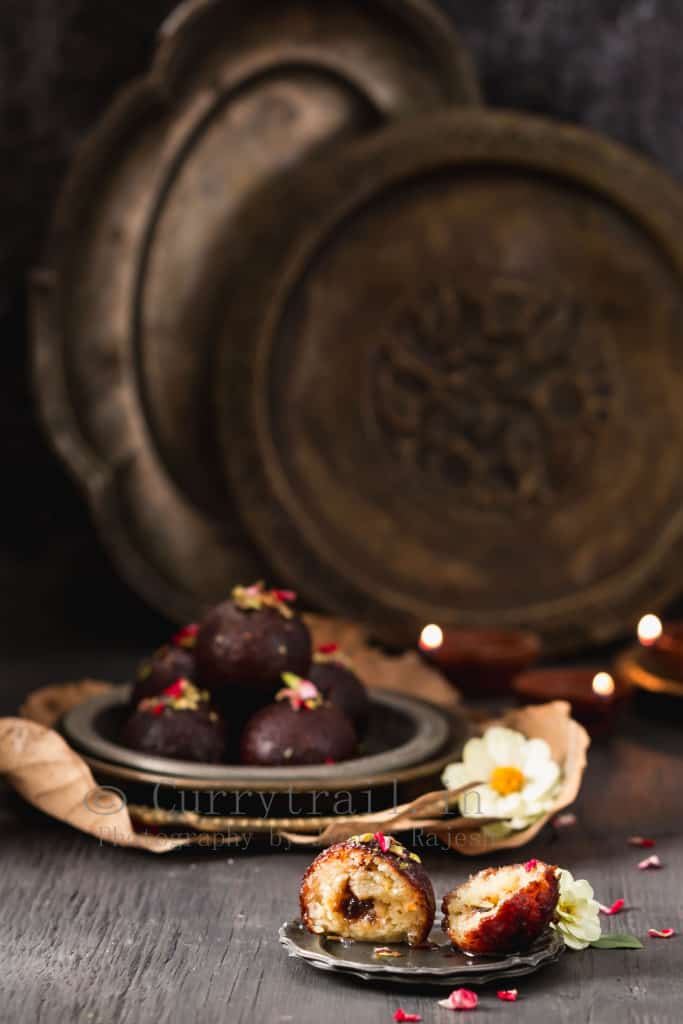 The rich taste of the well cooked khoya and the delicious gooey gulkand stuffing makes this kala jamun very delicious, it's every sweet lover's paradise!
If you haven't prepared anything for diwali and looking out for last minute sweet dish, then you must give this recipe a try. Your family will love it.
Ingredients
100 grams khoya
50 grams paneer
2 tablespoon maida
1 teaspoon milk (adjust)
A pinch of salt
Oil for deep frying
For sugar syrup
1 cup sugar
½ cup water
2 cardamom, powdered
1 generous pinch Saffron
1 tablespoon pistachios, roughly broken
1 teaspoon Rose water
For stuffing
2 tablespoon gulkand
For garnish
Broken pistachios
Dried/fresh rose petals
Saffron strands
Method
In a wide pan, add sugar, water, saffron, cardamom pods and place it on stove. Stir the sugar and bring the solution to boil. Once it starts boiling reduce flame to medium and allow it to boil for 2-3 minutes. Sugar syrup should not be boiled to string consistency, we want the sugar to dissolve and turn into slightly thick syrup. Switch off flame add rose water and keep aside.
In a kadai, heat oil. while the oil is getting hot you can make the jamun dough.
In a bowl, add crumbled khoya, grated paneer, maida, salt, and knead well. Make sure no lumps are formed. Add milk and knead again. The dough should be soft and sticky, if dough is hard, the jamuns will not be soft after frying it.
Roll the dough into lemon sized balls. I made 6 equal sized jamuns out of it.
Slightly press to make a disc shape, punch your thumb at the center to make a cavity, place a teaspoon of gulkand in the center, bring the edges together and seal them well making sure the gulkand does not ooze out. Repeat this for all the jamuns.
Test if the consistency of the dough is right by dropping a small ball in hot oil and if the ball doesn't break, then the consistency is right.
Deep fry the balls on low heat. Make sure to keep moving the balls in oil to ensure they get cooked and browned all sides evenly. If the temperature of the oil is too hot, the jamuns will turn brown very fast and will not get cooked inside. Cook the jamuns until they turn darker than golden brown. The color of the jamun should be dark brown.
Remove the kala jamuns from oil onto a kitchen towel for a minute and transfer them immediately into sugar syrup.
Let the kala jamuns sit in sugar syrup for 2-3 hours before serving.
Jamuns can be served hot or cold. They taste delicious either way.