Grilling season has arrived. Fire up the grills, we are about to make the best grilled pineapple with brown sugar and rum glaze. What could be better summer grilling than these delicious pineapple topped with vanilla ice cream with drizzled with rich rum glaze.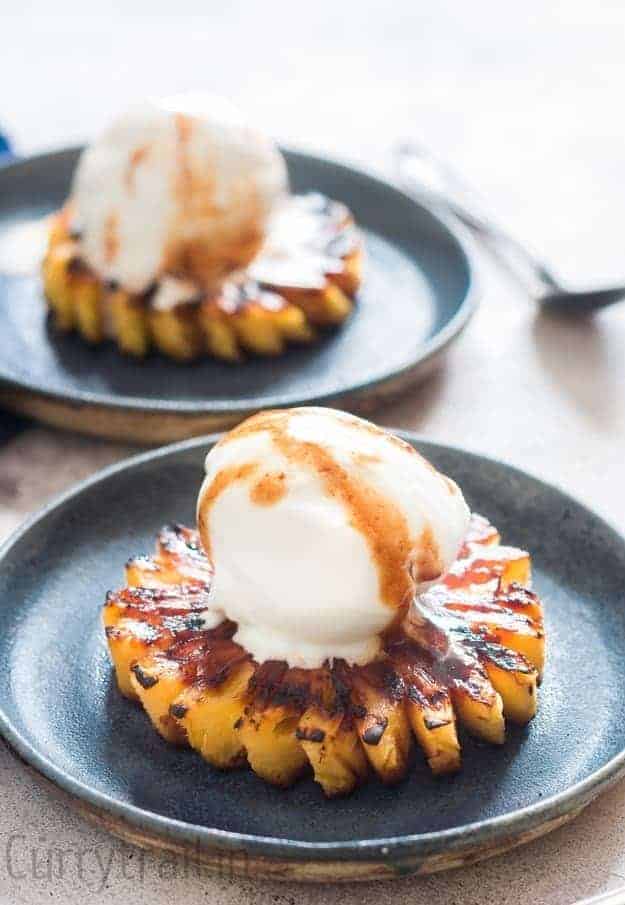 When the sun shines bright who wouldn't love spending the evenings outdoors with family playing and grilling your favorite food.
Pineapple is a favorite summer fruit. While pineapple is delicious sweet, juicy and wonderful on it's own, we want to take this favorite summer fruit to a whole new level by grilling that boosts it's flavors to a whole new level. Grilling pineapple adds wonderful flavors to the summer fruit which is great to treat, but when you add delicious glaze to it, it kicks up the flavors a few notches.
Summer is a time to celebrate the grills/BBQ. Summer BBQ party with pineapple grilled to perfection – you are in for a real summer treat. Grill once, and you'll never go back.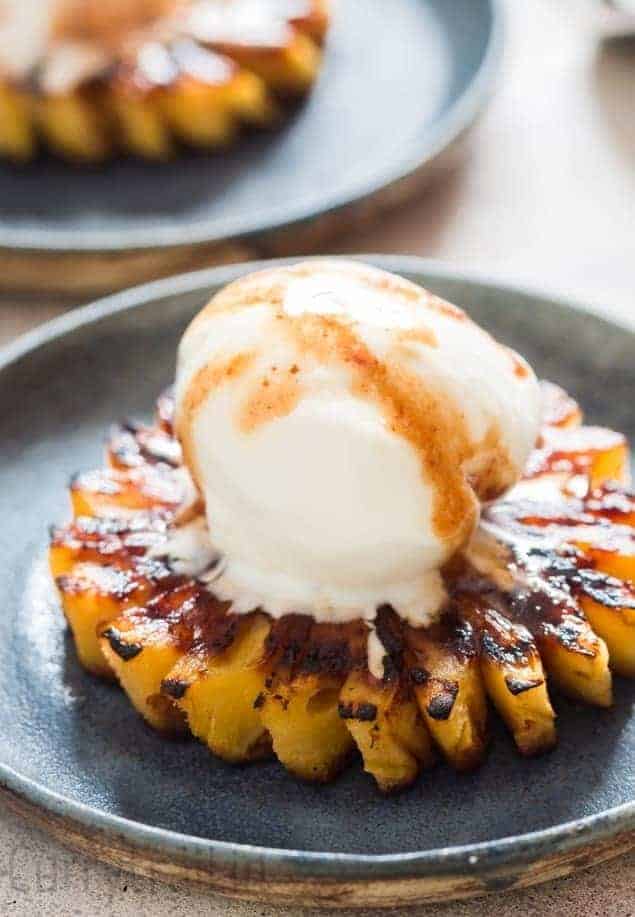 We have kicked up the flavors a few notches here. It's not ordinary pineapple recipe but we are talking about grilling rum brown sugar soaked pineapple with cinnamon flavors in it. Wait to see how the char grill flavor boosts the pineapple. Booze-y treat on a summer party paired with ice cream is the way to partay!
If you love pineapple as much as we do, then we recommend you to try our other popular pineapple recipes. These are perfect –
Grilled Pineapple Shrimp Skewers
Why Grill Pineapple?
Because pineapple get even better when it's grilled and with a killer glaze like rum, brown sugar and cinnamon powder, you're in for a REAL treat! Have a slice of delicious pineapple dessert with a scoop if vanilla ice cream and ridiculously delicious rum sauce, you'll never want to stop eating it.
And scientifically, there is another reason why you should be grilling pineapple. Here's some info I discovered on the net. Have you even experience your tongue burn while biting into a fresh pineapple? Wondered why? Pineapples contain a plant protease enzyme called bromelain which readily breaks down protein in your mouth and this could cause prickly sensation in the mouth. This reaction will not cause any harm to you really and the mouth heals fast from this sensation. Cooking pineapple prevents your mouth from hurting.
Note – I love fresh pineapple and it never hurts me. At-least not so bad. SO I never mind eating them as it is.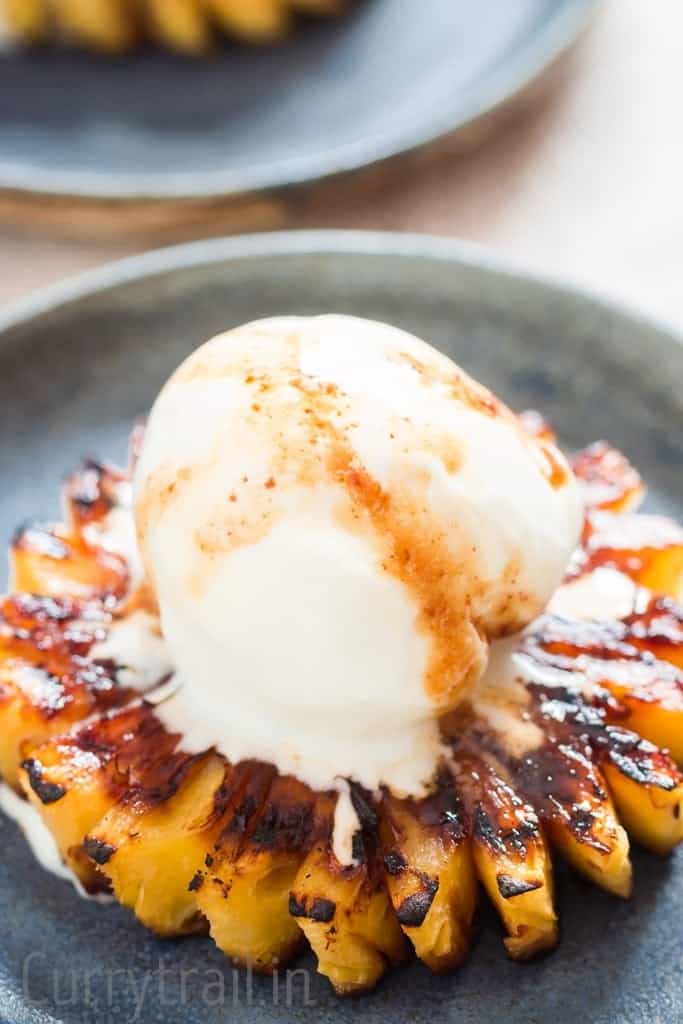 Peeling Pineapple (How To Cut a Pineapple)
Using chef's knife cut the base about an inch off so the pineapple sits on the surface. Now cut off the leaves about half inch from it.
Then follow the curve of the fruit and run your knife along the peels. Turn it around a little bit and run the knife again to get rid of the peel. We will turn the pineapple 5 times to remove the peel giving it a pretty pentagon shape when you slice it up.
When you're all done, if there are any "eyes" just use a paring knife to cut them out.
Lastly, make thick slices at-least 1 inches. You can remove the core in the center using a small paring knife.
How To Grill Pineapple
Cut pineapple into thick slices. Use generous amount of brown sugar, cinnamon powder and rum (if using) on both sides on pineapple slices. Allow the pineapple to sit in the sugar mix for minimum 30 minutes.
Heat up a grill either outdoor grill or the stove top grilling pan. Grill over direct heat or on a hot grilling pan for about 3-5 minutes on each sides over medium high heat. We want lightly browned grill marks on the pineapple slices.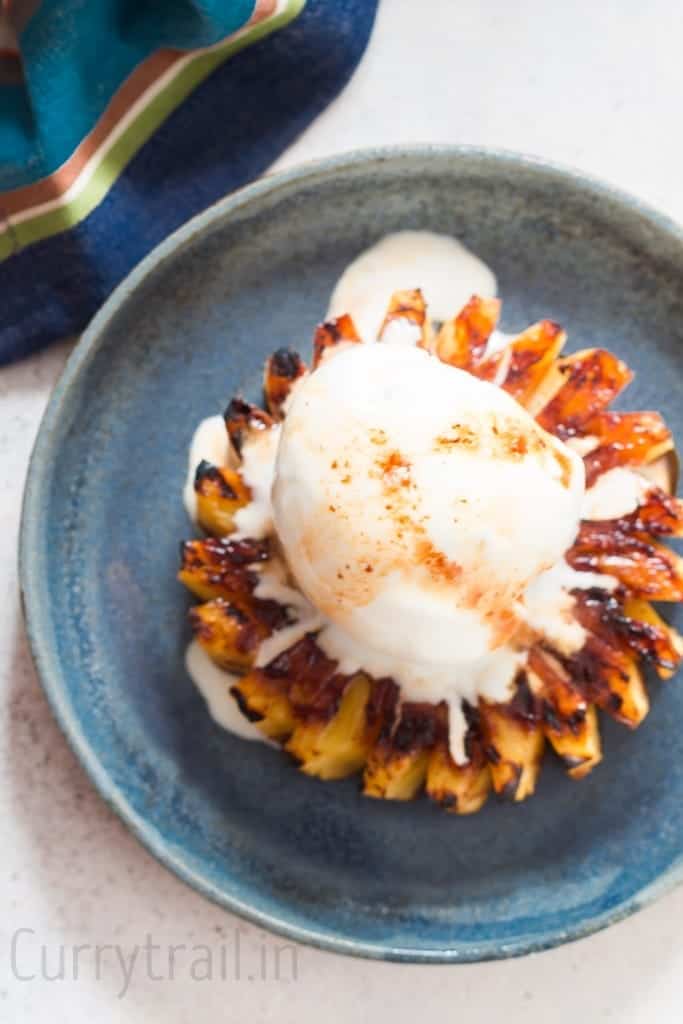 How Long To Grill Pineapple (Stove-Top)
Heat the grilling pan on high heat, and lightly brush oil. Grill pineapple for 2 to 3 minutes per side, or until grill marks appear on both sides.
How Do Get Beautiful Grill Marks On Pineapple
If using outdoor grill, ensure it's pre-heated enough. Brush some butter or oil over the grill and then place the pineapple slices over hot grill. After about 3-4 minutes, turn the slices on the other side. You should see beautiful grill marks on pineapple slices.
Word of caution – be careful when you flip the pineapple so as to not lose the slices through the grates on the grill.
Ways To Use Grilled Pineapple
So many ways to use it. It can be served warm, just delicious!
In this recipe we are kicking up the flavors a few notches by adding rum, brown sugar and cinnamon powder. Pineapple makes best summer dessert. Slightly boozey, ice cream topping – summer dessert is served.
Topped over grilled chicken or pork – a perfect summer meal! Amazing!
Have you tried this with burgers? That's right! Ditch those boring tomato slices and place a gorgeous pineapple over your meat patty for your burger. So YUM!
Let's not forget it topped over tacos – classic!
Chop it up into pieces and add to your salsa. That wonderful smokiness from grilling pineapple bites in your salsa – too good!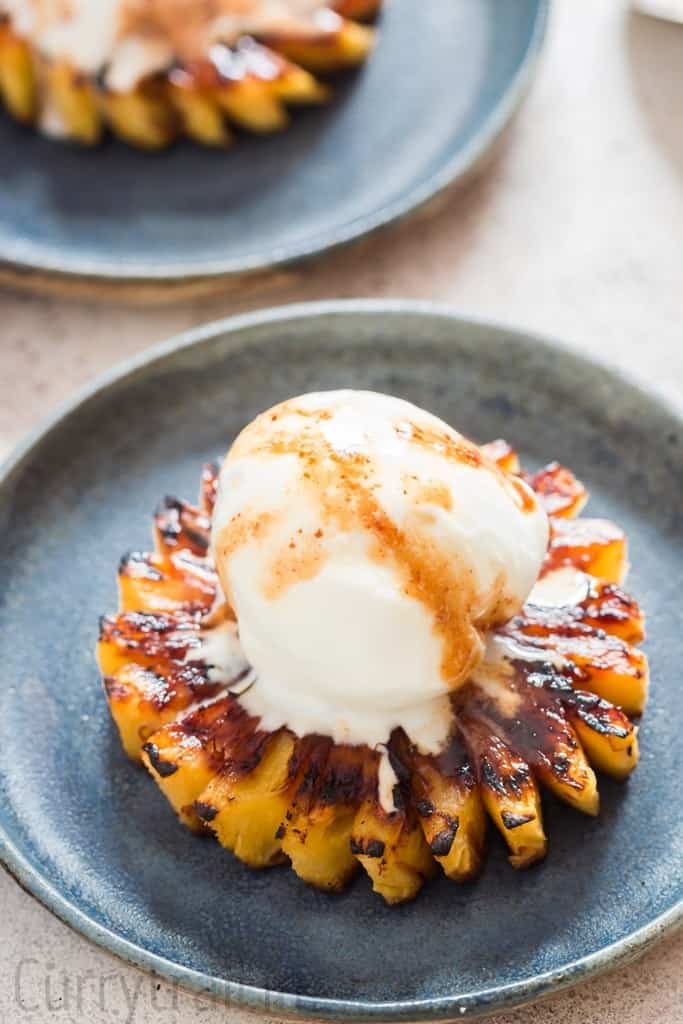 Other Marinade Ideas
The basic brown sugar cinnamon powder marinade never fails you, ever!
Switch brown sugar with raw honey to keep it healthy and light. Remember if you using honey, you are going to have the predominant flavor of honey.
Just butter – nothing more. The natural sugars in pineapple will give a nice caramelization and butter with add richness and flavor to it.
Rum never hurts. Go ahead and soak your pineapple slices in rum, and grill.
Sprinkled with chili powder – ooo that would be my favorite. The balance of sweet, spice and sour is ridiculously salivating.
CONSIDER TRYING OUR OTHER SUMMER RECIPES:
Grilled Potatoes In Foil Packs
Don't forget to Subscribe to CurryTrail Recipes below to get our newest recipes delivered straight to your inbox.
LOVE THIS RECIPE? KEEP IN TOUCH AND DON'T MISS OUT ON ANY OF CURRYTRAIL RECIPES! FOLLOW ME ON INSTAGRAM, PINTEREST, FACEBOOK, TWITTER.
This recipe is inspired from gimmesomeooven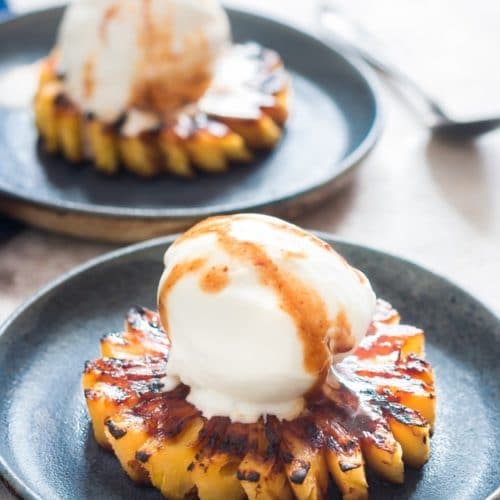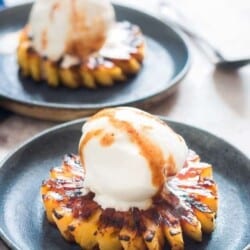 Best Grilled Pineapple with Brown Sugar Rum Glaze
Grilling season has arrived. Fire up the grills, we are about to make the best grilled pineapple with brown sugar and rum glaze. What could be better summer grilling than pineapple slices topped with vanilla ice cream with drizzled with rich rum glaze.
Ingredients
3 thick pineapple slices
1 cup rum
2 tablespoon brown sugar
2 teaspoon cinnamon powder
2 teaspoon vanilla extract
Instructions
Prepping the glaze – whisk rum, brown sugar, cinnamon powder, vanilla extract well. Marinade pineapple – Soak pineapple slices in rum, brown sugar liquid for about 30 minutes or even over night.

Grilling fruit – heat up the grill pan. Wipe the pan with some oil or butter using a paper towel. Place rum soaked pineapple on hot grill, cook pineapple for 3 to 4 minutes on medium heat. If you are looking for beautiful cross grill marks rotate pineapple slices on the same side 45 degree. Cook for 3 minutes. Flip the pineapple slices and cook for 3 minutes on the other side. You can rotate it 45 degree on the other side as well to get cross marks.
Nutrition
Serving: 0gCalories: 260kcalCarbohydrates: 18gProtein: 0gFat: 0gSaturated Fat: 0gCholesterol: 0mgSodium: 3mgPotassium: 70mgFiber: 1gSugar: 16gVitamin A: 30IUVitamin C: 5.4mgCalcium: 29mgIron: 0.3mg