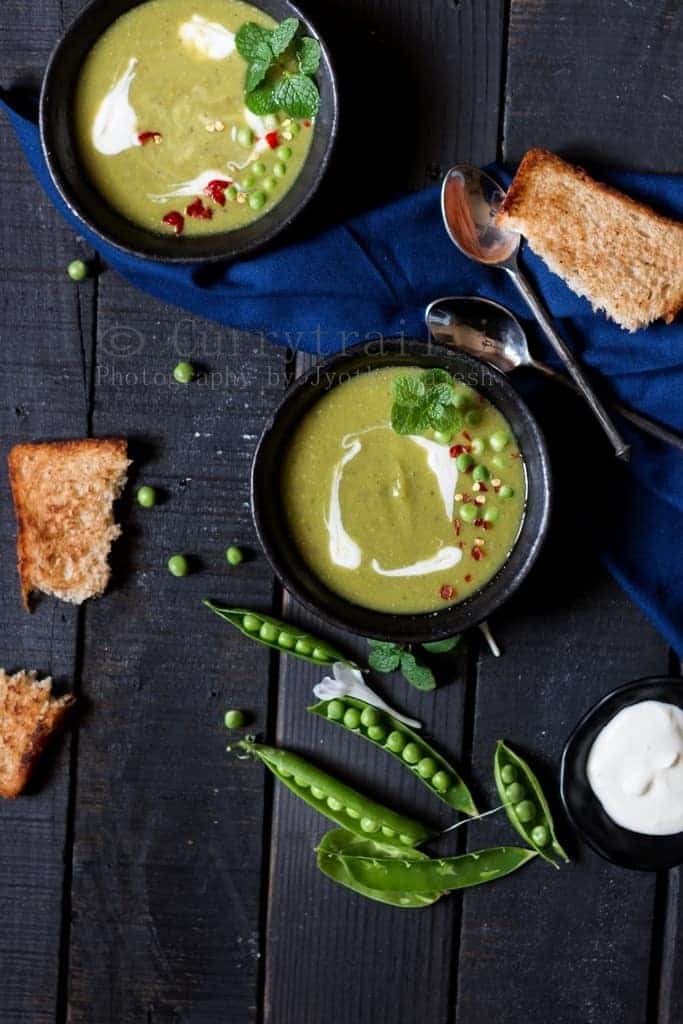 It's almost March already. And I am excited as summer is almost here. Yay! I love summer! You may ask why? I love summer, because we get to eat as much ice cream as possible. I love summer, because we can spend hours together in the swimming pool. I love summer, because it's time we go on the much awaited family trip(mostly beaches or mountains).
Summer, The sky is painted ocean blue. Flowers are in full bloom. Wind is gentle and kind. Shadows spread across the green grass. What's not to like about summer!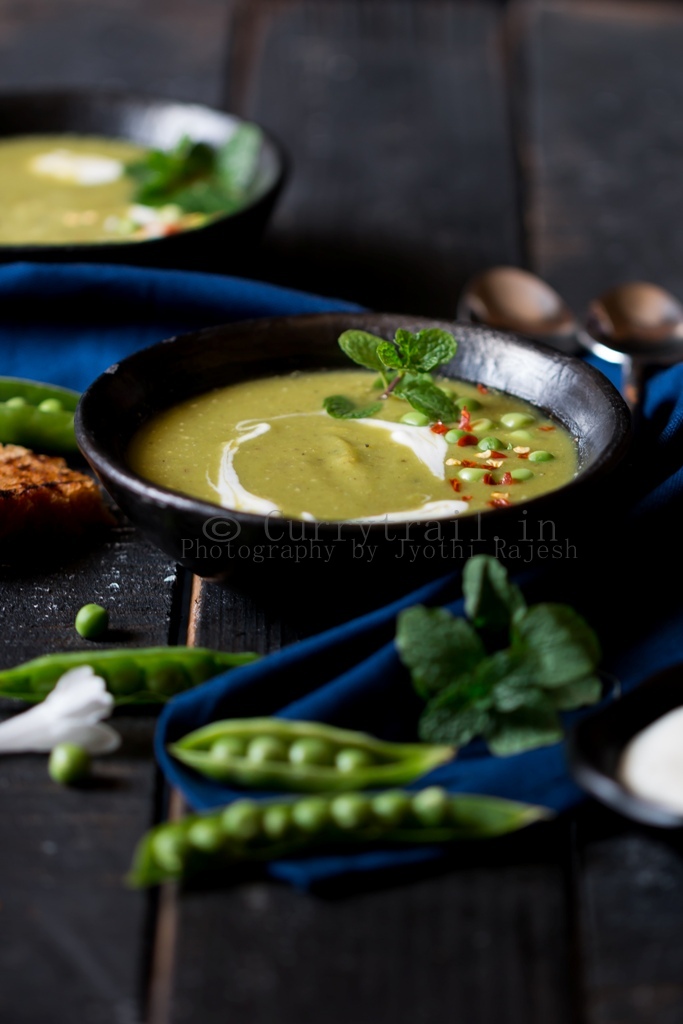 Are you thinking of scorching heat and sticky sweaty face when am talking about summer? Fear not, we can beat the heat and sweat with a whole lot of cool drinks and ice creams! There you go, you got a reason to cheer up now! Come on cheer up! I know I will be complaining of the heat and sweat in a few months from now..but I still LOVE SUMMER! 😀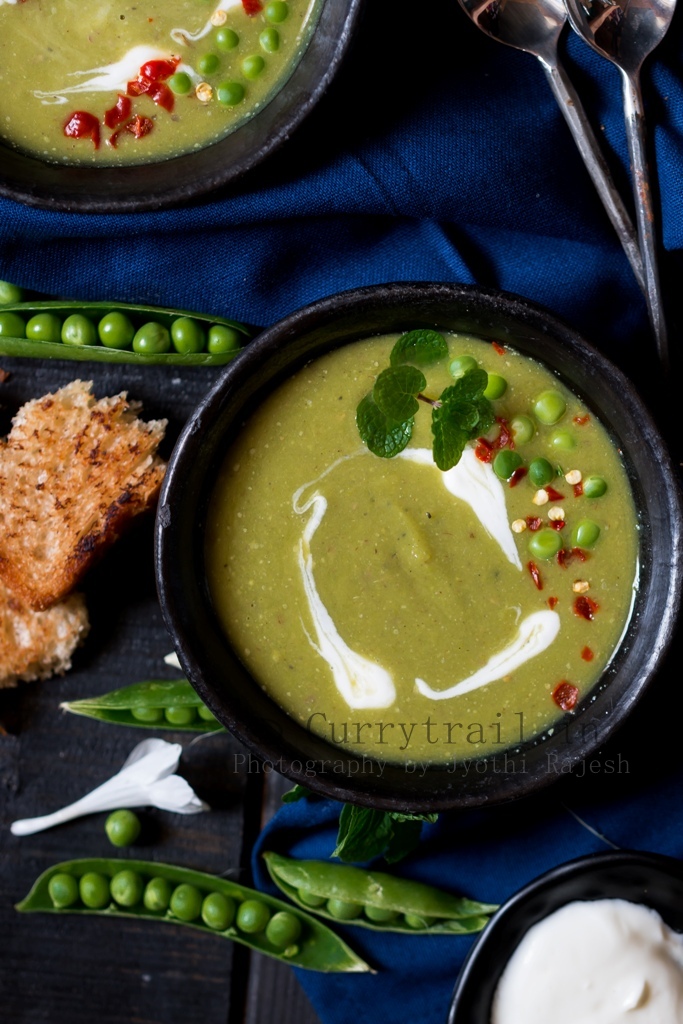 Every season brings some seasonal fresh produce which get flooded in the market. During winters green peas are at its best and flooded everywhere in the market. Looking at the fresh peas everywhere, it's hard to resist them. A bag full of fresh peas instantly went in making fresh green peas soup. This soup is delicate on the palate and a hint of cumin and pepper powder gives a wonderful flavor to it. Do try this soup before the seasonal fresh peas vanishes from the market.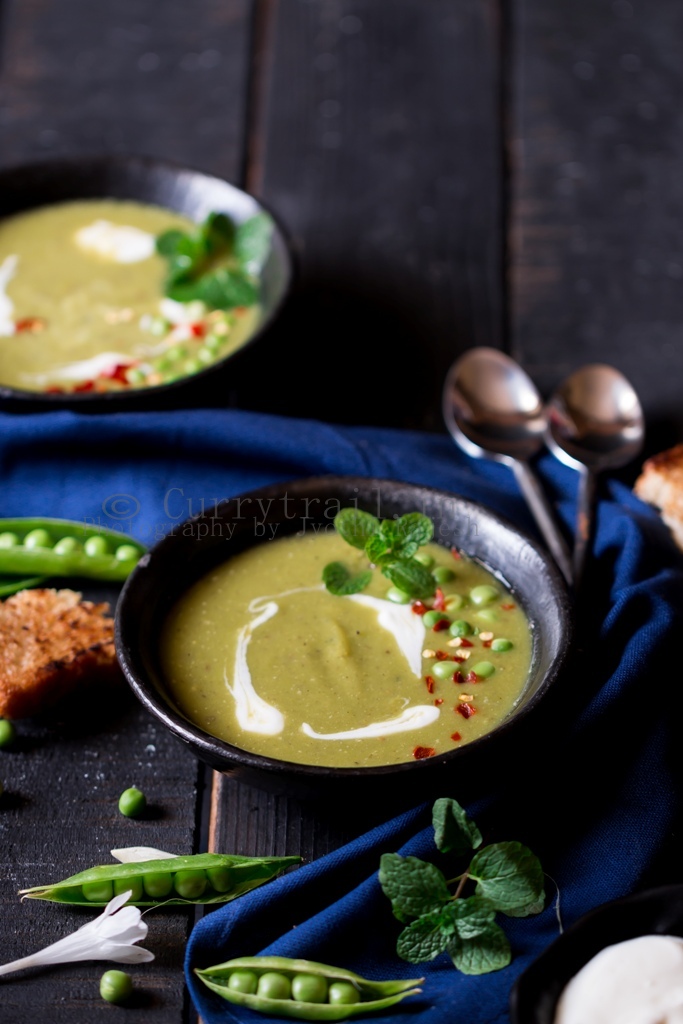 Ingredient
1 cup fresh green peas
½ onion, finely chopped
4 cloves garlic, grated
1 teaspoon cumin powder
1 tablespoon pepper powder
Salt to taste
1 teaspoon olive oil
1 cup vegetable stock
For garnish
Thick curd or fresh cream
Red chili flakes
Instructions
1.Heat a olive oil in a pan. Add grated garlic and cumin seeds. Cook for about a minute on medium flame until garlic starts to turn brown.
2. Add chopped onions and sauté till onions turns soft and pink.
3. Add pepper powder and salt to taste and mix well. Add fresh peas and cook for about a minute.
4. Add vegetable stock and bring it to boil. Let the peas cook. Once peas are fully cooked, transfer the cooked peas mixture into a blender and blend till smooth.
5. Pour the pureed peas soup back into the pan and bring it to boil.
6. Pour hot soup into individual serving bowls, garnish with thick yogurt or cream. Sprinkle some red chili flakes and serve hot with some toasted bread.