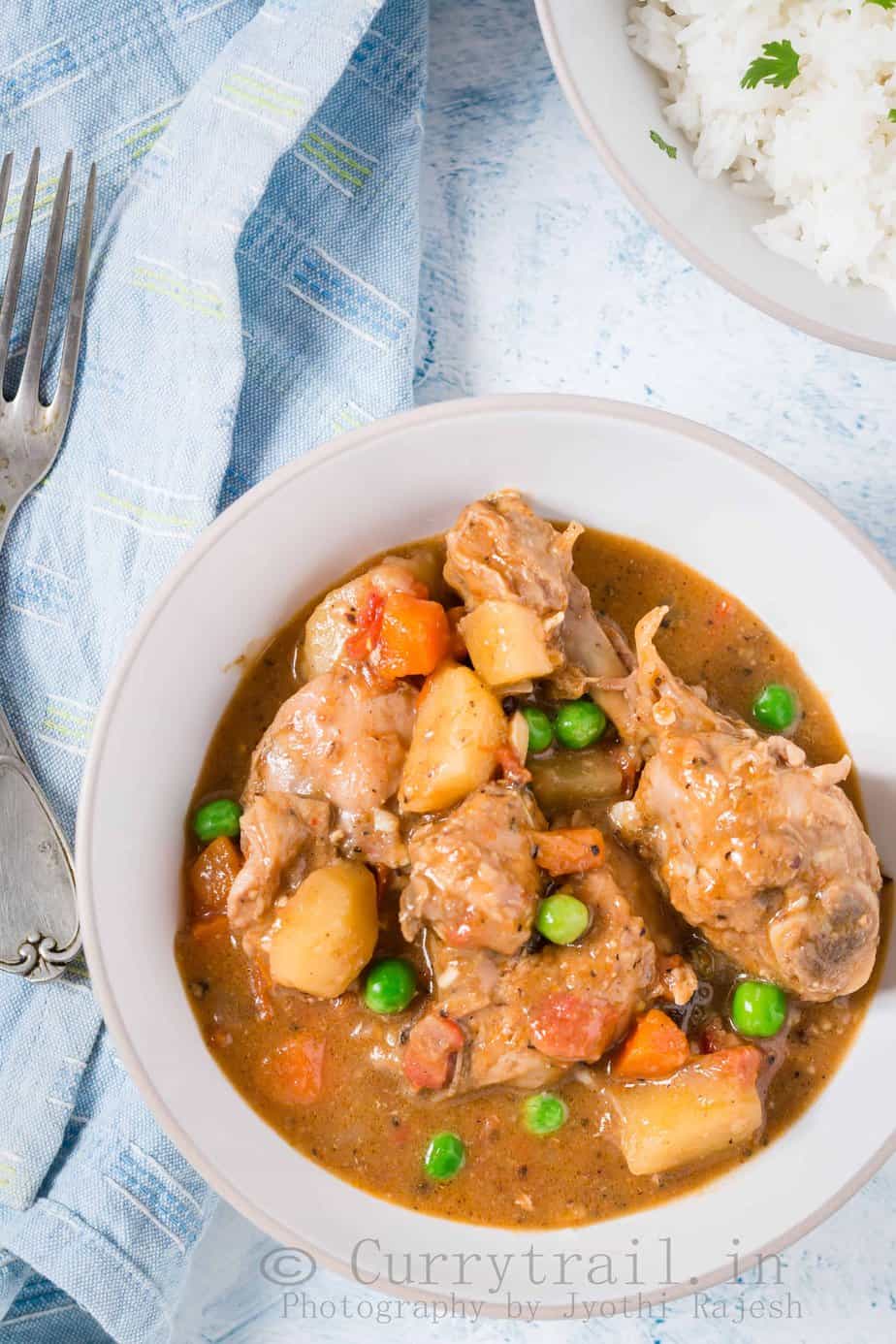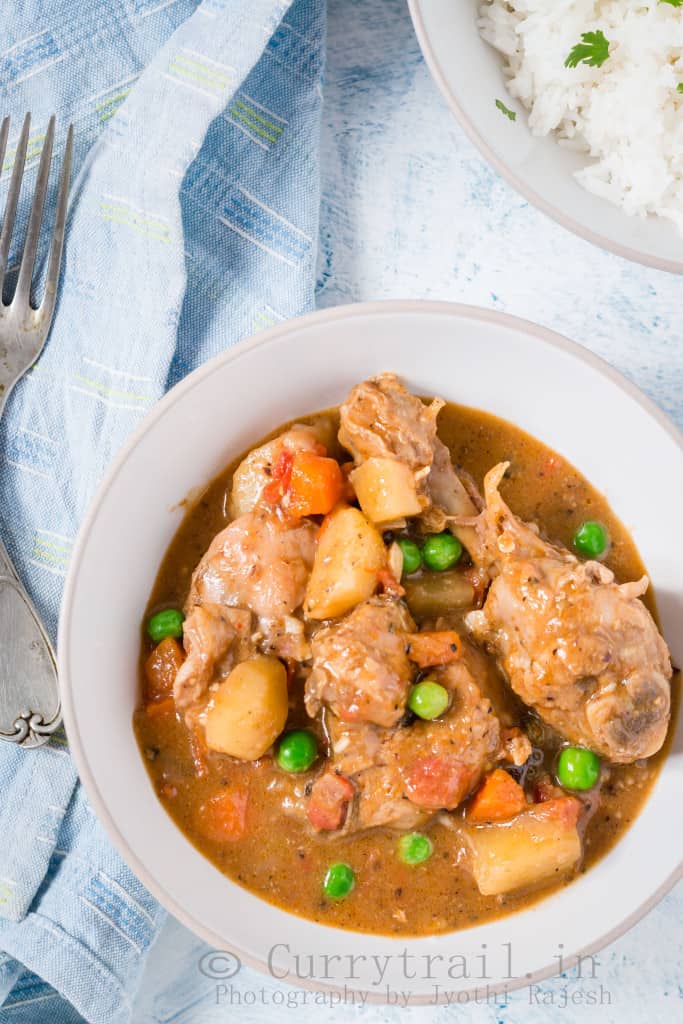 Goan Chicken Stew is a delicately flavored stew which has chicken and vegetables in it. A very tasty stew which is best served with rice(the way I like it). A bowl of piping hot stew is always comforting with steamed rice, during any weather. This stew does not have the strong flavor of garam masala, and the spice is from the pepper powder, coriander powder and cumin powder. Goan style chicken stew can also be served with idiyappam, appam, dosa.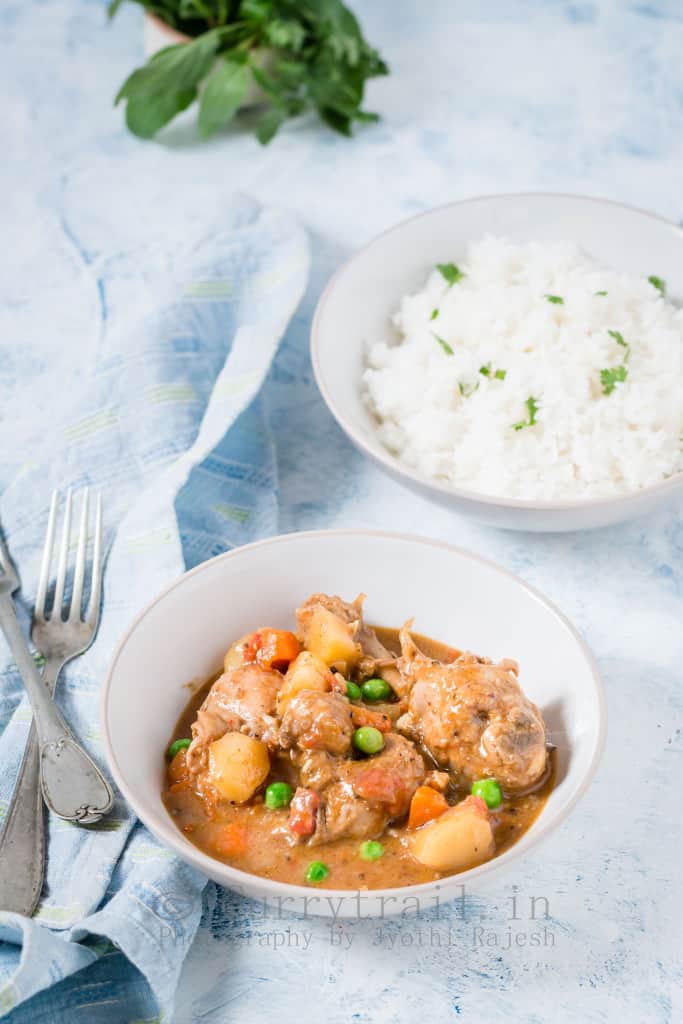 Beef stew with beef sausages is the most popular stew from the region, since I don't eat that meat, I like to eat Goan stew that is made of chicken. There are many variations of Goan stew, this is my way of making a simple and delicious Goan stew using chicken.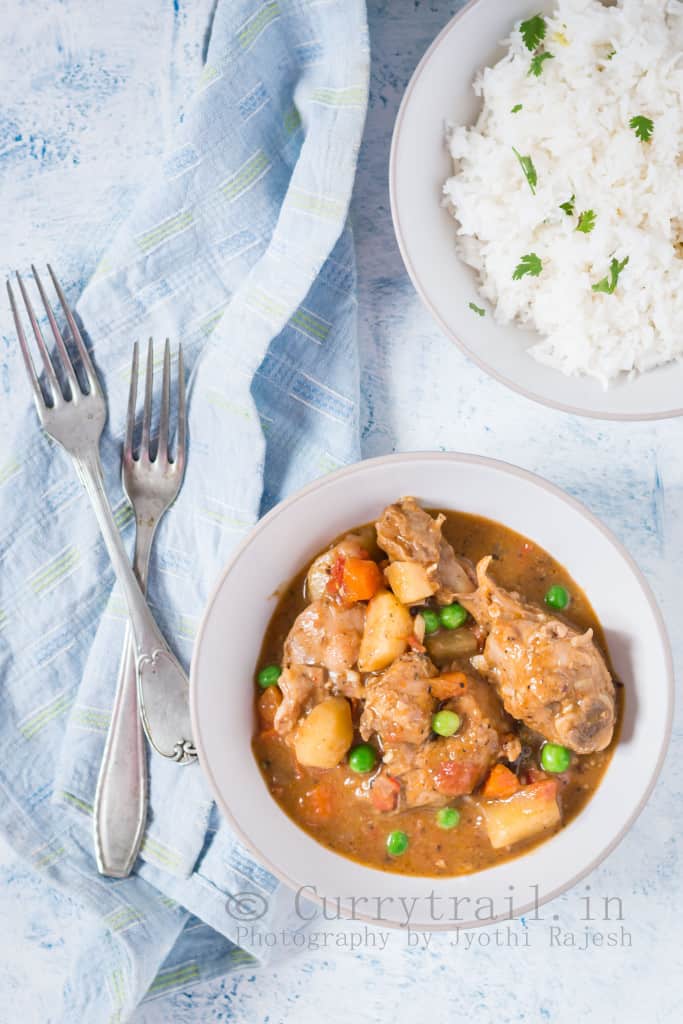 Ingredients
500 grams chicken (preferably with bones)
1 big onion
1 big tomato
4 green chilies, slit
2 small carrots
2 medium sized potatoes
⅓ cup green peas
1 tablespoon ginger, finely chopped
1 tablespoon garlic, finely chopped
1 tablespoon coriander powder
1 ½ teaspoon cumin powder
1 tablespoon pepper powder
4 tablespoon thick tamarind juice
Salt to taste
2 tablespoon gingerly oil
Water as required
For marination
1 teaspoon red chili powder
1 teaspoon salt
1 tablespoon lime juice
Method
Wash chicken pieces well. Add all the ingredients mentioned under 'for marination' to the chicken pieces. Mix well and let it sit inside the fridge for 1 hour.
In a large wok, heat oil. Add finely chopped ginger and garlic pieces and cook for 2 minutes until raw smell is gone. Add finely chopped onions and green chilies cook till onions turn translucent.
Add marinated chicken pieces and cook till the color of the chicken changes to white.
Add chopped carrots and potatoes and mix well. Continue to cook.
Add the spice powders and salt. Mix well, let it cook for 2 to 3 minutes. Keep stirring constantly.
Add finely chopped tomatoes, cook for 5 more minutes.
Add 1 cup water, mix well, cover and cook until chicken is fully cooked.
Add peas(I used frozen peas, if you are using fresh peas add it in step 4) , let it simmer.
Add thick tamarind juice, cover and cook for another 5 minutes on medium to low flame. Add water if the stew turns dry.
Check for seasoning.
Remove from stove and serve hot with steamed rice.