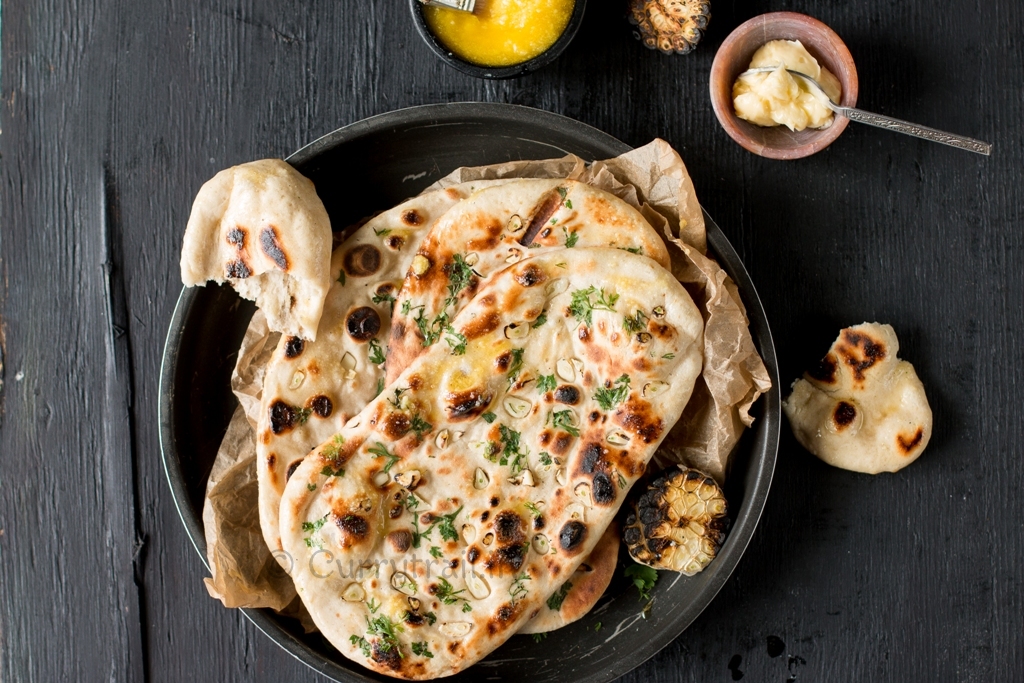 I come from a small town. A place where there are no hotels or restaurants. A place which turns deserted before 8 PM. I was born and did my education there. When I was doing my graduation, we bunch of friends had a hang out place. It was called 'The Chaat House'(chaat is a popular Indian Street Food). Parents would give us permissions to go out and spend time with friends in the evening. We were supposed to be back home before 6:30 PM. The time spent chatting with friends, eating the most delicious and spicy chaats used to be very relaxing and we bunch of friends would always look forward too it. Chaats was the only food that we ate outside those days.
Final year of graduation was all supposed to be very serious years where we were prepared to face the reality of life, take up challenges on our own and study hard to score better and get placed in better companies. But final year was also a year where we had a college trip. I was literally shocked when my dad agreed to send me on the trip. After all, I just asked him once and he instantly agreed. I was excited and at the same time nervous as I had not been alone, all by myself even for a single day. And the trip was for a week. This was my first 'Go live your life' kind of experience that I was about to have. So the destination was North India with a few amazing spots planned. We were about to visit Delhi, Agra, Manila. With full excitement, got my suitcases packed and we all friends met at railway station. The train journey was the most amazing part of the trip. I LOVE trains and we spent hours together reminiscing how amazing the last few years have been. We got shocked with the number of secret crushes that got revealed during the journey. And we freaked out when we discussed about our future!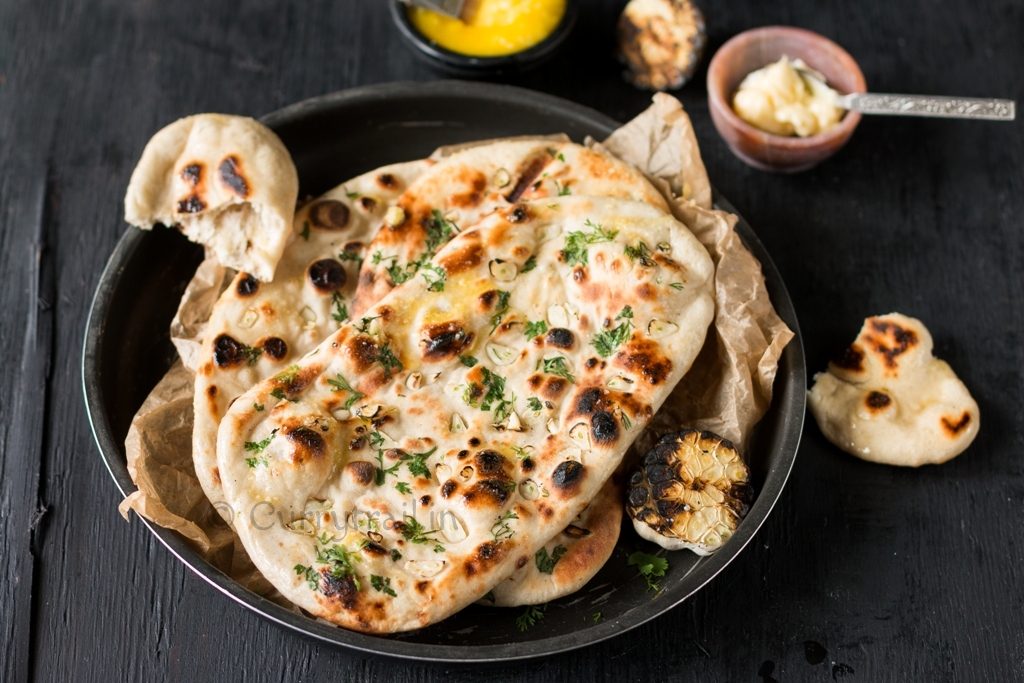 We reached Delhi early morning. We had to have our breakfast before we visited monuments and then head to Agra. We all sat in groups in a small hotel. The menu card was distributed and then the hard part started. Non of us(we South Indians) knew what a paratha was that time. And the menu had a whole lot of parathas with different names. We all randomly placed the order. We didn't know what to expect. When our plates was served, we were amazed to discover that parathas were nothing but roti's with some stuffing inside. We had this look on all our faces which meant, 'we can survive on this. This is not bad' :). It was served with curd(yogurt) and pickles. That was the first time in my whole life I had that combo. We usually have pickle only with curd rice or sambar rice sometimes. I liked the parathas what I ate, but what I did not find very appetizing was the whole coriander seeds in the paratha. That was my first ever North Indian food, a PARATHA!
After breakfast we headed to Agra in bus. I have motion sickness problem and I cannot take a bus ride. I can manage trains, but bus, airplanes are my worst enemies. I had a hard time until we reached Agra. The time was just around lunch time. We first decided to go around, look at Taj Mahal and then have lunch. I was completely mesmerized with the beauty of the monument. The story behind it made the monument look even more beautiful.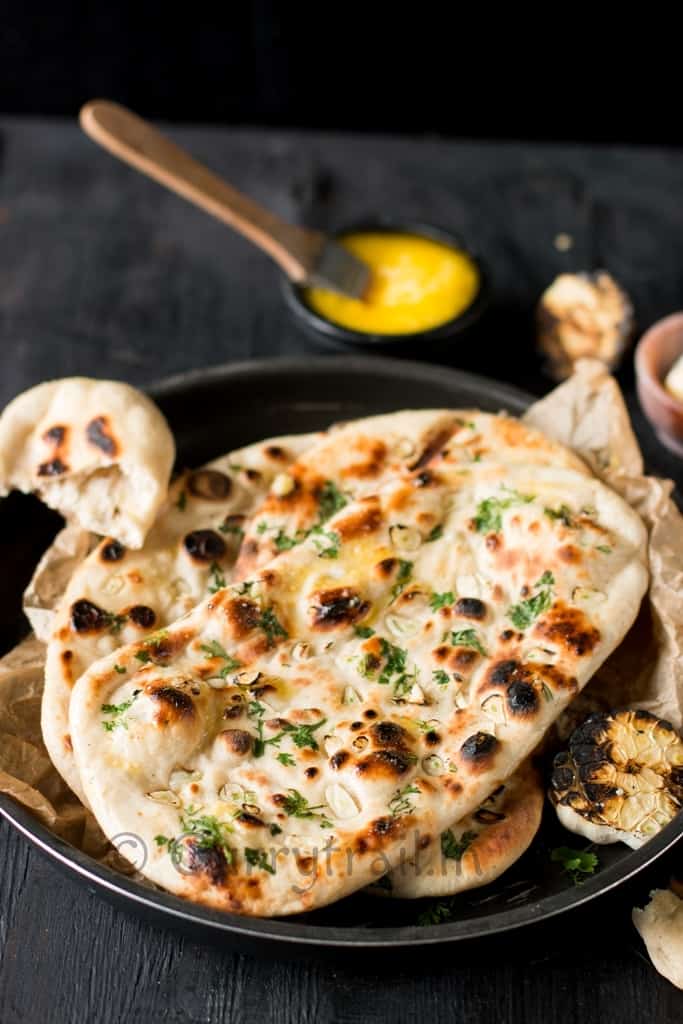 Lunch was decided to be at a small dhaba(road side restaurants). There was naan along with rice and rotis. Rice definitely sounded like a relief, being a South Indian. I definitely wanted to have my rice. For most South Indians like me, our day and lunch is not complete without rice and dal(or sambar). Some friends though wanted to try out naan. We exchanged food from our plates and I got a big piece of garlic naan. Again, naan was totally new to me. I loved it with dal and the garlicky flavor in the naan made it even more delicious!
During my entire trip we decided to try out new dishes that we haven't had before. I tried out different North Indian dishes in Delhi, Agra, Manila. Best experience was in Manila, with the breathtaking scenic beauty of the place, snow, piping hot food, it was all amazing. That was my first North Indian food experience. Every time I make naan and parathas at home, the memory of the trip re kindles back. It's amazing how every food has a story behind and how it rekindles a memory.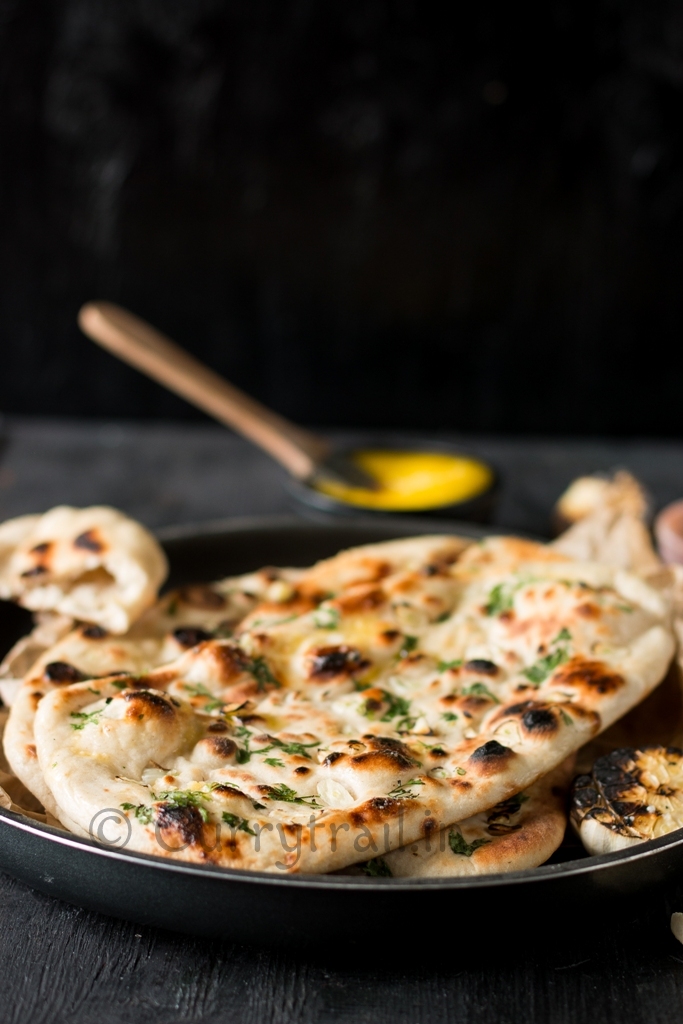 This garlic naan recipe sure reminds me of the dabba we ate our lunch. The whole experience is just beautiful.
A few days back I posted Instant Naan without yeast recipe. Today I have a garlic naan with yeast in it. This naan has a charred smoky flavor in it and it comes very very close to the naan made in tandoor(big clay pots)I have a few tips and tricks for you to make naan at home that looks like tandoor naan and tastes much better than the ones you would order in restaurants. The naan does not turn hard unlike the ones you buy in restaurants. So you can make it ahead few hours before serving.
Ingredients
For the dough
1 cup all purpose flour
1 cup whole wheat flour
½ cup luke warm water
1 tablespoon yeast
1 tablespoon sugar
1 teaspoon salt
1 teaspoon oil
For topping
½ cup finely chopped garlic
¼ cup fresh coriander leaves
¼ cup or more ghee(clarified butter)
Instructions
1.Add yeast, sugar in a bowl and pour luke warm water and let it sit for 5 minutes until the yeast starts bubbling. If the yeast doesn't react discard it and start another batch.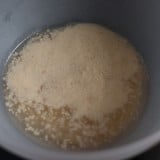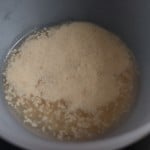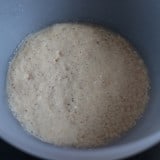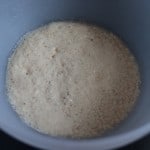 In another bowl, add flour, salt, oil and mix with your fingers, make a well in the center and pour in the frothy yeast mixture. Mix well. Do not add water. We just want all the dry flour to be wet. The dough will be sticky. Do not add flour either.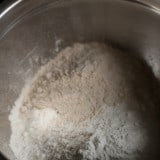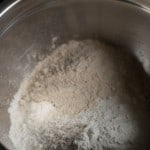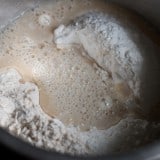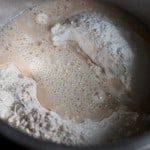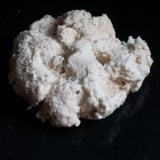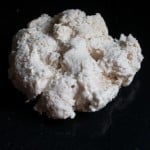 Clean thoroughly counter surface, rub your fingers with little flour, transfer the dough onto the counter and start kneading. Initially it will be sticky. Knead until smooth, soft and shiny dough. The kneading should be "stretch, fold back" movements. Do not add too much flour while kneading. We need flour just to rub your fingers with in case dough is very difficult to handle. If you add more flour, the naan might not turn soft.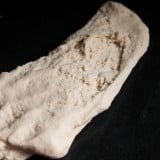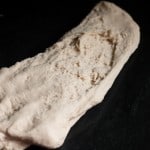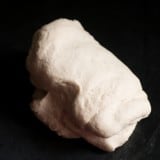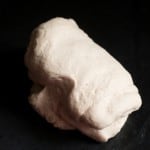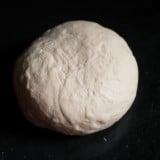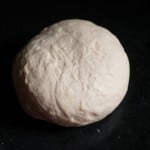 Place the dough into a bowl rub oil all over the dough, and cover it with a damp cloth. Set it aside for 1 – 1.5 hours, for the dough to prove. After 1-1.5 hours dough would have risen and it would be double the size.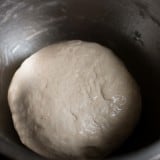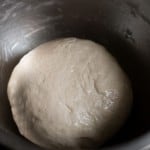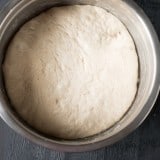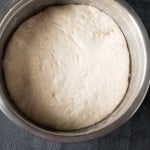 Once the dough is proven, knock down the down(punch it with your fist), this is done to release all the air that would have collected. Gently knead for another 2 mins.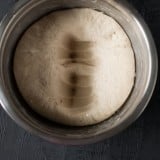 Divide the dough into 6-8 equal parts. Dust a little flour if needed to roll and press the dough.
Sprinkle chopped garlic and coriander leaves. Run the rolling pin over it so it sticks to the dough well.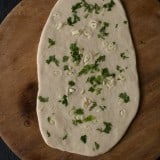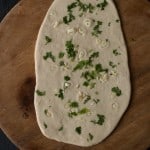 Rub water on the below side of the naan. Place it on a hot tawa(griddle). Cover immediately and let it cook for a minute. You will see the naan bubbling up.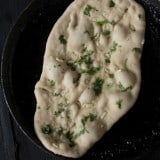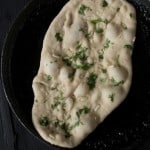 Now lift the tawa and turn it around on the flame so the top side of the naan is cooked over direct flame. This method ensures you get a charred smoky flavor naan just like the tandoor ones. Move the tawa around so you cook the naan all over the sides.
Once cooked, gently lift the naan from the tawa. Place it on a plate and rub ghee immediately. Repeat same steps with rest of the dough.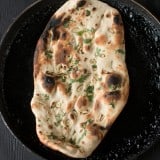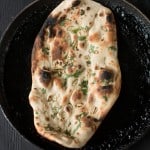 Hot charred, smoky, soft, delicious garlic naan is ready. Serve it hot with curd and pickle or dal. You can also cover it in aluminum foil and serve it after few hours, but eat it on the same day. Do not refrigerate it.
My tip and tricks to make naan at home that is equivalent to tandoor naans(without the tandoor)
Use half whole wheat flour and half all purpose flour always.
Do not add too much water. The dough will be sticky at first and after kneading for 5-10 minutes it will turn smooth. So kneading is important.
Rub enough water on the side it goes on tawa first.
Always cover and cook the bottom side
To get the charred smoky flavor, cook the top side of the naan over the flame directly as mentioned in above steps
Rub ghee immediately after the naan is out of tawa.
To store for few hours, wrap it completely in aluminum foil. Do not refrigerate it.
You can make this ahead and store for few hours, but I wouldn't recommend storing for few days in fridge, it changes the consistency of the naan.