Cheesy garlic chicken balls are easy to make, utterly addictive! Gooey, cheesy center and perfect gorgeous golden crunchy crust! These garlic chicken balls with cheese stuffing are great for party appetizers or pass them around at a gathering! You are going to be a hit at a party or gathering. I speak from experience!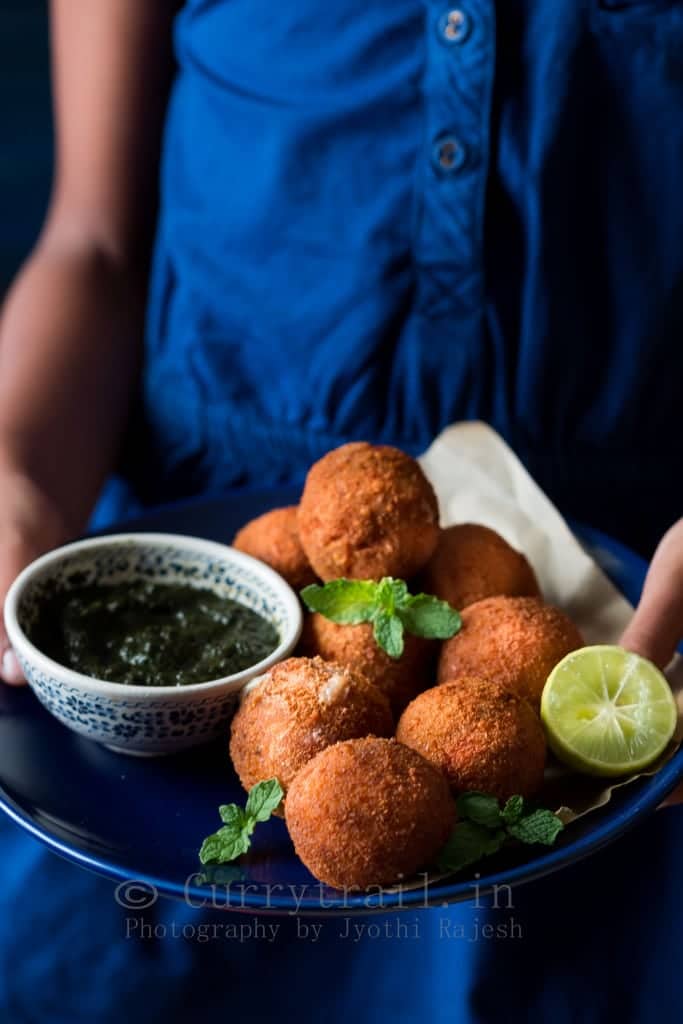 Every morning the bird chirping sound wakes me up. No, not the real bird's song, my phone has set this alarm sound to bird chirping sound. The sound is peaceful but still loud enough to wake me. Early morning, I get a feel of being in woods. What a nice way to wake up isnt?
But here's the thing, it's not an easy task waking up morning. I am not talking about 4 or 5 AM, I am talking about 6 AM. I am not a early riser at all and even the bird chirping sound doesn't help me some days. And since the time I wake up, it's a complete mad rush until both kids and hubby are out of house. Cook, pack lunch boxes, dress the up, drop them to bus stop – the drill happens twice and I get to breathe a sigh of relief only after that.
Past few months have been even more difficult. Renovation work at home has stolen away from me my"free time" "me time". Soon the kids and hubby are out of house, the laborers are in and constant watch women job has become my role. I am constantly answering to their queries, watching their work and instructing/checking with them on things that is yet to be done. It almost feels like never ending task. And a lot of stress is building in.
What do you do when you are stressed out? I, most of the time, tend to eat, I tend to over eat. Last few weeks the story has been that. I have been cooking a lot and eating a lot of it as well.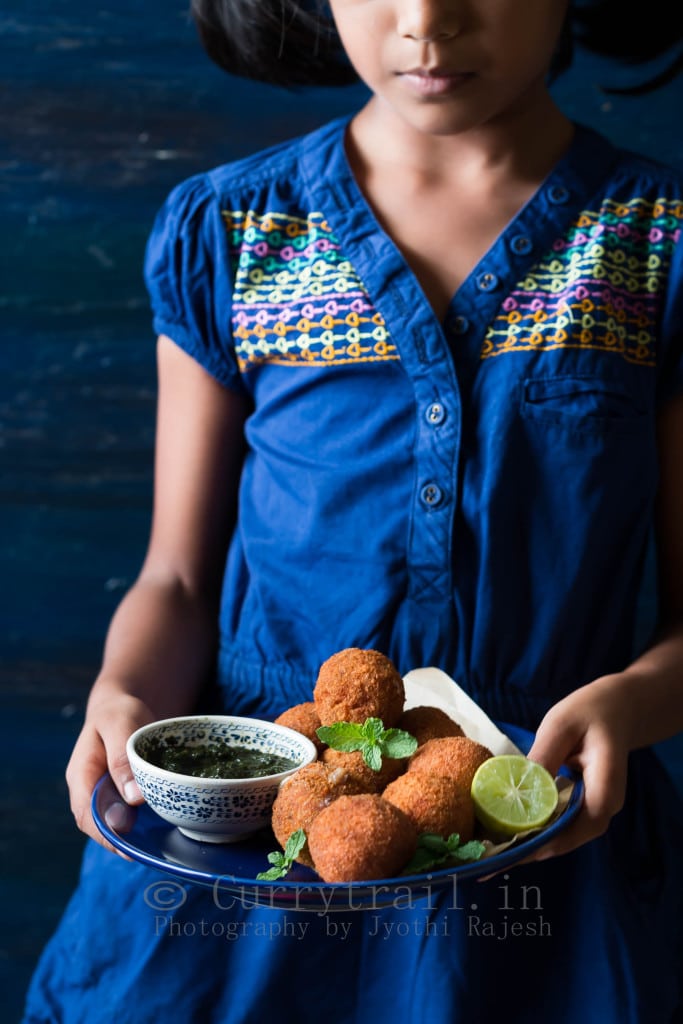 On one of the Sunday's last month, I made this delicious cheesy garlic chicken balls for brunch. Not just kids, and hubby, but I ate it too, a lot!. I usually shy away from fried stuff, but I guess I was stressed and just went on hogging these delicious cheesy balls all the way through the day. It was so delicious and ridiculously addictive I stuffed my face with these chicken balls.
Raj LOVES fried food. And I? I hate to admit it, but my belly and my head goes bonkers when I see fried food. As much as I used to love and eat fried foods 'those' days, my arteries harden at the thought of fried foods these days. 'Those days' I was always called 'blessed girl' with perfect figure. I could and would eat ANYTHING and I would still look….naturally lean :D. They say with age comes wisdom. I say with age comes belly fat, arms fat, thighs fat, damn :'(
The thing about deep frying is it can make anything taste great. And Raj calls fried food THE BEST food. And I agree with him. Fried food is the best tasting food. Take the humble, bland potato- fry them. What you get is 'weakness of the whole wide world' the potato chips. I bet there no one in the world who would eat one potato chip and say 'I had enough' (unless you are like a big health freak who has this ridiculous habit of eating, like someone who lives eating only…I don't know. Salads…).
Are you convinced enough to give garlic chicken cheese balls a try soon? Look at the molten cheesy inside on this photo. How gorgeous the cheese oozes out? Will this photo convince you?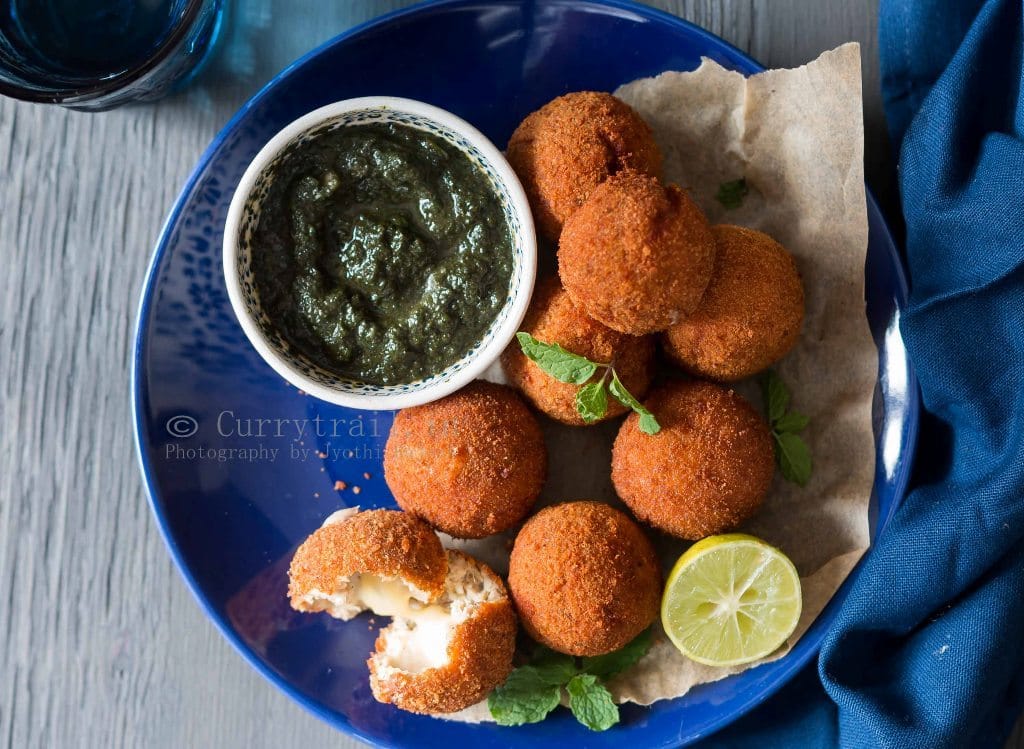 Stuffing cheese inside ground chicken not just enhances the flavor and taste of chicken but also makes it very interesting, especially for kids. A bite into it and they get the cheese, eye-ball-roll-moment! Talk about flavor enhancement to the dish, we are taking the flavor bar top notch. Garlic in chicken along with onion and herbs makes a flavor bomb dish.
This chicken cheese balls is as amazing as an even better as potato chips (I don't know why I'm comparing to potato chips when there is no comparison at all). Good old Mozzarella stuffed inside mince chicken balls, coated with crumbs and deep fried. What come out are gorgeous golden crust balls with hot gooey cheesy chicken meat balls.
I don't shy away completely from any food. I don't like the thought of starving my body with any type of food it craves for. Eating in moderation even when its fried food is the successful mantra I have. A cheat day, mostly it's Sunday for me and I treat myself on Sunday! And those days a few chicken cheese balls easily makes its way to my brunch plate.
A great party always starts with a great starter like this garlic chicken cheese balls. Minced chicken with garlicky flavor in it and stuffed with cheese deep fried to perfection, makes a great starter. Crunchy yet soft centered with gooey cheesy is absolutely delicious and very addictive snack. These are perfect for kids after school snack.
How to Make Cheesy Garlic Chicken Balls
Recipe is very simple. Minced chicken is flavored with garlic, onion and herbs. Pepper powder and red chili flakes for that kick. If you like spicy chicken balls use extra red chili flakes for extra kick. Make balls. Stuff small cubes of Mozzarella.
Coat in bread crumb. Use panko bread crumbs if you are after extra crispy crunchy chicken balls.
Serving Sauce
Almost all sauce can be used to pair with this cheesy garlic chicken balls. Spicy marinara sauce, spicy mayo sauce, even plain ketchup is a hit combo with my kids. I served with spicy mint sauce/chutney to go with these chicken balls.
The recipe for spicy mint sauce is very easy. 1 cup mint leaves + 2 cloves garlic + 1 green chili + 1 tablespoon lemon juice + salt and ½ teaspoon water. Grind all together into thick sauce.
Can You Reheat Chicken Cheese Balls?
Yes. I have tested freezing these chicken balls. And before serving I reheated in oven. Turned out really good. There was a crunch on it. However, frozen chicken balls when reheated in microwave turned out to be less crunchy. So i recommend you to reheat it in oven only.
You'd love our other chicken party appetizer(finger food) recipes as well –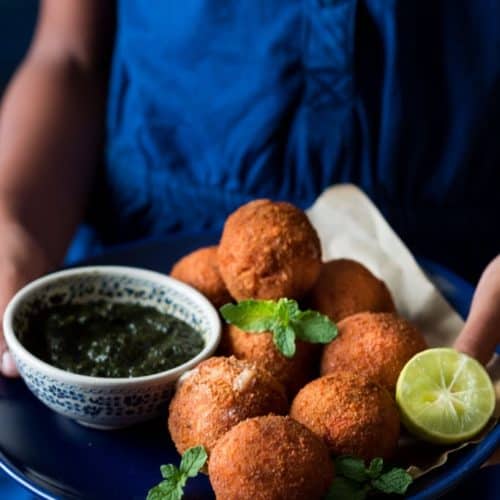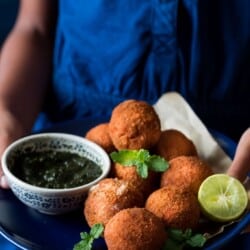 Cheesy Garlic Chicken Balls
Cheesy garlic chicken balls are easy to make, can be baked as well. Can be served as a snack or appetizer. Plus these chicken balls freezes great!
Ingredients
1 lb minced chicken
1 tablespoon onion powder
3 cloves of garlic minced
Salt to taste
1 tablespoon pepper powder
2 teaspoon oregano
1 teaspoon red chili flakes
Oil for deep frying
Mozzarella cheese cubes for stuffing
For coating
½ cup all purpose flour
2 eggs beaten
¾ cup bread crumbs
Instructions
In a wide bowl add minced chicken, onion powder, minced garlic, pepper powder, oregano, red chili flakes, salt to taste and mix well.

In a wide pan heat oil for deep frying.

Make lemon sized balls of the chicken mix. Place a small cube of mozzarella cheese in the center and roll well into neat balls.

Coat the chicken balls with all purpose flour first, then dip it in eggs and finally coat bread crumbs. Repeat this step for all chicken mix.

Once oil turns hot, reduce heat to medium. Drop the rolled balls 2 to 3 at a time and deep fry until golden brown. Remove from oil and drain it on kitchen towel.

Serve immediately with any dipping sauce of your choice. These are great finger party food.
Notes
These are great to freeze. You can freeze the chicken balls before frying. Coat the chicken balls in bread crumbs and place them in zip lock bag and freeze. Can be frozen for upto a month.
The fried balls can also be frozen. You can take them out of the freezer and warm it in oven. Let me remind, reheated chicken balls in microwave might not be as crispy as you can expect when it's just fried. SO I recommend you to reheat in oven.
Nutrition
Serving: 0gCalories: 240kcalCarbohydrates: 19gProtein: 19gFat: 9gSaturated Fat: 2gCholesterol: 126mgSodium: 176mgPotassium: 536mgFiber: 1gSugar: 1gVitamin A: 535IUVitamin C: 0.9mgCalcium: 53mgIron: 2.5mg