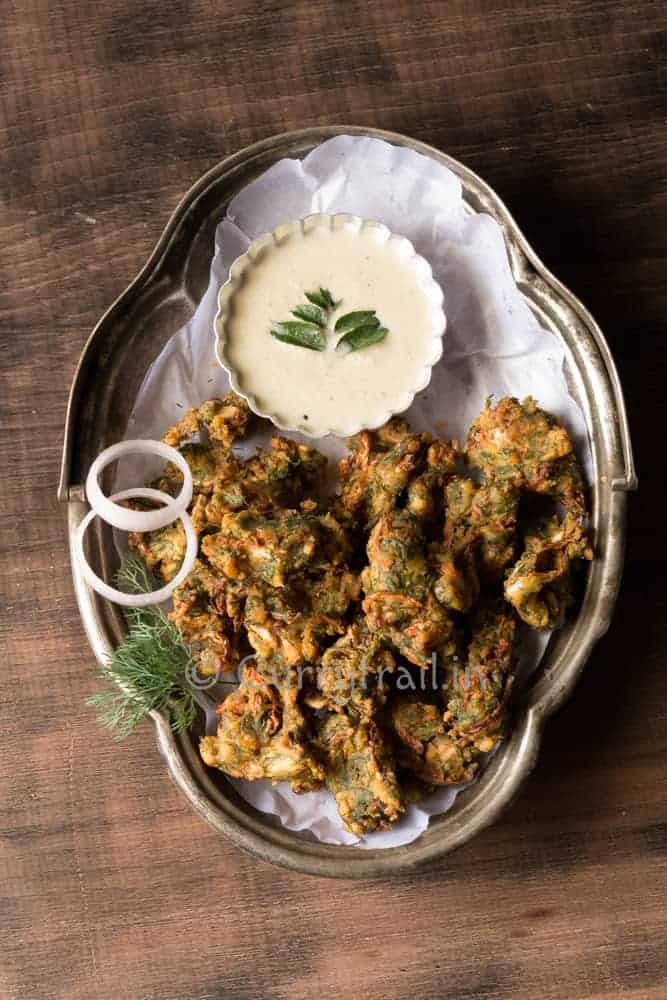 I have a small space in my backyard where I do vegetable gardening. I grow a few vegetables and greens in there! Right now I have Dill leaves, palak leaves(green spinach), methi(fenugreek leaves), coriander leaves along with green chillies plant, papaya, curry leave plant, red radish growing. I will share the photos of bits and parts of my garden soon.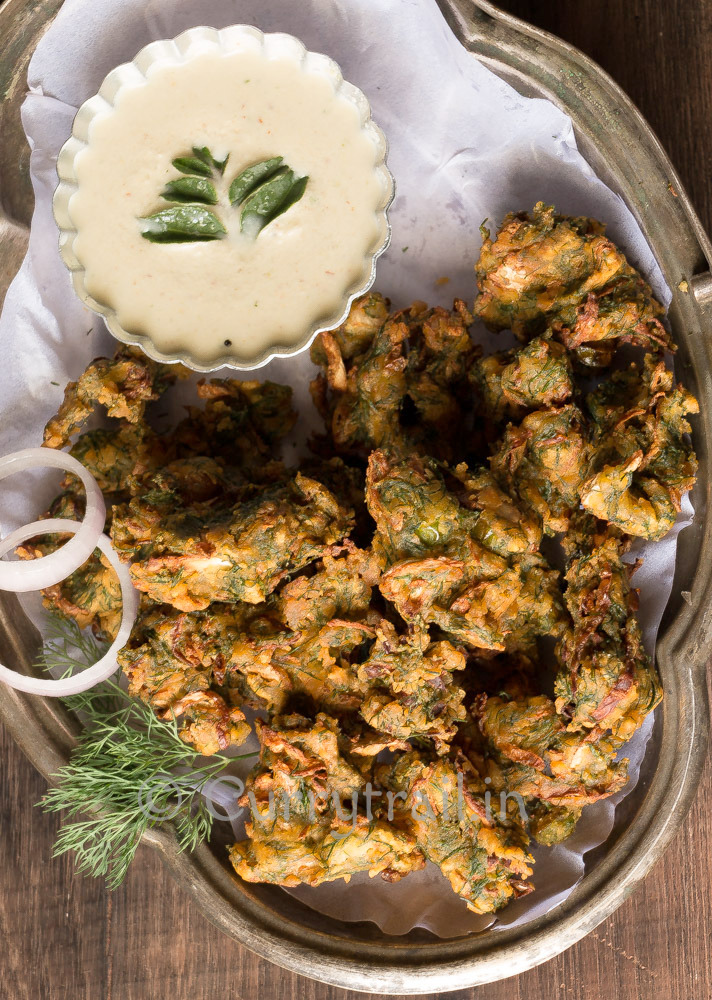 I have a small bunch of dill leaves fully grown. I had plans to take pictures on thursday after a doctor's appointment, by the time I came back from the doctors place, my mum had harvested the whole lot and she was planning to cook lunch with it. I was so disappointed that I couldn't take pics :(, but poor lady she didn't know that I wanted to take pics!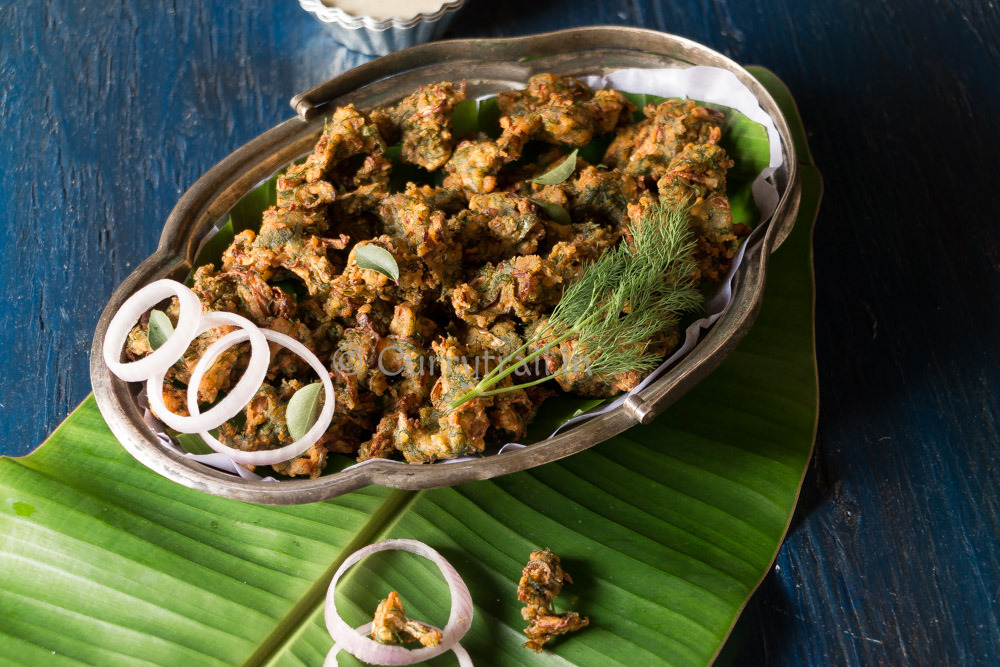 Anyways, when saw the fresh leaves I wanted to make dill leaves vadas which I have already posted. I had no patience to wait for the bengal gram to soak for hours, so I decided to do an instant snack – pakodas.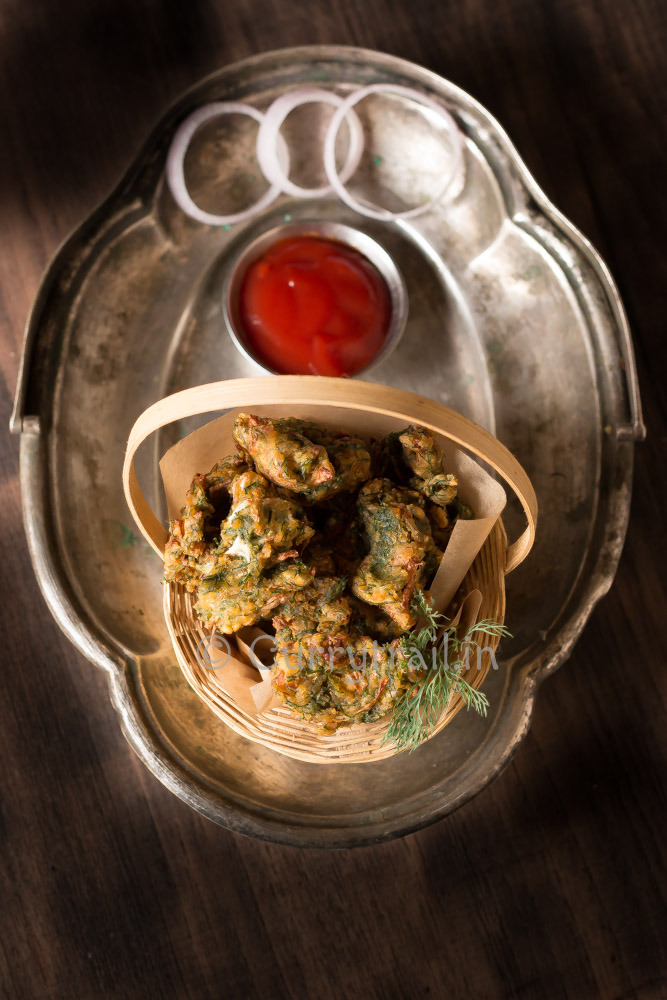 Instead of adding onions, most of the time my mom adds cabbage in vadas and pakodas, and I do the same too. Chopped cabbage into thin slices, finely chop fresh dill leaves, and mix it all up with rest of the dry ingredients, deep fry them. Yes deep fry! It's an occasional indulgence.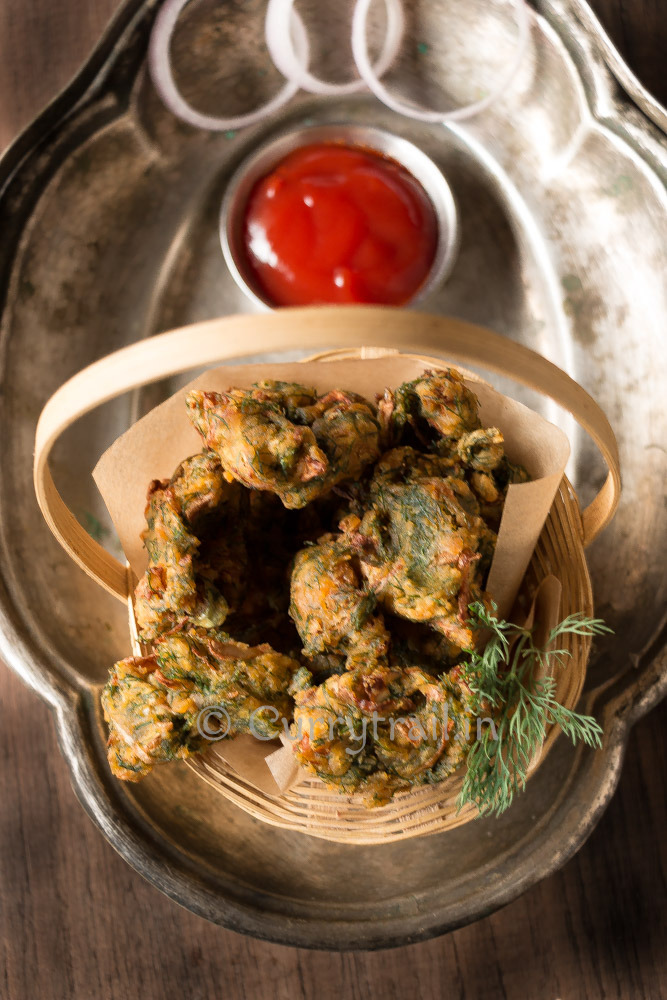 Here's simple dill leaves cabbage pakoda recipe –
Ingredients:-
Gram flour/Besan – 1 cup
Rice Flour – 2 tbspn
Salt – to taste
Finely chopped green chillies – 3 nos
Finely chopped dill leaves – ½ cup
Cabbage, sliced thin – ½ cup
Cooking soda – ¼ tspn(optional)
Asafoetida – a generous pinch
Cumin seeds – 1 tspn
Water – few tspns
Instructions:-
1. Mix all ingredients to gather. Add few teaspoons of water at a time and mix.
2. Add water very little at a time, you need the mixture to be a thick batter.
3. Heat oil in a frying pan over a moderately high heat. Spread the pakoda mix over the hot oil without over crowding it.
4. Cook for 4-5 minutes turning once, until golden and cooked through.
5. Drain on kitchen paper and keep warm while you cook the remaining batter. Serve with spicy coconut chutney or sauce.