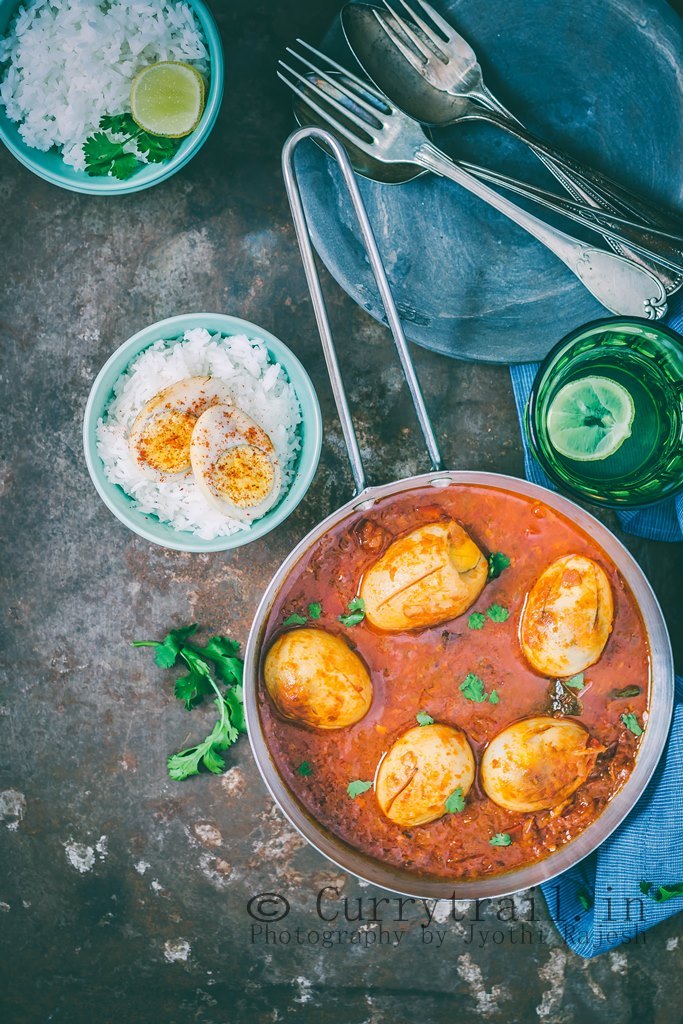 It's very evident that I loooove eggs, eggs in all forms. Give me egg curry I can eat it for breakfast, lunch dinner. I'm not a person who can eat meat (chicken) first thing in the morning, I can't take it for breakfast. But eggs there are an exception.
Mid meal hunger pangs, for evening snack, for those mid night cravings – eggs come to rescue. A simple spicy egg omelette is all I need. I prefer egg omelette if given a choice. But boiled eggs are great too when it is served as a curry. A spicy delicious egg curry is my favorite go-to dish any day, any time.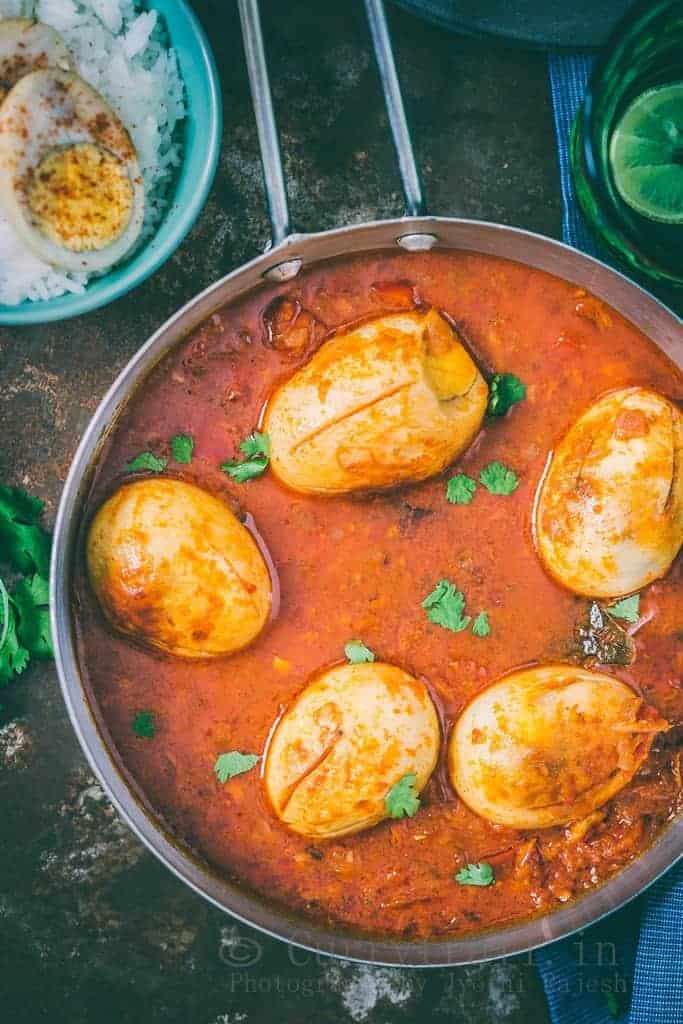 If you are looking at options to tick, this dish gets a lot of ticks.
Health –
Delicious –
No-fuss recipe –
Easy on your pocket –
Ready in under 30 minutes –
Yea it ticks all.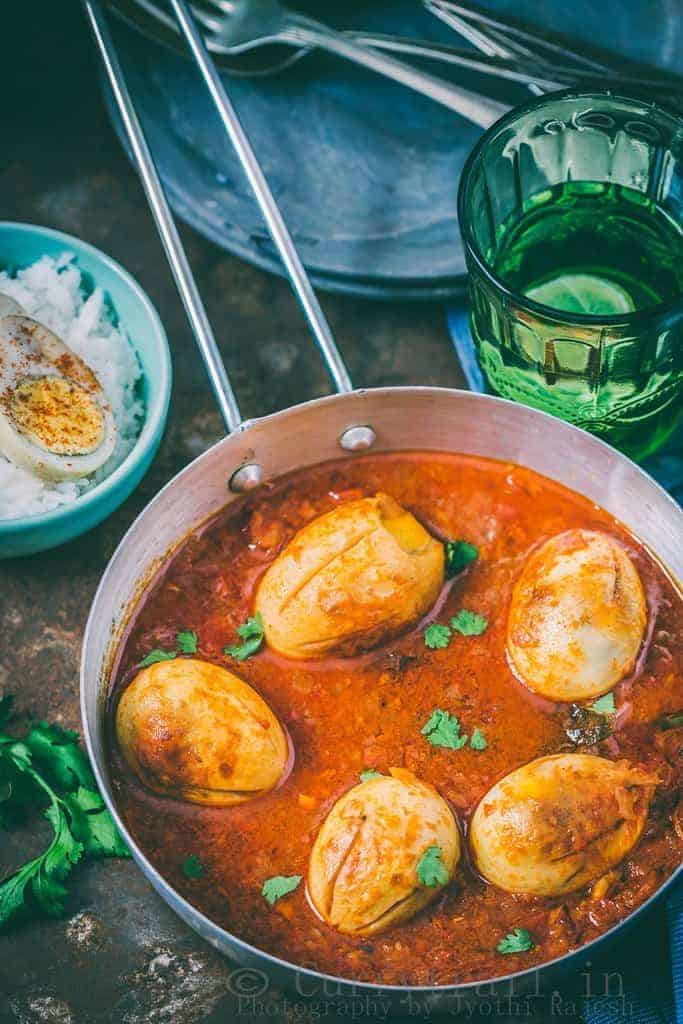 Don't be surprised if I tell there is already 3 different types of egg curry recipe on the blog! If you guys love egg just like me then you definitely have to check those recipes too along with the Dhaba style egg curry. Kerala Style Egg Stew makes a light comforting and lip smacking accompaniment for your south Indian breakfast like appam, idiyappam, dosa and even idli.  While there is a stew for breakfast, a spicy curry to go with your rice for lunch/dinner is this Chettinad Egg Curry. There is also  egg masala recipe on the blog.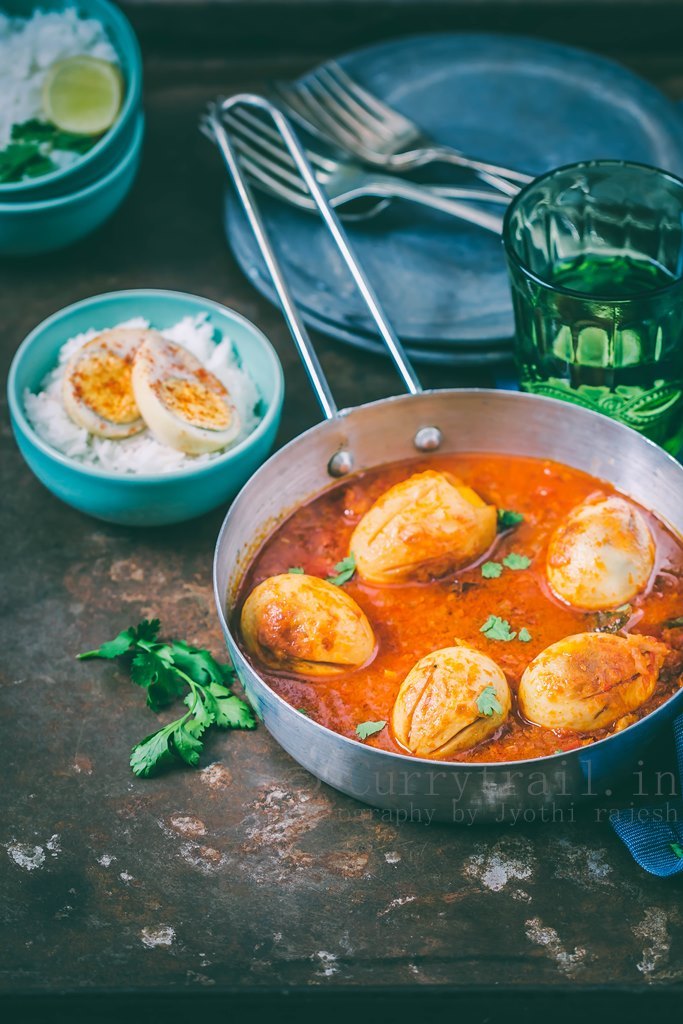 There is a craze for dhaba style food among us. Food prepared in those humble shack's tastes fresh and delicious in many places. Dhabas are the choice to eat while we are on the road in India, atleast among many. You walk into dhaba, you don't see any fancy stuffs, but the aroma that hits your nose soon your walk in is un match able. With simple basic ingredients the food prepared here is comforting, delicious and works well on your palate while you are travelling. With just a few hand full of ingredients this Dhaba Style Punjabi Egg Curry recipe is going to be your new favourite, try it out guys!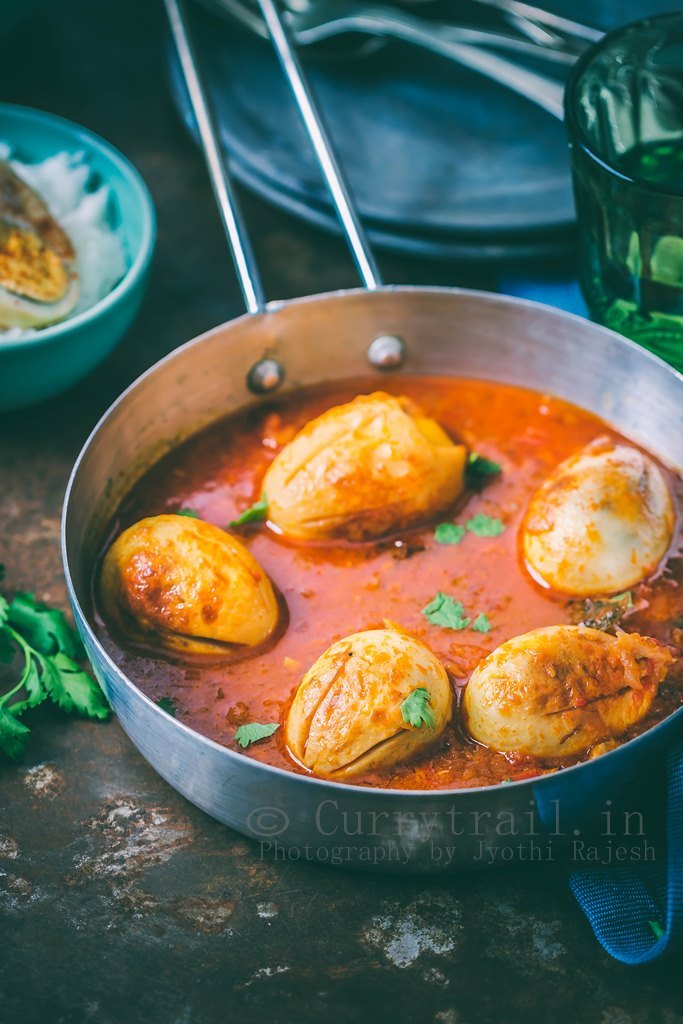 Ingredients
5 hard boiled eggs
2 large onions
3 tomatoes
2 green chilies
6 cloves garlic
1 ½ inch ginger piece
2 cloves
1 small bay leaf
1 cardamom
1 ½ teaspoon Kashmiri red chili powder
1 tablespoon coriander power
1 teaspoon roasted cumin powder
Salt to taste
¼ teaspoon turmeric + 1 teaspoon red chili powder + ½ teaspoon salt
1 teaspoon kasuri methi(dried fenugreek leaves)
½ teaspoon garam masala
Water as required
2 tablespoon oil
Fresh coriander leaves for garnish
Method
Grind onions into fine paste.
Grind ginger, garlic and green chilies into paste.
Puree tomatoes.
Heat 1 tablespoon oil in a pan.
Make cross incision into the eggs without breaking them.
Mix turmeric +red chili powder + salt to gather. Rub a small amount of turmeric and red chili powder on each egg, making sure to fill the slit portions too with the powder.
Gently fry the eggs in oil until it starts turning brown on all sides. Remove once done from the pan.
Into the same pan add remaining oil. Fry cloves, bay leaf and cardamom in oil.
Add ginger-garlic-green chili paste and cook until it doesn't smell raw any more.
Add onion paste and continue to cook till it starts browning.
Add tomato puree, cook till oil separates from the sides of the pan.
Add all the masala powders except kasuri methi and garam masala.
Stir and cook for 3 minutes.
Add ¾ cup water and bring it to boil. Cover and continue to boil for 15 minutes. If the water evaporates completely add more water accordingly.
Add the eggs and cook for another 10 minutes on low flame.
Crush kasuri methi and add it to the curry. Garam masala is added at this stage. Give it a good stir, wait for 2 minutes and turn off flame.
Garnish with fresh coriander leaves and serve it with rice, roti, parathas.