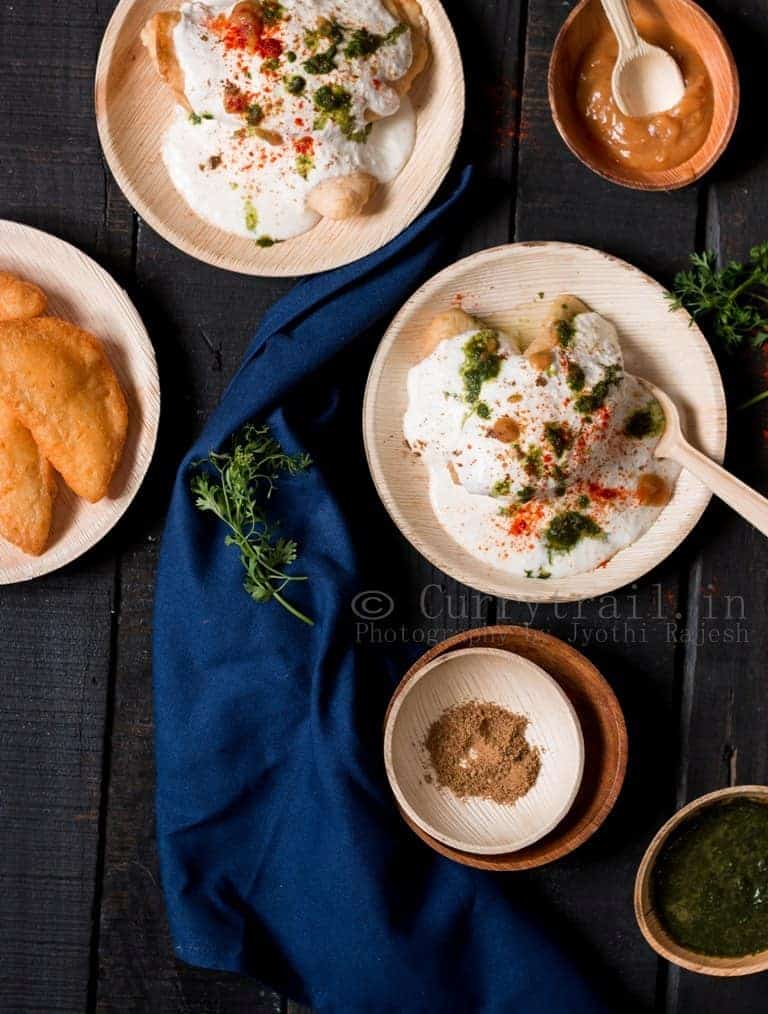 Occasional indulgence is not a crime! I say this cause some of the recipes which calls for deep frying method has to be deep fried. Dahi gujiya is a most popular starter/appetizers or snack in the Northern parts of India. Though is it very popularly made during Holi festival. But it's definitely not restricted just during Holi, you can make it anytime, be it dinner party, or birthday party, these dahi gujiyas makes for a perfect delicious snack option.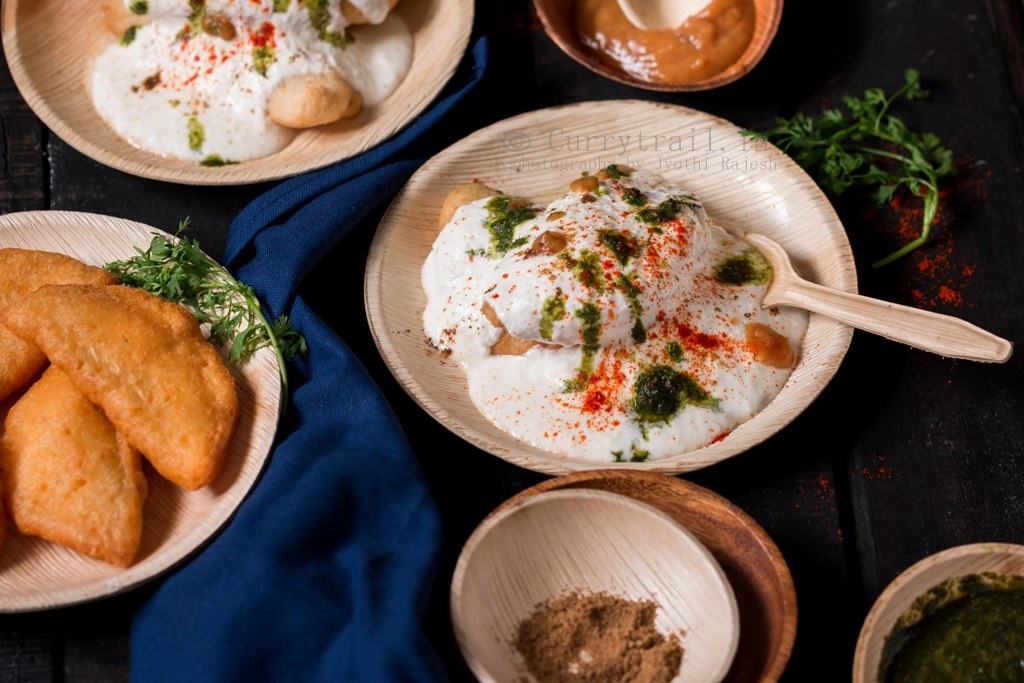 It is made from thick urad dal batter. The batter is shaped into gujiya's, stuffed with some pepper corns, roasted cumin powder and grated ginger(which I avoided as I am not a fan of ginger). It is then deep fried until golden brown. The deep fried gujiyas are then soaked in water for good 2 hours times, then served with fresh, slightly sweetened curd along with mint and tamarind chutney.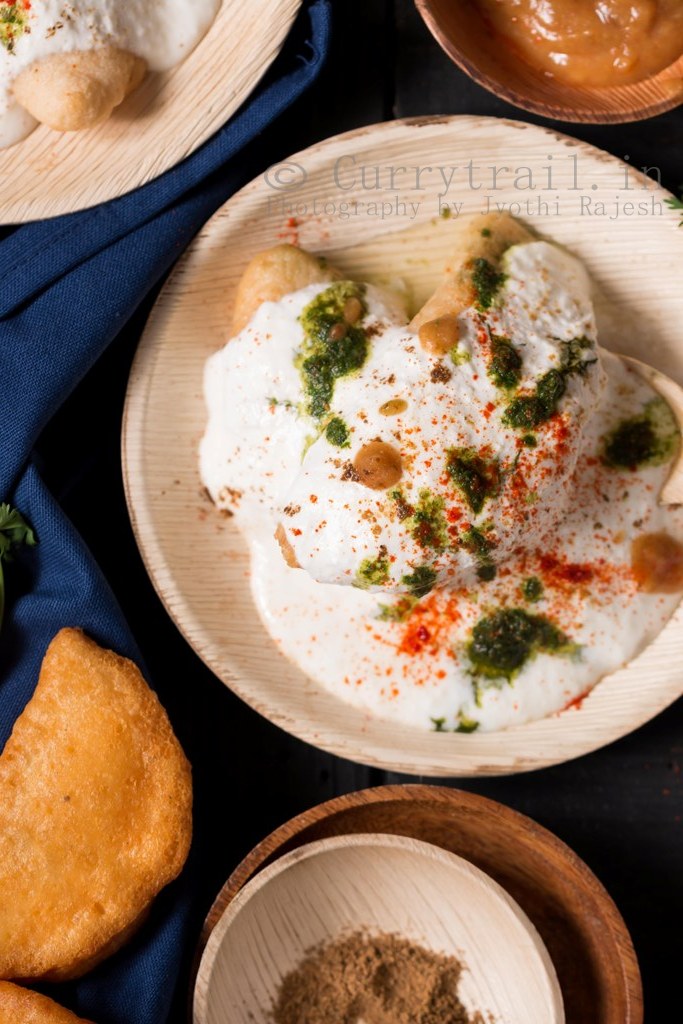 The bursting flavors of tang, spice, sweet and salt would leave sparks in your palate. These dahi gujiyas are not at all difficult to make, once you get the right consistency of urad dal batter, it becomes very simple after that. Try these delicious dahi gujiyas next time you have a party at home.
Ingredients
1 cup whole urad dal
3 cups thick yogurt
⅓ cup roasted cumin powder
⅓ cup fresh ground black pepper corns
Salt to taste
Oil for deep frying
1 liter water
1 teaspoon cooking soda
1 tablespoon sugar
½ cup mint chutney
½ cup tamarind chutney
1 teaspoon red chili powder
1 teaspoon black salt
2 teaspoon sugar
Method
Soak urad dal for 4 hours. Drain all the water after soaking it for 4 hours. Using a mixer grind into a thick paste, do not add any water while grinding. The consistency of the batter can be slightly coarse, but make sure the batter is thick. Add about 1 teaspoon of salt(or salt to taste) to the batter and blend the batter with your hands for about 10 minutes. This will make the batter soft and fluffy and the gujiyas will turn nice soft and fluffy too. If your batter turns too runny or if you do not whisk the batter with your hands the gujiyas will not turn soft.
Heat oil for deep frying. Take a small plastic sheet and rub it with water. Wet your fingers with water. Take a small lemon sized ball batter, roll it into sound shape and then place it on wet plastic sheet. Flatten it into 3 ½ inch diameter circle.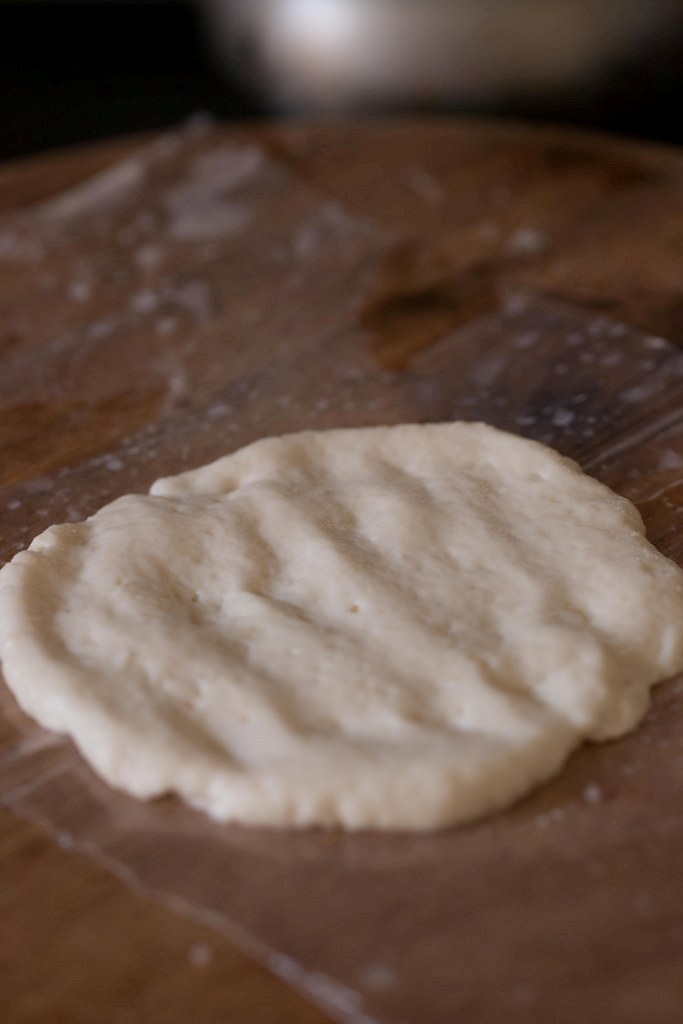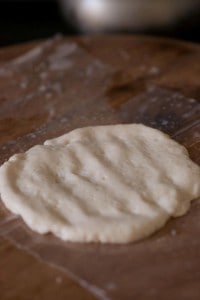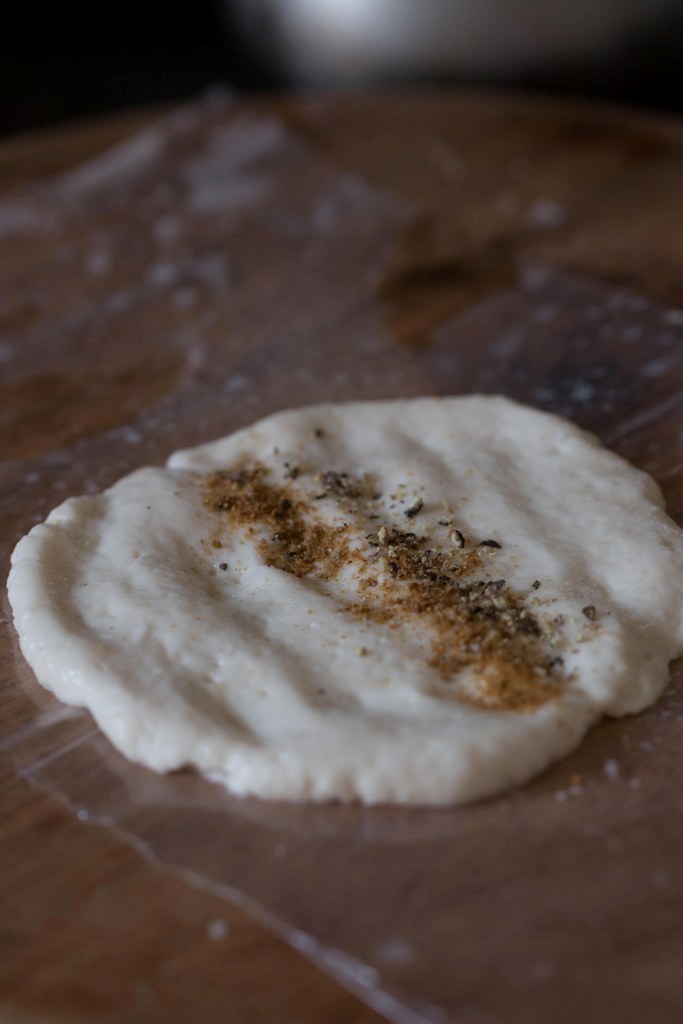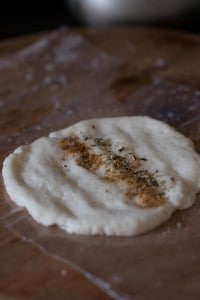 3. Sprinkle some roasted cumin powder, crushed pepper corns and grated ginger (if you are using). Fold the circle into half holding on to the plastic sheet. Carefully pull the plastic sheet making sure the shaped gujiyas don't break. Place the gujiyas on your wet palm and now pull off the plastic sheet from the other side of gujiyas. Carefully drop the gujiyas in hot oil and deep fry until golden brown on both sides. Make sure the flame is on medium low.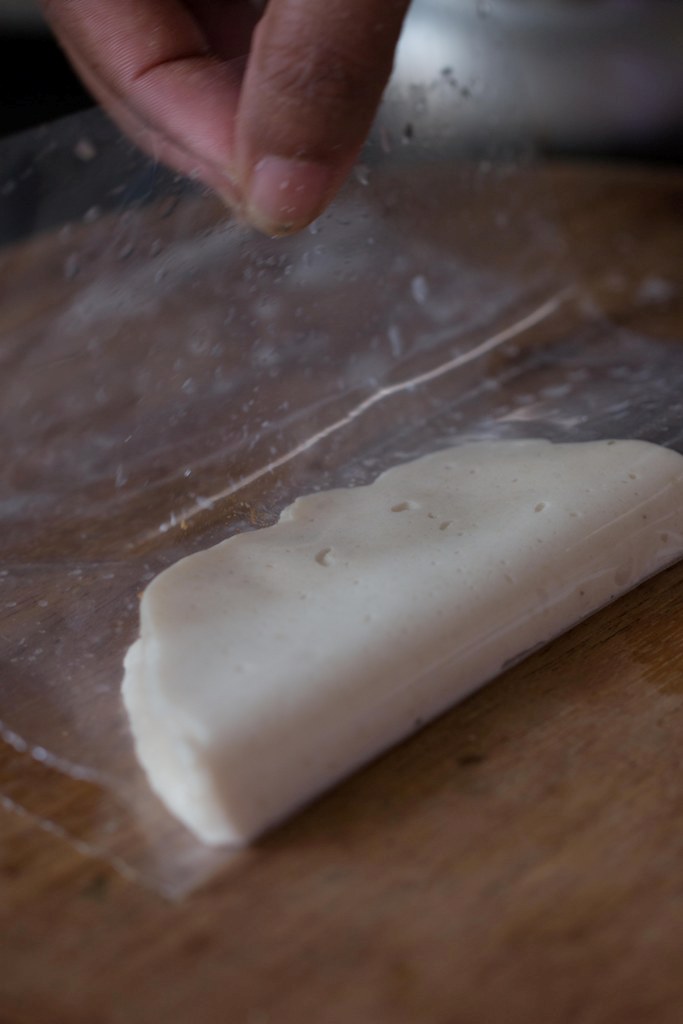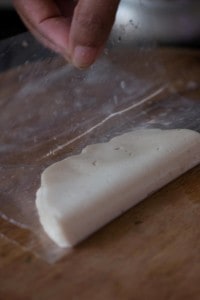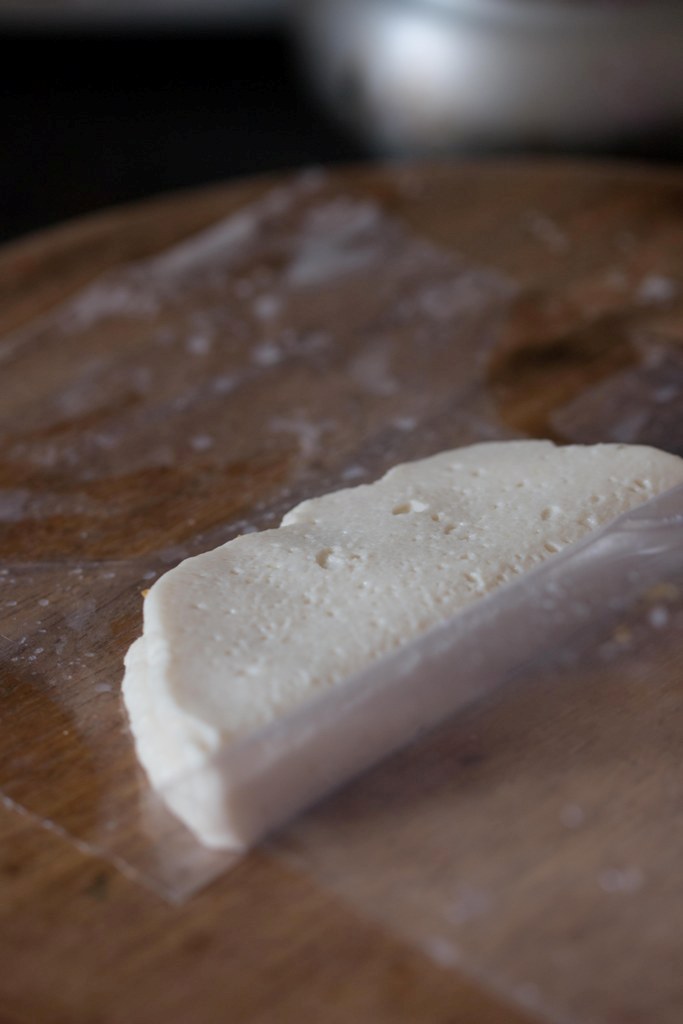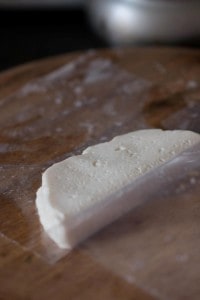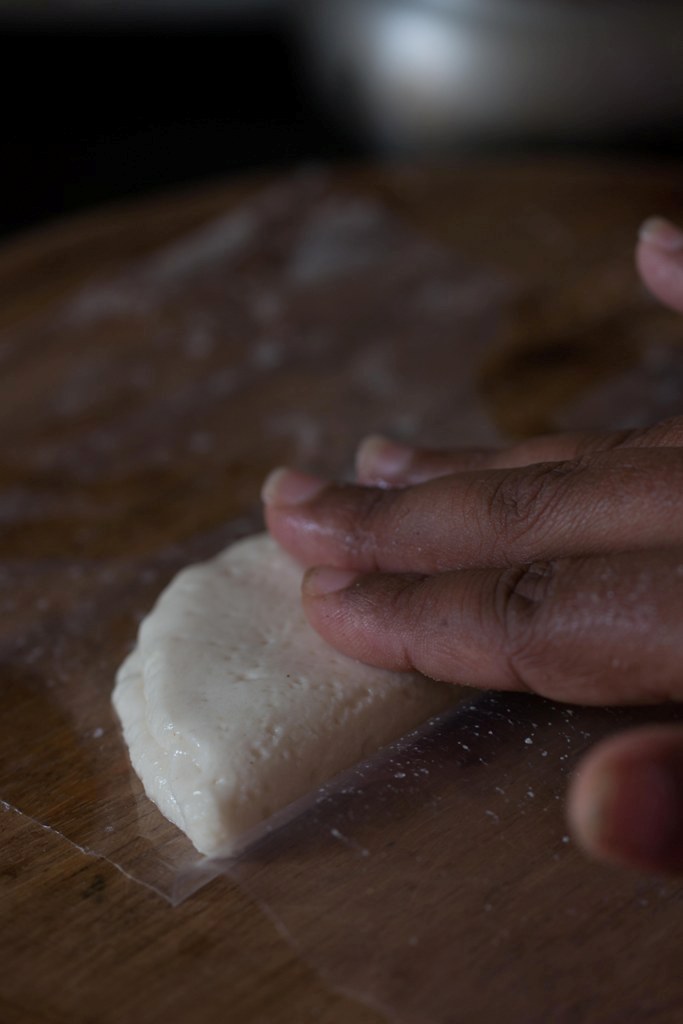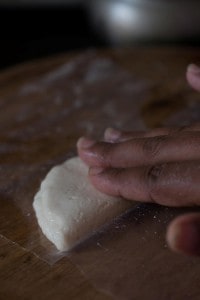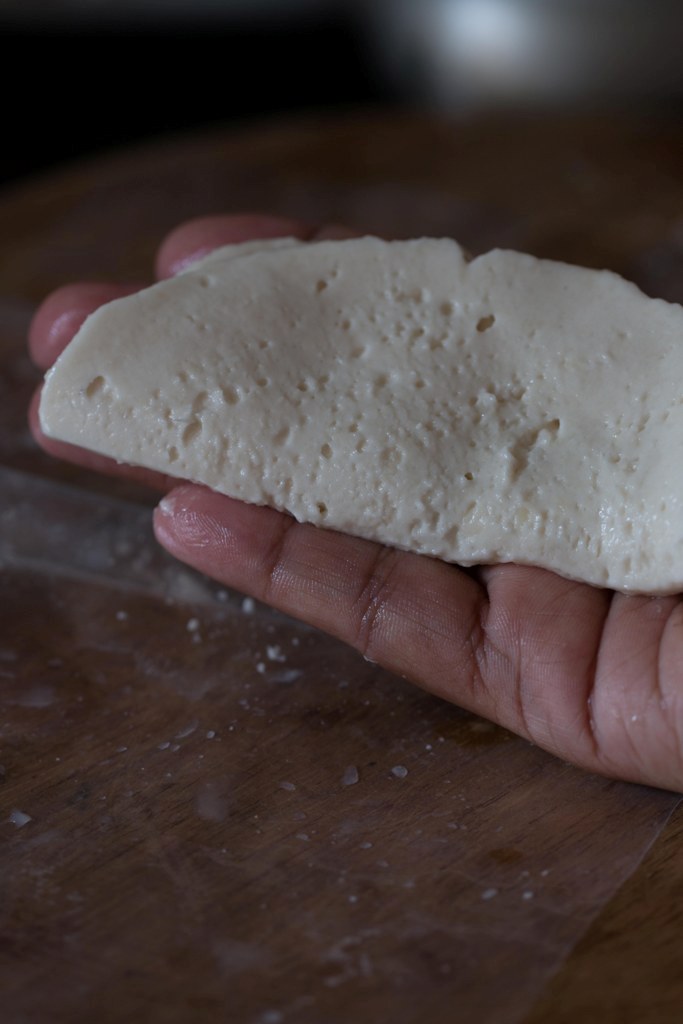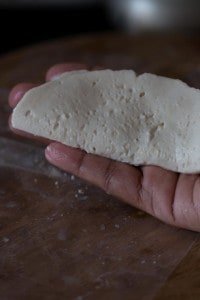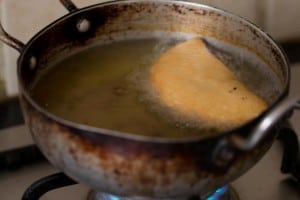 4.Into a wide bowl, add 1 liter water, cooking soda and sugar. Mix well keep aside.
5.Once it turns golden brown, transfer the gujiyas into the water bowl. Repeat for rest of the batter.
6. Let the fried gujiyas soak in water for good 1 to 2 hours.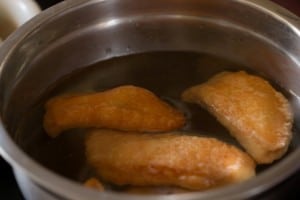 7.Remove soaked gujiyas from water, keep it between your palm and gently press it to squeeze out the water.
8. Place the gujiyas on serving plates. Pour good amount of whisked curd over the gujiyas, sprinkle some red chili powder, black salt, little sugar(if you prefer), roasted cumin powder and few teaspoons of tamarind and mint chutney. Serve immediately.