Light and airy classic French dessert is a perfect way to treat your loved ones.
Be it on Valentine's day or a special dinner party you are hosting for your loved ones, this dish is sure to put a smile on your loved ones face.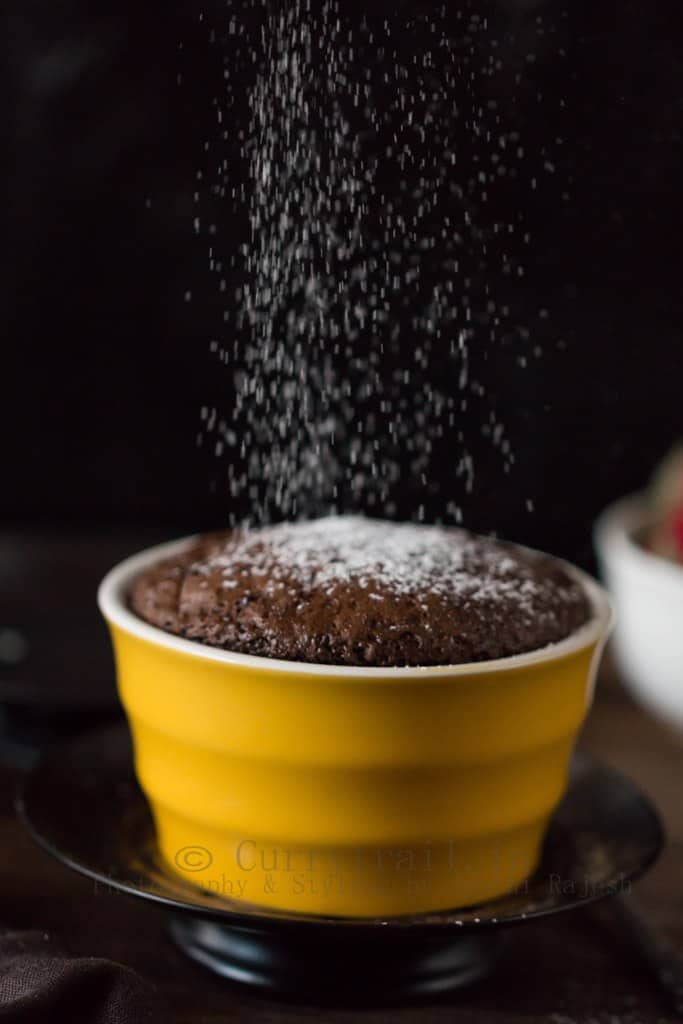 Using a few staple ingredients, you can whip up a dessert that's guaranteed to impress at a dinner party. Souffles have a reputation of being temperamental and that is one of the reason we always dreads to make souffles. But souffles are actually very easy to make and they get their signature height all the time if you keep a few tips and tricks in mind before making them .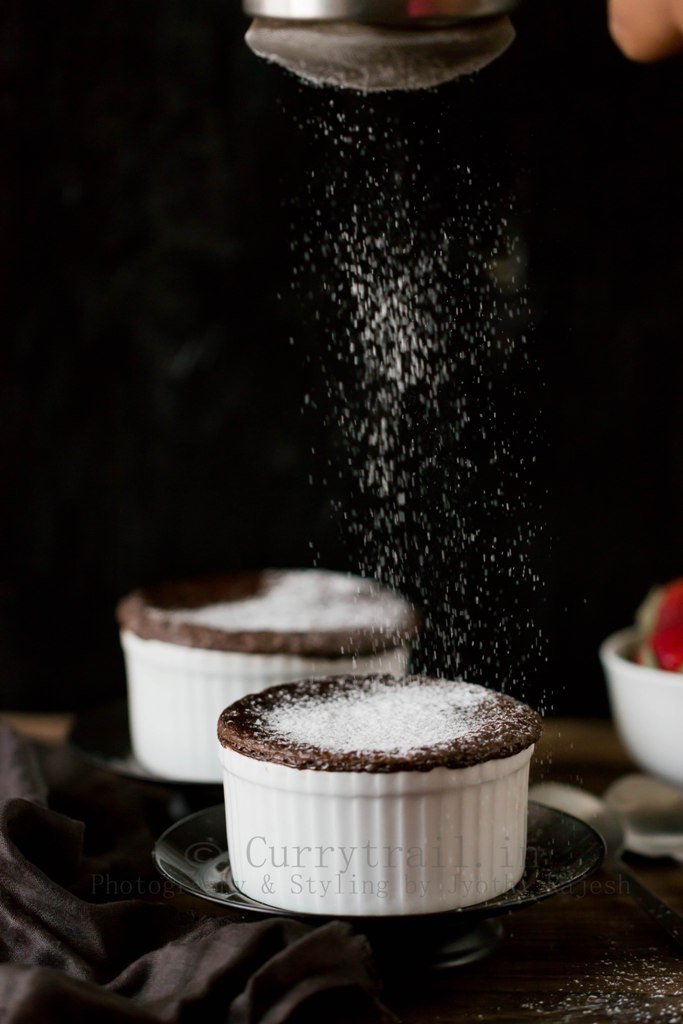 Souffles are usually made with dark chocolate. It's best when you make these eternal chocolate souffle in individual ramekins. It makes easier and looks prettier too when served in individual ramekins. You can dust with powdered sugar, add a dollop of whipped cream in the center or serve it with as it is hot. The souffles are best eaten either hot or slightly cold. The height of the souffle will tend to deflate as the souffle tends to cool down a bit. And I personally love the taste and texture of the souffle that is slightly cooled and deflated.
Ingredients
50 grams dark chocolate
3 tablespoons unsalted butter(at room temperature)
1 tablespoon melted butter for greasing the ramekins
1 tablespoon of sugar
1 egg yolk
2 egg whites
¼ cup granulated white sugar
½ teaspoon vanilla extract
½ teaspoon salt
1 teaspoon cream of tartar(you white vinegar for cream of tartar substitute)
Confectionery sugar for dusting
Sweetened Whipped cream for serving
Instructions
1.Grease individual ramekins with butter generously. Next 1 tablespoon white sugar into the ramekins and coat all the sides of the ramekins. This sugar coating will ensure the souffles is held to the bowl when they start to rise.
2.Preheat oven to 200 degrees centigrade with rack in lower third.
3. In a microwave safe bowl, add chocolate and 3 tablespoon butter and melt in 20 seconds interval removing it out and whisking at intervals. Whisk until chocolate butter mix is melted and a smooth mix is formed.
4. Add 1 egg yolk and whisk well. Next add salt, vanilla essence and whisk until combined.
5. Add egg whites into a bowl of your stand mixer. Whisk until creamy. Now add cream of tartar or vinegar if you are using that and continue to whisk. Whisk until you see the egg whites begin to turn thick.
6. Gradually add remaining ¼ cup sugar in slow streams and whisk until peaks are stiff and glossy, 1 to 2 minutes. You have to keep whisking and add the sugar gradually instead of dumping all sugar at once and then whisk. Adding sugar gradually ensure you get steady peaks and that will help souffle get it's perfect height.
7. Spoon in ⅓ rd of egg whites into the chocolate mixture and using a spatula fold into the chocolate mixture. Continue adding the egg whites in parts and fold into the chocolate mixture. Do not deflate the egg whites by mixing them hard and fast into the chocolate. Be gentle and using the folding technique.
8. Fill ramekins evenly with batter all the way up to the top. Then smooth the top surface using a spatula to get a nice flat top.
9. An important tip to make the souffle get a nice beautiful height is to run your thumb at the perimeter of the ramekins and create a small channel. Do this to get a good ¼ to ½ inch perimeter channel in the ramekins. Clean the outer surface of the ramekins using a kitchen towel and pop the ramekins into the oven and bake it for 13 to 15 minutes or until it's risen well and cooked.
10. Once souffle is done, remove it from the baking tray using kitchen towel, as I found using one mittens could disturb and break the souffle at the top.
11. Dust with confectionery sugar, add a dollop of sweetened whipped cream and serve immediately.