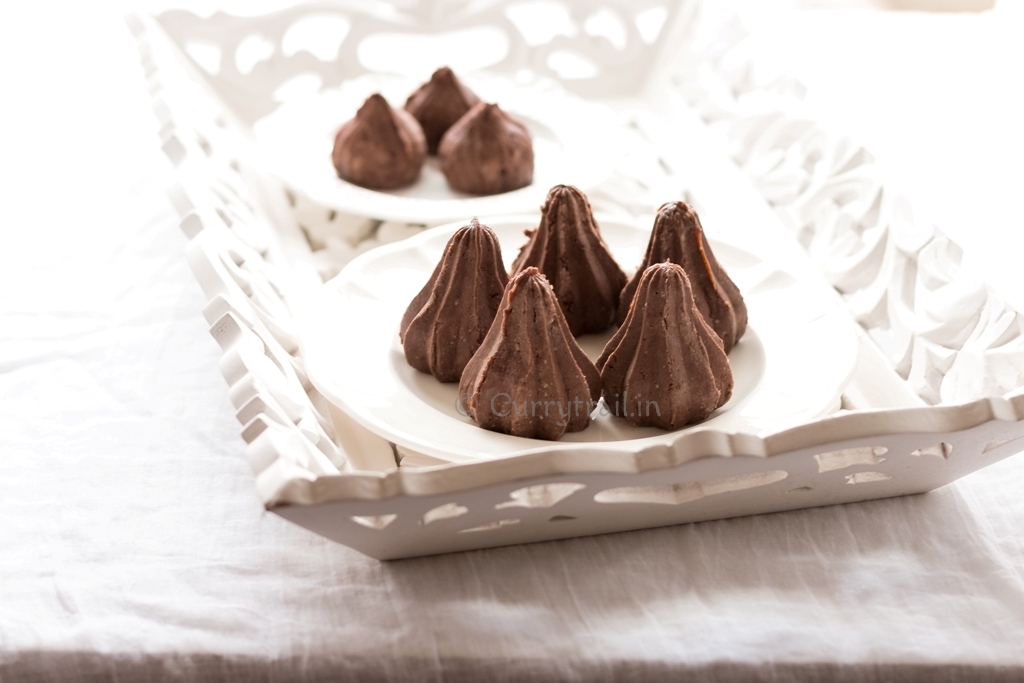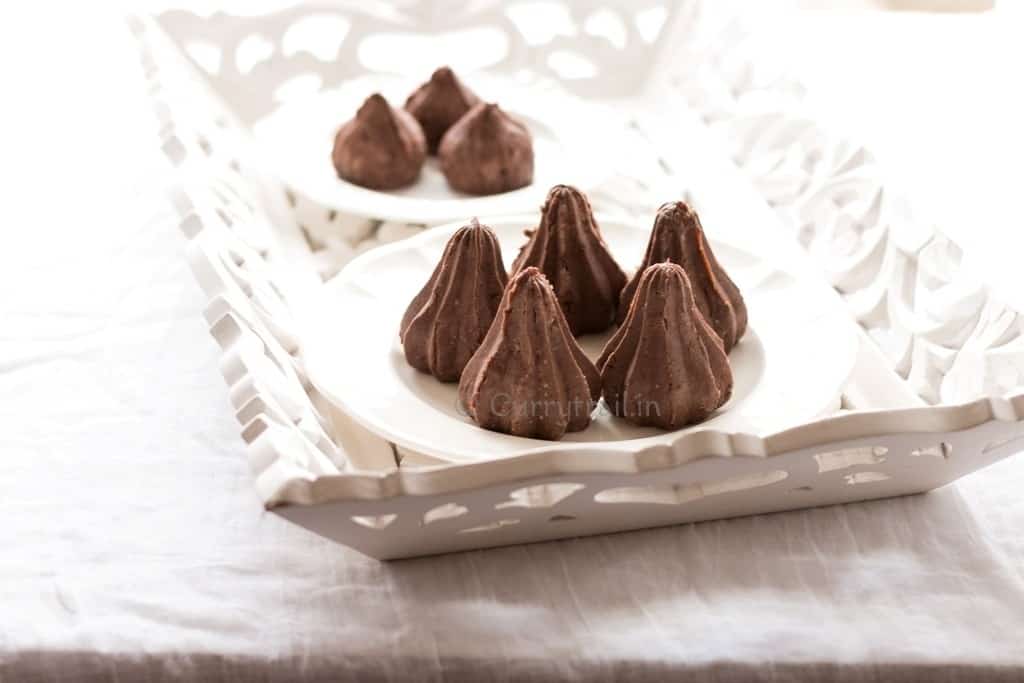 Ganesha Chaturthi is just around the corner and we are all getting ready to welcome Lord Ganesha into out homes!
Ganesha Chaturthi is the Hindu festival celebrated in honour of the god Ganesha, the elephant-headed. The festival, also known as Vinayaka Chaturthi, is observed in the Hindu calendar month of Bhaadrapada, starting on the shukla chaturthi.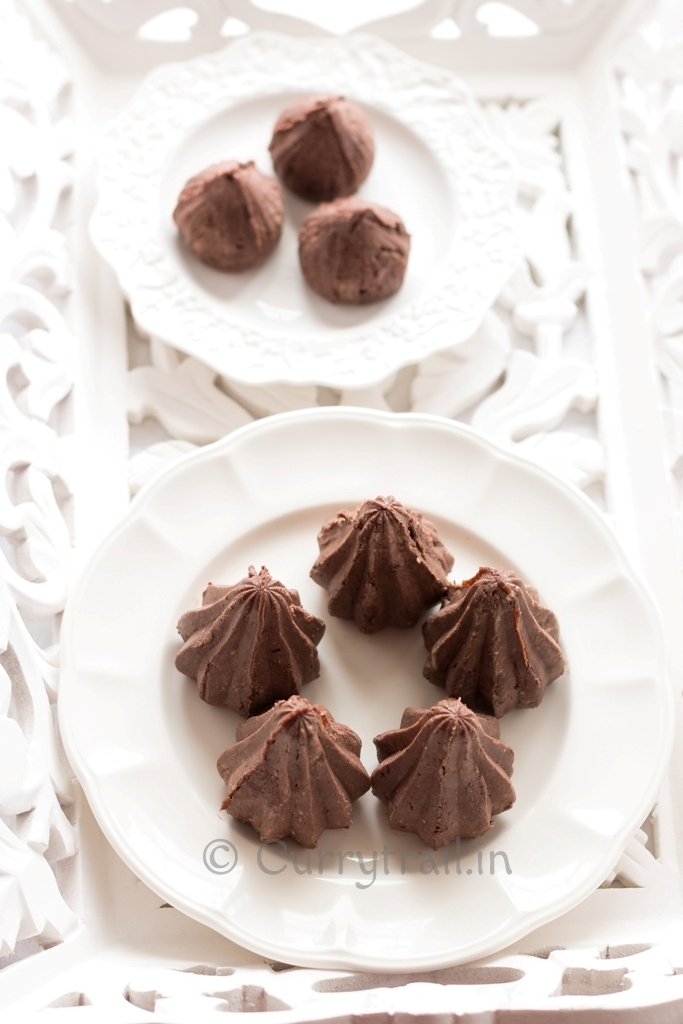 Ganesh festival or Ganesh Chaturthi starts with the installation of beautifully decorated idols(Ganesh statues) in colorfully decorated temporary structures in every locality. On the last day, the idol was immersed into the sea to allow it to dissolve.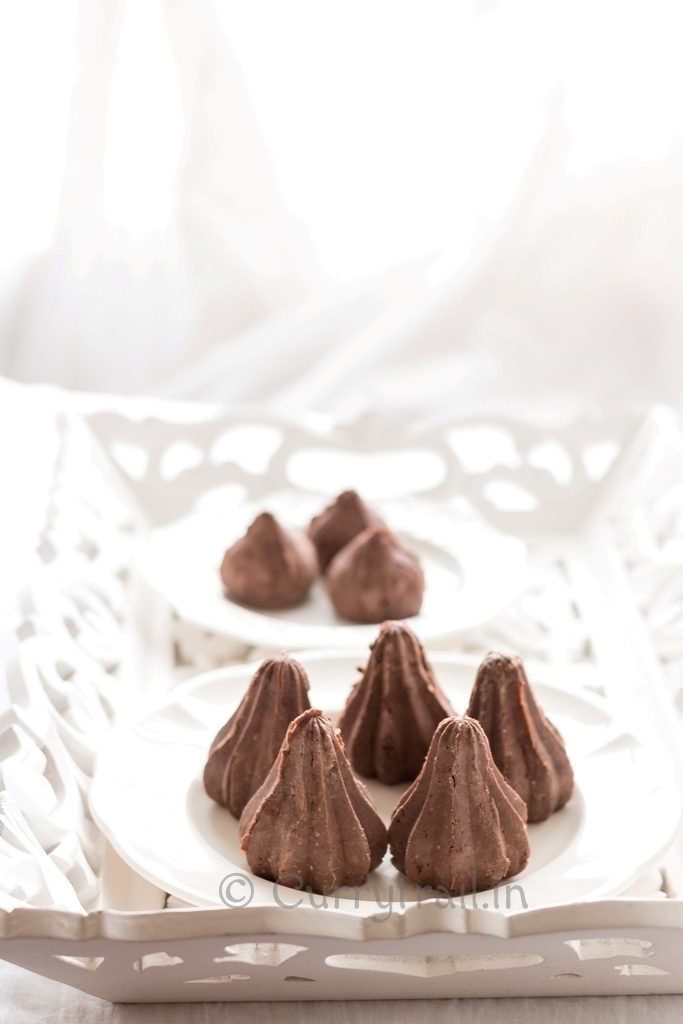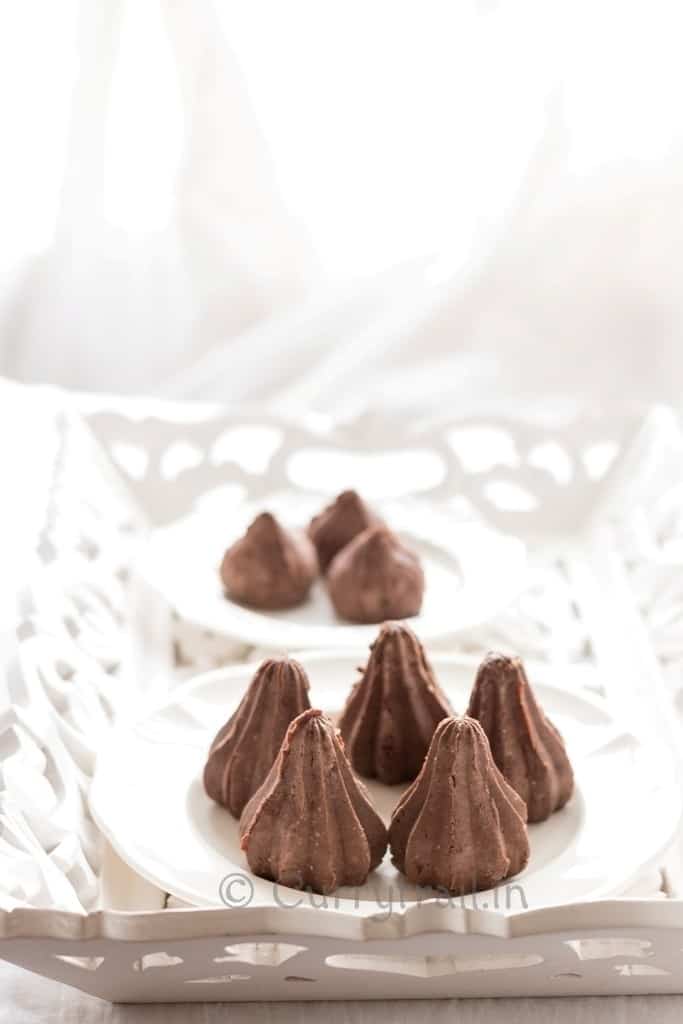 As much as I love the festivity feel at home, the celebrations, the communal gatherings, the pooja(worship the lord) and love to celebrate Ganesh festival with great zeal. But when I think of the serious impact Ganesha Chathuri on environment I really makes me sad. Traditionally, clay was used to make Ganesh idols. Over the years however, plaster of Paris (POP), which is lighter and cheaper, has become the favoured material to mould these idols. POP contains chemicals that is very harmful. The dyes used to colour these idols contain mercury, cadmium, arsenic, lead, and carbon. Plastic and thermocol accessories are used to decorate these idols. Such materials are not biodegradable, hence are toxic. Also, while earlier the idols were quite small, today a spirit of competitiveness pervades the celebrations, so that the idols are becoming increasingly colossal. Immersion of such idols in sea/ pond/lake can cause serious environmental repercussions.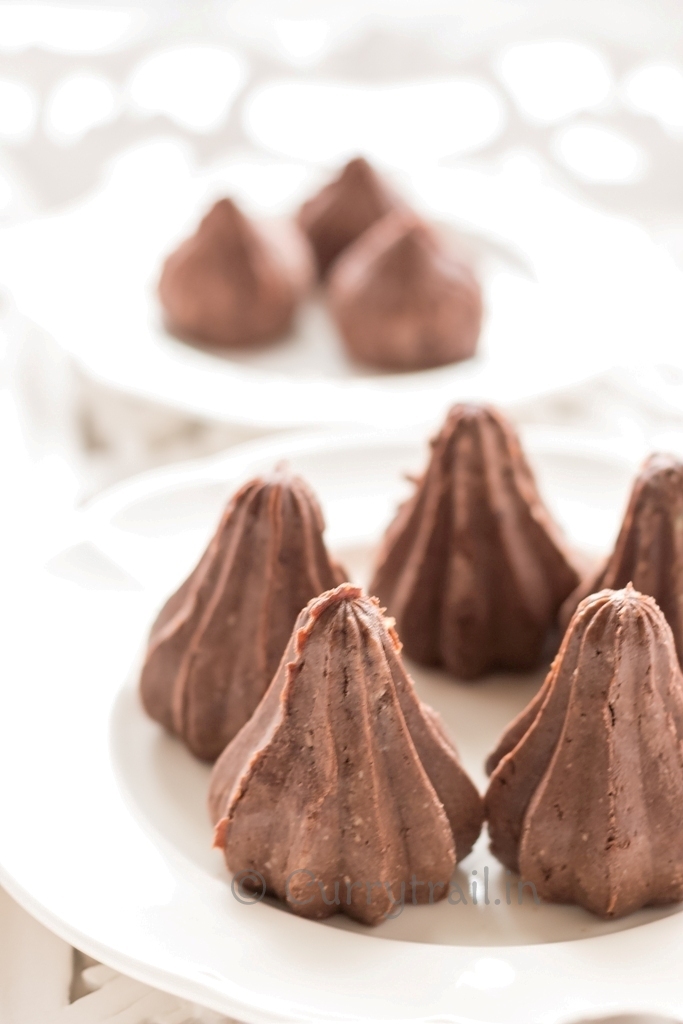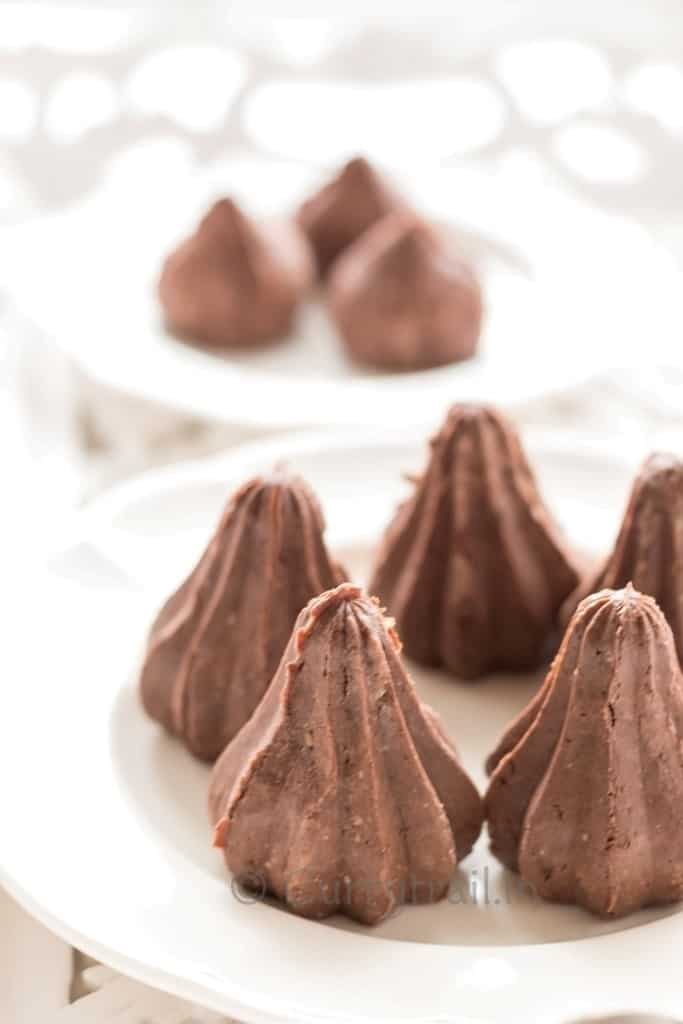 I started celebrating Ganesha festival 7 years back and since then I have never bought a commercial, colorful, idol made of POP. I always buy a very tiny idol made of clay and which is NOT painted even a bit! I bring one such idol draw eyes using my kajal if required and on the last day we immerse the idol in a bucket full of water and use that melted clay in our vegetable garden! Some even use metal idol made of brass and silver, they do pooja, take the idol through the procession and hold it under the water, and then bring it back home. Totally environment friendly way to celebrate.
Offerings like flowers are put in my compost pit! We all like to celebrate, but lets do it in a way we don't harm our environment! PLEASE think about it, use a eco friendly idol and let's not add more toxic materials into our environment! PLEASE!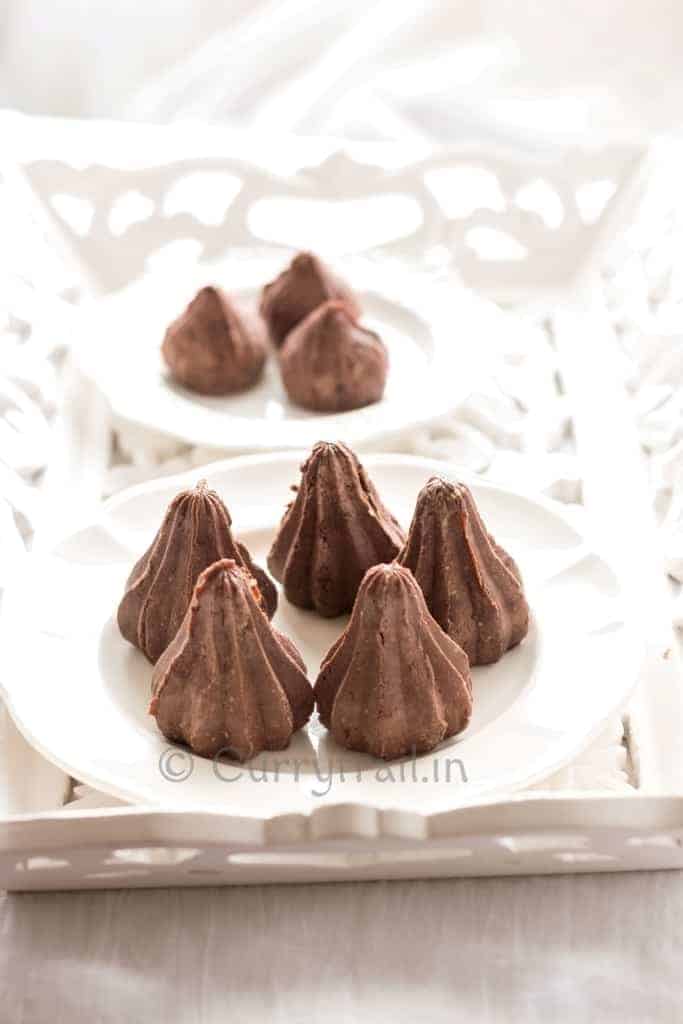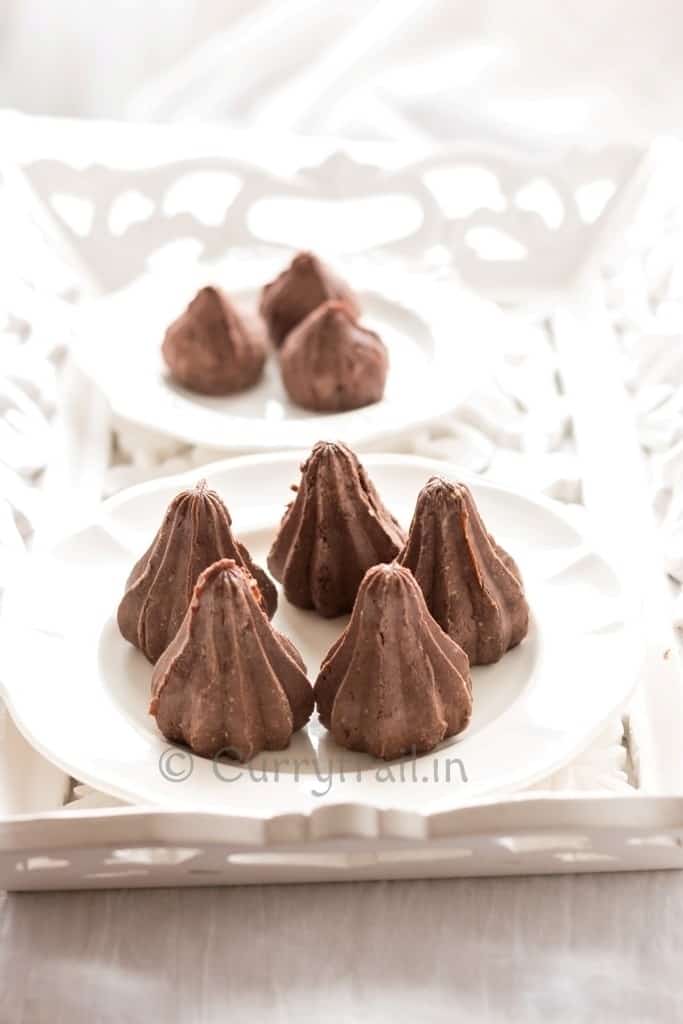 Now to the modak i'm presenting to you all today. Kozhukattai/modak and sundal is a staple during Ganesh Chathurti. It's believed Lord Ganesha loves modak and sundal. If you are looking at more options to make different prasads, then here you go. I decided to treat the Lord wit more modern version of prasad, with chocolate modak.
Homemade fresh chenna is the best for making Indian sweets. Paneer and Chenna are made the same method. The only difference between paneer and chenna is paneer is coagulated milk, set firm which is more dry. But chenna is same coagulated milk but is more moist than paneer. We do not let the chenna drain water for very long time as we do for paneer. Also when we make chenna we do not refrigerate it. We have to use it in sweet preparations immediately after water is drained from it(10-15 minutes)
With the fresh homemade chenna, add icing sugar, cocoa powder and dessicated coconut, blend to gather and shape into modaks. The only cooking process is in making chenna.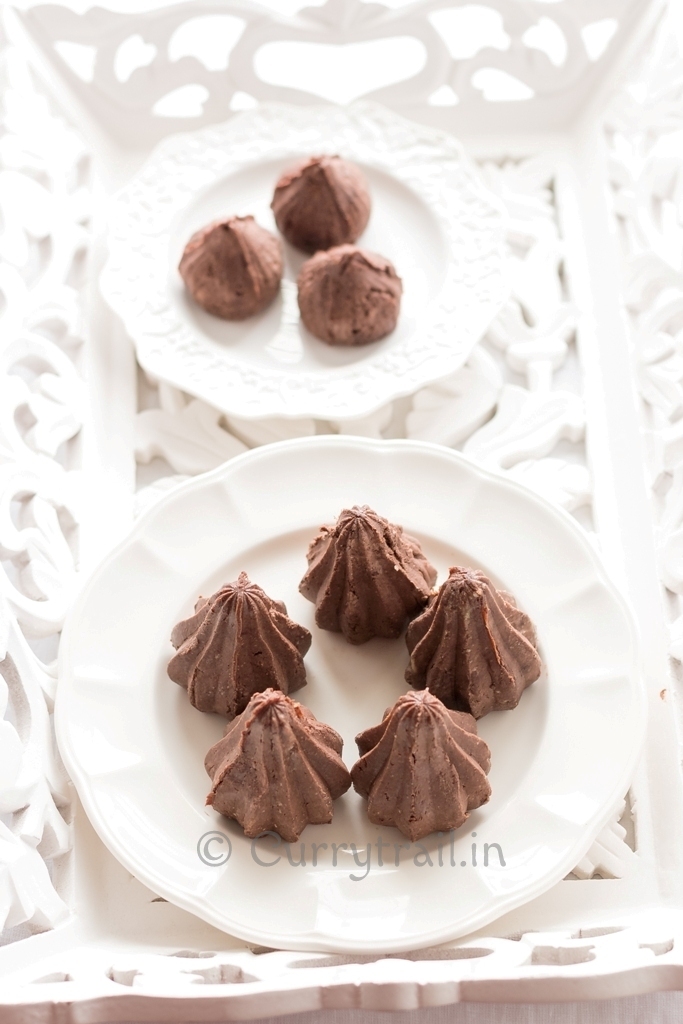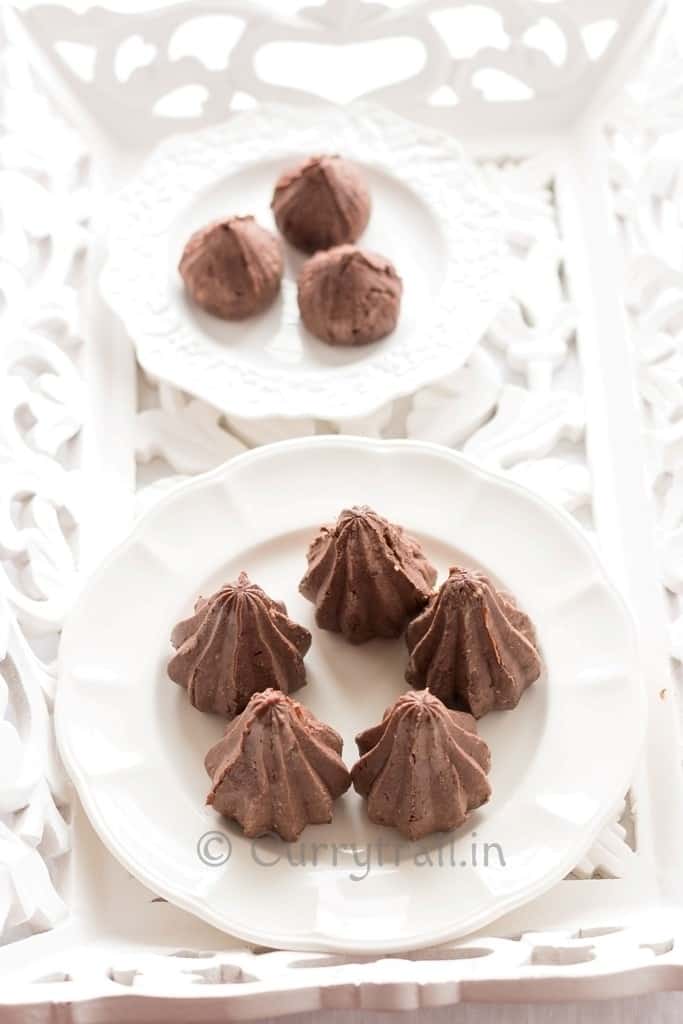 Here's my chocolate modak made from homemade chenna-
Recipe source – healthyvegrecipes
Ingredients:-
To make Chenna-
Full fat milk – 1 liter
Lime juice – 1 tbspn
For chocolate modak –
Homemade chenna – 1 cup
Good quality cocoa powder – 1 cup
Icing sugar – ¾ cup(add more if you prefer)
Dessicated coconut – 1 cup
Vanilla extract – 1 tspn
For stuffing-(optional)
Almonds
Instructions:-
1.Add milk into a deep bottom vessel and bring it to boil.Next add lime juice and stir. On medium flame continue to boil the mix stirring occasionally to avoid burning at the bottom.
2. Once you see the whey separated completely from the fat switch off flame and remove from heat. Cool for a minute.
3. Pour the mix into a sieve lined with cheese/muslin cloth. Wash the chenna under running water 2-3 times to remove the sour taste from the lime juice. Bring the 4 corners of the cloth to gater and squeeze out as much water as you can. Then tie the ends of the cloth in a way that it drains water from the chenna. You do not want to drain water for very long time, you just have to make it hang there for about 10-15 minutes.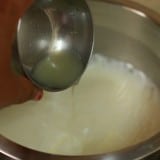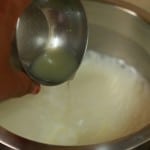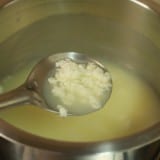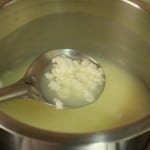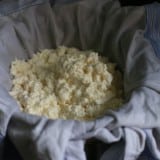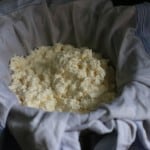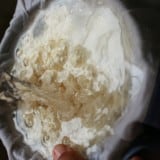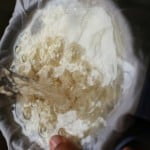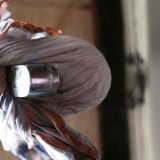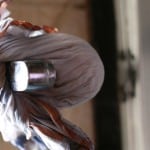 4. Now slightly crumble the chenna with hand, then place it in a blender and pulse once. DO NOT blend it longer as it may turn chenna into a paste, which is not what we are looking for!
5. Now add icing sugar, dessicated coconut, vanilla extract and cocoa powder and pulse 2-3 times for 5-10 seconds only. Do not over pulse. If the ingredients does nto blend to gather, you can take it out and slightly press them and knead till they come to gather.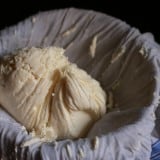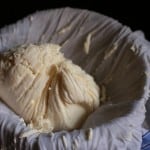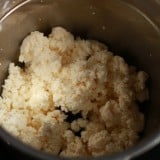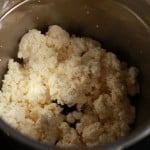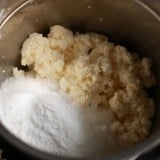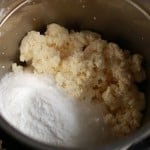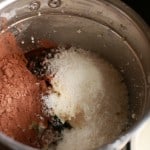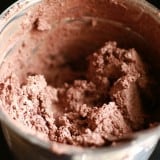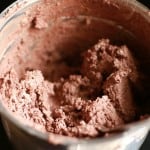 6. Pinch a lime sized ball of the mix and shape into modaks. I used modal moulds to give it a shape. And I also stuffed the modak with one whole almond. This step is optional.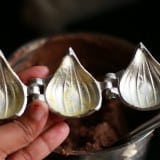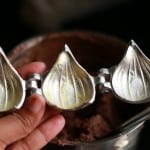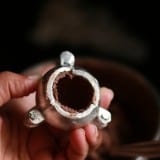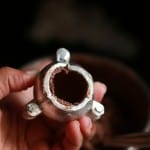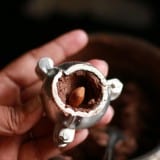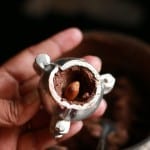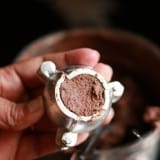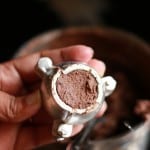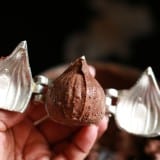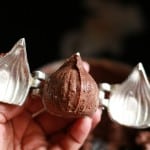 That's it. Chocolate modak made from homemade chenna is ready. Make these on Ganesha festival and Offer it to Lord Ganesha.