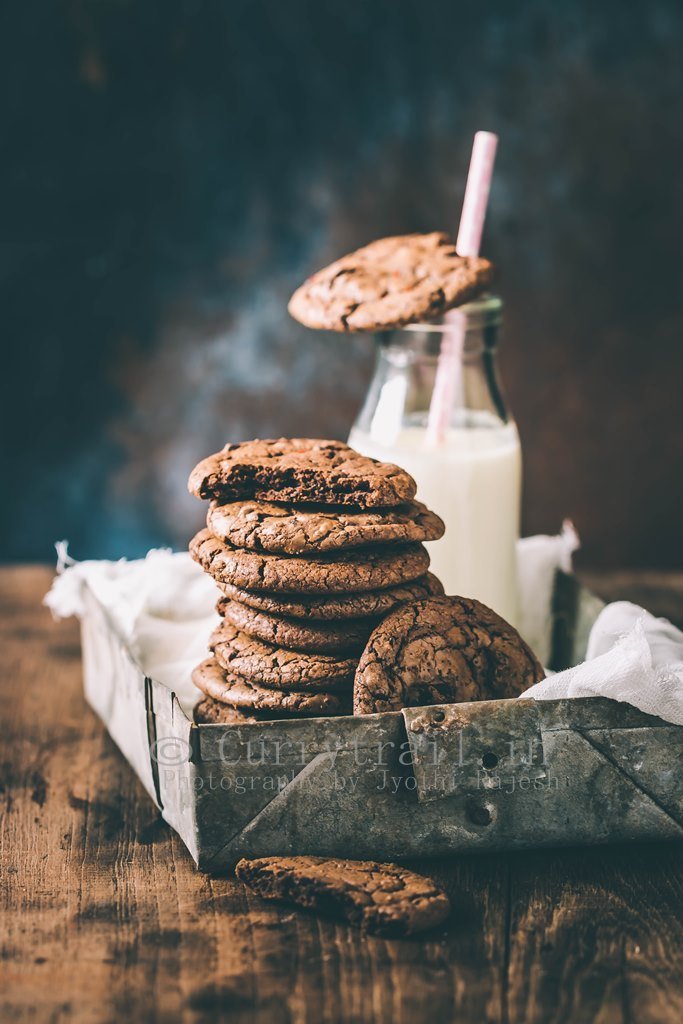 There was a time I ordered and ate only the same type of food every single time. No matter what restaurant we walked in, my choice of food was prawns. I ordered a prawn dish without even looking into the menu card. After a few times out, hubby got pissed. He couldn't stand the sight of prawns anymore.
Then he made rules, before we decided to go out, he put this condition "NO PRAWNS at all". At first it was hard for me. Cause I was this girl who wasn't ready to try different dishes, I was a girl who ate the same rice, roti, prawns everywhere I went. A few times I agreed to cancel the dine out date with hubby just cause he had rules!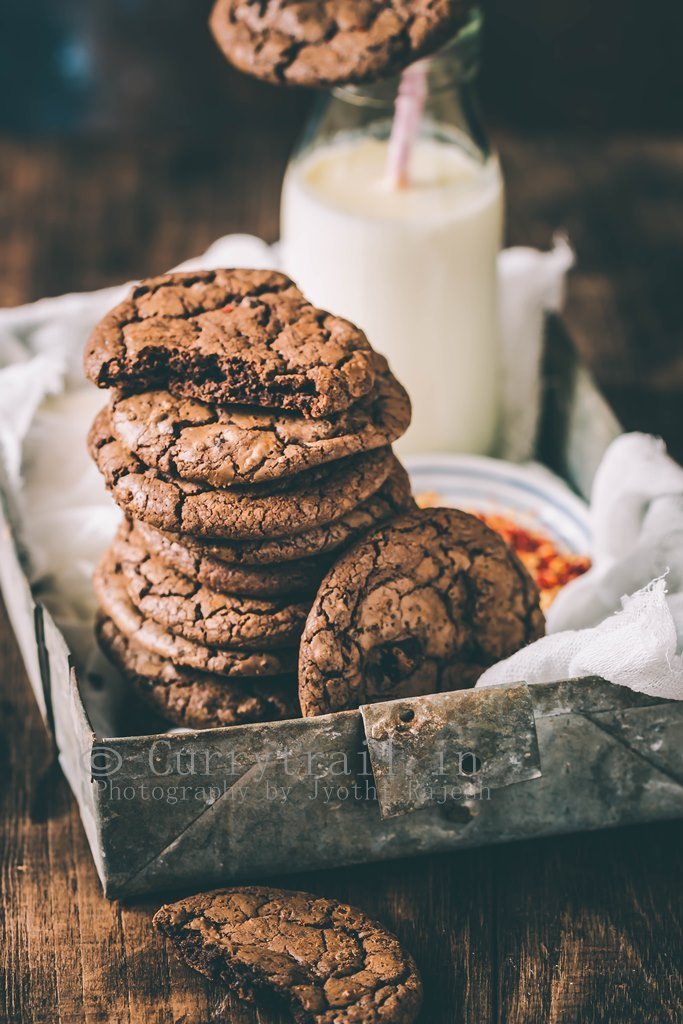 Finally I decided to try new things. Little I knew that it was the beginning, a beginning into an adventurous culinary journey of my life. Now I'm all in for trying out new dishes, experimenting with different flavours and exploring a whole new culinary world.
A few years back if someone offered me chocolate cookies with chilies in it…I would have scrunched my face. Yeah I was that unenlightened about the culinary world. I was that frog in the well who only knew prawns, chicken, rice and roti, not a thing beyond that.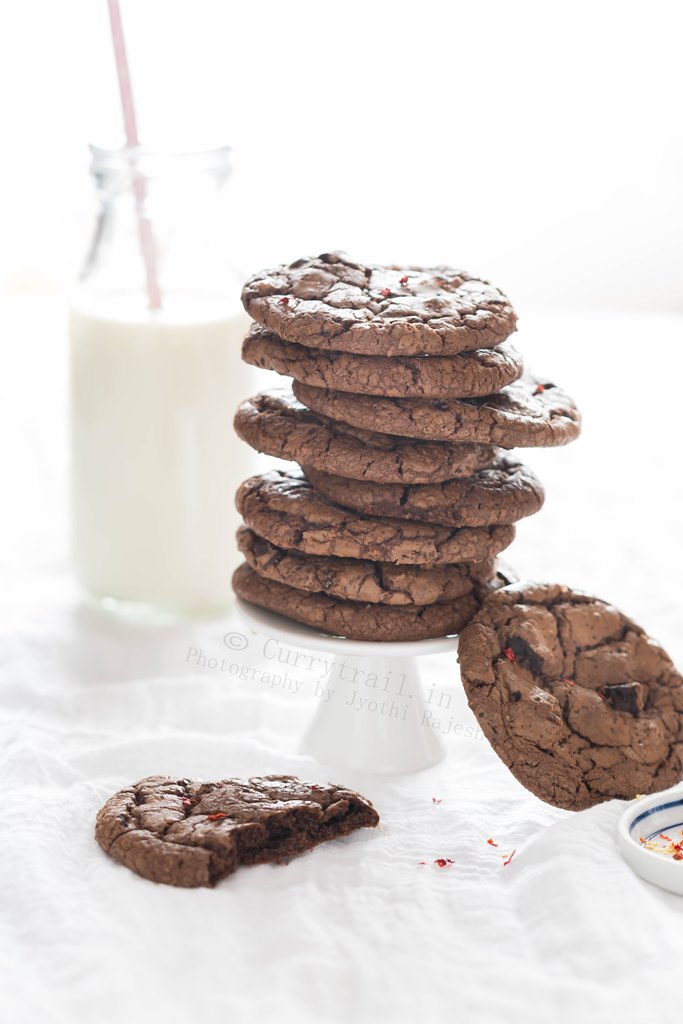 Chocolate is great. Everybody loves chocolate. Adding flavours to chocolate is one of the best way to eat chocolate. This chocolate cookie has chilies, nutmeg and cinnamon powder to enhance the flavour and taste of chocolate.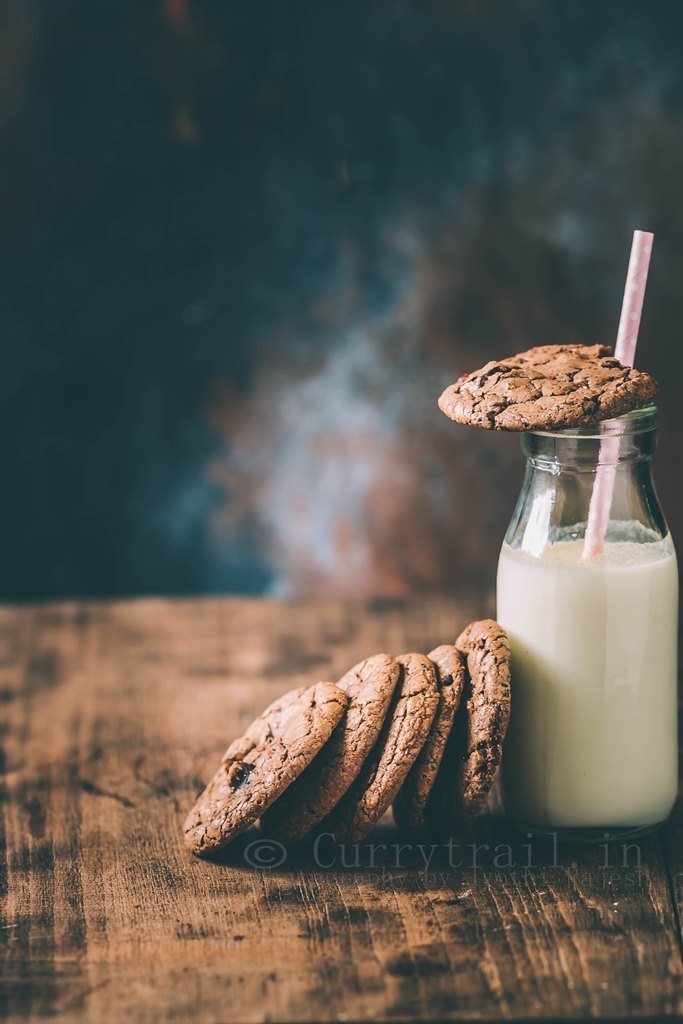 Above photo styling is inspired from BojonGourmet.
Chocolate cookies are most people's favorite, both kids and adults. It's one of those cookies which you can't stop eating. While chocolate cookie itself is amazing, you can make it totally gourmet by adding a little chilies to the cookie. Chilies and chocolate together may not sound tempting to some but believe me it is one of the dangerously delicious combination. If you haven't tried that combo yet, give it a try now. And what better way than baking some fresh homemade delicious chocolate cookies with a hint of chilies in it!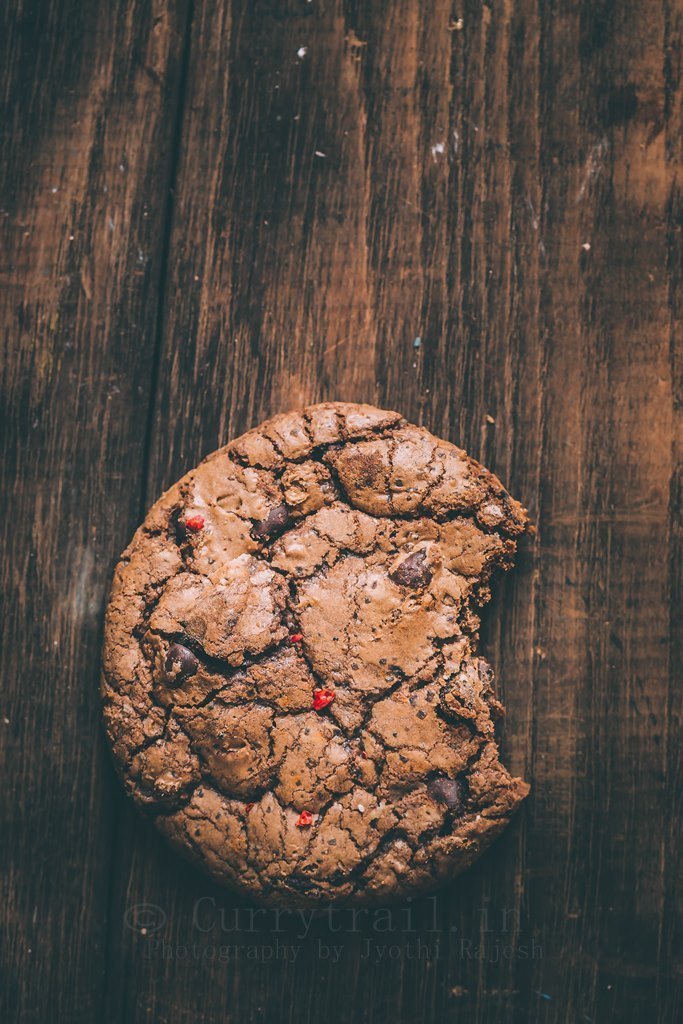 Ingredients
1 ½ cups all-purpose flour
½ cup cocoa powder
200 grams unsweetened chocolate, chopped
½ cup butter
2 eggs
1 ½ teaspoon chili powder
1 teaspoon cinnamon powder
¼ teaspoon nutmeg powder
½ teaspoon baking soda
¾ cup demerara sugar
½ cup white sugar
2 teaspoon vanilla extract
½ teaspoon salt
½ cup choco chips
½ cup chopped chocolate chunks
Method
Using a double boiler melt chocolate pieces. Add butter to it and whisk together. Once chocolate melts completely remove from heat and keep it to cool.
In a bowl whisk eggs, vanilla, brown sugar and white sugar until fluffy. Add the cooled chocolate butter mix and whisk again.
In another bowl sift together all purpose flour, cocoa powder, salt and baking powder. Mix chili powder into flour mix.
Add the dry flour mix into the liquid ingredients and mix well.
Add choco chips and chunks into the cookie batter and mix again.
Spoon one spoon of batter into a baking tray lined with parchment paper. Place the cookie batter about 1 inch apart.
Place the baking tray in fridge for about 10-15 mintues.
Meanwhile pre heat oven to 180 degree centigrade.
Place the baking tray in oven and bake for 10-12 minutes.
Remove the cookies from oven, let it cool in the baking sheet for about 10 minutes. Then remove then from baking tray and place them on wired rack. Let cool completely.
Store in air tight container. Stays good for about a month
Serve cookies with milk.