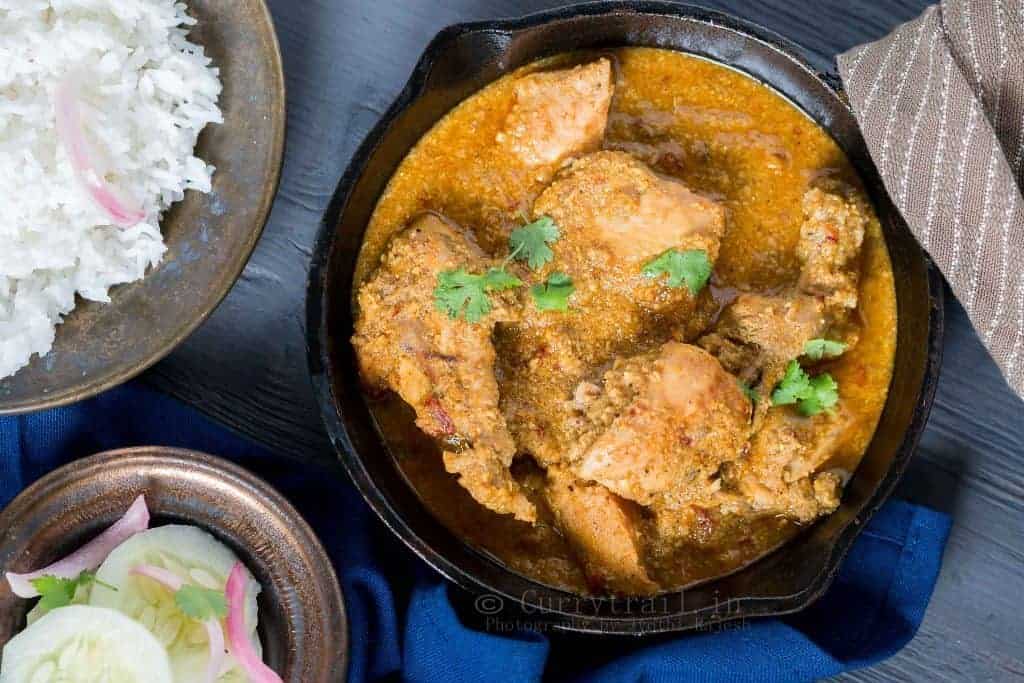 If you are in Goa, you definitely don't want to miss tasting this Chicken Xacuti dish. I first tasted Chicken Xacuti when we visited Goa last year on holiday. It was in one of the spice farm. The dish was made with fresh spices from the farm and the visitors had to go on a trail through the farm which was roughly 7 kilometers, and the trail was a U shaped. You start and come back to the same place at the end of the trial. And when you finish have finished the trail, to keep you cool a person pours a ladle full of water from the streams in the farm on your back. That cool fresh water was so refreshing after a sweaty and tiring trail.
The guests were also treated with some delicious and traditional Goan lunch served on palm leaf plates. The entire ambiance was so beautiful, closest to nature. Nothing was made of plastic there, or even it was hard to find stainless steel there. Everything was made of wood and the food was cooked in terracotta pots. Even the water was served in a cup that was made of a leaf. Think about heaven on earth, I would definitely call that spice farm a HEAVEN!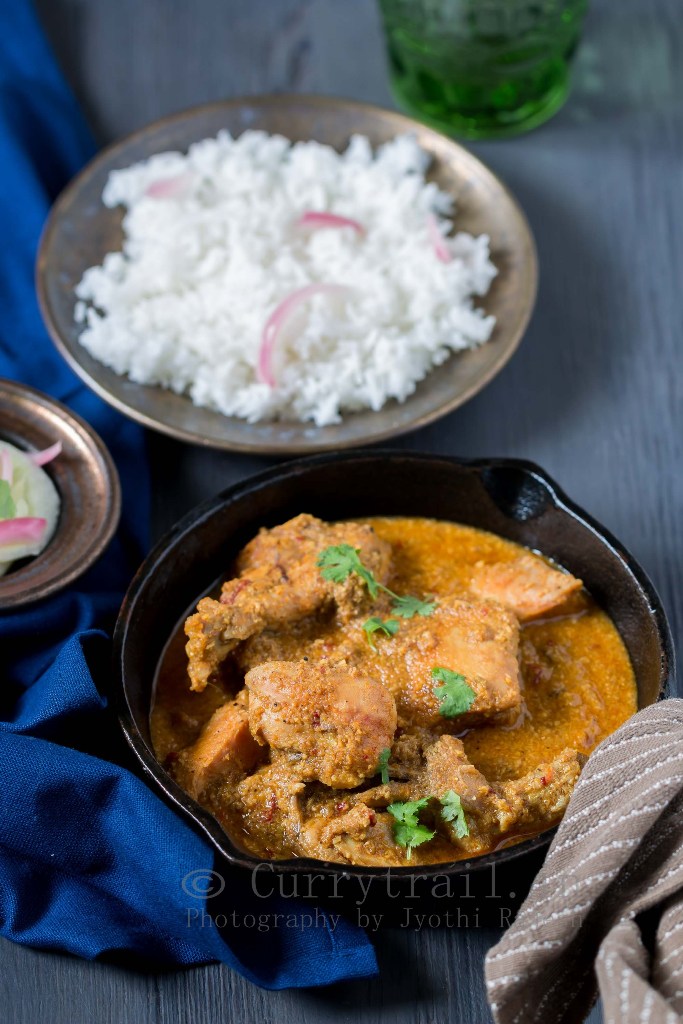 I am person who love to be close to nature, closest as possible I must say. Places like these touches my heart and I prefer to choose such serene, heavenly place instead of a five star hotel! That's me.
So for lunch we had kokum drink, variety of vegetables locally grown, there was pineapple in plenty from the farm again, rice accompanied with some curries. I and Raj headed straight to chicken Xacuti the moment we saw it. Raj has tried chicken Xacuti in Bangalore a couple of times, but for me it was the first time. The moment I tasted the curry with rice my eyes went rolling. No kidding. I loved it cause it was spicy, the curry was thick and had coconut in it. Totally my kind of food.
After we came back home I have made Xacuti a couple of times and every time I made it, everybody at home loved it. Even kids. The first time I made Xacuti at home I referred to a couple of recipes on net and made it to suit my palate.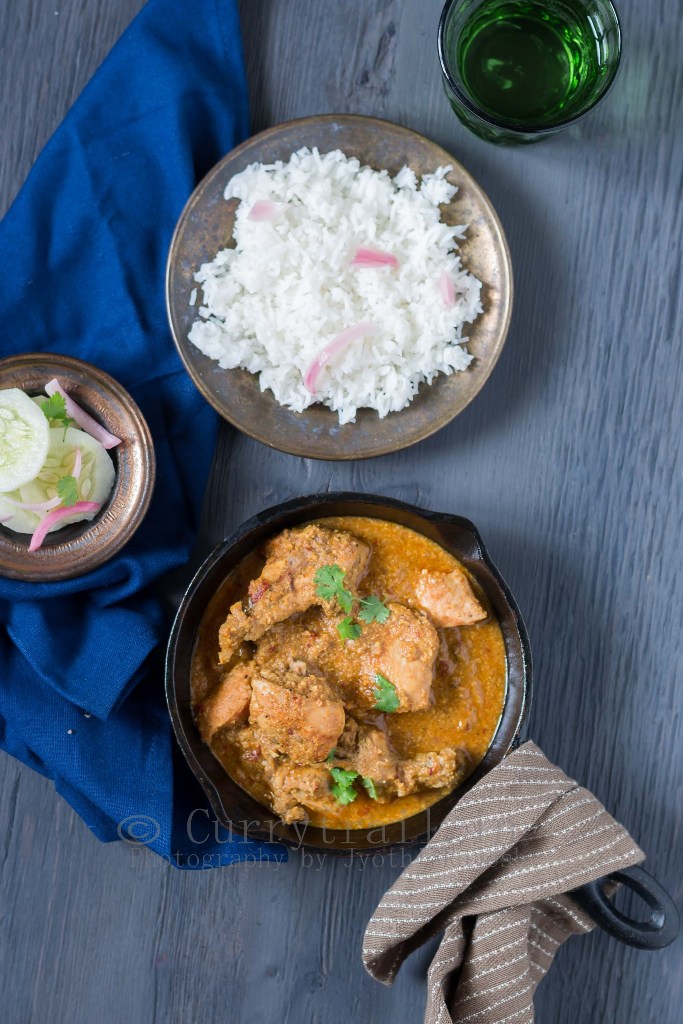 Xacuti is actually pronounced as 'shakuti' derived from the Portuguese word 'chacuti'. A unique dish that consists of Kashmiri red chilies, poppy seeds, coconut, onion and spices. A wonderful blend of spices and coconut gives this curry a unique taste. The texture too is amazing with ground spices and coconut. Give it a try.
Ingredients
500 grams chicken(curry cut pieces)
2 to 3 tablespoon tamarind juice
Salt to taste
2 tablespoon oil
For the Xacuti masala
1 big size onion
8 dried Kashmiri red chilies
½ scraped coconut
2 tablespoon poppy seeds
4 to 5 cloves
1 inch cinnamon stick
15 black pepper corns
1 ½ teaspoon cumin seeds
1 ½ tablespoon coriander seeds
1 tablespoon fennel seeds
1 teaspoon turmeric power
½ teaspoon white sesame seeds(til)
¼ teaspoon fenugreek seeds
8 cloves of garlic
1 ½ inch ginger piece
½ teaspoon oil
Method
Clean, wash chicken well. Marinate with salt and keep aside.
Heat ½ teaspoon of oil in a pan. Add sliced onions sauté till onions turns translucent. Add garlic, ginger pieces and sauté till raw smell goes off. Add grated coconut and sauté till coconut turns golden brown. Remove the mixture from stove and set aside to cool.
Into the same pan add Kashmiri red chilies and all other whole spices mentioned in Xacuti masala one after the other and roast them for about 3 minutes on low flame. Do not burn the spices. Make sure the spices are roasted until they release nice aroma and just begin to turn brown. Remove from stove and set aside to cool.
Grind the roasted spices and onion-coconut mix into a smooth paste by adding little water.
Now heat 2 tablespoon of oil in a deep bottomed pan. Add the ground masala paste and cook for 5 minutes.
Add chicken pieces and cook for 5 minutes with constant stirring.
Now add water and bring it to boil. Continue to cook until chicken is well cooked. Add tamarind juice and continue to cook for another 5 to 7 minutes on low flame.
Remove from stove, garnish with fresh coriander leaves and serve hot with steamed rice.