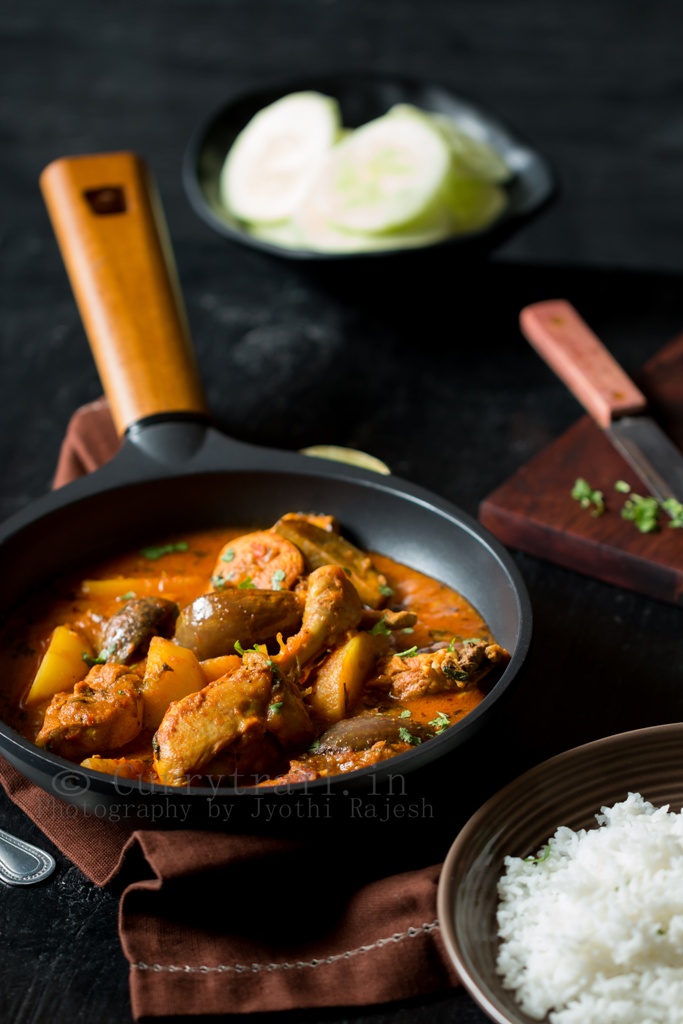 Past few days it has been extremely hard for me to sit down and write. I'm having those moments of blank, dark space where the mind is wondering looking for words. I can't seem to understand why this has been happening. Could be cause of kids at home constantly screaming, playing, and fighting? Could be cause of my son's allergic cough episodes that he has been getting on and off, which has been bothering me? Or Could be a month full of parties that we had to plan, and so now I'm tired to do anything?. Or it could simply be cause I am too lazy to sit down, think and write!
Whatever the reason is I decided to defeat it and sit down and write today. I am struggling, but I will not give up. So, the first challenge after I made up my mind to write was, "what should I write about?". Again I traveled into that dark, empty space again. Quickly, pulled myself out and just went with the flow of what ever thought came to mind. That is exactly what you are reading now 😀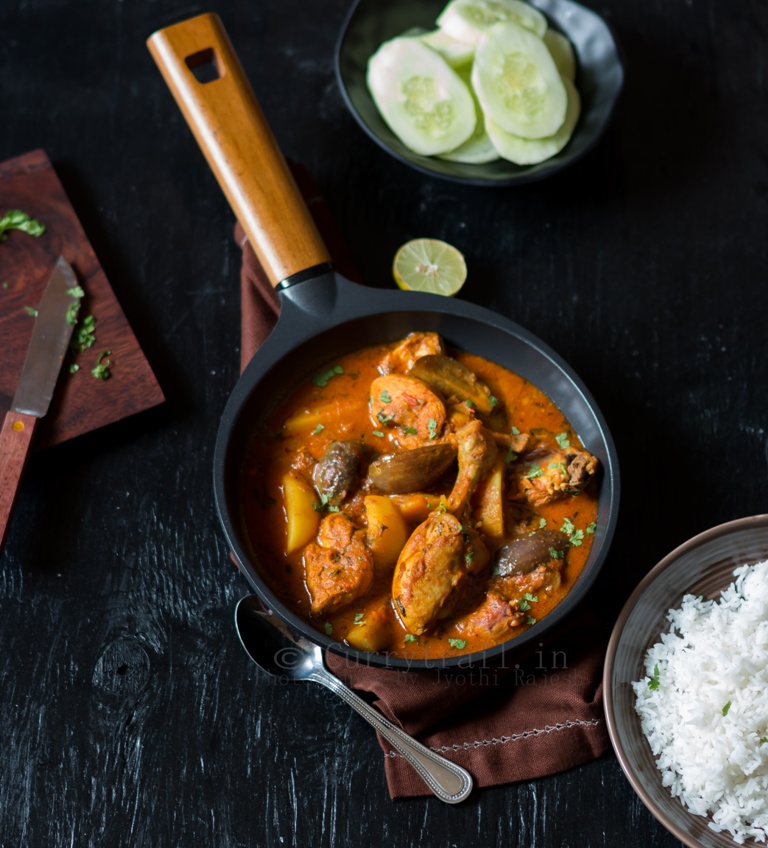 So until I find my inspiration to write, let's talk about this special chicken curry. This is my mom's recipe and it one of the best curries I have had. With the goodness from both of worlds of vegetarian and non vegetarian, this curry I would like to call it top-notch. Brinjal(or aubergine as it is called in some part of the world) and potatoes make a delicious vegetarian curry on it's own. With chicken pieces added to it makes this curry one of it's kind. Mom usually makes this curry when our relatives visits home. My aunt and uncle who are from Chennai, love their brinjal and potatoes. In their home, almost every day meal has brinjal and potatoes in one form or the other. Be it sambar with brinjal, accompanied by potato fry. Or be it ennai kathrikai kozhumbhu(spicy brinjal curry) with potato podi maas. Or simple potato, brinjal korma. There is always binjal and potatoes. 😀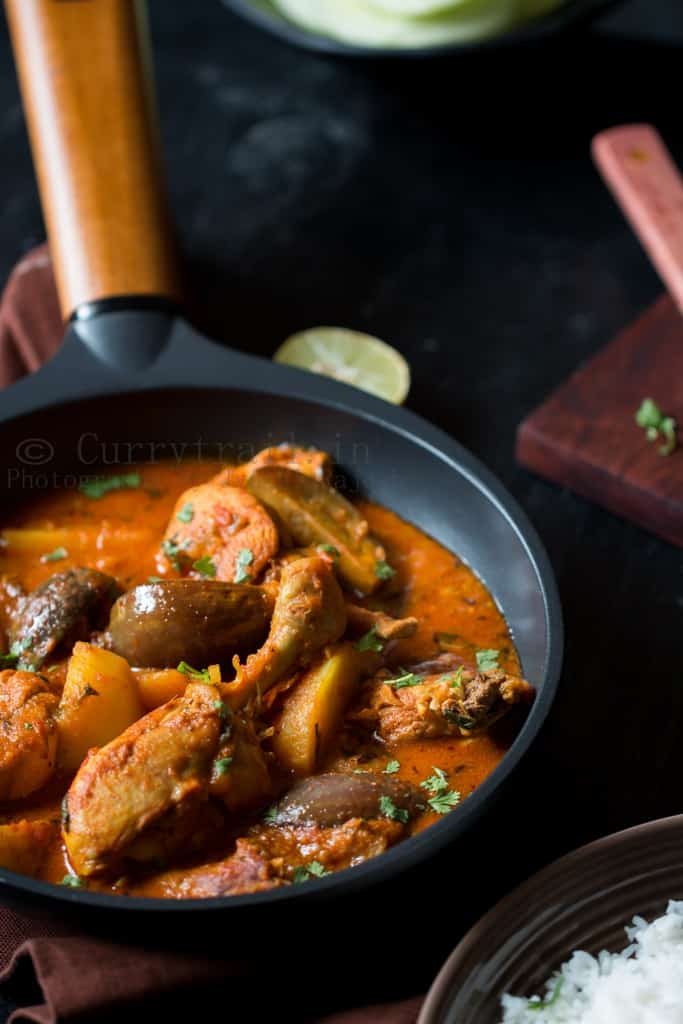 So mom would add brinjal and potato to chicken curry. It serves 2 purposes. One to satisfy my aunt and uncle who are ardent brinjal-potato lovers and two, when you have big crowd at home, adding these veggies to curry makes a big batch of curry even when you have less chicken quantity wise. 😀
Remember a few days back I shared my mom's mutton chops recipe. Did you get to try it? If you did, I would like to talk. I would like to hear what you thought of it. If you haven't tried then I highly recommend you to try it. Or even better idea, how about you try both the recipes on the weekend and feast with your family! 😀 I plan to do that. Now that I'm craving for my mom's mutton chops recipe, I will make it again on weekend. And since my kids both love chicken I will be repeating this brinjal potato curry for them. Son loves his potatoes.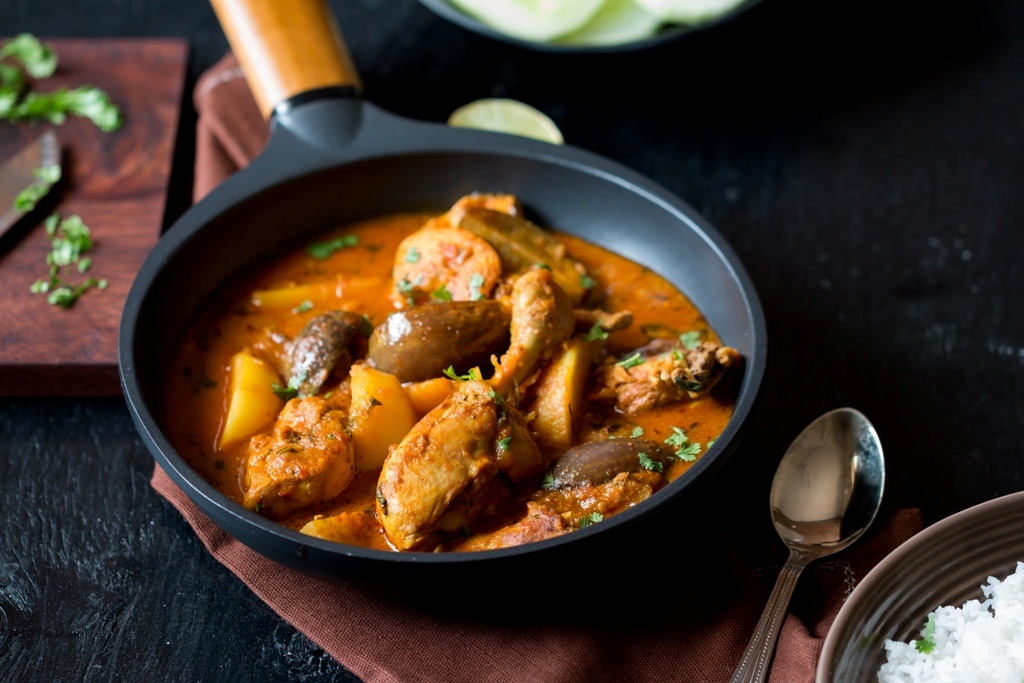 This is one the the most simplest curry to make. But the flavors and taste of the curry is like I said top-notch. Give it a try, you will love it.
Ingredients
500 grams chicken
3 small brinjals
3 small potatoes
2 onions, chopped fine
2 tomatoes, chopped fine
1 tablespoon ginger garlic paste
1 tablespoon red chili powder
¾ tablespoon coriander powder
1 teaspoon turmeric powder
1 ½ teaspoon cumin powder
1 teaspoon pepper powder
Salt to taste
1 tablespoon oil
Water as required
For marination
Juice of 1 lime
1 teaspoon oil
1 teaspoon red chili powder
1 teaspoon salt
¼ teaspoon turmeric powder
Instructions
Wash chicken pieces thoroughly. Marinate the chicken all the ingredients mentioned under the list 'for mariantion'. Keep aside for minimum half an hour.
Heat oil in a pan,Add chopped onions and saute until onions turn pink.
Add ginger-garlic paste and saute until raw smell of the paste goes off.
Add tomatoes and cook until tomatoes turn soft and mushy. Add chopped brinjal and potatoes, saute for 3-5 mins on medium flame.
Add the marinated chicken and cook for 5 mins.Add all the spice powders along with salt and mix well.
Add water and let it cook on medium heat until chicken is fully cooked.
Garnish with coriander leaves and serve hot with steamed rice, bliss!