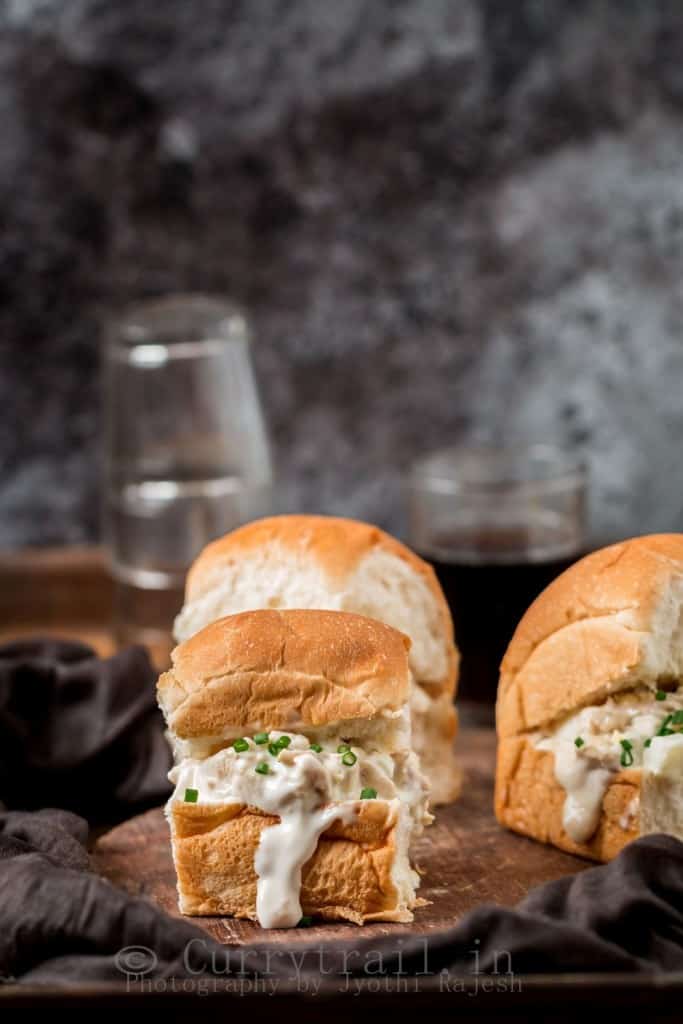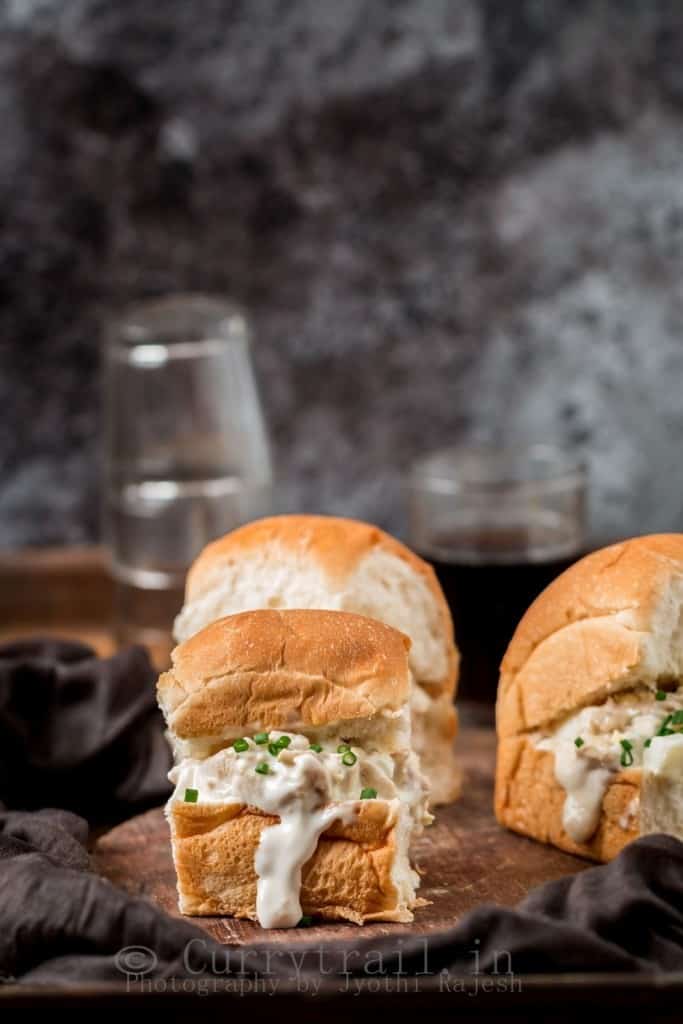 Mayonnaise is delish-ious. Cheesy mayonnaise is insanely delish-ious. Garlic flavored cheesy mayonnaise is a bomb! It's that one perfect mayonnaise that would make anyone go…."Oh my goodness….". It's an addiction, the most delicious addiction.
As I write I am imagining the deadly baked potato wedges that I made using just the DelMonte cheesy garlic mayonnaise the other day. I alone wiped off the baking tray clean and I even went licking my fingers..:P it was that good.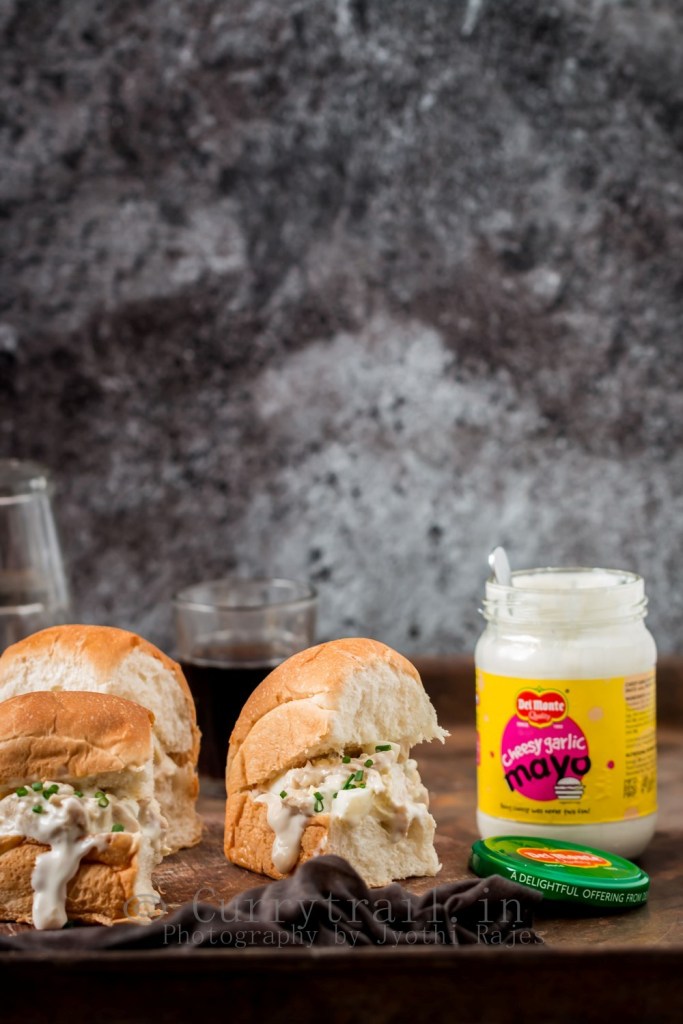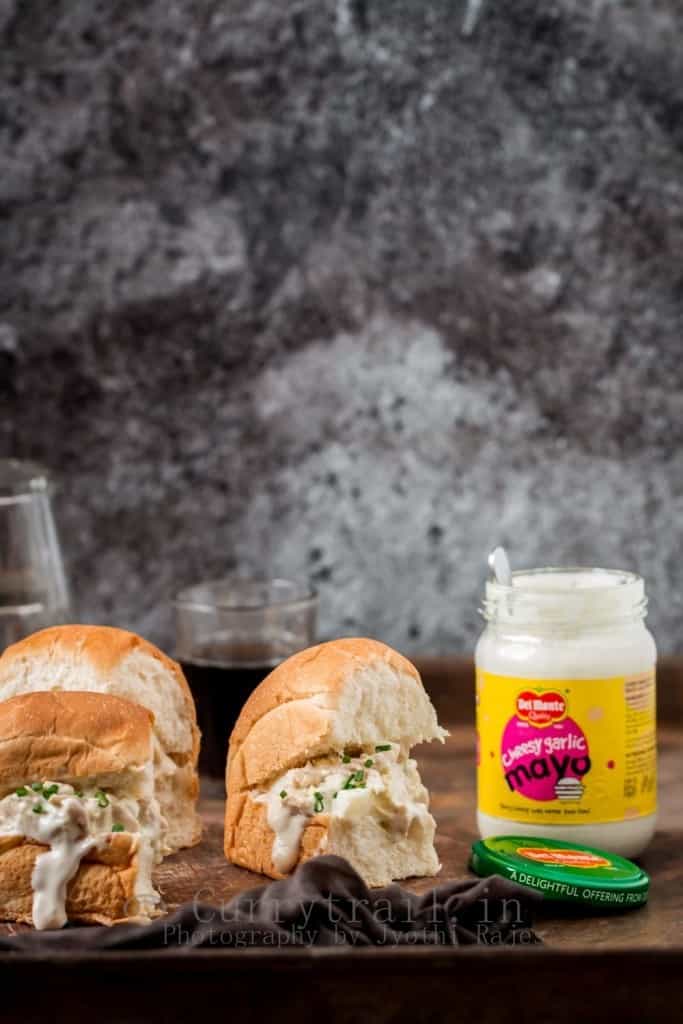 There is nothing more satisfying than biting into a gooey, generously filled creamy egg and chicken inside a bun. And then to lick off all those delicious creamy delights dripping through your hands is pure heaven! 😀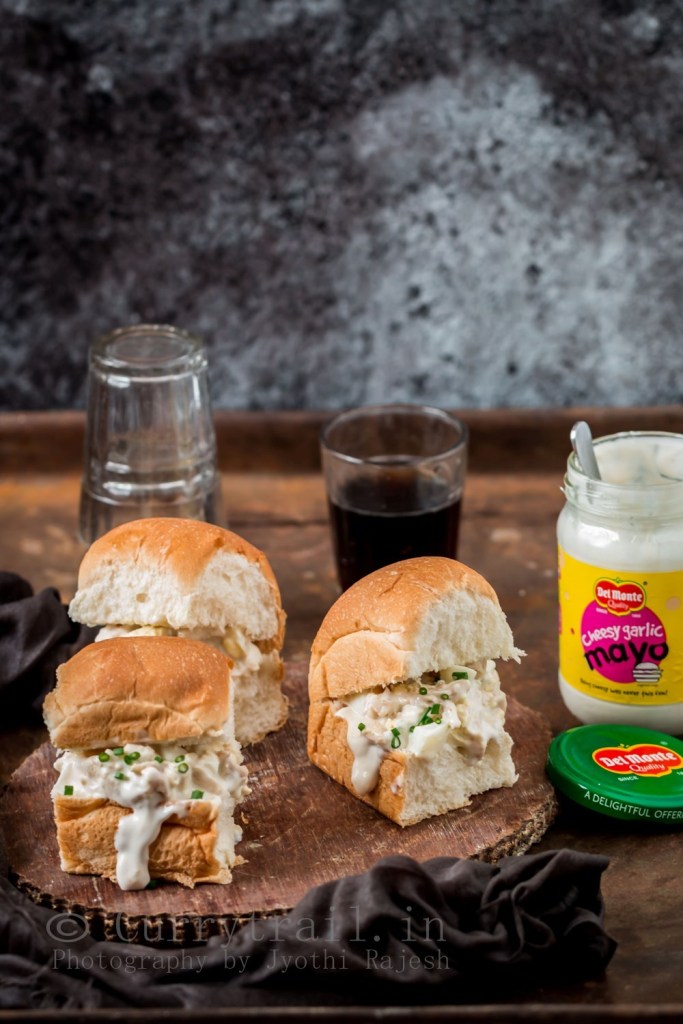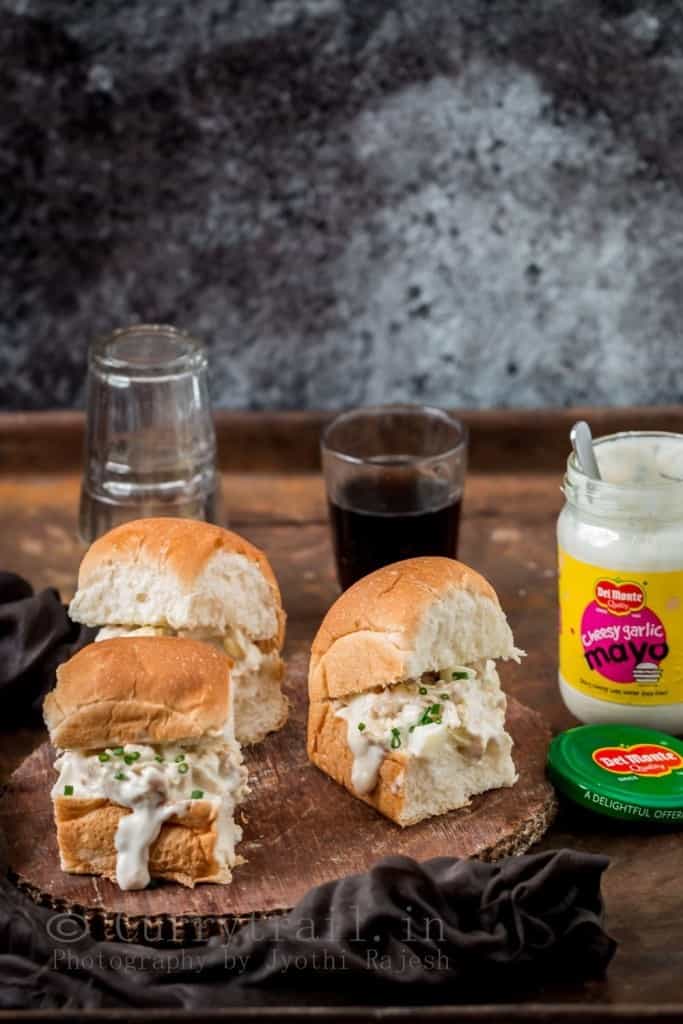 Don't judge me here now, when you have a mayonnaise that has perfect flavors in it and it's cheesy anybody will do that, don't you think?
Boneless chicken was marinated using DelMontes cheesy garlic mayonnaise, pan roasted until cooked but still moist die to mayonnaise. Broken boiled eggs and shredded mayonnaise roasted chicken was then filled in the buns ( I have used the pav buns here). The mayonnaise oozing out of the buns just stole my heart.
One of the most delicious after school snack for kids. Go ahead and make these and serve it as quick fix dinner for those busy week days.
Ingredients
3 boiled eggs
250 grams boneless chicken
3 + 5 tablespoon DelMonte Cheesy Garlic Mayonnaise
¼ cup finely chopped chives(spring onions)
Salt to taste
1 teaspoon pepper powder
2 teaspoon olive oil/butter
4 -5 slider buns
Method
Clean and wash chicken well. Cut into small cubes.
Sprinkle salt and pepper powder over the chicken. Add 3 tablespoon DelMonte Cheesy Garlic Mayonnaise over it, mix well to coat evenly all over the chicken. Cover and keep it refrigerated for about 30 minutes.
Heat olive oil in a pan. Thrown in the marinated chicken pieces and cook for about 7to 10 minutes until chicken gets cooked through.
Remove the cooked chicken from the pan and transfer into a bowl, let it cool down a bit. Shred the chicken. Break down boiled eggs into smaller pieces and put them into the same pan.
Add 4-5 tablespoon of DelMonte Cheesy Garlic Mayonnaise over the chicken and egg, mix with a spoon to coat evenly. Sprinkle chives over it and mix gently.
Cut the bun in the middle half way through making sure not to cut them into 2 separate pieces.
Scoop a big spoon of this mixture and place it between the 2 slider buns and press the top bun.
Serve immediately.
Disclosure – This post is sponsored by DelMonte India for using their mayonnaise products in my recipe, but all opinions expressed here are of my own.