Past few days it has been extremely hard for me to sit down and write. I'm having those moments of blank, dark space where the mind is wondering looking for words. I can't seem to understand why this has been happening.
I guess the weather is getting to me. Body is refusing to work normal some days and I just want to curl up and lie down. When you feel low and body is crying out, curries are the best comfort food for me.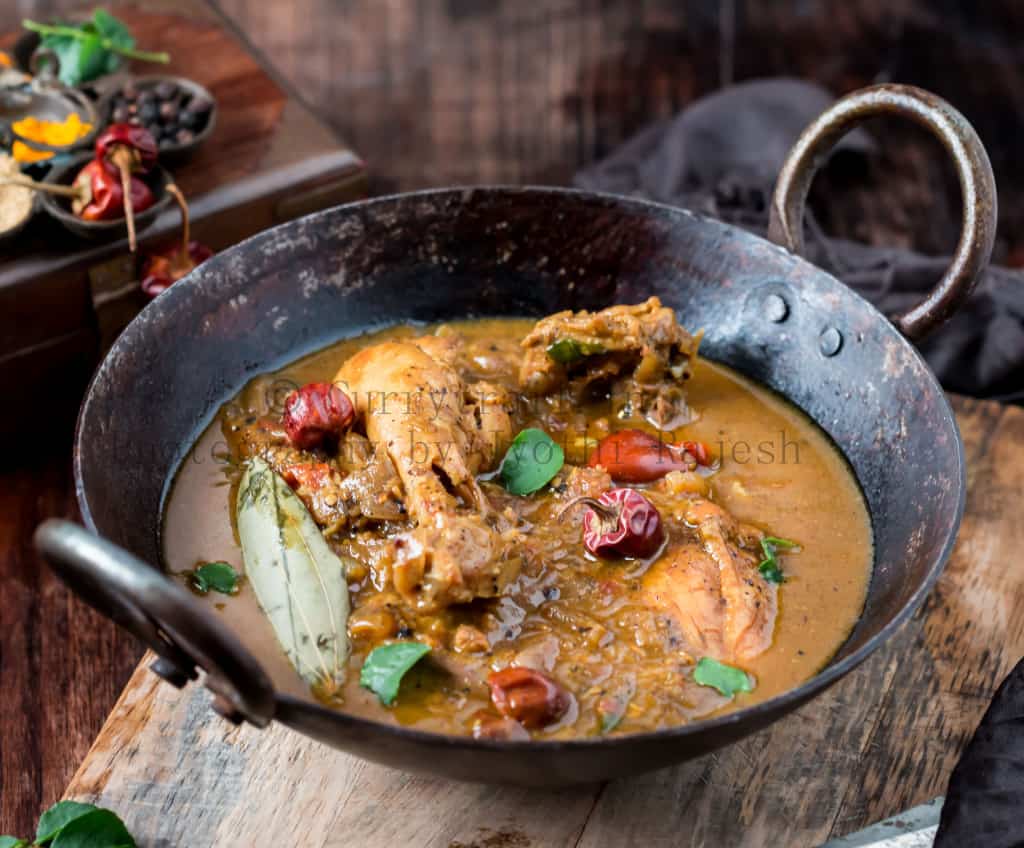 Calling all curry lovers here. Do you love spicy delicious curries paired with hot steaming rice? Oh I love it too. Pure bliss!
I love all types of chicken curries. Wonderful blend of spices makes the curry so flavorful. I prepare about half a dozen of chicken curry variations and all of them are my absolute favorite. I lean more towards spicy curry, as I am a huge fan of spicy food.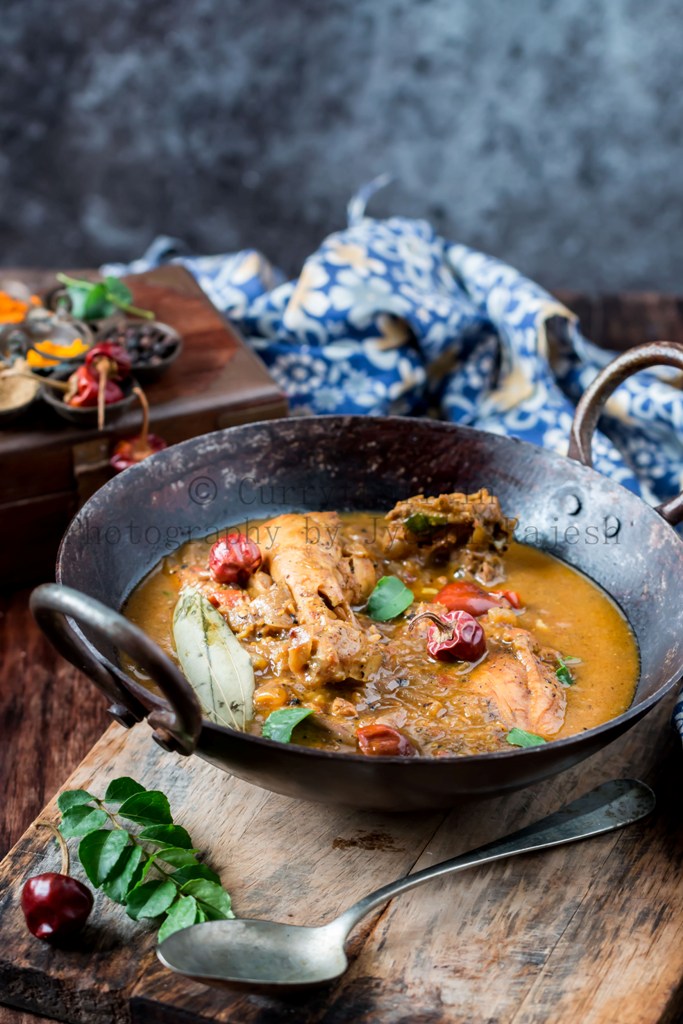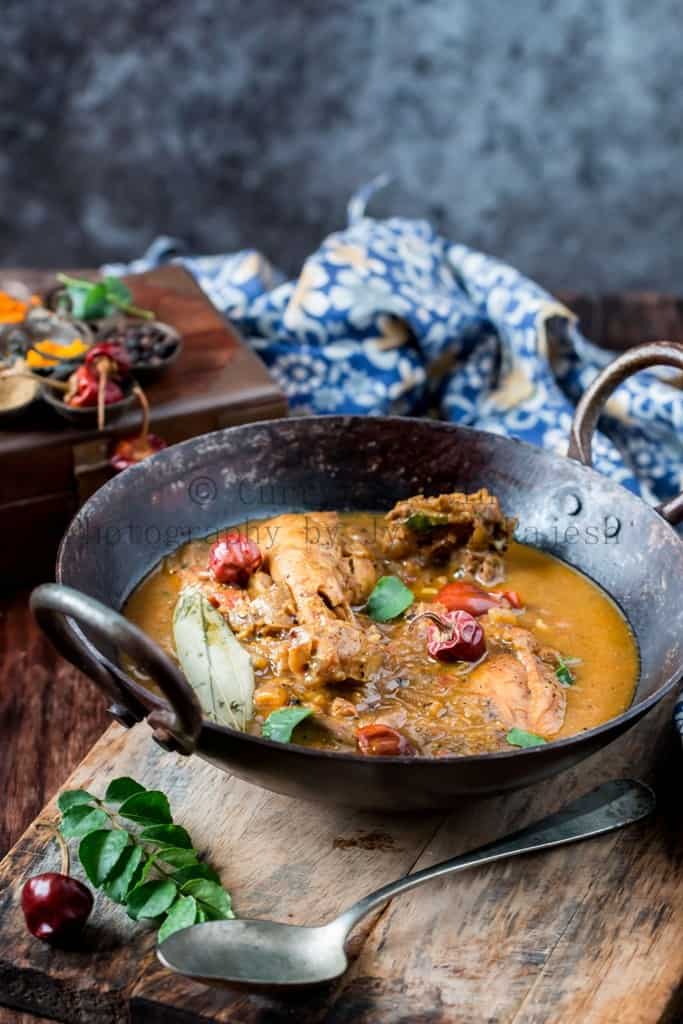 Talking about spicy food, the first thing that comes to my mind is robust flavors of Chettinadu preparations. Today's recipe is Chettinadu kozhi kozhumbhu. This deliciously spicy chicken curry is packed with flavors and is sure to tickle your taste buds. You will love it.
P.S – the quantity of spices mentioned can be adjusted to suit your spice levels. I love spicy curry, so I have mentioned the quantities as per my taste buds.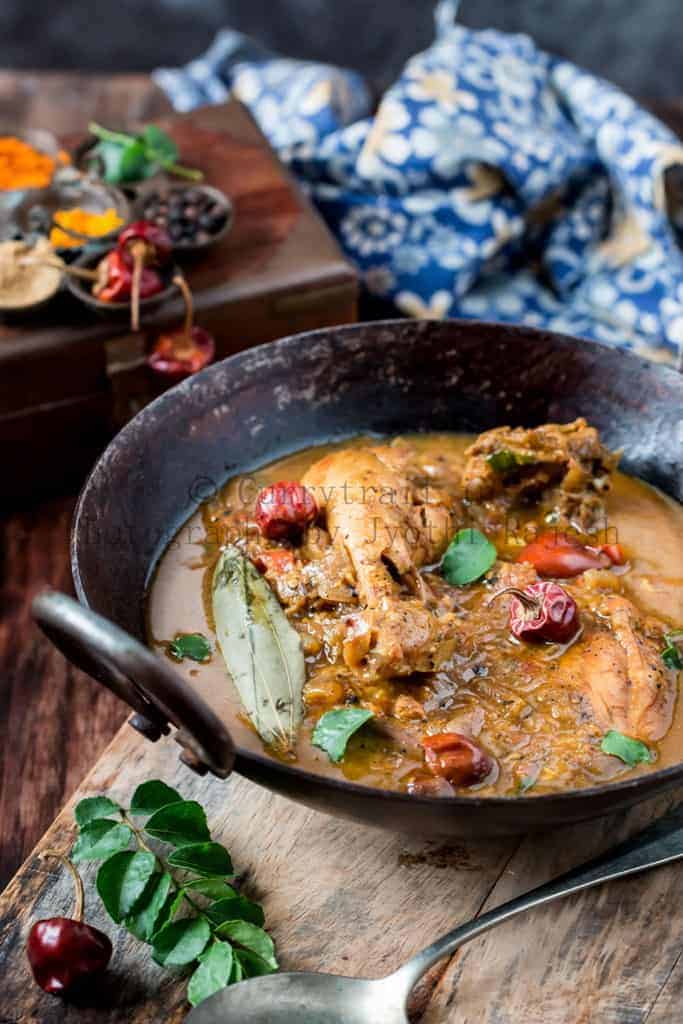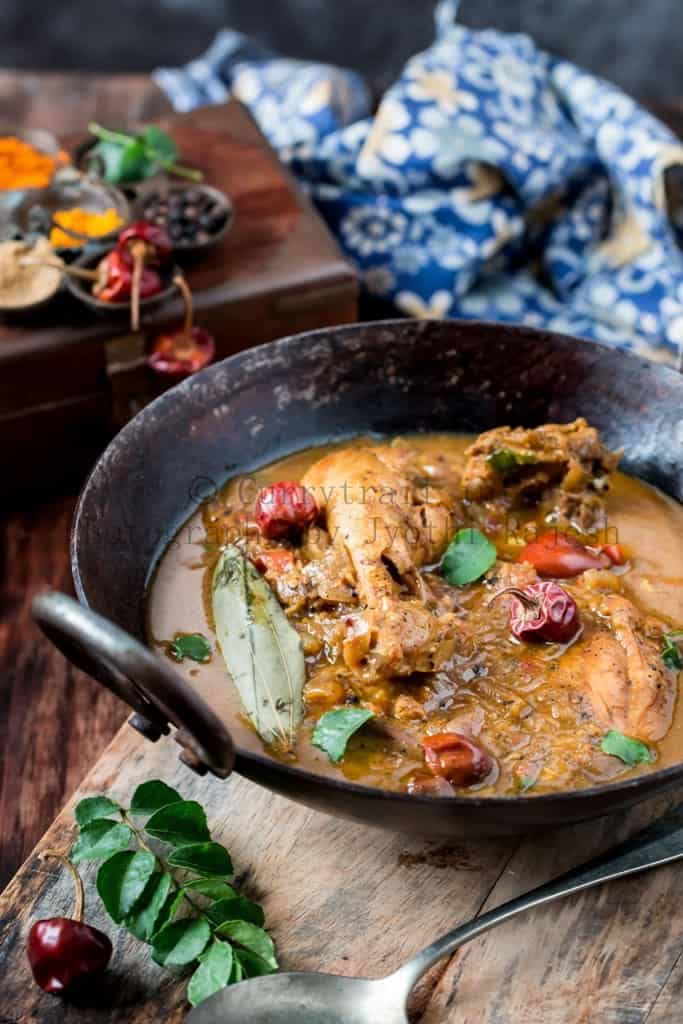 Ingredients
500 grams chicken pieces
1 ½ cup shallots(baby onions), chopped
1 big tomatoes, chopped
1 bay leaf
2 inch cinnamon stick
4 cloves
2 spring curry leaves
½ teaspoon fennel seeds
4 dried red chilies
3 green chilies
1 tablespoon ginger garlic paste
½ teaspoon turmeric powder + ½ teaspoon extra
1 teaspoon roasted fennel powder
1 tablespoon coriander powder
2 tablespoon red chili powder
1 teaspoon pepper powder
½ cup tamarind juice
Salt to taste
3 tablespoon oil
Water as required
Coriander leaves for garnish
Method
Clean the chicken thoroughly and wash them in water for 3-4 times. Then add about ½ tspn of turmeric powder and water until chicken in fully immersed and let it sit for 10 mins. Then drain the turmeric water and marinate with little salt. This step of washing chicken in turmeric water will reduce the smell in the chicken.
In a kadai add oil. Add bay leaf, cinnamon, cloves to hot oil. First add finely chopped shallots and sauté till onions turn soft. Then add ginger garlic paste and cook till the raw smell of the paste is gone. Add fennel seeds, curry leaves, dried red chilies, green chilies and cook for 30 seconds.
Add finely chopped tomatoes and cook till tomatoes turn soft and mushy.
Now add the marinated chicken and let it cook for 3-5 minutes.
Add all the spice powders, mix well. Cook for another 5 minutes.
Now add salt and about ½ cup water. Cover and cook until chicken is ¾ cooked.
Now add tamarind juice, mix well and continue to cook on low flame for about 10 minutes.
Finally add chopped fresh coriander leaves and curry leaves. Turn off flame.
Serve hot with steamed rice, dosa or even idli.