Chettinad cuisine is very close to my heart. Mom makes a lot of Chettinad dishes and I love all of them. My dad is a wonderful cook too. He cooks occasionally, but whatever he does tastes really good. My favorite Chettinad dishes are vatha kozhumbhu/kara kozhumbhu, Chettinad pepper chicken fry, Chettinad egg fry.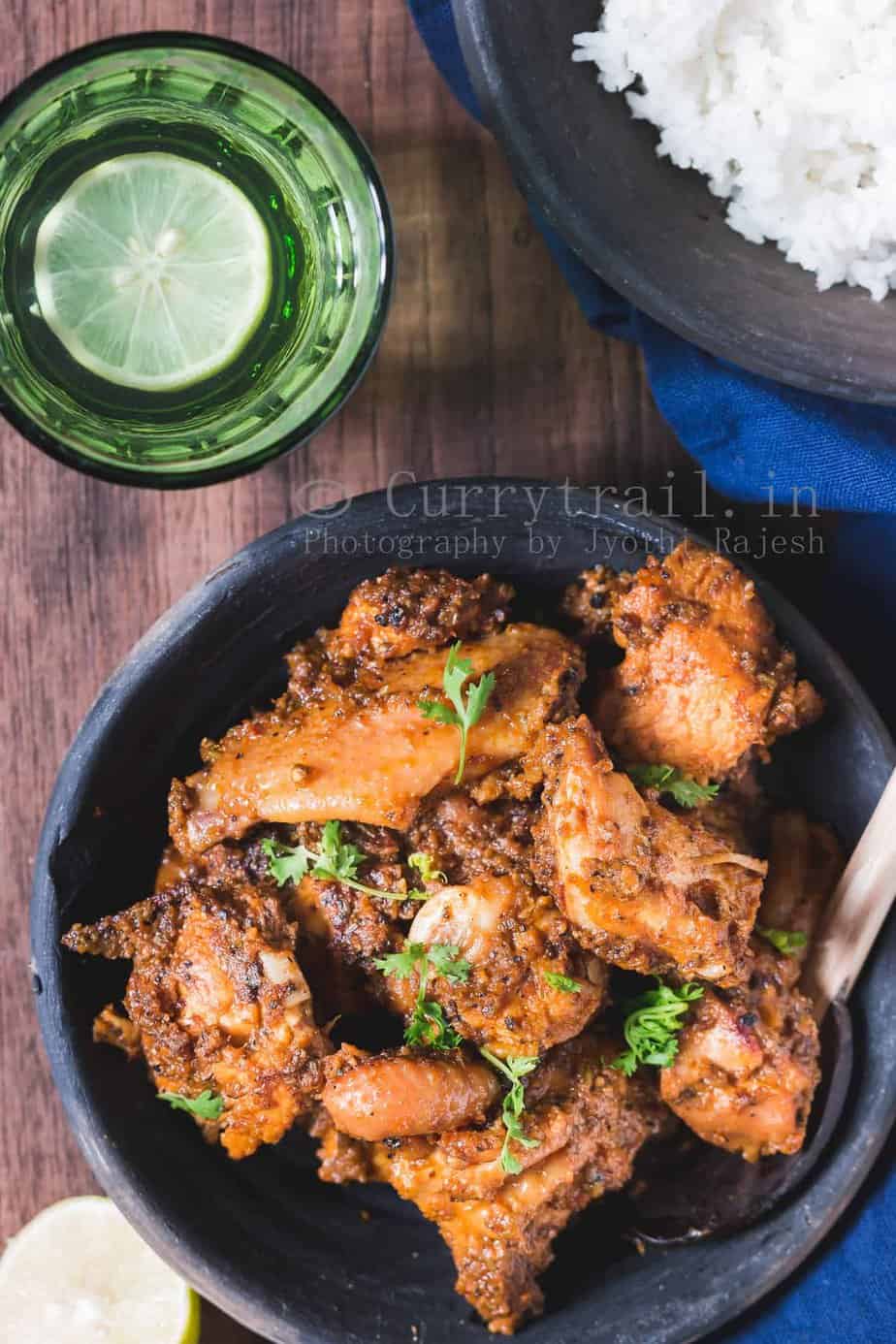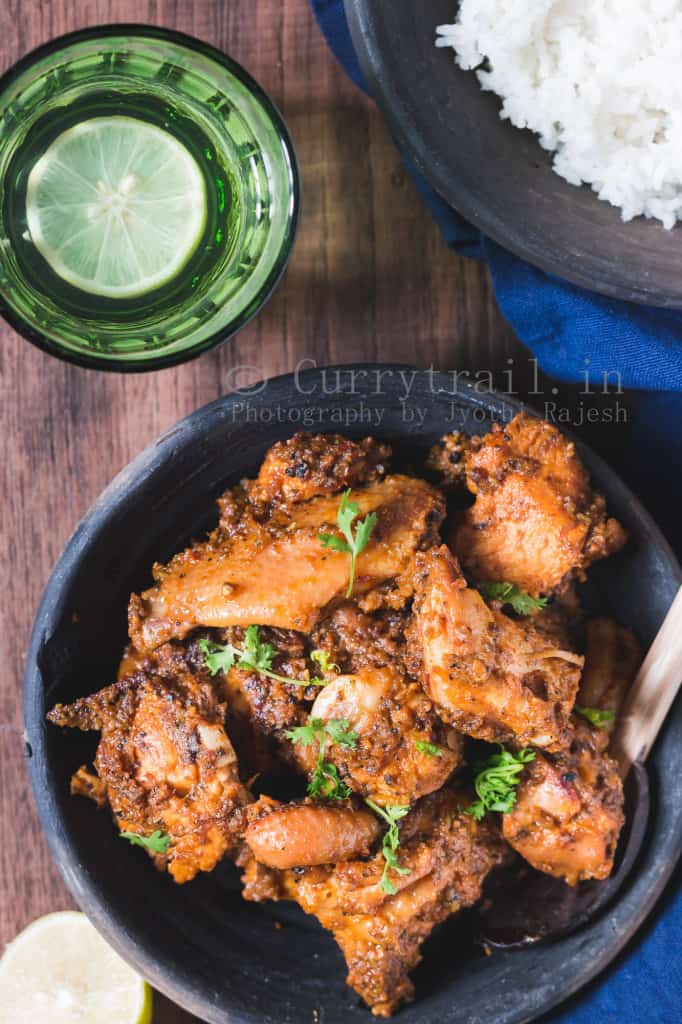 Chettinad chicken recipes are very popular in almost all the restaurants here in South India. Chettinad cuisine originates in Chettinad region of Tamil Nadu state in South India. Chettinad cuisine is one of the spiciest and the most aromatic in India. The cuisine is famous for its use of a variety of spices used in preparing mainly non-vegetarian food. Chettinad pepper chicken dry is very easy to make and tastes delicious.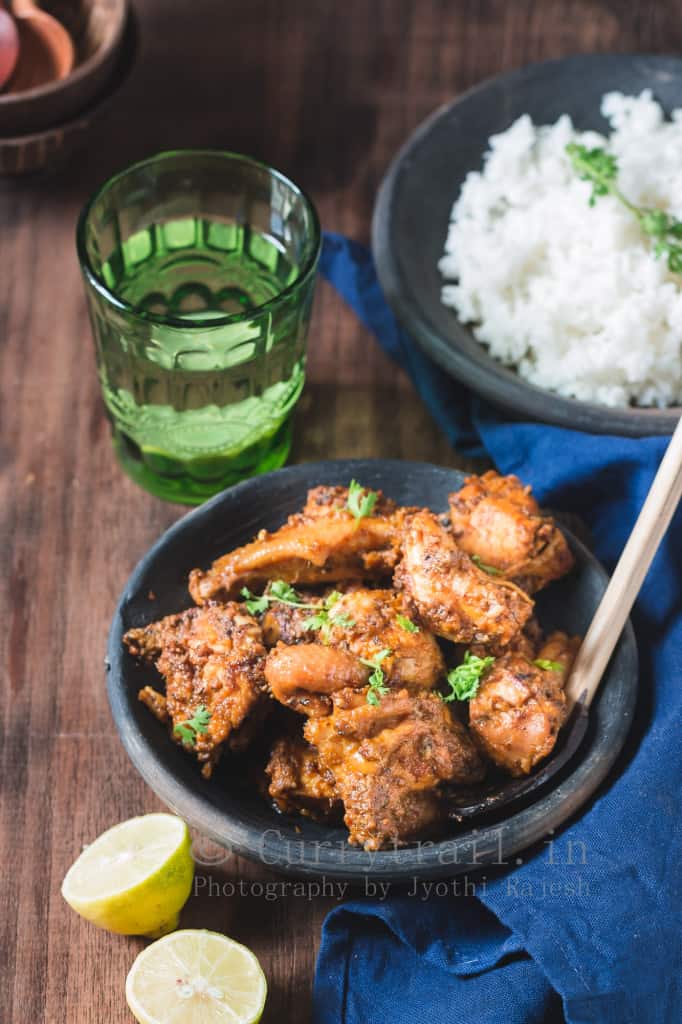 Ingredients
500 grams chicken (chicken with bones gives better taste)
1 large onion
1 tomato
2 spring curry leaves
1 tablespoon ginger garlic paste
½ teaspoon turmeric powder + ½ teaspoon extra
1 teaspoon roasted cumin powder
1 teaspoon roasted fennel powder
1 tablespoon coriander powder
2 ½ tablespoon crushed pepper (or pepper powder)
Salt to taste
2 tablespoon oil
Water as required
Coriander leaves for garnish
Method
Clean the chicken thoroughly and wash them in water for 3-4 times. Then add about ½ tspn of turmeric powder and water until chicken in fully immersed and let it sit for 10 mins. Then drain the turmeric water and marinate with little salt. This step of washing chicken in turmeric water will reduce the smell in the chicken.
In a kadai add oil. First add finely chopped onions and sauté till onions turn soft. Then add ginger garlic paste and cook till the raw smell of the paste is gone. Add curry leaves and mix well.
Add finely chopped tomatoes and cook till tomatoes turn soft and mushy.
Now add the marinated chicken and let it cook for 3-5 minutes.
Add all the spice powders, mix well. Cook for another 5 minutes.
Now add salt and about ½ cup water. Cover and cook till the chicken is fully cooked and all water is evaporated.
Hot, spicy, flavorful Chettinad chicken pepper dry fry is ready. Serve them with steamed rice with curry of your choice or sambar. It can be served with rotis too.