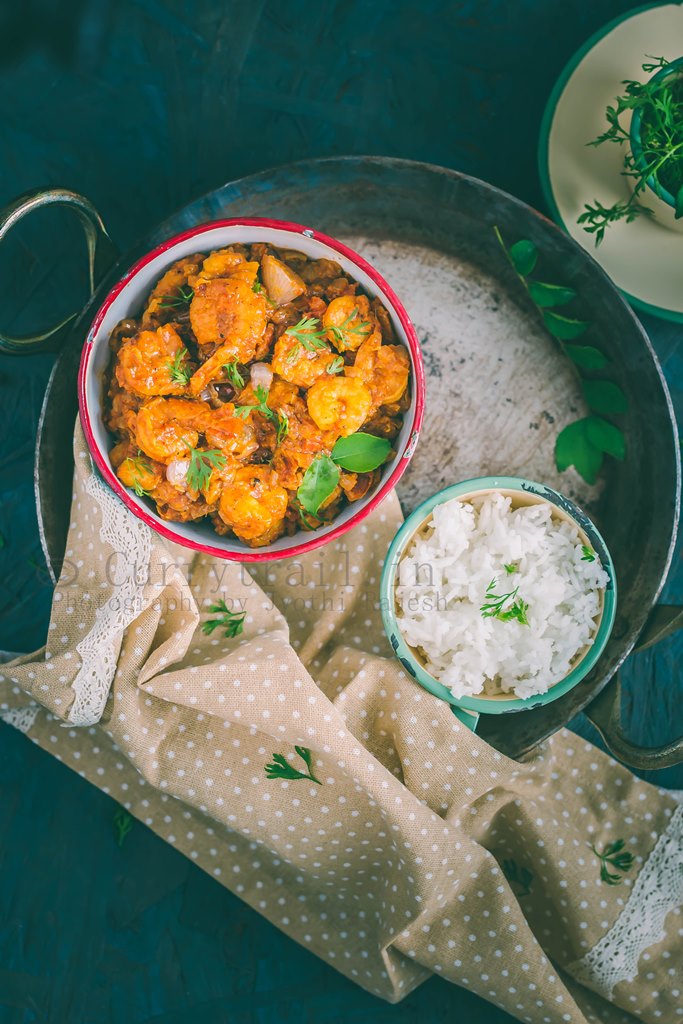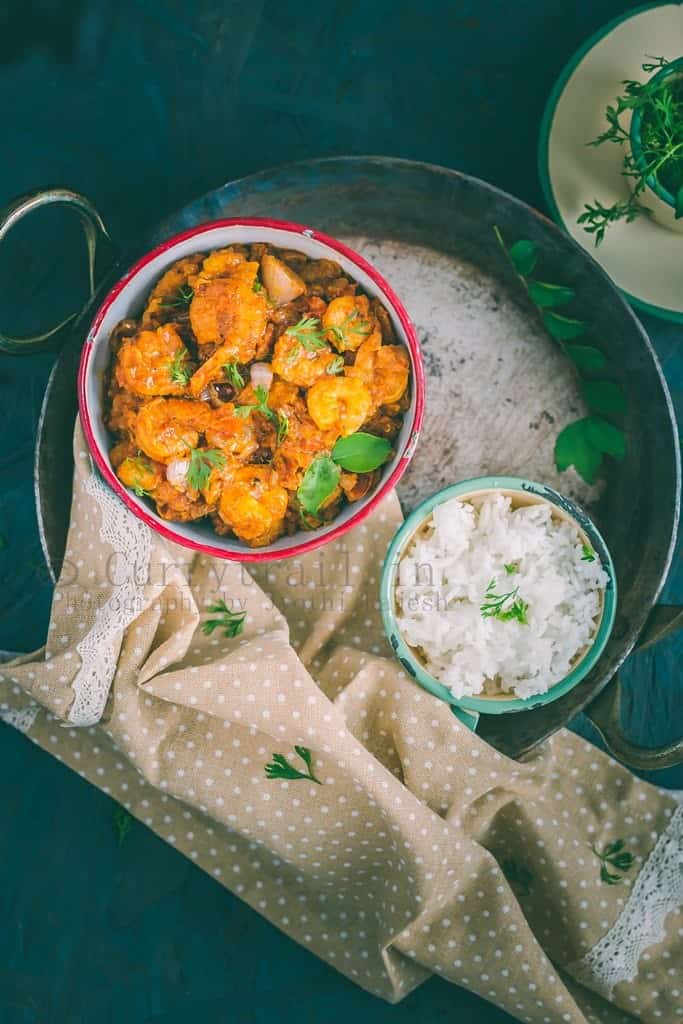 The first time I tasted prawns was in Chennai when I was visiting my aunts house with my parents about 20 years back. I fell in love with prawns the very first time. My aunt makes a prawn dish which is a killer. A tomato onions based prawns masala(eral thokku) with home ground spices is to die for. I wait for very opportunities to visit my aunt just to eat my favorite prawn dish. I just take the masala in the prawns, mix it with rice and eat it. Pure bliss! You don't need anything else to go with it.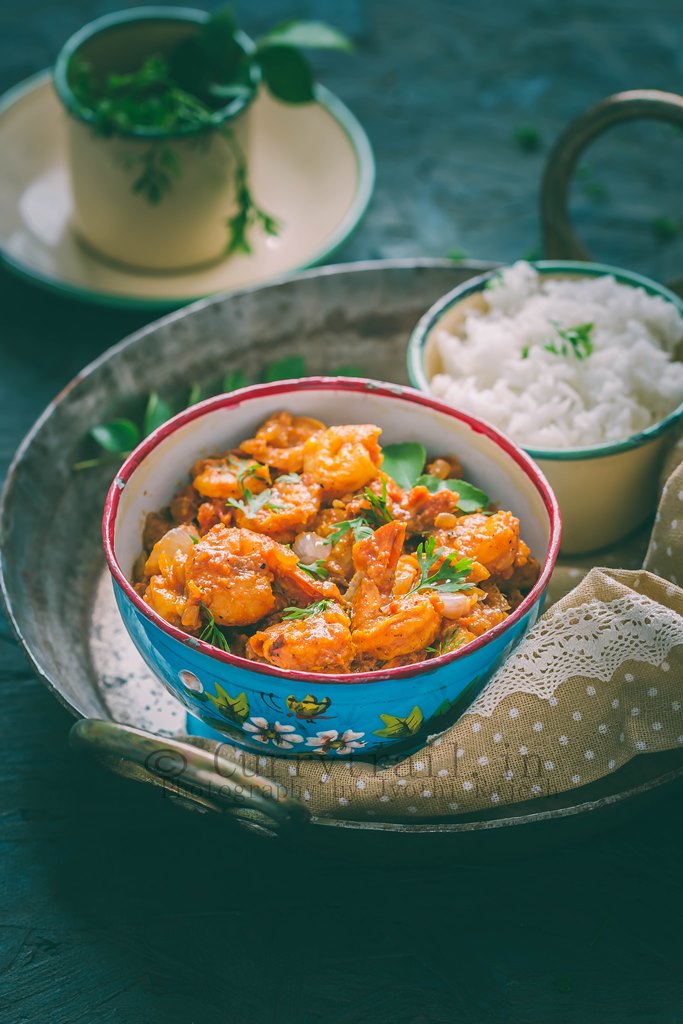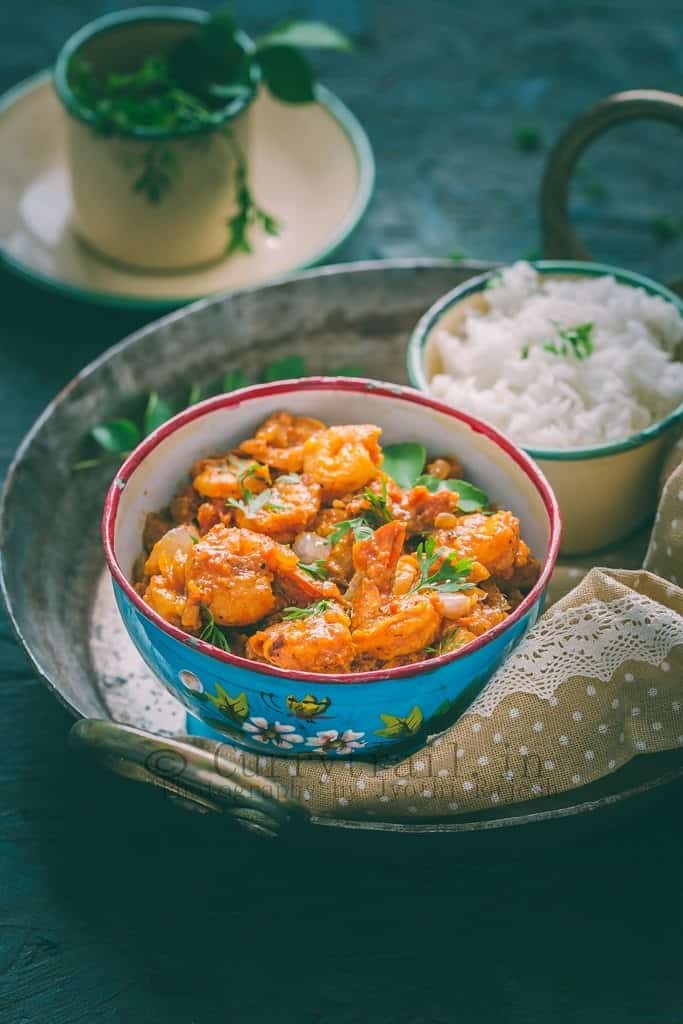 Prawns were not readily available in the place I grew up. Seafood was not fresh enough so we would usually stay away from it. I sure was missing my favorite seafood – prawns then.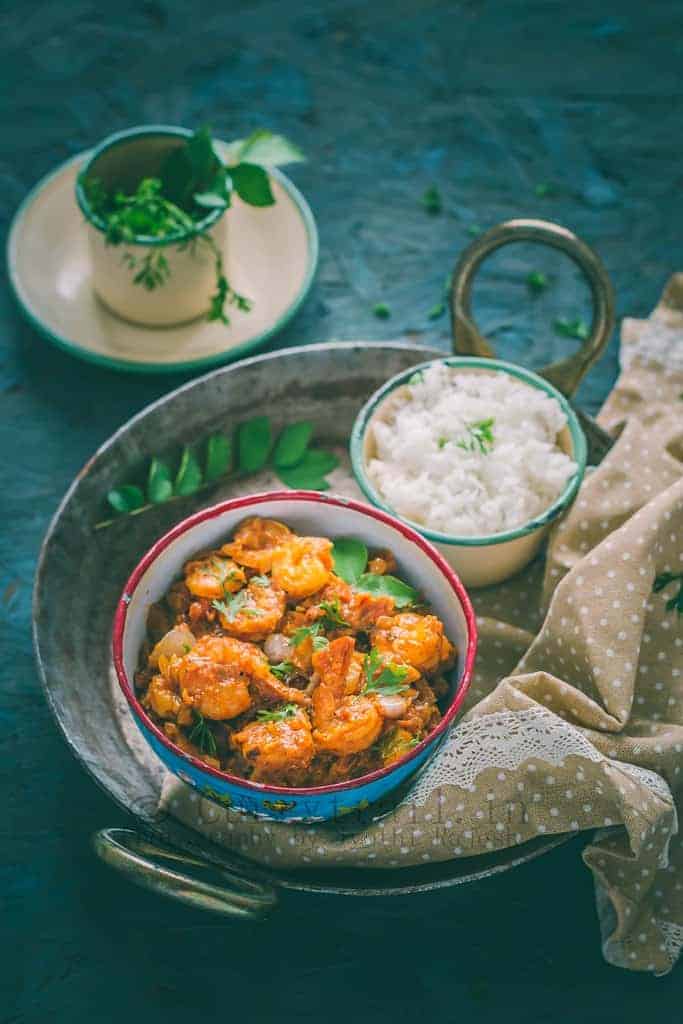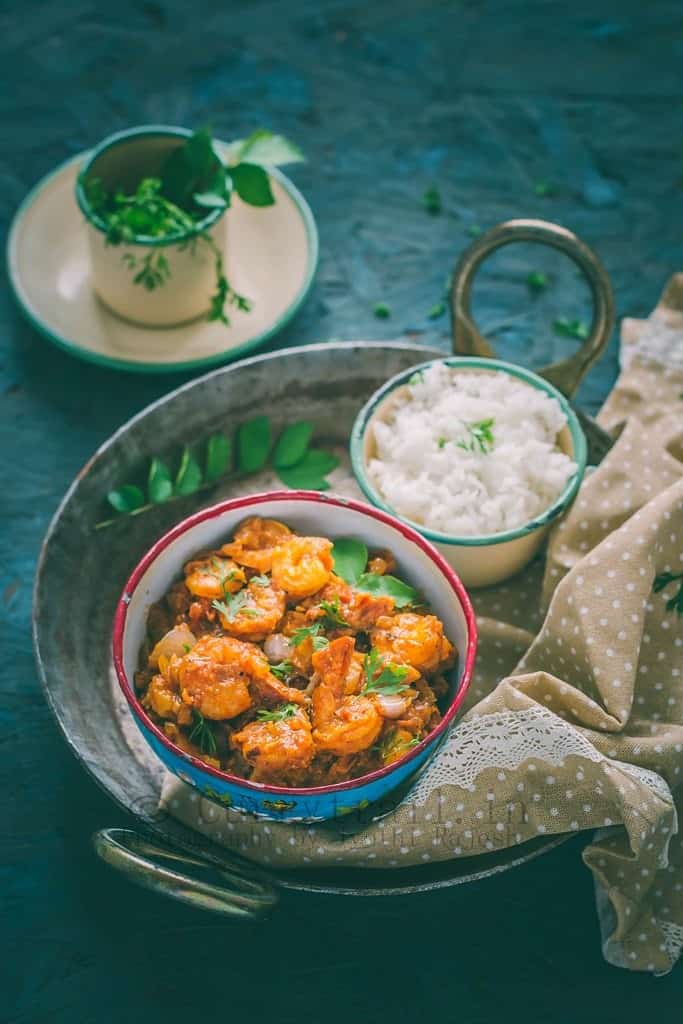 Once I settled in Bangalore, and found a few places where I was able to source decent prawns(though not "fresh") I started to make my favorite dish but with my own twist to it. I love spicy Chettinadu prawns, so I always add little pepper powder and a good amount of chili powder in my preparations. Traditional eral thokku/prawn masala has to be made with shallots(pearl onions) to get that authentic taste. Trust me on this one. For all spice lovers this is a must try recipe.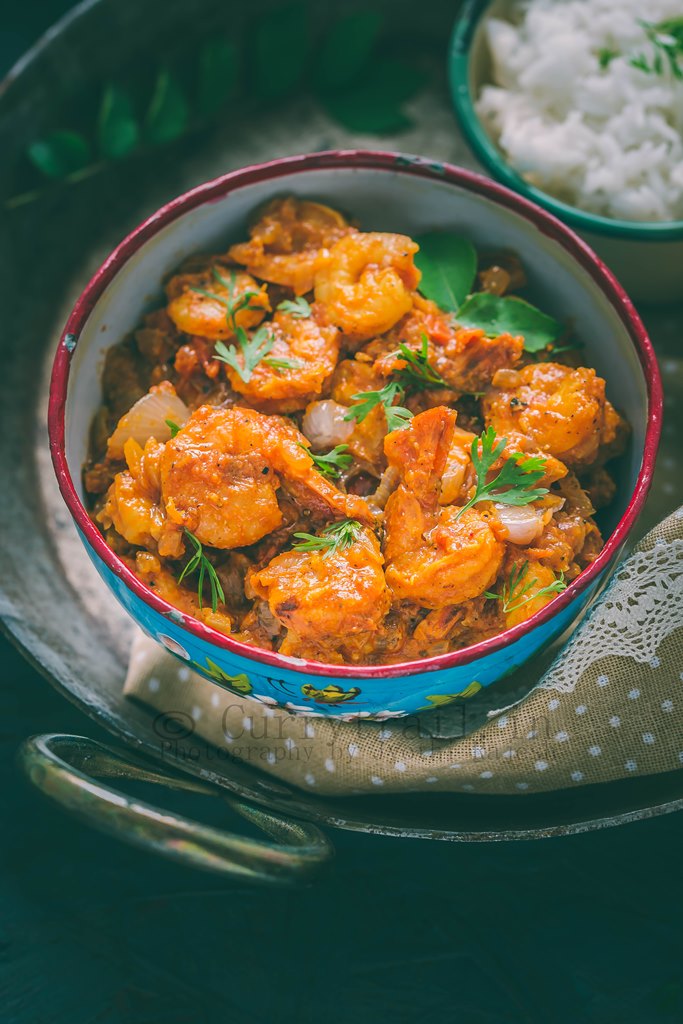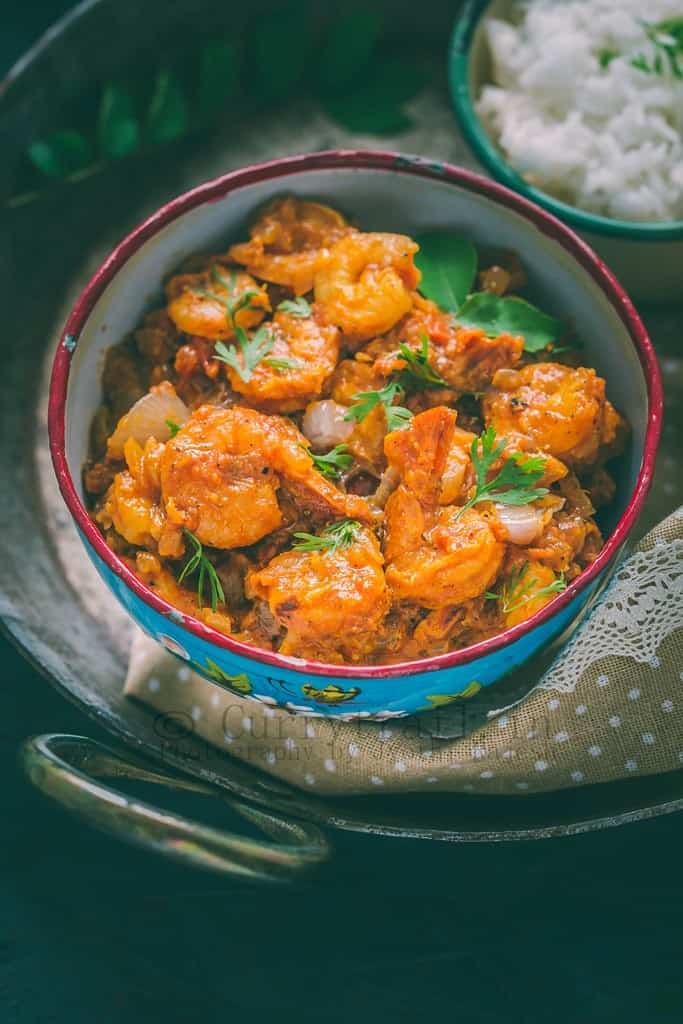 Ingredients
400 grams prawns
1 /2 cup shallots
2 tomatoes
2 sprig curry leaves
1 green chilies, slit
1 ½ teaspoon ginger garlic paste
1 tablespoon red chili powder
1 teaspoon coriander powder
1 teaspoon pepper powder
½ teaspoon turmeric powder
1 teaspoon lemon juice
Salt to taste
1 ½ tablespoon oil
Fresh Coriander leaves for garnish
Ingredients
Clean prawns well, devein them. Rinse in water. Add salt and lemon juice to prawns mix well and marinate for 15 minutes in fridge.
Chop shallots roughly.
Heat oil in a kadai. Add ginger garlic paste and sauté till raw smell of the paste is gone. Add chopped shallots, curry leaves and green chilies. Cook till onions turn translucent.
Add chopped tomatoes. Cook till tomatoes turn soft and mushy and oil releases from the sides of the pan.
Add the spice powders, salt and mix well.
Add marinated prawns and give it a good mix, ensure all prawns are coated well with the masala.
Cover and let the prawns cook. Add 1 tablespoon water, mix and cook till prawns are fully cooked. If need add more water if the masala turns dry.
Remove from stove, garnish with fresh coriander leaves and serve it hot with steamed rice.