A close cousin of biryani or pulao, this rice based dish with wonderful aromatic spices from the Awadhi cuisine makes a wonderful lunch or dinner recipe.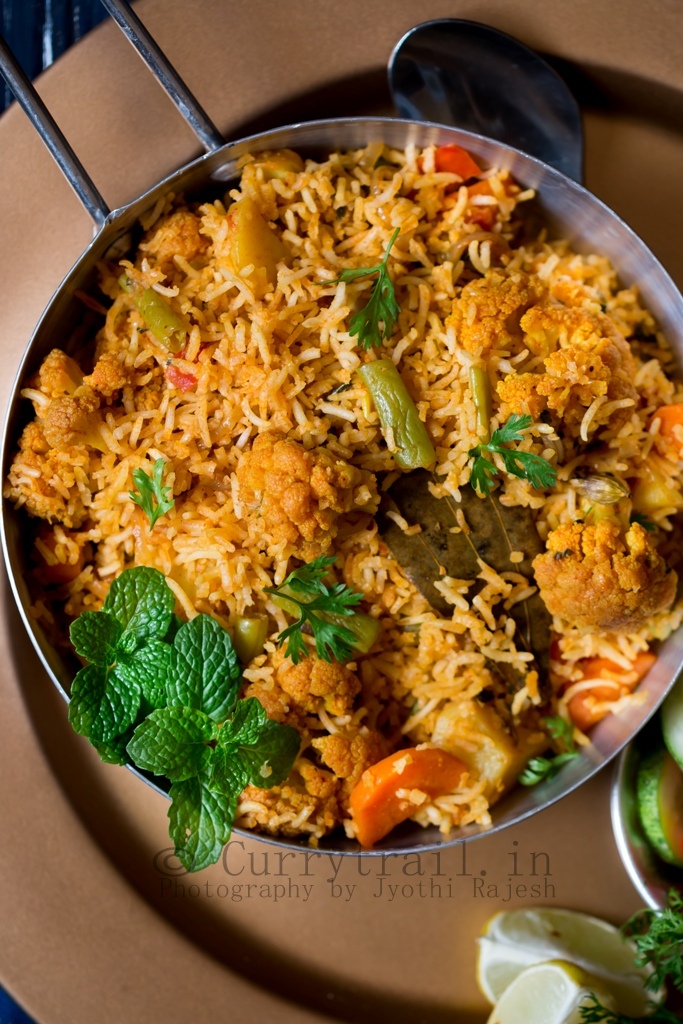 College days were the most exciting days of my life. There are so many memories; some etched so strong in mind that they effortlessly flash in front of eyes. And then, there are some memories which just fade away with time. Some incidences, bring those memories back, some of which I recollect point to point, and it transports me back to that time as if I was reliving that moment again.
I used to be a studious student during my college days. I know Raj will laugh his lungs out reading this sentence (that reminds me to ask him how many of my posts does he read!! ). The reason,  he gives me some article and asks me to read, article based on some technicalities (robotics, or blog or photography), articles based of parenting, articles based on financial planning, so many of them. And I always say, "I don't want to read now, will do later". And that later never comes :P.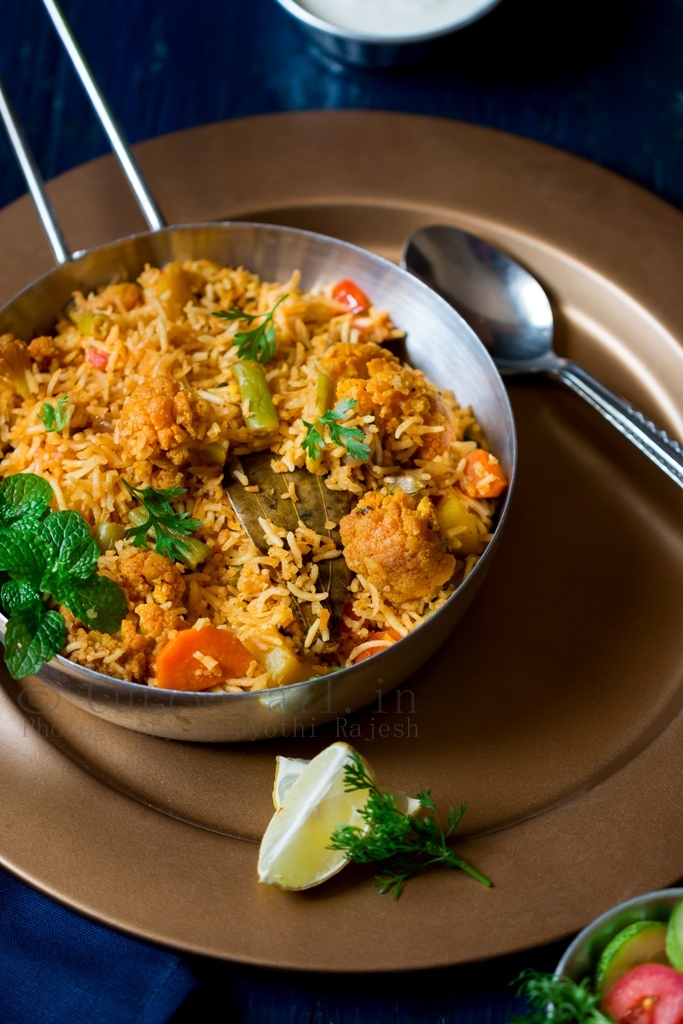 My college friends though, who follow my work now, would agree instantly.  So, being studious I spent the every evening and late night in my study room in front of the book.  I would sit hours to gather in front of book and my dad was one happy parent. Dad was very proud of me and would talk to his friends about me with pride. My elder sister and younger brother were opposite: P.  For some reason they could never sit in front of book even for 5 minutes straight.  Come home work time, brother would start making excuses to kill time. He would walk to bathroom, go to the kitchen to have doubt on dinner cleared from mom and this will continue through out that 2 hours of home work time. Dad would always be behind him to bring him back from bathroom or kitchen and make sit in a position and finish homework. Within 2 minutes of starting to write his home work, he will walk to the bathroom and sit there like forever. And when dad would call him out, he would start giving excuses, "my tummy is upset, I can't come out now". Or the other excuses like,  "I'm very hungry and feeling giddy, I can't see or read any words in the book. I think I should eat now", "My tummy is full now and I'm sleepy, I cant concentrate on homework, I will get up early morning and finish my homework". And the next morning, "I'm so sleepy, I can't get up now". The excuses never ended. He would curse me for making him bad example in front of dad so I can get all the appreciation! 😀
We would fight, fight over everything. Fight for the bigger piece of chocolate, fight for the fireworks share, fight over that last scoop of ice cream, fight for the leg piece in chicken/mutton biryani. Talking of food, the days we would sit late hours to read, or at least someone pretending to read, we would start feeling hungry, even after dinner. I guess the hunger part was mostly due to boredom and food was a thought that would come to mind. It was my sister's brilliant idea to mix left over rice with ghee and red chili powder and eat that! 😀 No I'm not joking. We used to eat that without getting caught by our parents.  The days when we did not have any snacks left over and there was nothing to eat, the left over rice from dinner was turned into one spicy delicious snack: P. The next morning, all 3 of us got tummy upset and mom would always wonder how on earth all 3 fell sick the same day with the same reason. She would tell us, "it could be the water. I guess it got contaminated yesterday and that made us all sick!" Poor lady, she is very naive and innocent. She had no idea about our late night plot! 😀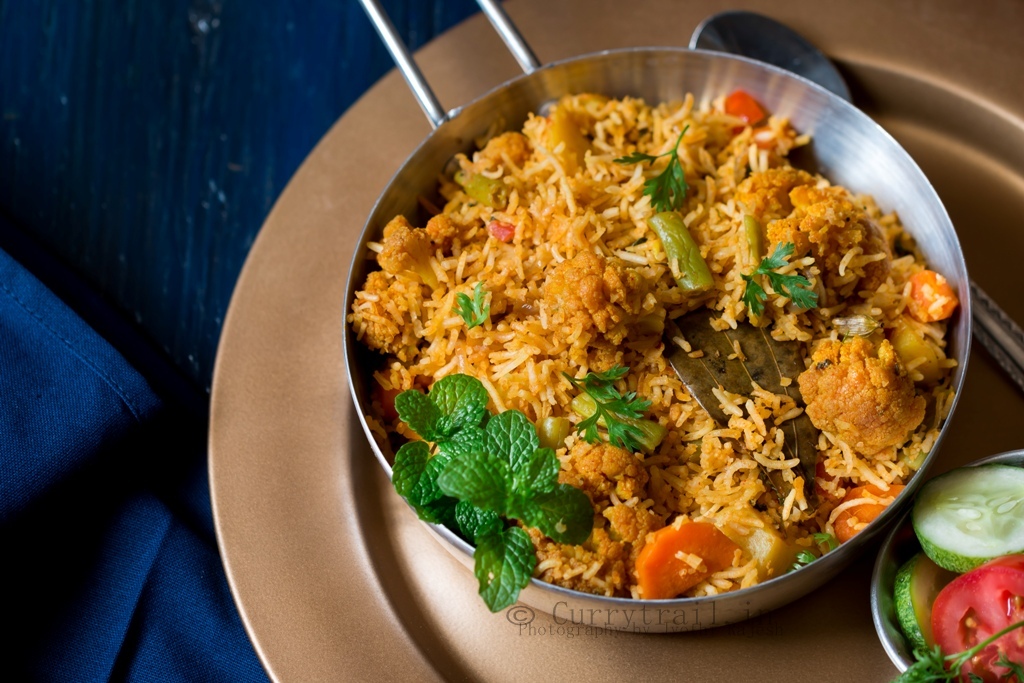 Craving spicy food? Oh, don't worry; I'm not giving you ideas to try red chili rice! 😛 No I don't recommend you eat that!  Rather eat something healthy, eat this cauliflower tahiri. Curb your craving for spice with this wonderful tahiri which has wonderful Indian spices that we commonly use and a whole lot of vegetables.
Tahiri is a close cousin of biryani or pulao. This version of pulao is popular in Madhya Pradesh and Uttar Pradesh. Awadhi cooking is synonymous with cooking in large pots, layering rice and vegetables (or meat) along with whole spices, which are sealed with wet dough and slow cooked. The traditional cauliflower tahiri uses only cauliflower and potatoes as these vegetables were available in abundance in those regions. I have added all types of vegetables available in my fridge. You can stick to just cauliflower and potatoes. This is my way of cooking tahiri.
Ingredients
1 small cauliflower head
1 carrot
10 beans
¼ cup green peas(fresh or frozen)
4 small potatoes
2 cups basmati rice
2 large onions
1 tomato
3 teaspoon cooking oil
3 teaspoon ghee
2 bay leaves
2 inch cinnamon stick
6-8 cloves
4 cardamom
1 teaspoon shahjeera(or normal jeera)
10 pepper corns
3 green chilies, slit
3/4 tablespoon red chili powder
1 tablespoon coriander powder(fresh ground preferably)
1 teaspoon turmeric powder
1 teaspoon garam masala powder
1 ½ inch ginger piece
8 cloves garlic
Salt to taste
2 tablespoon thick curd
2 tablespoon coriander leaves
1 teaspoon lime juice
Method
1.Soak basmati rice in water for about 30 minutes. Wash the rice gently ensuring to take out only starch and not break the grains. Mean while add about 4 liters of water in a large vessel and bring it to boil. Once water starts to boil, add about 1 teaspoon of cooking oil  and 1 teaspoon of salt. Add the soaked and washed rice, stir gently once and cook until it is 3/4 done for about 3-5 minutes. Keep an eye on rice as some brands of basmati rice cooks very fast and some takes time. My rice was 3/4 done in 4 minutes. Drain the water immediately and spread the rice on a large plate and let it cool.
2. In a deep bottomed pan heat oil and ghee. Add all the whole spices (bay leaf, cinnamon, cloves, cardamom, cumin seeds, pepper corns). Then add grated ginger and garlic. Cook until the raw smell of the ginger garlic is gone.
3 .Add onions and green chilies and cook till onions turn soft and pink.
4. Add finely chopped tomato and cook till tomatoes turn soft and release their juices.
5. Add potatoes first and cook for about 3 minutes.
6. Add all the other vegetables and cook for another 3 minutes.
7. Add the spice powders (red chili powder, coriander powder, turmeric powder) and salt. Stir and mix well. Add curd and mix again. Add little water (I added about ¼ cup) and cook until vegetables are ¾ cooked(about 8 minutes)
8. Reduce flame to low. Remove half the quantity of vegetable mix. We will do the layering now.
9. On top of the vegetable masala in the pan spread half quantity of ¾ cooked basmati rice. Sprinkle some finely chopped fresh coriander leaves. Spread the remaining half of the vegetable mix on top of rice, and layer the remaining rice on top. Sprinkle coriander leaves. Cover the pan tightly with lid and cook in dum for about 10 to 12 minutes on low flame. Turn the heat off and let the tahiri rest for about 15 minutes, and then sprinkle 1 teaspoon lime juice. Gently mix from bottom and serve tahiri hot with onion raita, and some salad.