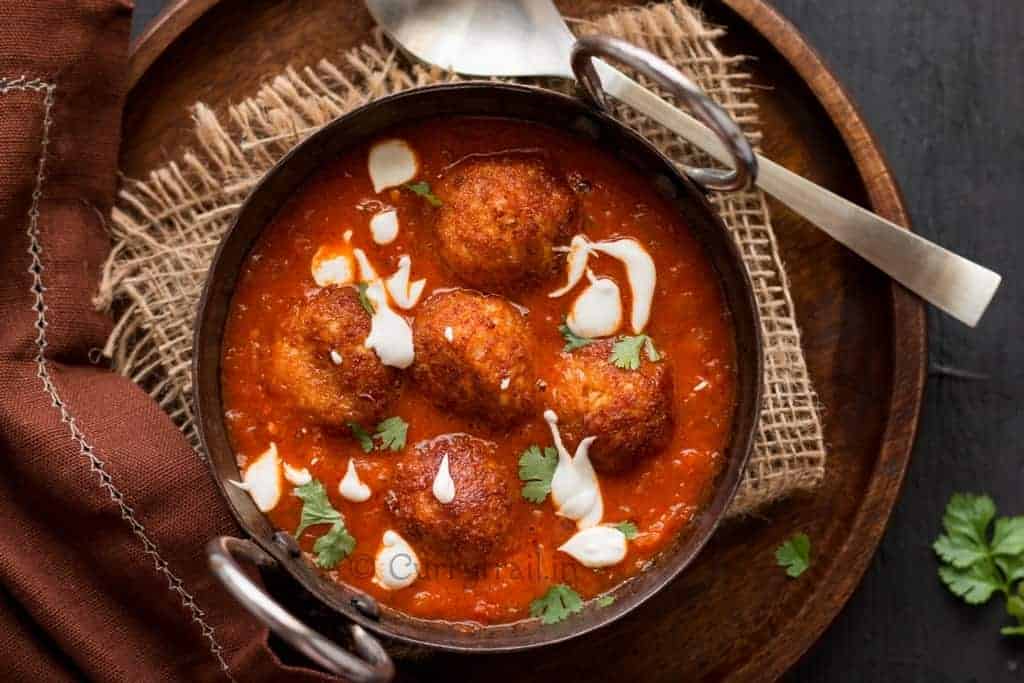 You heard of paneer kofta curry. Some of you might have heard of cauliflower kofta curry too! But how about Cauliflower-Paneer kofta curry ? I doubt if you have come across this unique dish!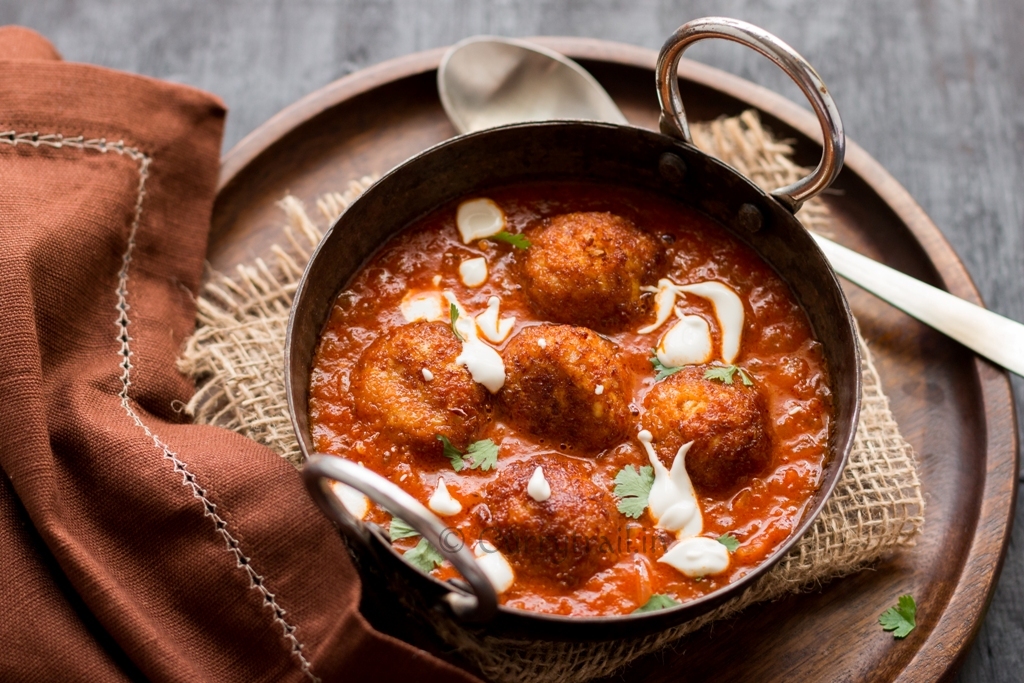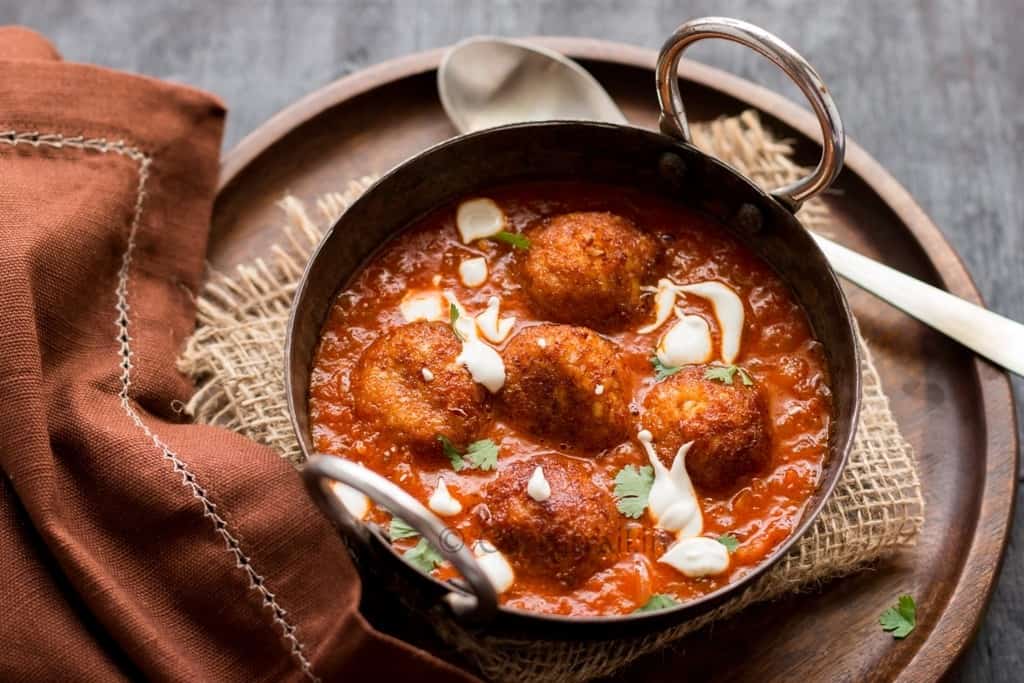 I love kofta curry! I mean who does't right? It's right at the same time comfort dish. The tangy tomato base, with a whole lot of other spices in it makes it a interesting delicious curry. Kofta curry is one of those Indian curry which is relished world wide!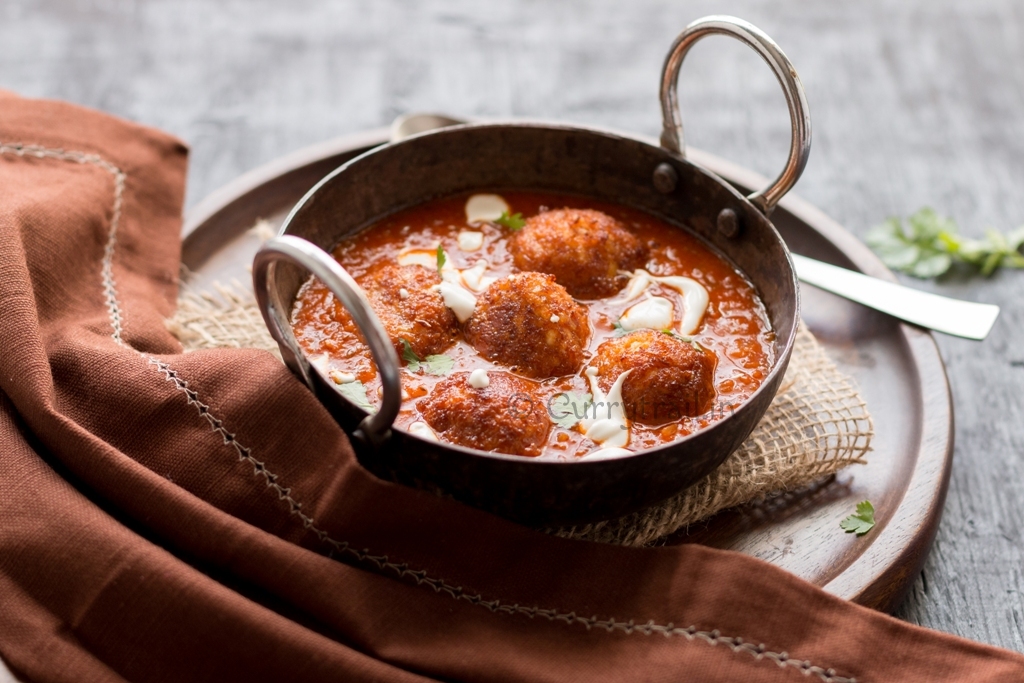 The ball use in the curry can be made of any ingredients, veg or non veg works equally fine! For veg options you could use, malai or paneer(cottage cheese), lauki kofta(bottle guard), mixed veg kofta curry, even cauliflower kofta curry. Non veg options would be chicken, mutton. If you are in experimental mood you can try out a lot more varieties of kofta's using some unique ingredients.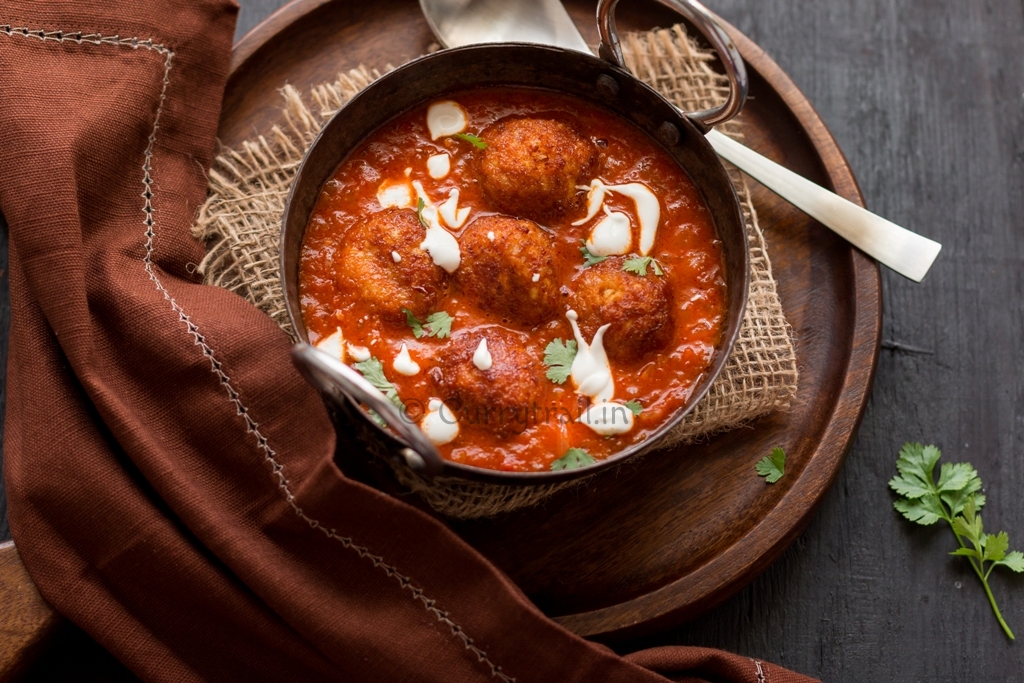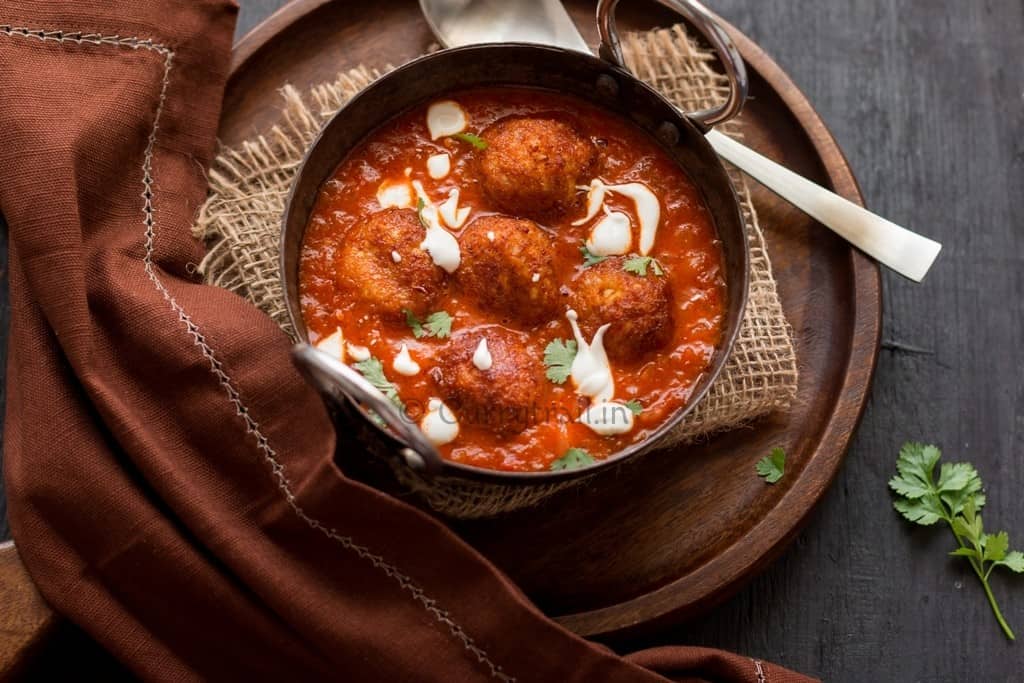 Winter is already here, and that means most of us would be craving for some spicy food, fried food and some with hearty warm winter soups.
In my case I crave more for spicy food during winters! There is really something about the spice blends that makes it addictive. I guess it is something to do with what I have been used to i my childhood. Mom would make these fiery curries especially the non veg varieties once in a week(on a Sunday). This used to be our favorite dish of the week, the day we all long for that spicy curry. It is still my favorite, Every time I visit mom's place I tell her to make spicy curry just like she used to when we were kids.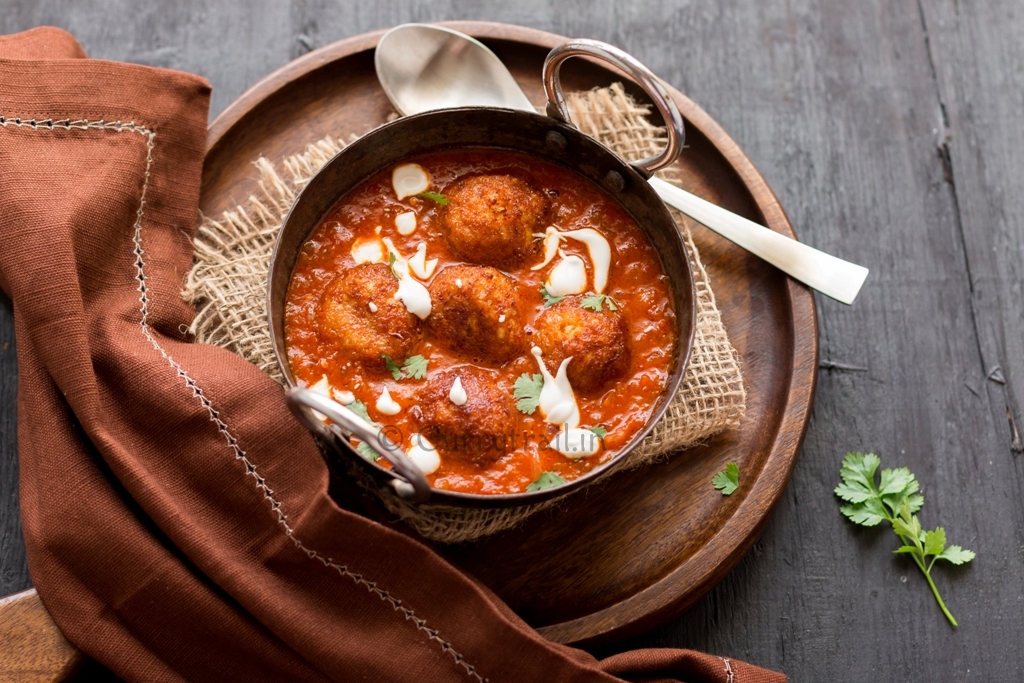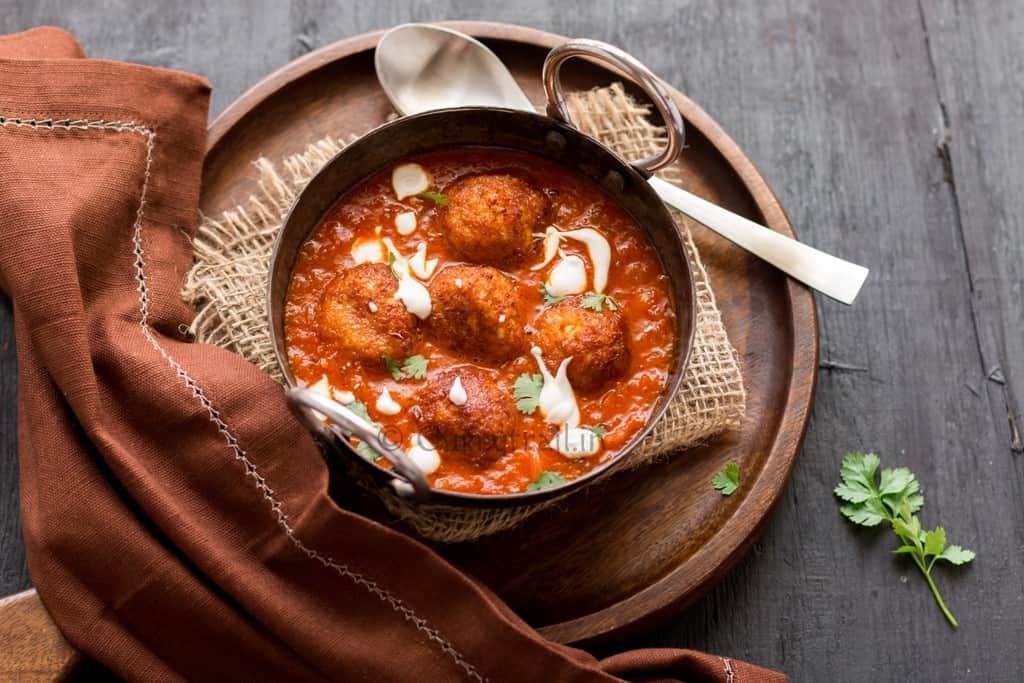 Once my babies were born, I have cut down so much of the spice level I was used it! I some times feel it boring to eat "not so spicy" food, but have no choice, as I would never want to feed my kids any thing that is too spicy, as they are too little right now. I only hope they start liking spicy food just like me when they grow up, but I have my own doubts about it, as they are more inclined towards my hubby character, and he doesn't like very spicy dishes!
So this cauliflower paneer kofta curry is a mildly spiced creamy based curry. Paneer is cottage cheese and kofta is a term used for balls prepared out of minced meat or vegetables. Normally kofta curries uses cream in it's base preparation, some do it with yogurt too. I have used cream but in moderation.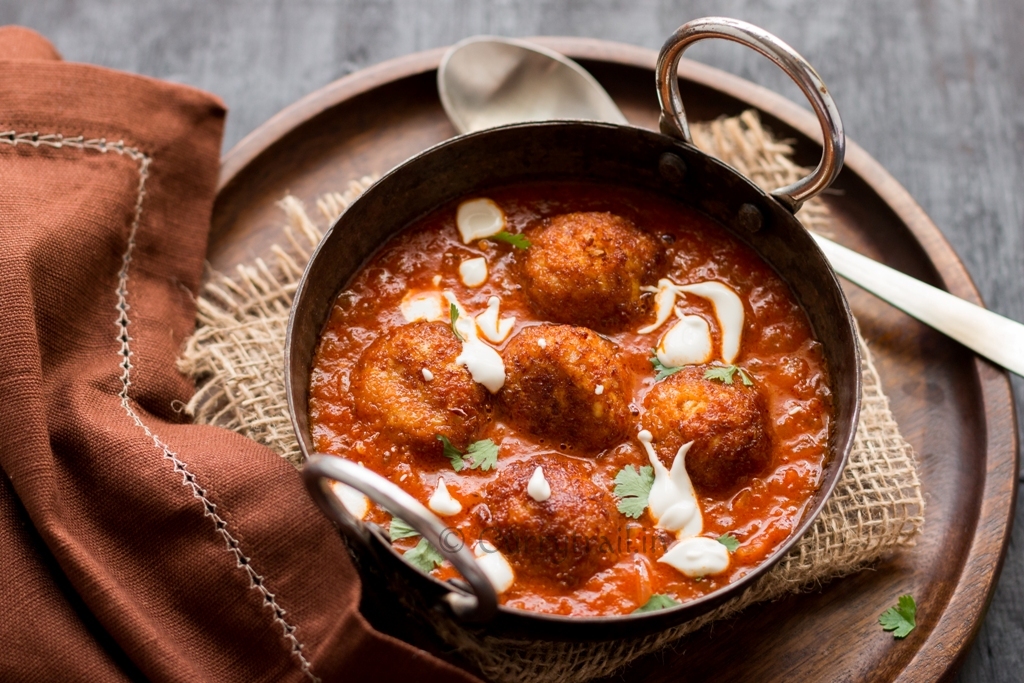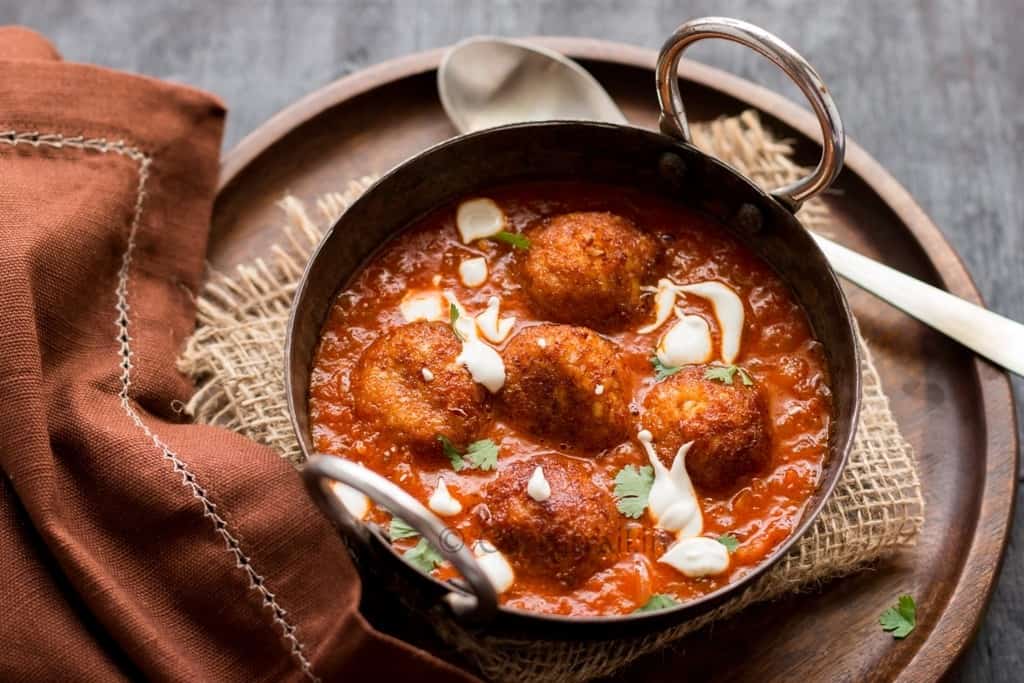 Ingredients
P.S. The photography styling is inspired from Simi's space
For Kofta
1 small cauliflower
½ cup fresh paneer, grated
4 medium potatoes, cooked and mashed
3 tablespoon corn flour
1 tablespoon red chili powder
1 tablespoon coriander powder
1 teaspoon roasted cumin powder
1 teaspoon garam masala powder
Salt to taste
For the base
2 medium onions, finely chopped
4 large tomatoes, pureed
1 teaspoon shah jeera
1 ½ tablespoon kashmiri red chili powder
1 tablespoon coriander powder
1 teaspoon garam masala powder
Salt to taste
1 tablespoon of butter or oil
1 tablespoon of fresh cream(reserve a few drops for garnish)
Water as required
Coriander leaves for garnish
Instructions
1. Bring about 1 liter of water to boil, add 1 teaspoon of salt to the boiling water. Once water starts boiling, such off flame. Remove the stem and leaf part from the cauliflower and immerse whole cauliflower into hot water. Let the cauliflower sit for about 3 to 4 minutes.
2. Remove cauliflower from hot water, and place it on kitchen towel. Pat dry it completely.
3. Now grate the cauliflower. Leave it alone for some time, after about 10 minutes, cauliflower would have released a lot of water, squeeze it out and discard the water.
4. Heat a pan and dry roast cauliflower until it feels completely dry and no more wet moisture content is present. While roasting take care not to change the color of the cauliflower or brown it. Do the roasting on low flame.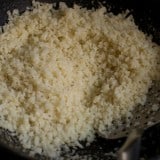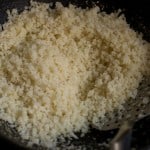 5. once cauliflower is completely dry, remove from flame and let it cool down completely.
6. To cool cauliflower add grated paneer, boiled and mashed potatoes, and all the spices along with corn flour. Mix well. Make small lemon sized balls of the mix.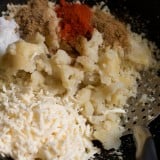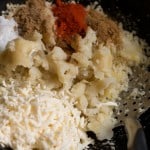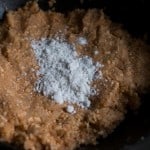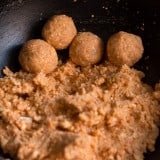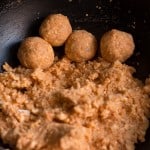 7. Heat oil in a pan, when oil turns hot, deep fry the kofta balls until golden brown. Alternatively you can bake the balls in oven.Remove the golden brown balls onto kitchen paper.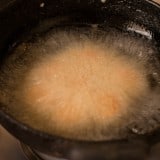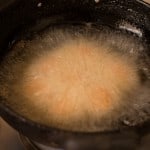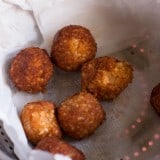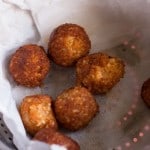 8. Now we will prepare the base. Heat oil or butter in a pan. Add shah jeera and fry for a second or two.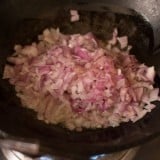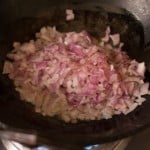 9. Next add finely chopped onions and fry till translucent. Next add tomato puree and cook until the puree thickens and releases from the sides of the pan.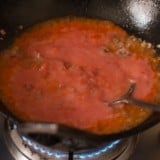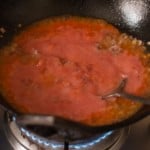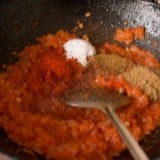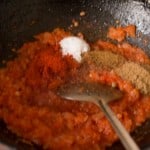 10. Add all the spice powder, mix well.Then add water as required and bring it to boil. Add the cream mix well and finally add the fried kofta balls. Simmer for about 3 to 4 minutes.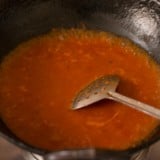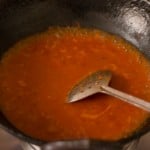 11. Switch off flame. Transfer into serving dishes. Garnish with few drops of cream and fresh coriander leaves.
12. Serve hot with roti's, chapathi's or even rice. ENjoy!