This yogurt condiment is creamy, cool, refreshing and packed with robust flavors. This burani raita makes a nice, cooling counterpart for any spicy Indian dishes, mostly biryanis and pulao's.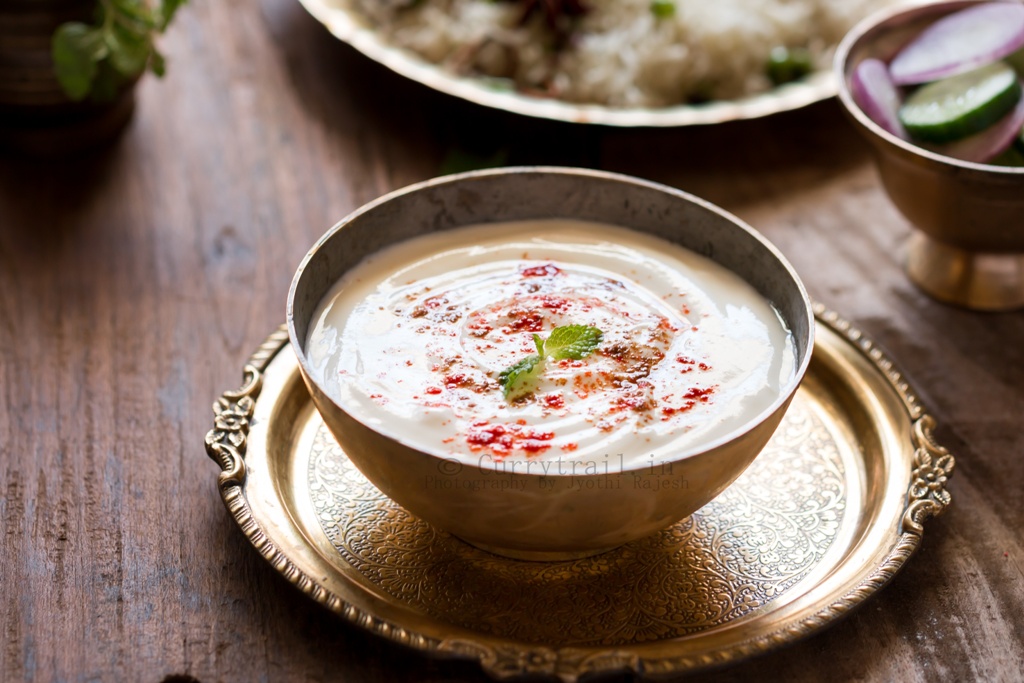 If you are an Indian or very familiar with Indian cooking, then raita would not sound new to you. In my kitchen raita's makes it appearance on Sunday's for sure. But yogurt is used regularly, almost in every meal, either with rice as the humble curd rice or as a dip along with parathas.
Do you remember how many times you would have packed curd rice for your lunch box?! Oh boy I literally survived on it. During the graduation college days, mom would pack lunch boxes in those traditional stainless steal rectangular boxes(did we have plastics those days?) . As a South Indian, we are used to eating a lot of rice. So my lunch boxes would have variety rice dishes, like tamarind rice(puliodhare), lemon rice and the most popular curd rice. And on some special days mom would make bisi bele bath(mixed vegetable, lentils rice). Every time I carried bisi bele bath, I and my friends fought over the box. My mom used to(still makes, but less often) make the best bisi bele bath. Ask my friends and they would agree instantly. 😀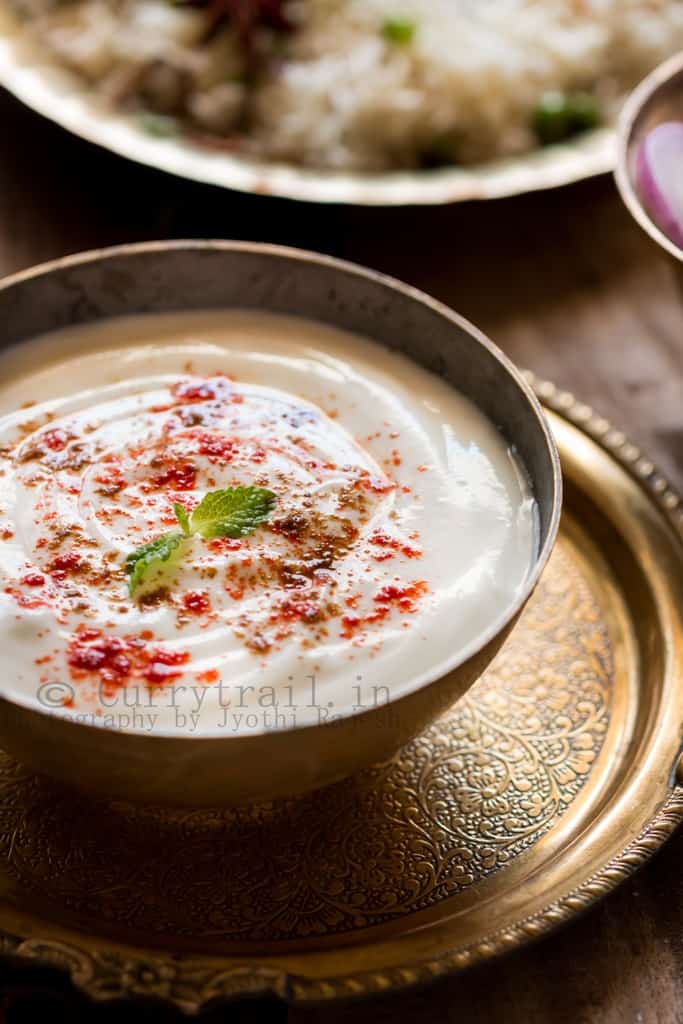 Curd rice was my second best lunch box item. The days my tummy felt uneasy, the days I did not want to eat, the days my mom was too lazy to cook, curd rice it was for lunch 😀 And I loved it with pickles.
Anything to do with yogurt(curd) I'm all in. For us Sunday biryani is not complete without a raita. Raita soothes your palate from the spice of the biryani.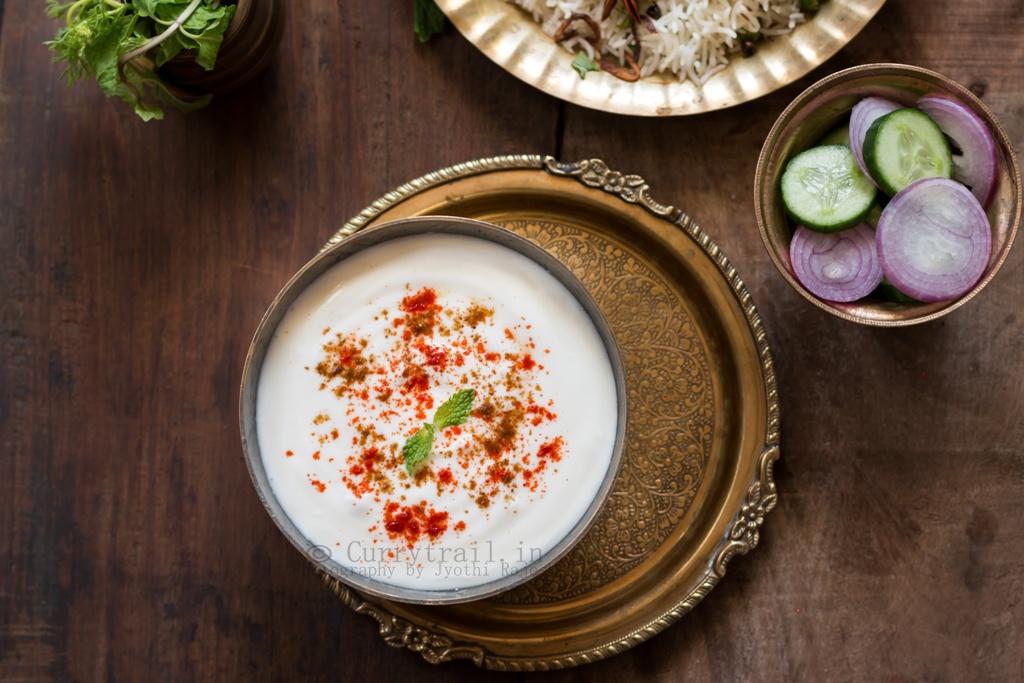 Whipping up a cool and refreshing raita literally takes about 3 to 5 minutes. Raita is a cool, creamy condiment made from full cream yogurt. Raita usually stands up with spicier dishes like biryani's and puloa. I can never imagine relishing my biryani's or pulao's without a raita on it's side. If you are a person who hasn't tried raita yet, you are missing out a big deal in the world of delicious food. 😀 Seriously, imagine a plate of biryani without raita on it's side. Biryani is complete and a full meal in itself only when there is raita on it's side. Yes, raita is that important and forms an integral part of any regional Indian plate.
Raita is also common among other Asian countries like Pakistan and Bangladesh. Every house hold makes their own version of raita and there are at least 25 different types of raitas that I can think of.
Raitas are best when it is made from home made full cream yogurt. If you are buying yogurt from store, make sure you pick the full cream thick yogurt to make any type of raita. Raita is usually served with biryani's or pulao which helps in soothing your palate after a heavy dose of masala's or spices.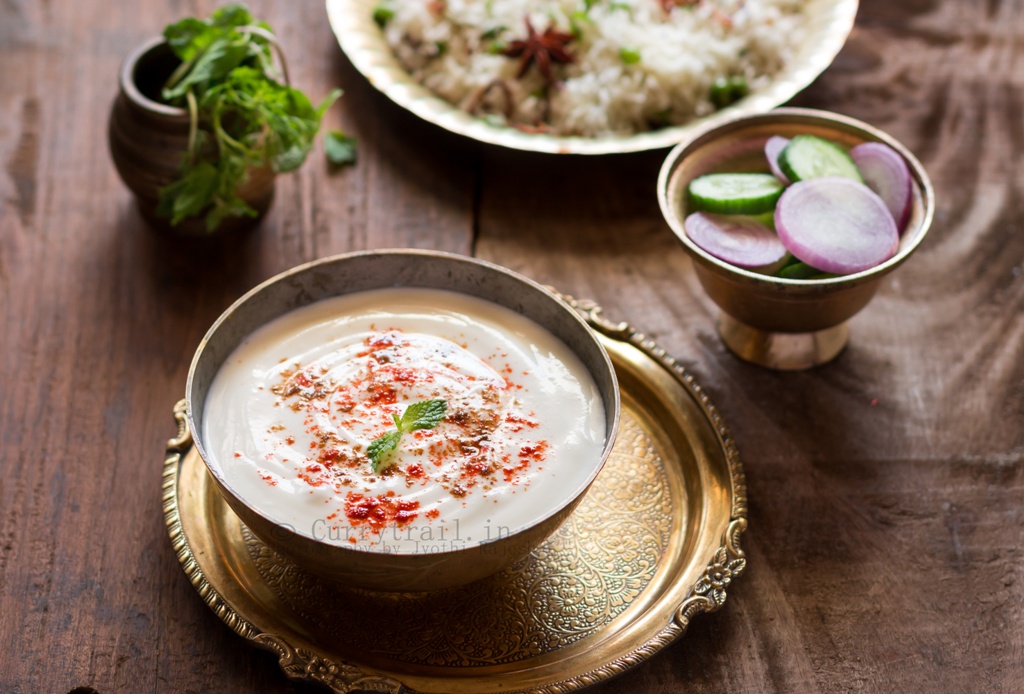 The common types of raita most household makes is cucumber raita, onion raita, pineapple raita, beet root raita, herbed(mint coriander) raita. There is one more raita that is very popular in Hyderabadi cuisine called burani raita(or bhoorani raita). Made from thick yogurt, minced garlic, roasted cumin powder, red chili powder and black salt this raita is not just refreshing, but is packed with flavors too. You can play around with the measures of these spices according to your taste. It takes just 2 minutes to whip up this raita. Try this raita next time you make biryani or pulao.
Ingredients
Please NOTE – this is a variation of burani raita that I had in a friends place and it's my version. In some regions the raita has a paste of green chilies, garlic, mint and coriander leaves added to it.
1 cup full cream yogurt
4 garlic cloves, minced
1 teaspoon roasted cumin powder
1 teaspoon red chili powder
Black salt to taste(you can usual normal salt as well)
Instructions
1.Whisk yogurt well. Add minced garlic, red chili powder, roasted cumin powder and black salt and whisk again. That's it. Bhurani raita is ready. Serve it with any biryani, pulao or even kebabs.