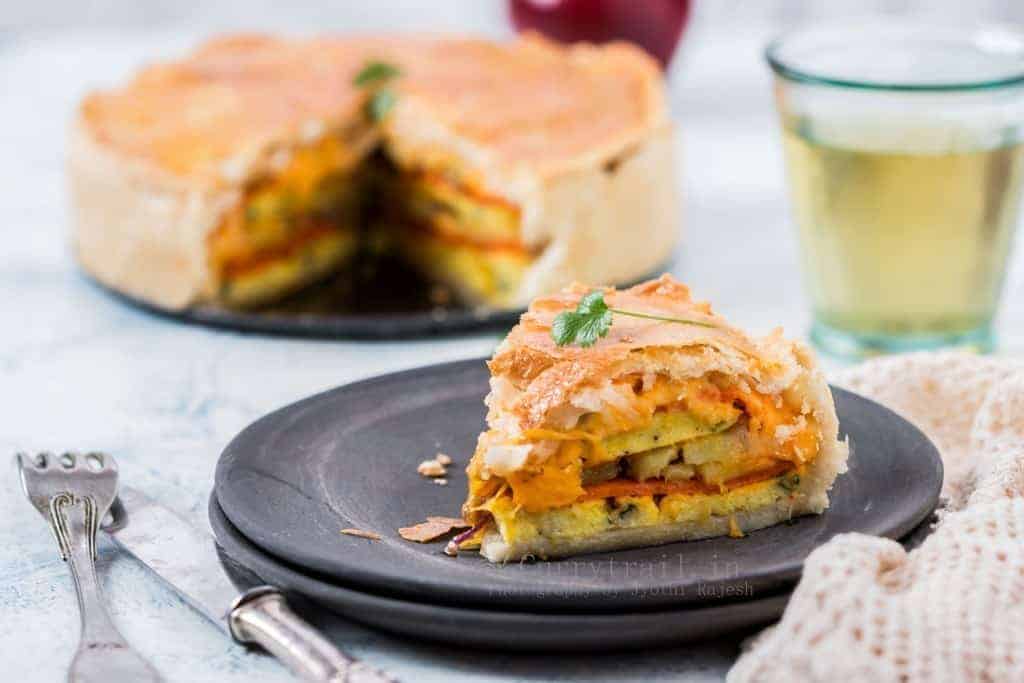 A layered dish that is baked to perfect and served for breakfast or brunch is this omelet torte. Layers of chicken ham and cheese, roasted sweet potatoes and omelet all layered inside a buttery crispy perfect puff pastry makes every bite very satisfying.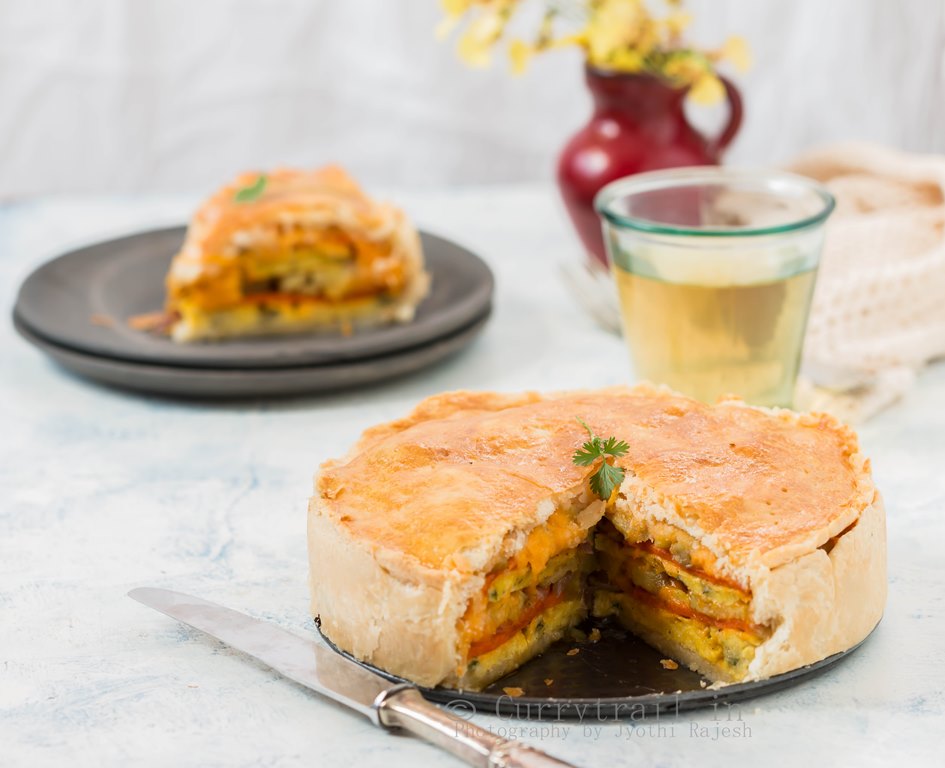 Every element of this torte is homemade and the satisfaction you would get when your family and friends eat and appreciate the torte is big. You need to nail the puff pastry in this recipe and I provide you the perfect recipe to get a perfect puff pastry. Just follow the recipe and you will have a perfect layered torte ready.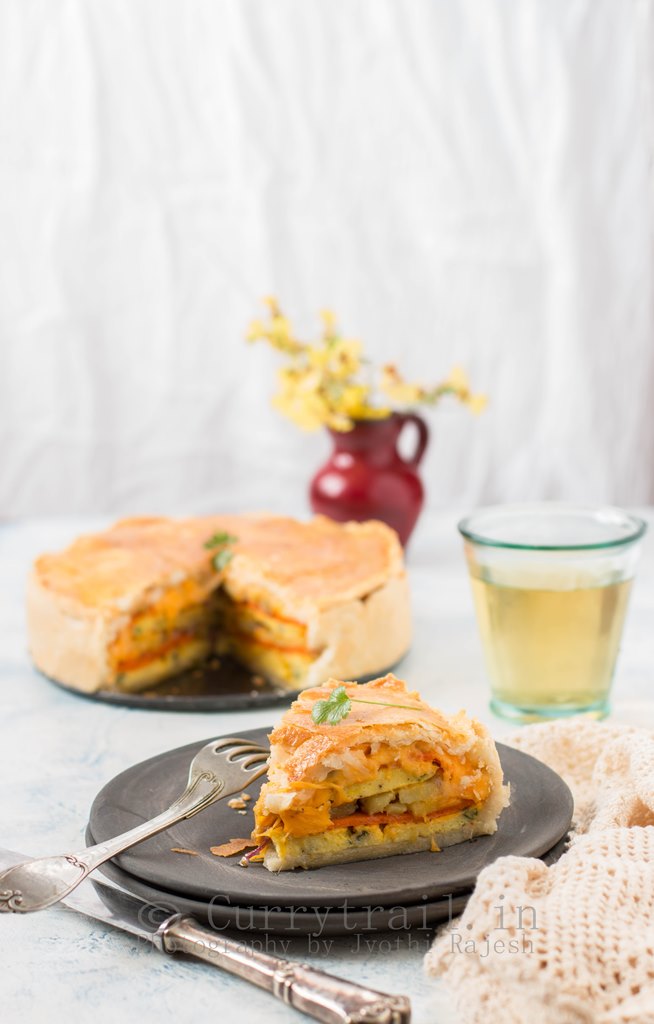 Ingredients
For puff pastry
1 cup all purpose flour
1 cup unsalted butter
Generous pinch of salt
Few tablespoons chilled water(amount of water depends on the flour quality and differs)
For torte layers
About 15 chicken ham
1 cup shredded cheddar cheese
3 sweet potatoes
1 onions
Salt as required
Pepper powder as required
8 eggs
1 tablespoon parsely
1 + 1 tablespoon butter
For egg wash
1 egg
1 teaspoon water
Method
First thing we make puff pastry. Into a bowl add flour and chilled butter and break the butter with your finger tips until no lumps of butter is left and the flour-butter mix resembles that of bread crumbs consistency. Now pour 1 tablespoon of chilled water at a time and keep kneading the flour until you get a firm and hard dough. Cover the dough with cling film and chill in fridge for about 30 minutes.
Meanwhile we will prepare the layers.
Into a pan heat 1 tablespoon butter. Add thin sliced onions and thin sliced sweet potatoes along with salt and pepper powder to taste and sauté for about 12 minutes or until potatoes are roasted well. Remove from flame and keep aside.
Into another pan heat ½ tablespoon butter. Whisk 4 eggs along with ½ tablespoon parsley, salt and pepper to taste well. Pour this mix into the pan and carefully make the omelet by flipping and cooking on both sides. Repeat this step for the remaining eggs-parsley. We will need 2 omelets made of 3 eggs each. Keep aside.
Grate the cheese and keep the chicken ham ready.
Now remove the puff pastry from fridge. Dust little flour on the working surface. Divide the pastry dough into 2 portions. Roll them evenly to fit the baking pan you plan to use to layer the torte. I used a 8 inch round string form pan.
Pre heat the oven at 150 degree centigrade.
Place one layer of rolled puff pastry on the bottom of the pan and press it gently to fit the pan on all sides. Prick holes using a fork or knife for even cooking of pastry.
Next place one of each – omelet first, roasted sweet potatoes, ½ cup grated cheese, another layer of omelet, potatoes and cheese. Cover the top with another puff pastry layer and seal the edges. Cut the excess pastry dough if any. Prick holes on the pastry.
Whisk together egg and water well. Brush this egg wash over the pastry and bake in over for about 20 – 25 minutes or until the pastry turns golden brown.
Remove from oven, let it cool for 5 minutes and then cut a slice and serve immediately.