In the sweltering heat, nothing is as comforting as a bowl of cool, refreshing bhindi kadhi paired with rice or sipped as it is.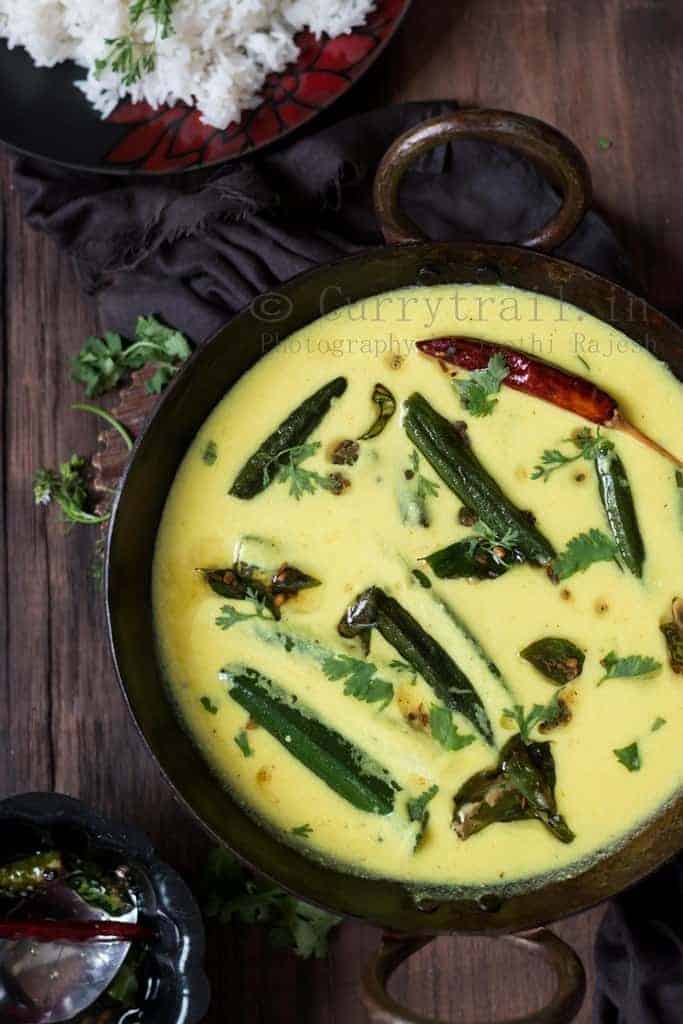 What is the hardest part of cooking? No, it's not cooking the dish itself; it's more of menu planning! Well, at least to me that is the hardest part. At night, I toss and turn on bed until I have an idea of what to cook for daughter's lunch box. During the day, I scratch my head to come up with meal ideas for lunch/dinner. And at times I decide to take help from people at home. At times, life becomes easy when people at home know exactly what they want to eat for lunch, and then there are days when the ball comes back to my court.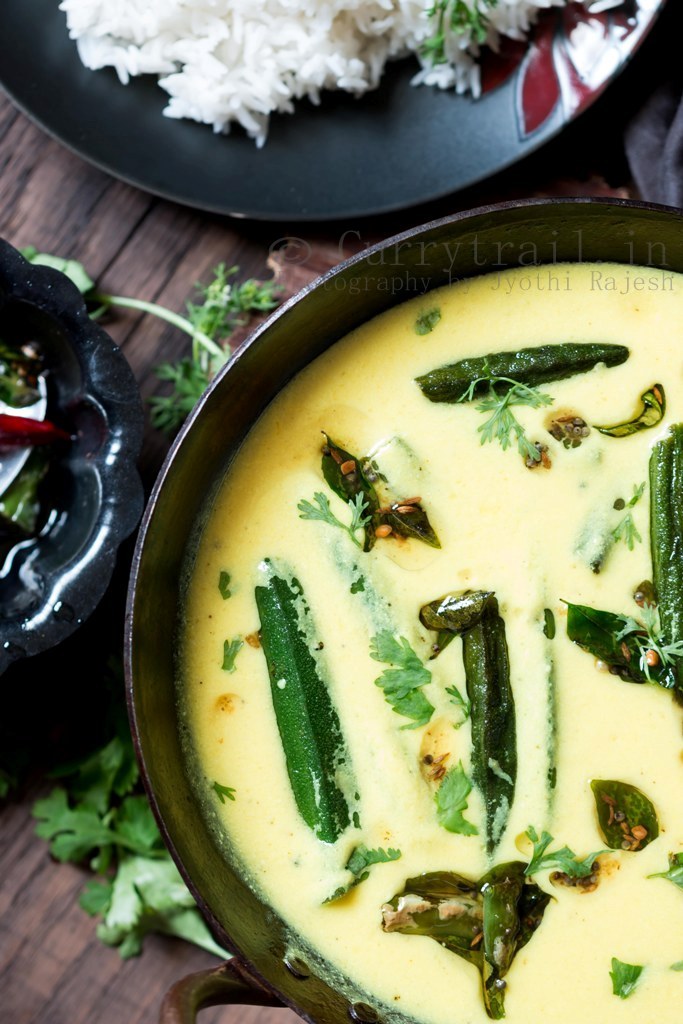 One day I decided to ask my daughter what should I cook for lunch? I prepared myself for pasta, knew she would name pasta. At home we religiously follow the pattern, milk-breakfast, Lunch, Evening milk + snack, Dinner. Sometime after breakfast I asked her, "What shall I make for lunch?". The reaction she gave was priceless. To my question she replied, "amma, more food? I have to eat again? Didn't I just eat!" I thought I am done eating for the day!" Talk about eating food, she always has problems. Not really a fuzzy eater, but more of lazy eater. She finds eating a meal, waste of time. She would take hours to finish a small bowl of rice or to finish 2 small rotis on her plate. And I have feel tired reminding her to swallow food that is in her mouth which at times she forgets that it's in her mouth.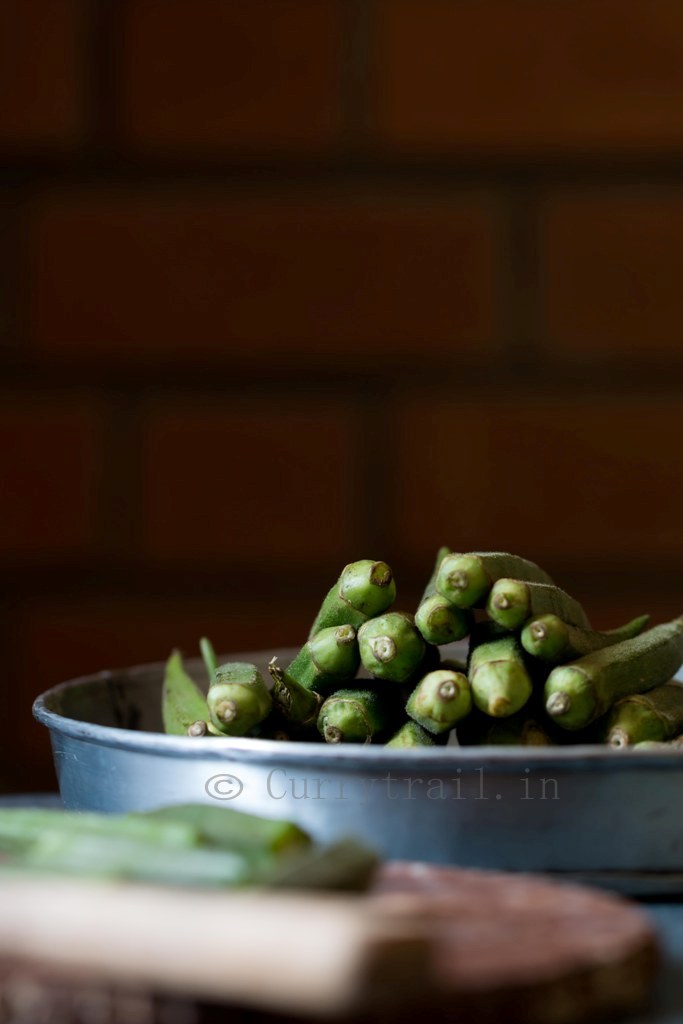 Yesterday, I was scratching my head hard to decide what to cook for lunch. Sweltering heat makes you eat light food that will cool your tummy. I had some fresh bhindis and some yogurt. Looking at bhindi and curd to gather made my menu plan easier. I made kadhi using fresh bhindis. A perfect meal option for scorching hot summer is kadhi on some steamed rice. Pure bliss!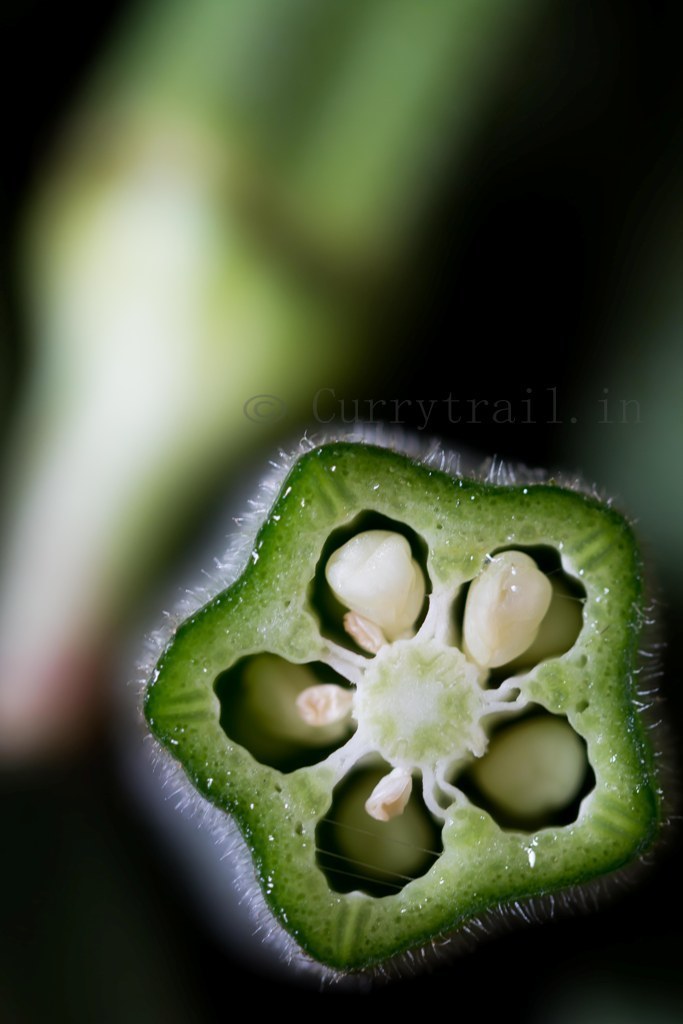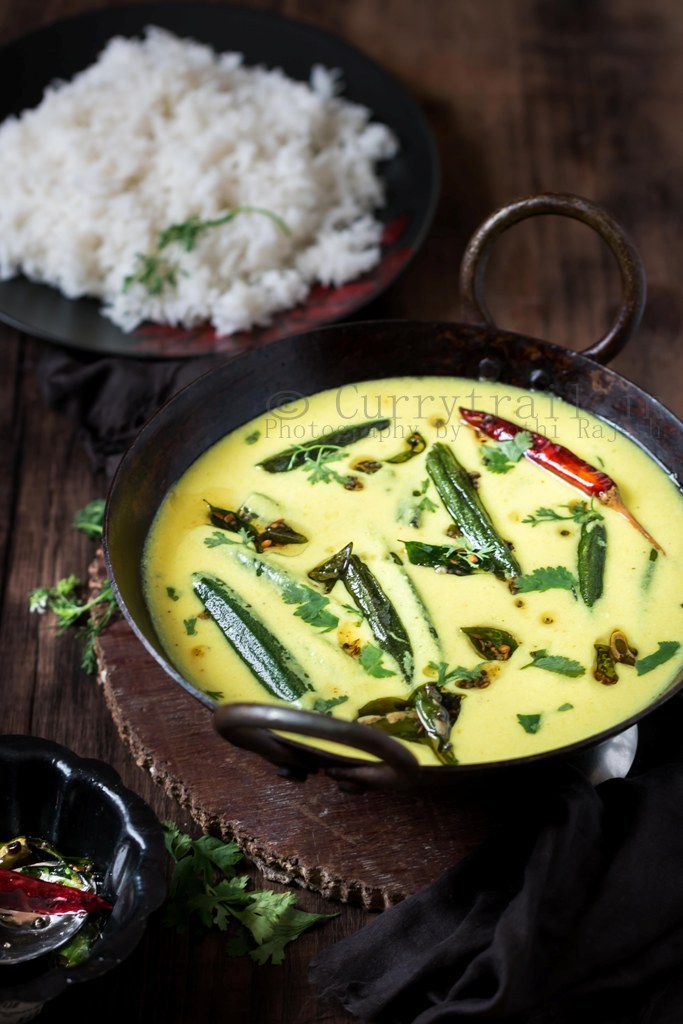 Ingredients
12 bhindi/okra
1 ½ cups curd
2 teaspoon gram flour
½ teaspoon turmeric powder
1 teaspoon + 1 teaspoon +1 teaspoon oil
¾ cup water
1 teaspoon mustard seeds
½ teaspoon fenugreek seeds
⅓ teaspoon asafetida
1 sprig curry leaves
2 dried red chilies
1 teaspoon ginger pieces
Fresh coriander leaves for garnish
Method
Wash and dry okras in kitchen towel. Cut them into bite size pieces(I liked it long, so I left them long with a slit in the middle)
Heat 1 teaspoon oil in a wok. Add the bhindis and roast it for 2 to 3 minutes with 1 teaspoon salt. Stir until bhindis are nicely cooked. Keep stirring to avoid burn. Remove from pan and keep aside.
In a wide bowl add curd, turmeric powder, besan(gram flour) and little salt, whisk well making sure no lumps are left. Add water and whisk again.
Into the same wok, add remaining oil. Add mustard seeds and wait till they crackle.
Add fenugreek seeds, asafetida, dried red chilies, curry leaves and give it a stir.
Add ginger pieces, sauté for 20 seconds.
Add curd mixture, salt and mix well. Add the stir fried bhindi and mix well.
Simmer the heat and wait till the curd mixture for about 3 minutes.
Finally garnish with fresh coriander leaves.
Serve hot with steamed rice.