Arbi is Colocasia or Taro Root. It's a root vegetable which is gluten free and is rich in anti oxidants, dietary fiber, minerals, vitamins. Arbi can be used in curry or in roast/fry recipes. The arbi curry tastes delicious with rotis and puris. Arbi fry/roast makes a very good appetizers/starters, or can even be served as side dish for rajma chawal, dal-chawal or rasam rice.
This arbi fry recipe is very simple, and it's a dry arbi fry recipe. There is no onion-garlic in it, so you can make this dish during vrat!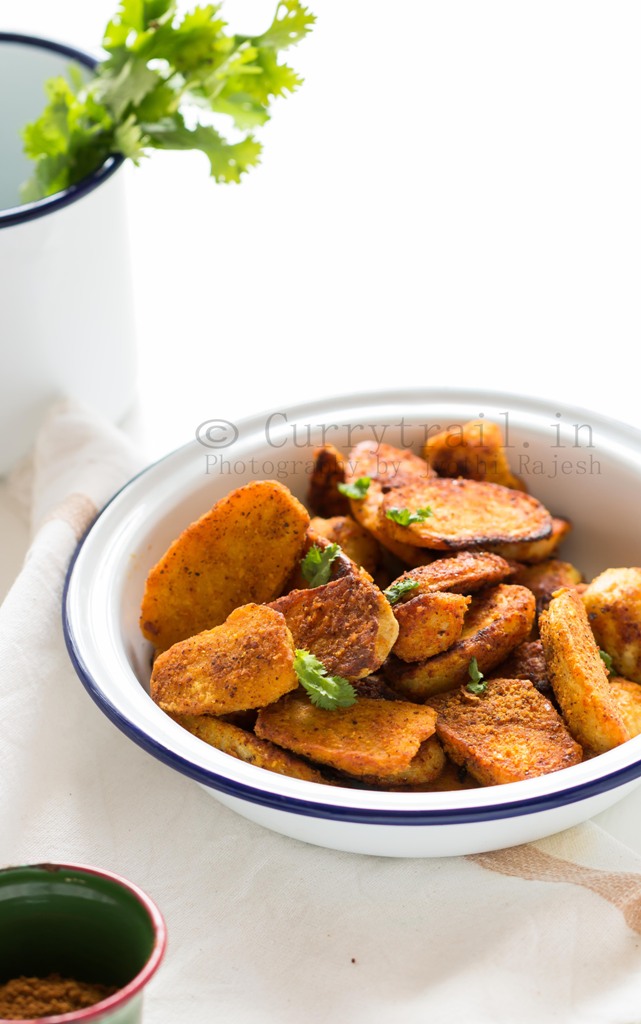 This root vegetable is starchy, sticky(when cooked) and is fleshy. To get rid of the stickiness we coat the vegetable with besan. This besan arbi fry which is mildly spiced, and slightly crunchy top makes it a great vegetarian party appetizers. The zing from mango powder, lime juice makes every bite even more interesting. Do try the recipe and you will agree.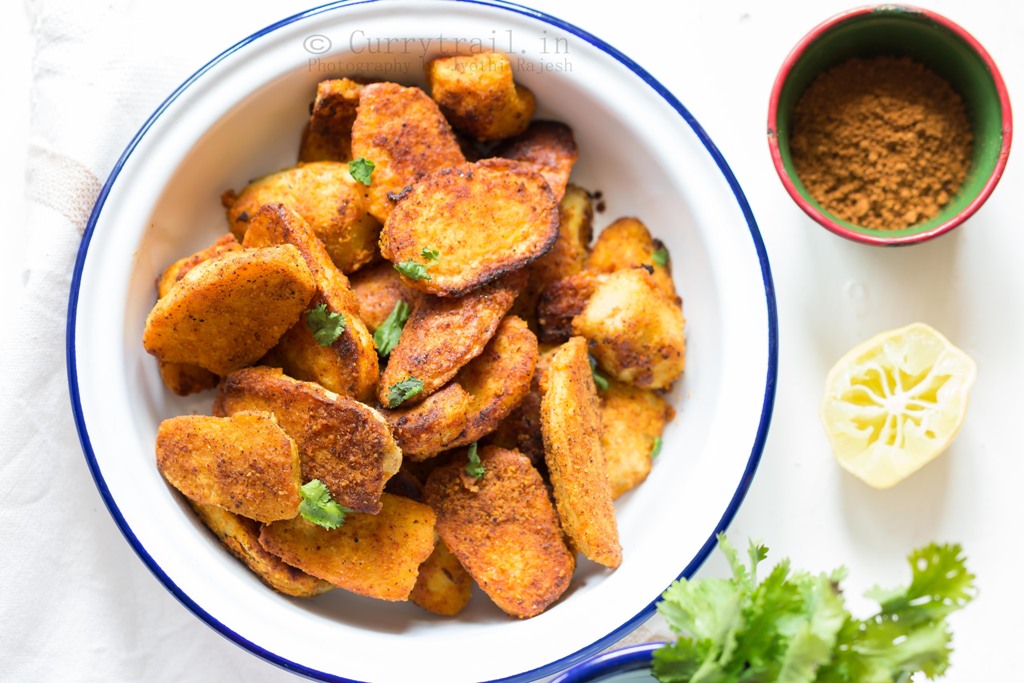 Ingredients
250 grams arbi(colocasia)
2 tablespoon besan(gram flour)
1 teaspoon red chili powder
1 teaspoon coriander powder
¼ teaspoon turmeric powder
½ teaspoon amchur powder(dry mango powder)
¾ teaspoon roasted cumin powder
Salt to taste
A pinch of asafetida
3 tablespoon oil
For temper
1 teaspoon oil
½ teaspoon ajwain (carom seeds)
¼ teaspoon cumin seeds
1 green chili, finely chopped
½ teaspoon lemon juice
1 teaspoon fresh coriander leaves
Instructions
1.Scrub arbi to get rid f mud and dirt. Wash it 2 times. Pressure cook arbi with little water and a pinch of salt for 1 whistle(do not over cook). Arbi has to be cooked, but firm.
2. Peel the skin off and cut them into half length wise.
3. In a wide plate mix besan, red chili powder, coriander powder, salt, turmeric powder, amchur powder, roasted cumin powder.
4. Take a piece of cooked arbi and coat it well with the besan spice mix and keep aside. Repeat for rest of the arbi.
5. Heat 1 tablespoon of oil at a time and roast the besan-spice mix coated arbis until they turn golden brown and crunchy. Do this in 2 to 3 batches, add oil as the pan gets dry. Drain the roasted arbi on kitchen towel.
6. In another pan add 1 teaspoon of oil. Add cumin seeds, carom seeds and finely chopped green chilies and fry for 10 seconds. Now add the roasted arbi and toss gently. Turn off flame, sprinkle some coriander leaves and lemon juice on top. Serve hot as a starter or as a side dish for curd rice, dal-chawal, rasam rice. Enjoy!