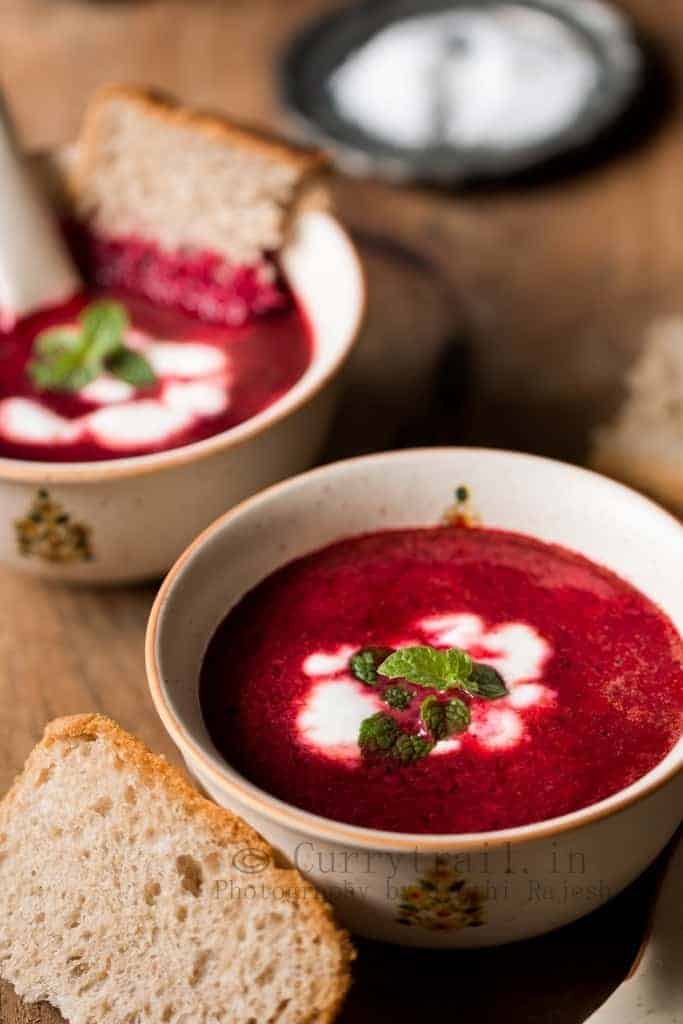 So winters are almost gone, at least in my part of the world. You know what is the best part before spring starts? The fall season! Yes in India during spring leaves shed unlike in other western countries where ice melts almost like giving blood to body. First beautiful flowers come up, and then you notice leaves. But in India, during spring leaves fall heralding to the coming summer.
So we are having leaves dancing in air with the rhythm of air just to fall to the ground. And what I love the most about spring is standing under the huge tree and enjoy the leaves showering all over me. J During my school days while walking back home from the bus stand I would stop at a couple of places just to enjoy the leaf and flower showers. I and my friends would play this game of standing under the tree and close our eyes, then count till 10. Open eyes and count the number of flowers on our head. The highest number on a person's head would be the winner. 😛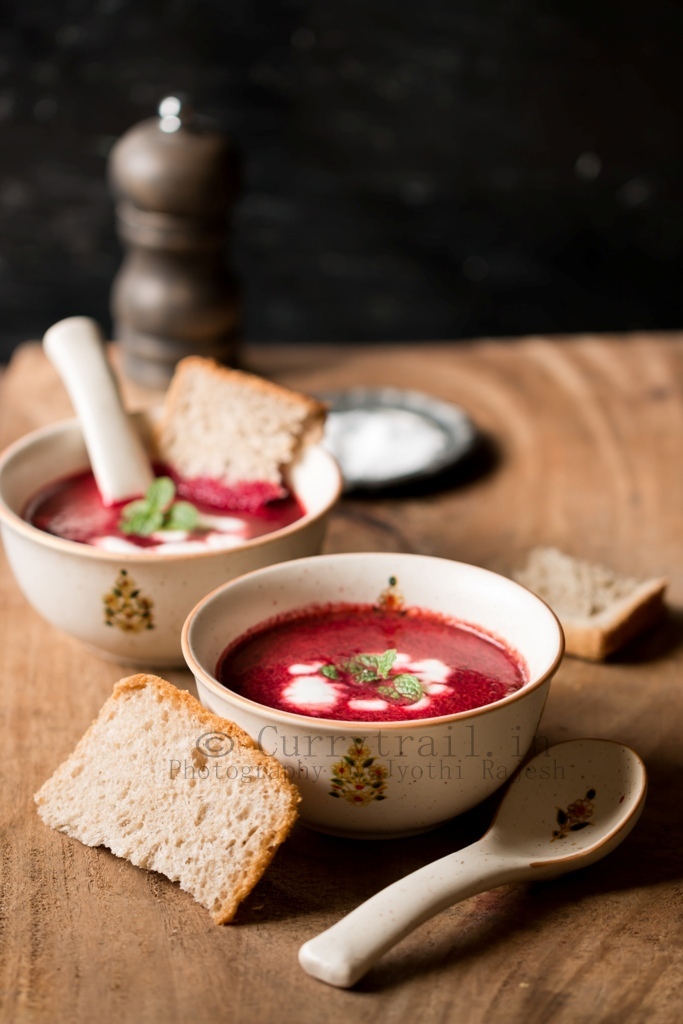 The leaves and flowers that got teased by wind, were being chased. We would target a particular falling leaf or flower and all of us would run to catch it. The wind would play along with us at times to make the leaves/flowers dance in the air. We would run from one side to other all the way jumping high we can just to reach the falling leaf and grab it before any other does. It used to be such a fun pass time. Even now at times I stop and stand under a tree when I notice leaves or flowers falling.
Have you done that? You know, stand under a tree to enjoy falling leaf or flower showers? Let's talk! 😀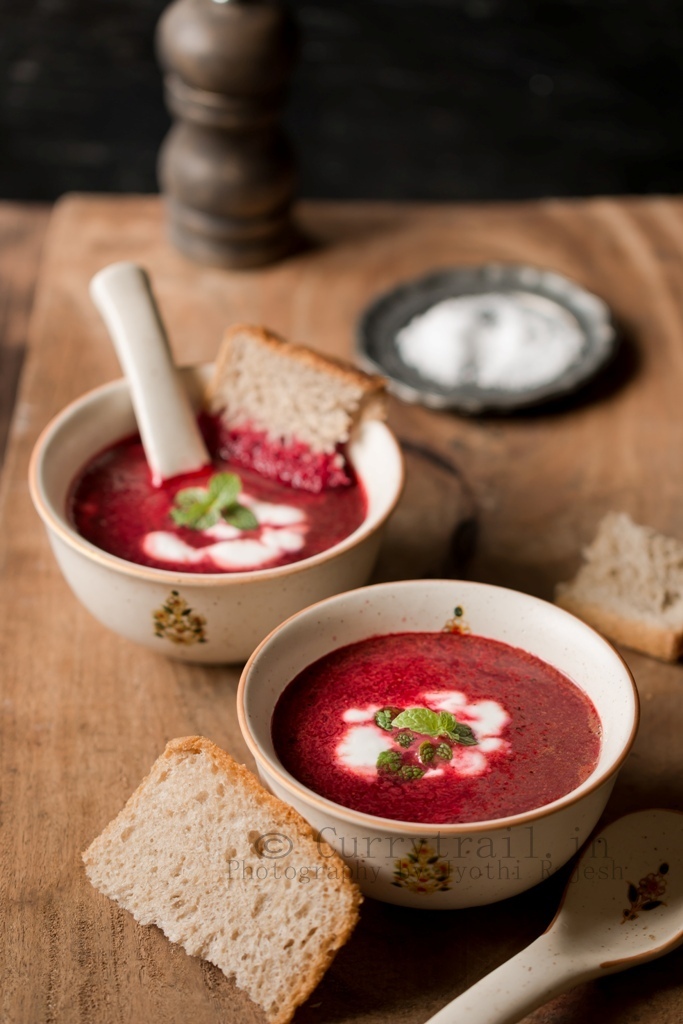 Though winters are almost gone, I have not stopped enjoying soups. Soups don't need a season to be enjoyed, right! Make it any season and you are all set for a comforting meal in a bowl. Beetroot soup is something that I make whenever I get fresh beets. Last week my gardener bought fresh beets from his farm and he handed a few to me. I was tempted to use them immediately while they were still fresh.
This beetroot soup is so simple yet so good! It's full of flavors from homemade dried herbs. A wonderful combination of herbs and spices makes this soup the best ever beetroot soup! Do try it.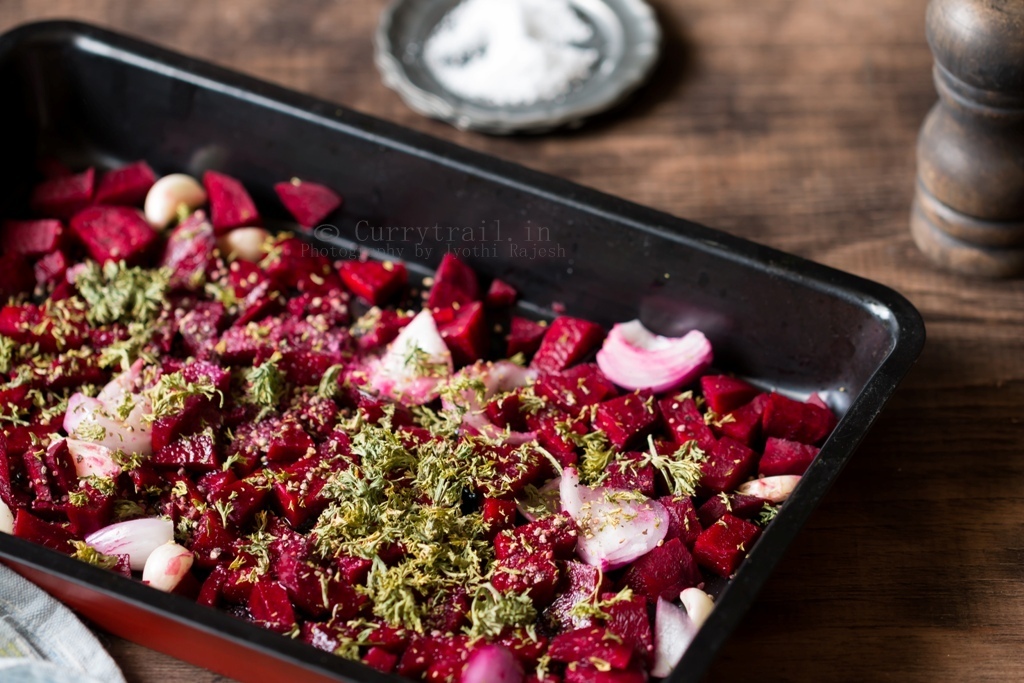 Ingredients
3 beetroot (medium sized)
1 onion
8-10 cloves garlic
1 teaspoon olive oil
1 tablespoon dried parsley(you can use fresh too)
1 teaspoon dried thyme(you can use fresh too)
1 tablespoon pepper powder(freshly ground)
1 teaspoon salt
For garnish
Fresh cream
Mint leaves
Instructions
1.Wash, peel and chop all the vegetables roughly.
2. Pre heat the oven to 200 degree centigrade.
3. Add chopped beetroots, onions, garlic in into a mixing bowl. Sprinkle pepper powder, salt, and dried herbs. I used home dried parsley and thyme. You can use fresh ones too. Drizzle 1 teaspoon of olive oil all over the veggies. Toss them well and then spread on a baking tray in one layer.
4. Roast the vegetables in preheated oven for about 15-18 minutes or until the beet roots are roasted well.
5. Remove from oven and let it cool down a bit. Blend the roasted vegetables into a smooth puree.
6. Pour this puree into a pan and heat it on stove. Check for seasoning. Serve beetroot soup hot with few drops of fresh cream on top. Serve hot.