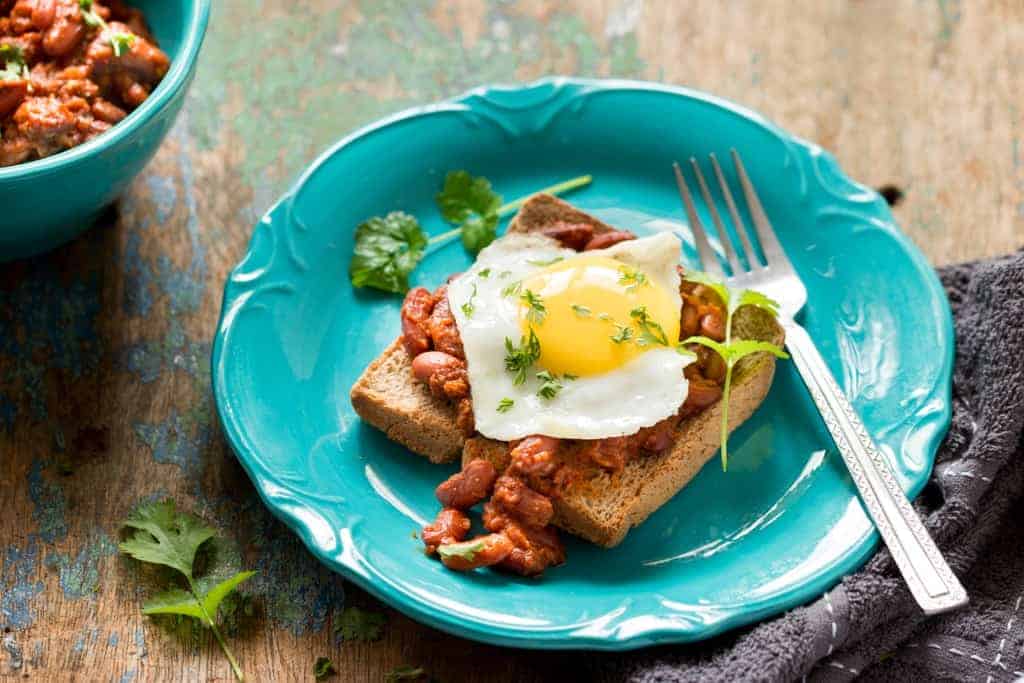 An unbeatable team of baked beans, warm toast and running poached/fried eggs! Comfort meal that is healthy and delicious! Forget the canned beans, make them fresh at home.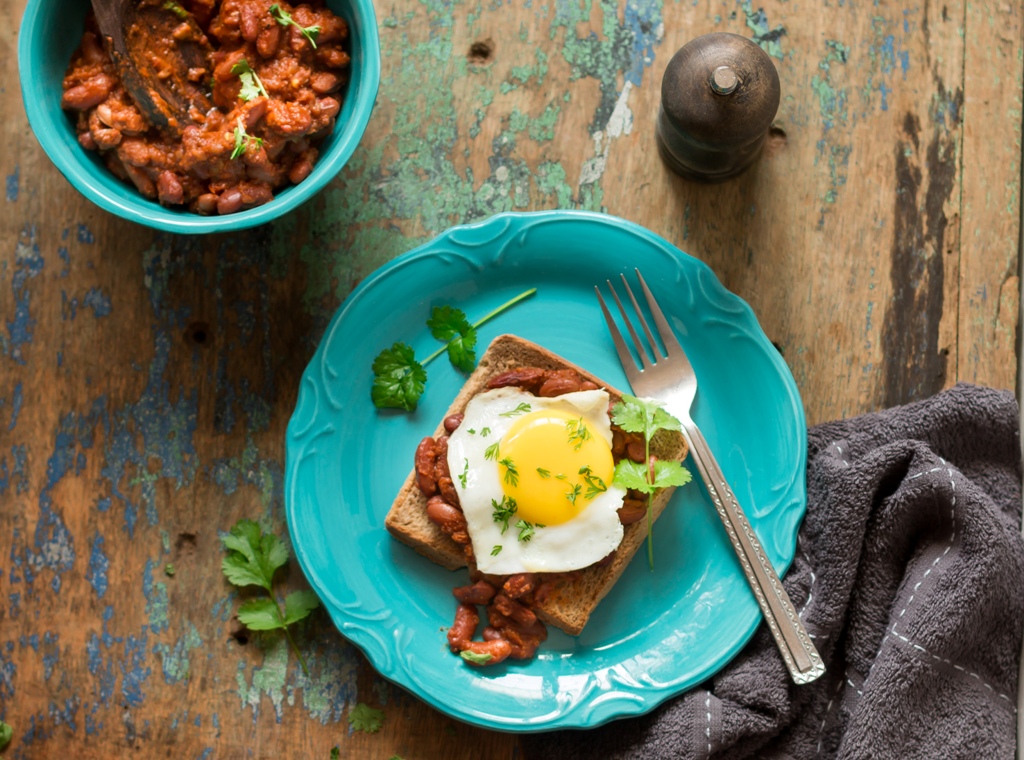 Breakfast is the most important meal of the day and beans on toast is one of the popular breakfast dish in Western countries. It is believed that People in the UK eat over 90% of the world's tinned baked beans. Who would go for canned foods that are so highly priced (in India) and which are loaded with all sorts of preservatives, sugar and chemicals, when you can make the 'real' things which taste thousand times better than the canned food! Dry beans are rich in fiber protein which makes digestion easier. They are hearty, filling and comfort food. Beans on toast are a whole meal in itself. Nice creamy beans alongside homemade bread, an unbeatable team. Spread the cooked beans on warm toast, season with fresh herbs and top it with gooey egg. Does that sound tempting enough to try this bean on toast recipe at home? Go ahead and try it out, this is possibly the most simple dish.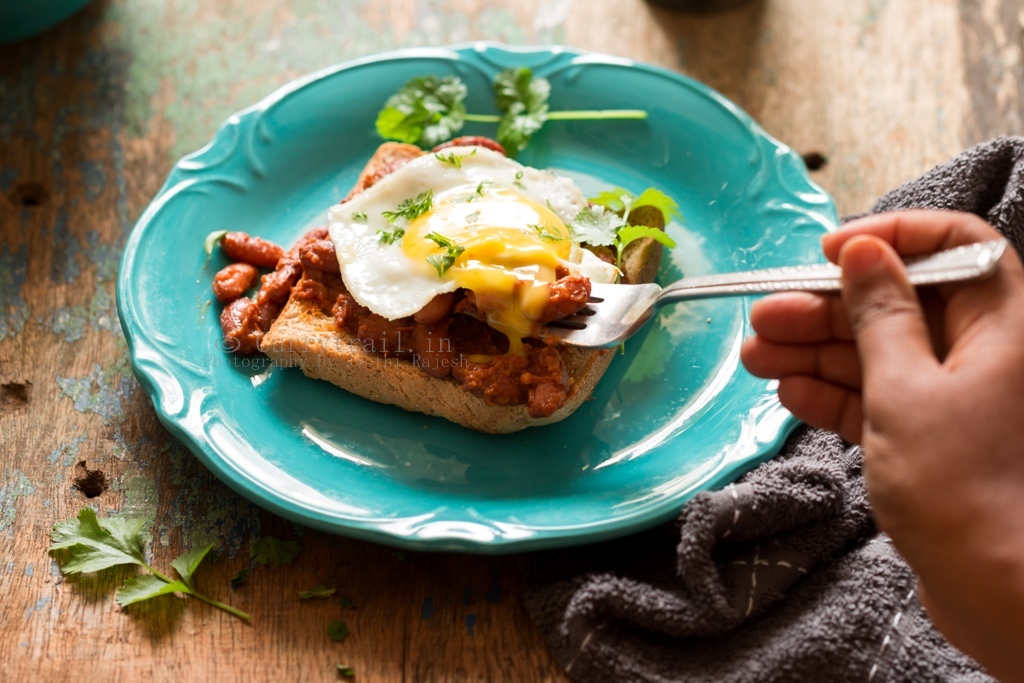 These beans keep extremely well and they stay good for about a week in fridge. So make these, pile them in containers and pop them in fridge. You are all set for comfort dinner through the week. Just before serving heat up the beans, toast some bread and poach eggs. Your dinner is ready on table. Serve warm toast with beans and top it with poached/fried eggs. Sprinkle some fresh coriander leaves or parsley for that beautiful hint of freshness in your bite!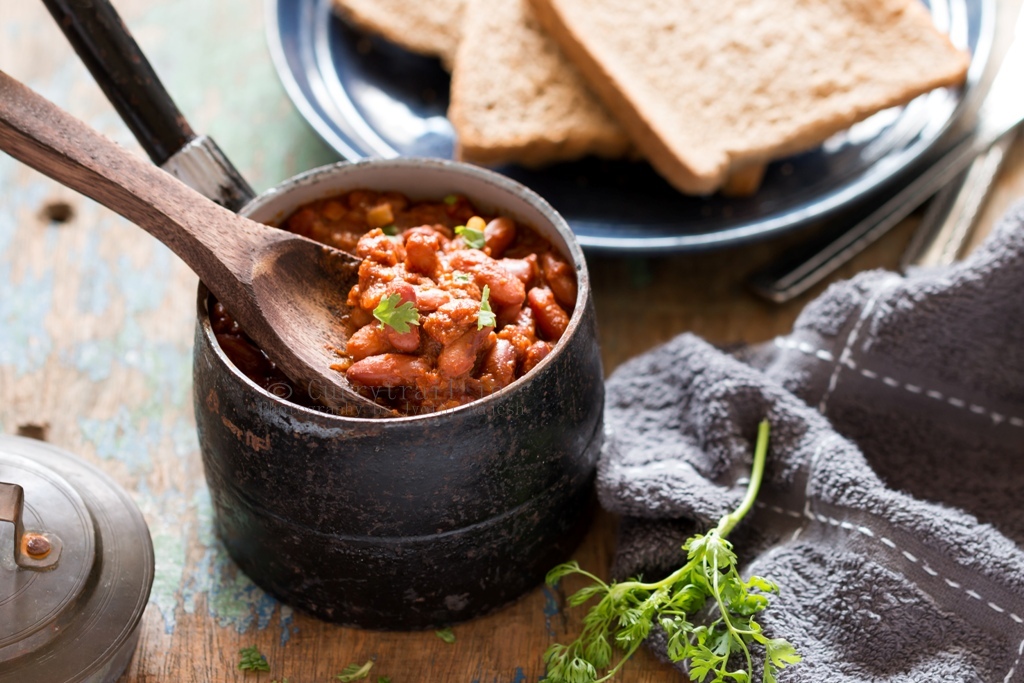 Ingredients
1 cup dried beans
3 tablespoon olive oil
4 cloves garlic
2 medium sized onions
½ cup tomato puree
1 teaspoon brown sugar(reduce if you prefer less sweetened beans)
1 teaspoon cumin powder
1 ½ tablespoon cayenne pepper(red chili powder)
Salt to taste
3 to 4 cups water
Coriander leaves for garish
Toasted brown bread
Instructions
1.Soak beans overnight or about 10 to 12 hours. When ready to cook, drain the beans and rinse in the colander under more fresh cold water.
2. In a large pan, heat olive oil. Add finally chopped garlic and onions and sauté until onions turn soft. Do not brown the onions.
3. Add tomato puree and cook until puree thickens. Add all the spice powders and salt and mix well.
4. Add soaked beans and sauté for 3 to 4 minutes. Add enough water and bring it to boil on high heat. Stir, reduce the heat to medium. Cook the beans with lid on for about 45 minutes to 60 minutes. Keep stirring at regular intervals and keep adding water if you see the pan turning dry.
5. Once beans are fully cooked add brown sugar and stir well. Turn off the flame and let the beans sit for some time.
6. To bake, transfer the beans to a casserole and bake, covered either with the casserole lid or with foil. Bake at 180 degrees centigrade for about 1 hour or until done. Remove from the oven and serve hot with fresh bread or toast. Sprinkle some fresh coriander leaves or parsley and top the toast with fried or poached gooey egg. An unbeatable combo that you can serve for breakfast, lunch or dinner!