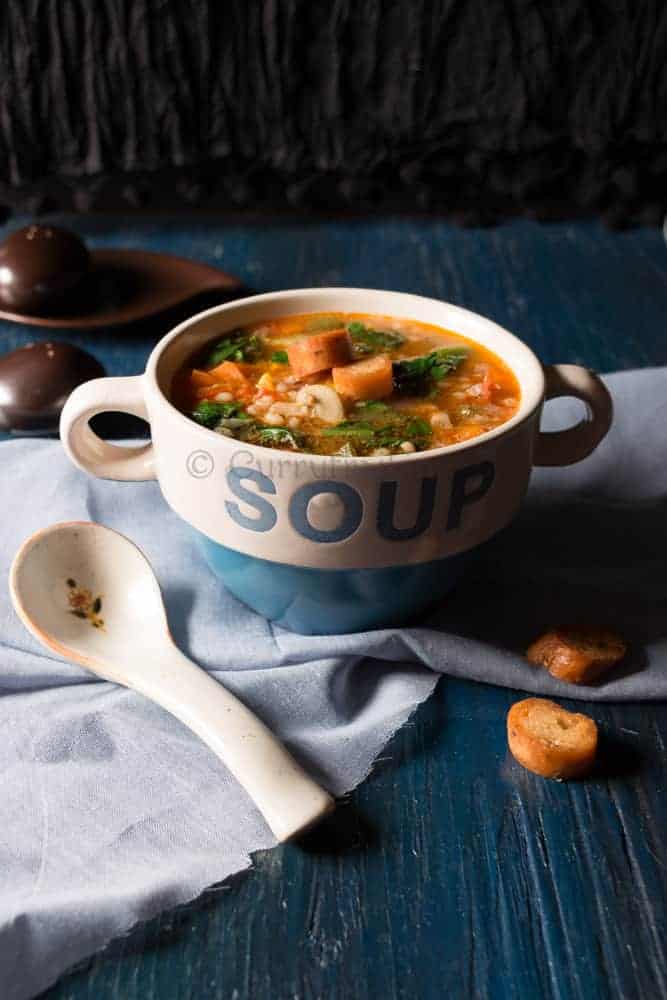 Pittar-Patter rain drops! Nothing seems wrong when it rains.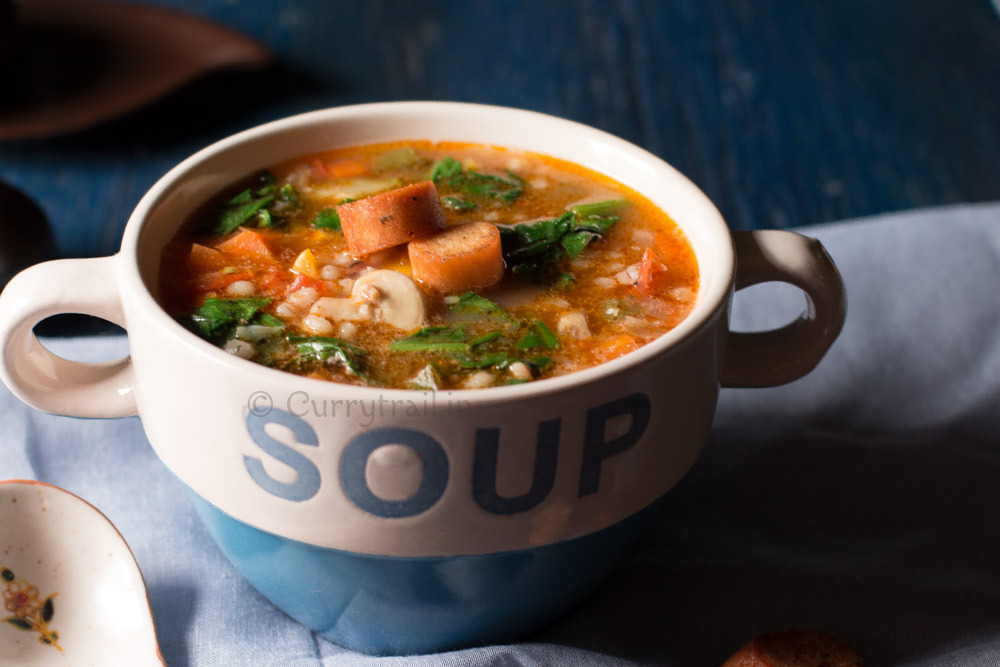 It has been raining almost everyday here. And the rain drenched plants in my garden makes it such a welcoming sight. The best part about rain is my garden becomes so full of life and all the new seeds starts to sprout out and grow into lush green beauties.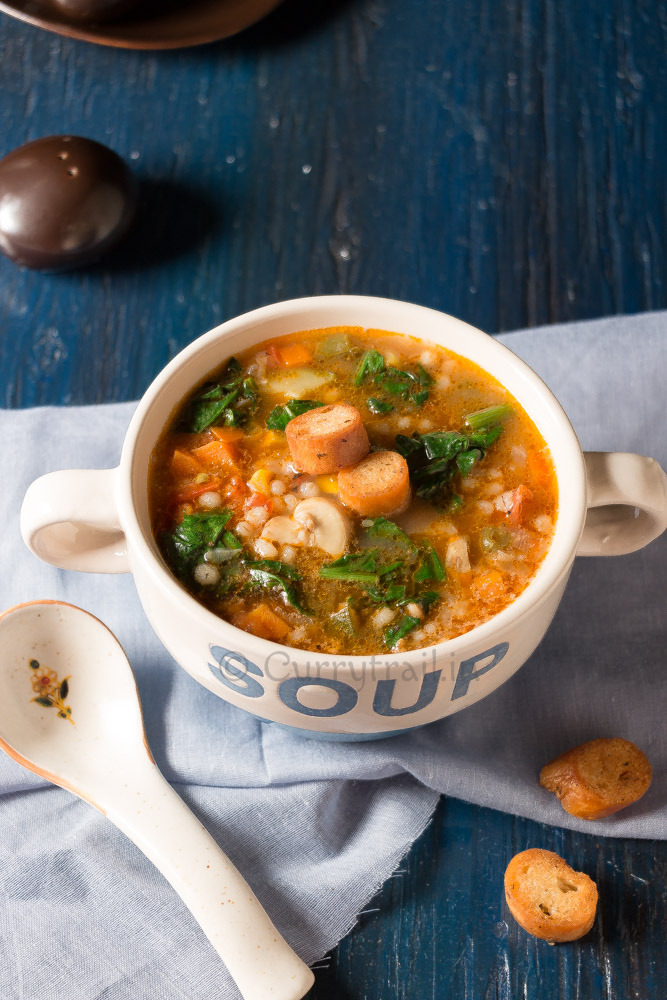 Rain sparks the craving for some delicious food. I decided to do soups and settled down on barley soup.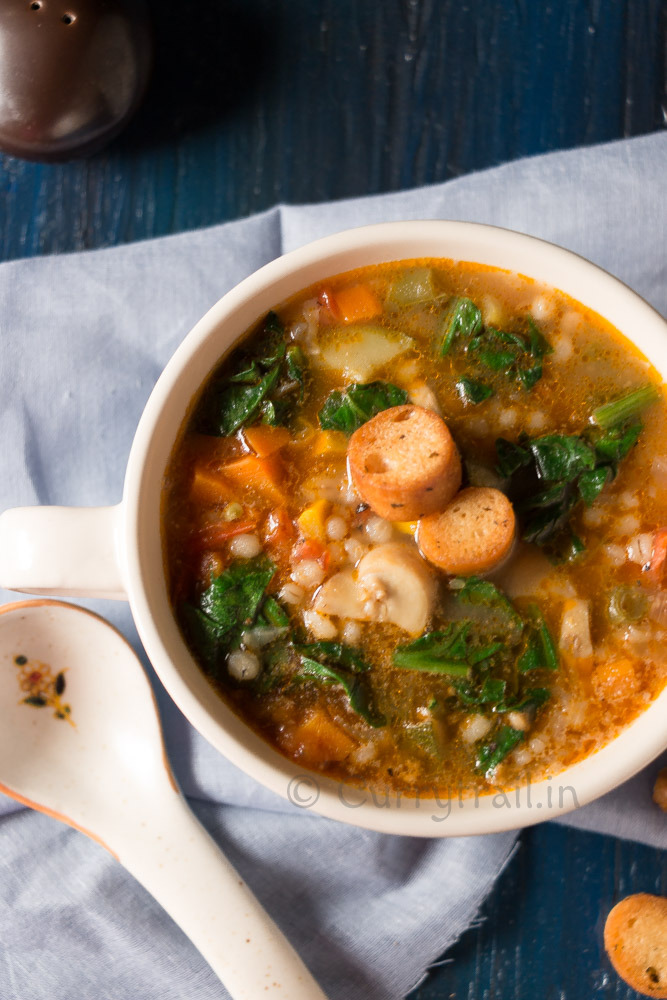 With loads of veggies and barley, this minestrone vegetable soup is one of the most comforting and healthy soup. A bowl of barley minestrone soup in hand seated next to a window watching rains, and a soothing music on the background is a perfect way to spend a beautiful rainy day.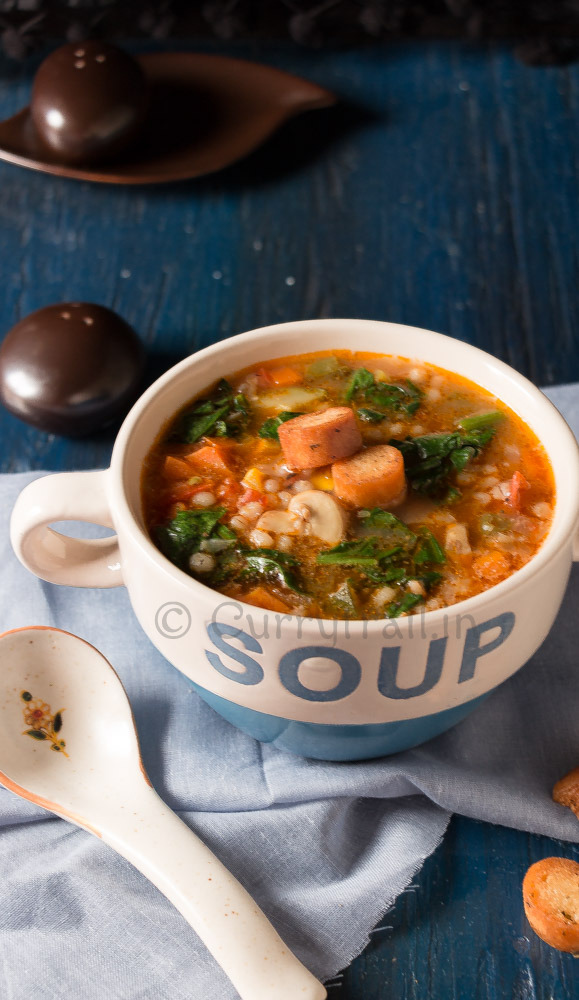 I used carrots, beans, green zucchini, yellow zucchini, cabbage, mushrooms, spinach, peas, onions, tomatoes, and barley. Saute all ingredients in olive oil and barley cooked in vegetable broth makes it a light comforting hearty soup.
Here's barley minestrone vegetable soup-
Barley – 1 cup
Carrots – 1
Beans – 4-5 nos
Yellow zucchini – ¼ cup
Green zucchini – ¼ cup
Mushrooms – 6-7 nos
Cabbage – ¼ cup (finely chopped)
Spinach – ¼ cup (tightly packed)
Green peas – ¼ cup
Onions – 1 large
Tomatoes – 2 large
Olive oil – 1 tbspn
Vegetable stock – 1 ½ cup
Salt to taste
Pepper powder – 1 ½ tbspn(adjust as per preference)
Instructions:-
1. Wash and chop all the vegetables. Dry roast barley on low flame until they start to change color, remove from heat and add water to barley to soak it for about half an hour.
2. In a large wok, heat olive oil, add vegetable one at a time and saute for 1-2 minutes followed by the next veggie. I started with onions sauted unti they turned translucent, add tomatoes and saute till they turn soft.
3. Then follow by adding carrots, beans, zucchini, cabbage, mushrooms, peans, spinach.
4. Add salt and pepper powder and mix well. Finally add soaked barley and vegetable stock, simmer and cook until barley is done.
5. Serve it hot with some roasted garlic bread. YUM. And the beat way to eat it is by sitting next to a window watching the rain and sipping this soup hot. 😀