You probably would have been using mayonnaise as spread and dips, how about using it as a flavor enhancing agent? Mayonnaise is so versatile and delicious that it is becoming the "must have" condiment in all households. It's an all purpose condiment. It can take any flavors, any combinations and still be one of the most delicious finger licking condiment that you will love.
DelMonte's new range of mayonnaise is something that I have been super excited about. It's like a new revolution in the world of dips and sauces. The moment I got these wonder jars I decided I will use it differently to make food more exciting to eat.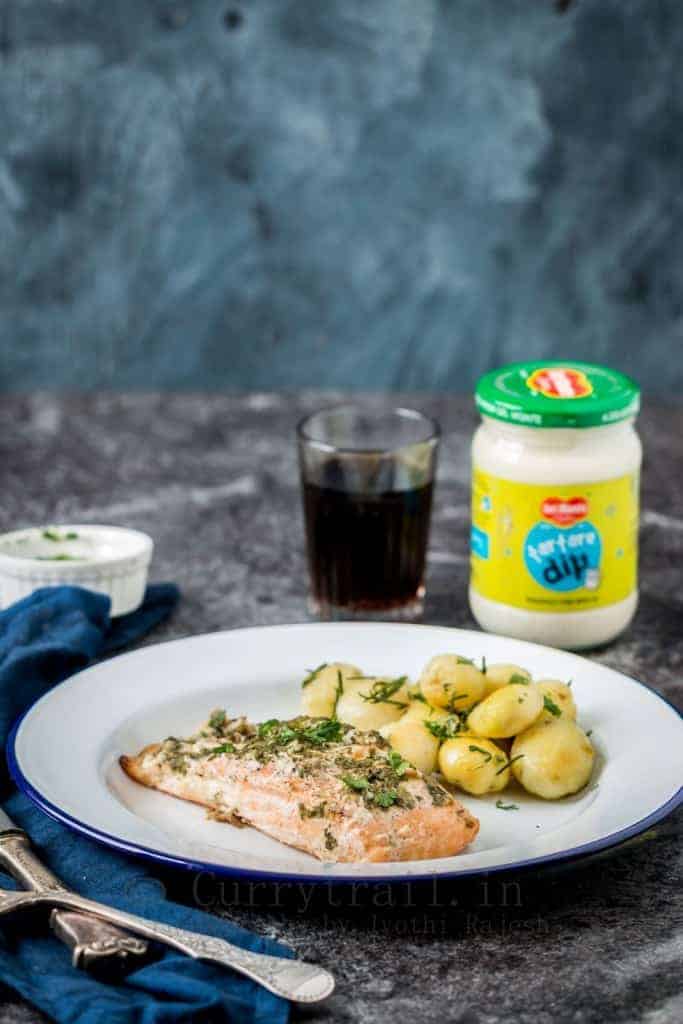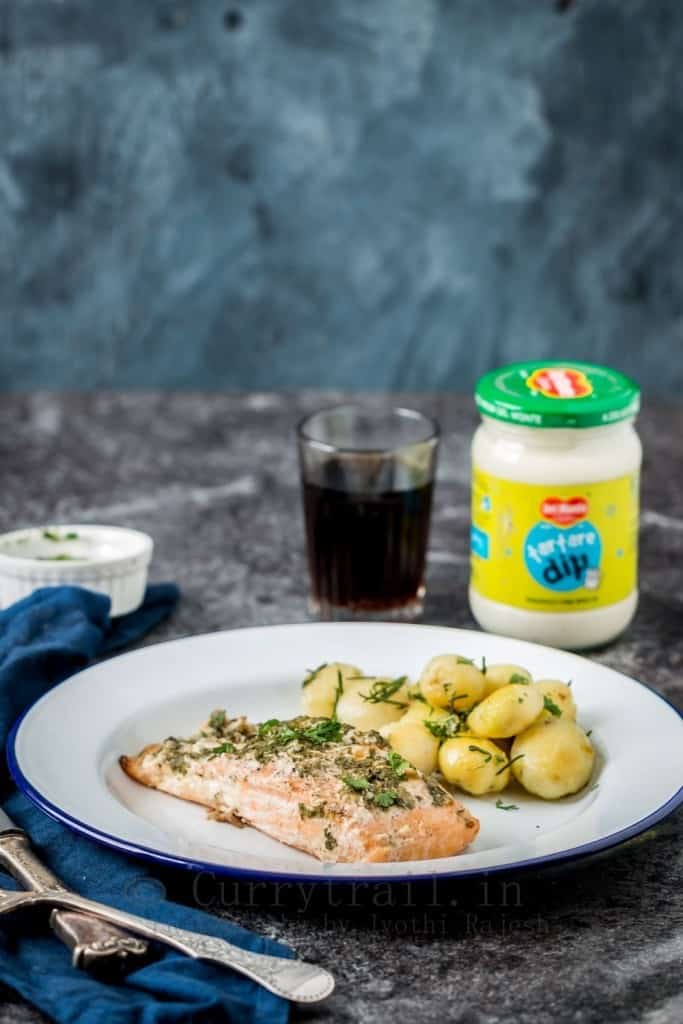 DelMonte Tartare Dip is an exquisite mix of eggless mayo, gherkin bits that give it a delicious crunchy bite.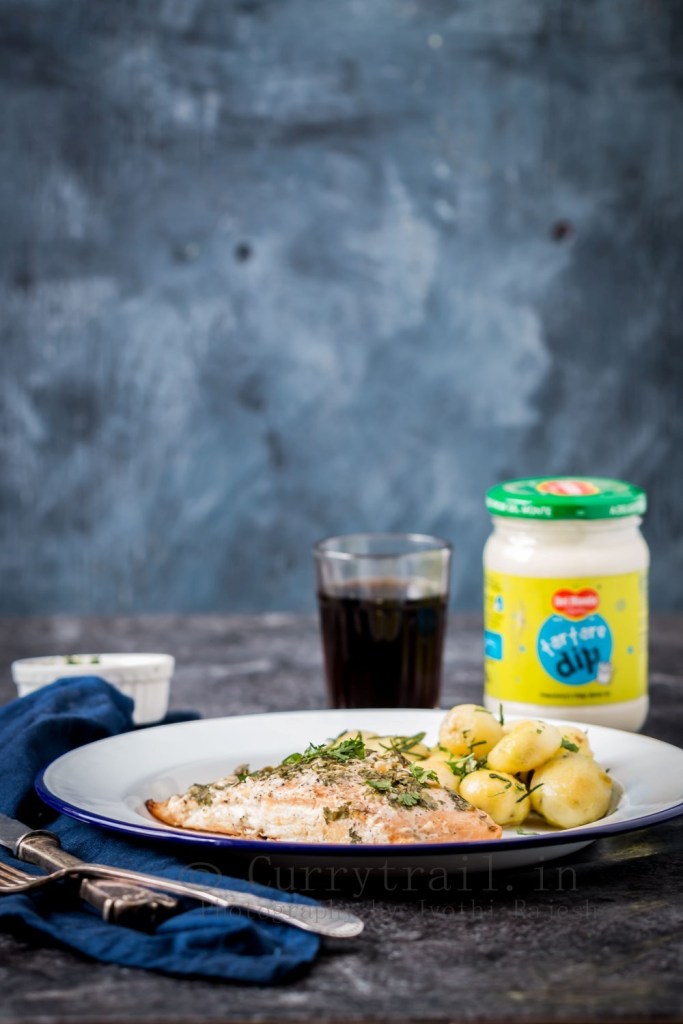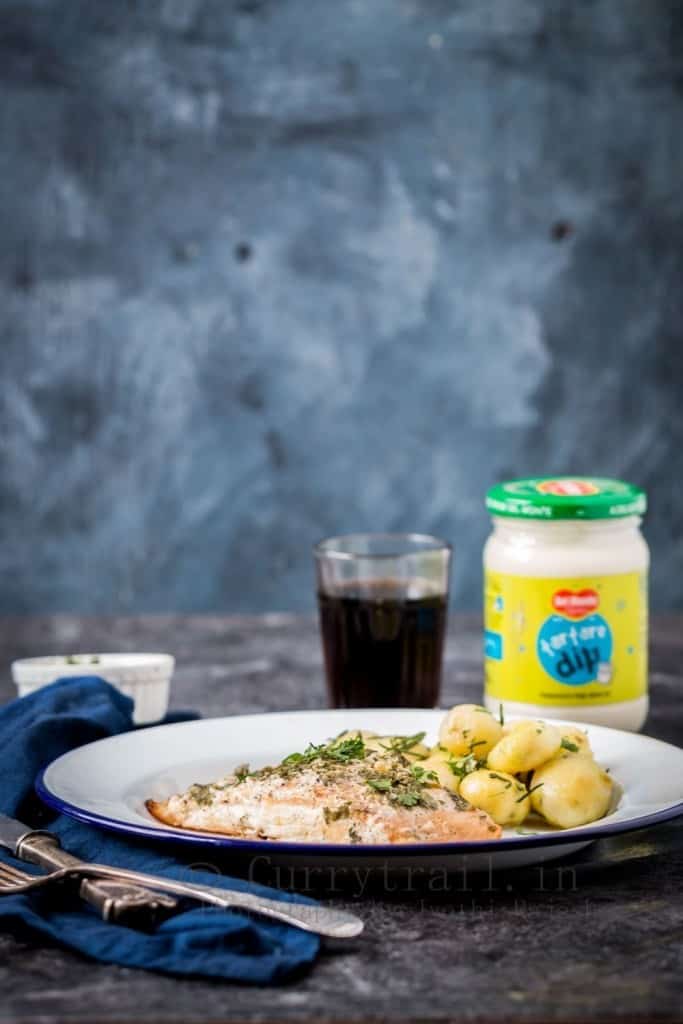 A beautiful Norwegian fillet seasoned with salt and pepper, sprinkle fresh herbs then generously spread with tartare dip atleast ¼ inch thick and then baked in an oven until is salmon is cooked through.
This baked salmon is way too easy to make, and the well seasoned fillet with a tangy crust with little tiny pieces of onions, gherkins gives a nicely soft salmon with loads of flavor in it.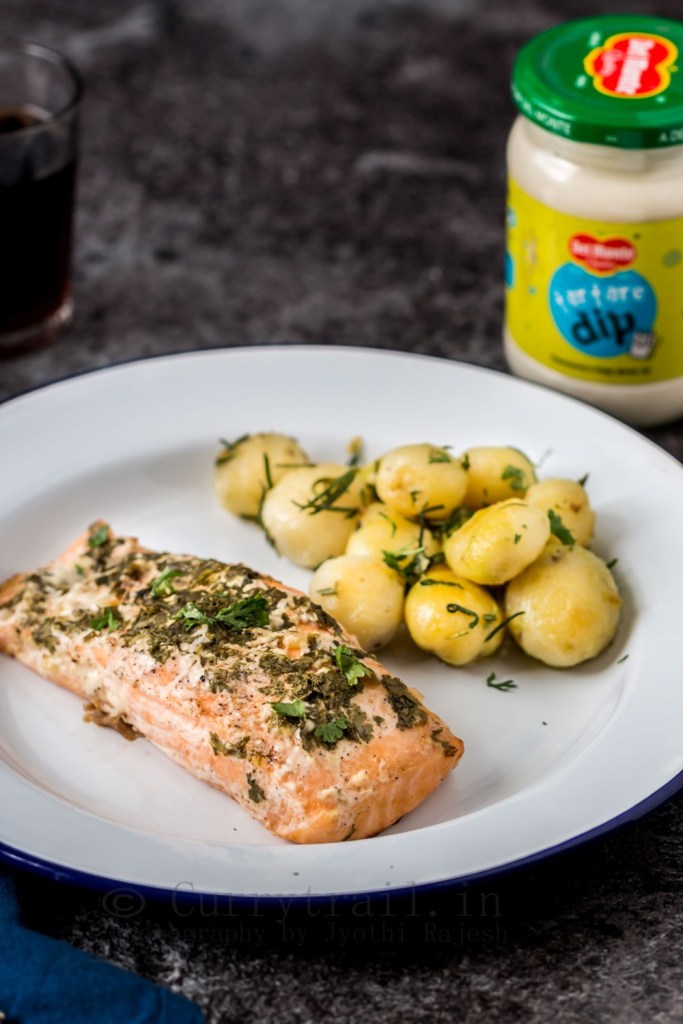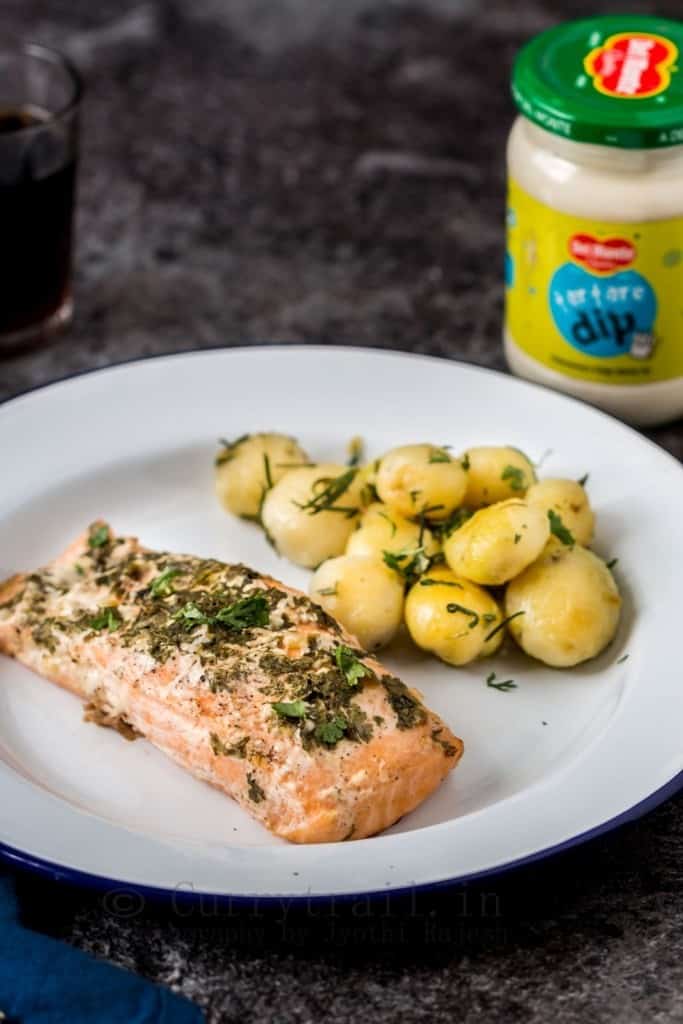 Most times, you get a dry meat or sea food when you bake it, but adding mayonnaise over the meat while baking results in super moist baked meat/seafood and the perks of using a mayonnaise dip over the meat? Loads of flavors enhanced in the meat ofcourse!
Ingredients
1 Norwegian Salmon fillet
1 teaspoon of salt
1 teaspoon pepper powder
4 to 5 tablespoon fresh herbs (I used coriander leaves and little dill) options – fresh dill, fresh parsely, fresh basil
4 to 5 tablespoon DelMonte Tartare Dip
Little butter or olive oil to grease the aluminum foil
Method
Clean the Salmon fillet. Pat it with a kitchen towel.
Spray olive oil or brush butter over a aluminum foil. Place the salmon fillet on top.
Sprinkle salt and pepper over the fillet and rub it to spread evenly all over the fillet and on both sides.
Spread DelMonte Tartare Dip over the salmon fillet, evenly and on both sides.
Now sprinkle the fresh chopped herbs.
Bake the salmon over the pre heated oven at 170 degree centigrade for about 15 to 20 minutes or until Salmon fillet is cooked through.
Remove from oven once cooked and let it rest in the same pan for about 5 minutes.
Now remove the baked salmon and serve it hot with some roasted baby potatoes.
Super moist, slight tangy delicious baked salmon cooked with DelMonte Tartare Dip will be you favorite week night dinner, and it's all done in less than 30 minutes.
Disclosure – This post is sponsored by DelMonte India for using their mayonnaise products in my recipe, but all opinions expressed here are of my own.