Avocado banana smoothie is great start to your day with this healthy breakfast smoothie using avocados and banana. With no added sweetener this smoothie is great for your pre and post workout sessions.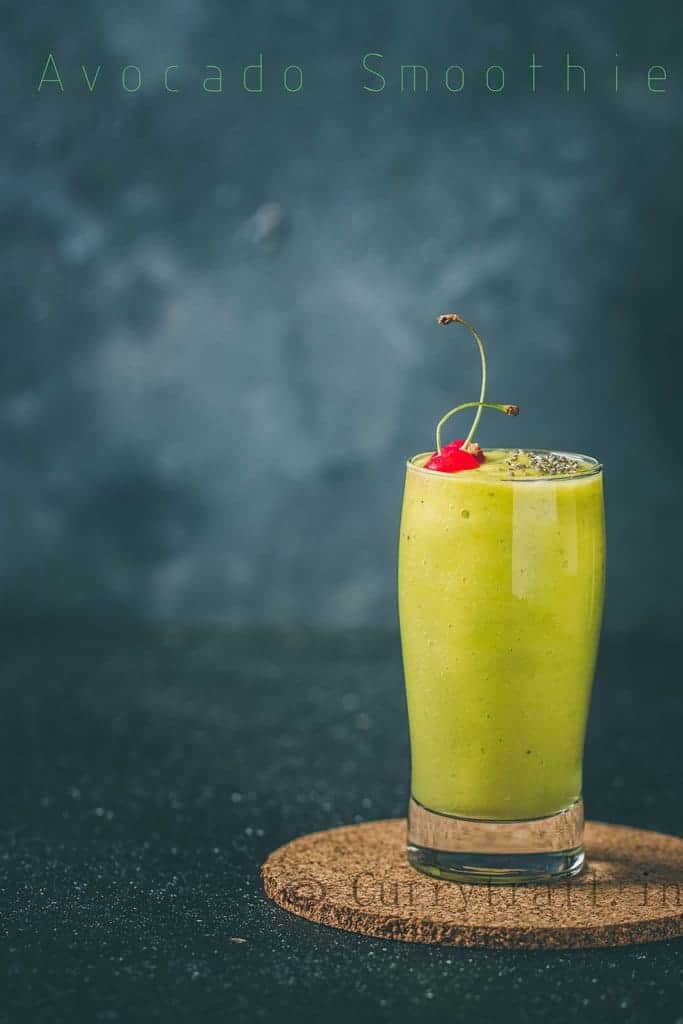 Enjoy this vegan avocado banana smoothie that is creamy, diary-free and vegan in the morning for your breakfast, pre/post workout snack or even for lunch. This low calorie avocado smoothie is great for weight watchers!
Avocados are full of good fats that you want to include in your diet as much as you can. And the endless ways to use this single seeded berry makes it the most favorite fruit for all. I have many variations of avocado smoothie recipe. I use whatever I have in my fridge or whatever I can source easily whenever I plan to make a smoothie with avocados. You can include almost any fruit of your choice.
Today's recipe is vegan avocado banana smoothie that's perfect for morning smoothie. You can make this avocado green smoothie for post workout snack too. It hardly takes any time. Just freeze chopped bananas, and just before you want to drink a healthy avocado smoothie you blend the frozen bananas and fresh avocados. Now flavouring this smoothie is completely your choice. I used fresh amazingly natural sweetened coconut water to blend the smoothie. I didn't have to add extra sweet as coconut water along with the sweetness in banana was just perfect.
Avocado and banana smoothie is a classic combination. It's also one of the best avocado smoothie. You can make super green smoothie by throwing fresh spinach into the blend. Avocado smoothie made this way is Keto complaint and would be great recipe for those who follow KETO diet.
That absolute gorgeous green color isn't that very tempting? Don't you want to grab that green beauty now? I wish I could do good things like this more often, I mean I could drink this avocado breakfast smoothie every morning. I took a small break from my workout sessions. I love my workout sessions and I follow it religiously! A group of us, like minded people formed a group and we workout together. It is so much fun that way and it also helps us keep our motivation and energy up through out the session.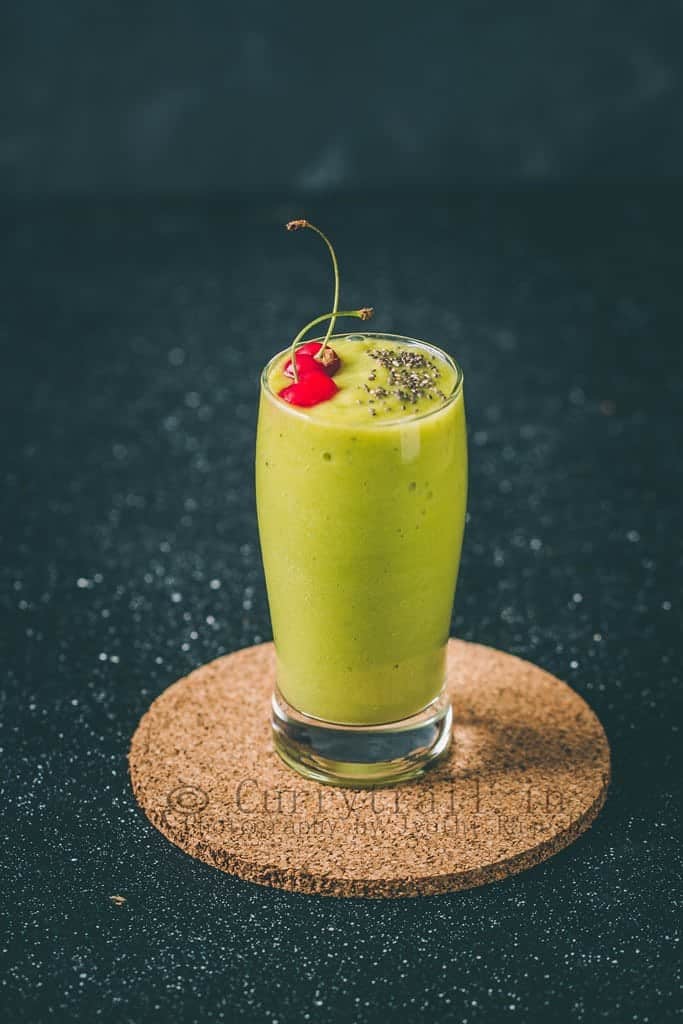 After a break I'm back to work out sessions and getting back to eating healthy and balanced diet. I'm a true South India by heart and tummy. I looooove my rice and literally cannot live without it. I started reducing the quantity of rice(by 50%) I intake a day and substitute it with veggies, fruits and protein rich diet. I don't really believe in starving myself in name of diet, but I realized eating protein rich food, and a balanced diet will do wonders to you and your body. I also indulge in my favorite food once a week.
I have a good news to share with you all. One of my smoothie recipe got printed in a leading publishing book. Yay, it feels awesome to see my name, my photo and recipe on a beautiful book. This book is all about smoothies and it's called Beautiful Smoothie Bowls: 80 Delicious and Colorful Superfood Recipes to Nourish and Satisfy. If you are a smoothie lover, then you should buy this book on amazon. Right things always falls at right places. I've been eating healthy by including a lot of soups, salads and smoothies in my diet, and this amazing smoothie book comes home to me. It's like a magical treat. I can't wait to try one by one smoothie from this book.
This simple vegan avocado banana smoothie is a breeze to make and take my word, it tastes simply delicious, no kidding. With no added fat or sweetener the smoothie is perfect. A good quality tender coconut and ripe banana is a big booster in this recipe. It gives that perfect sweetness to the smoothie without the need to add extra sugar. Try this smoothie and you will fall in love with it. I prefer this smoothie for my pre or post work out sessions.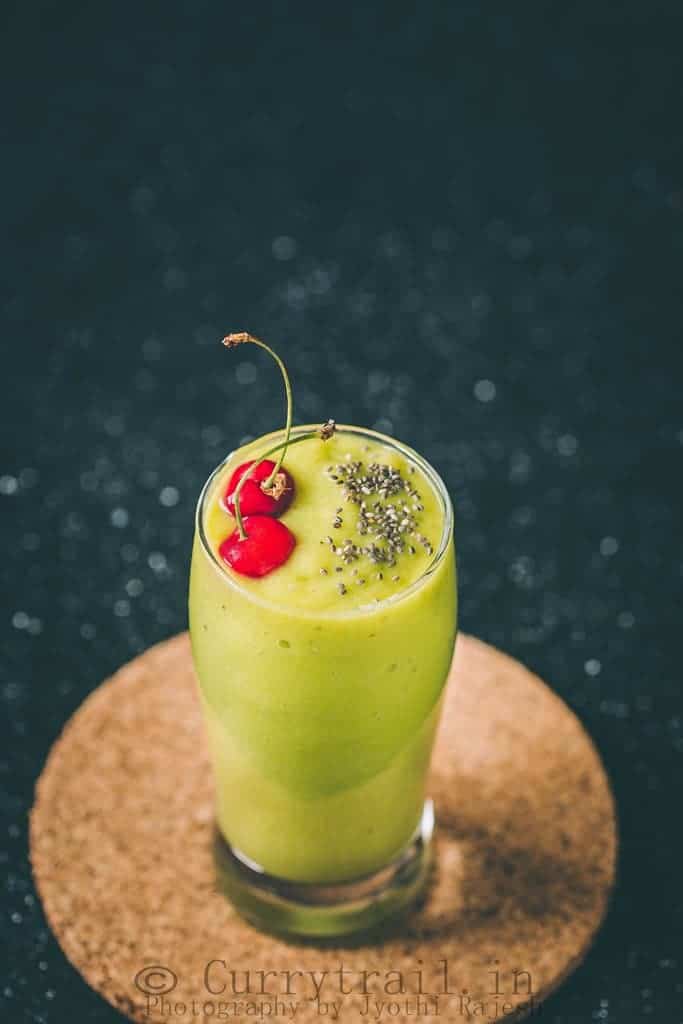 I love smoothies for many reasons.
There is so little prep work required.
You can use any fruit or vegetable of your choice in the smoothie.
You get a creamy dreamy texture smoothie without any cream or milk.
It's full of healthy fats. Delicious and nutritious!
Good for you if you are watching your waist line.
One of the best and easy pick-me-up-and-go food!
Hungry for more ?
Try these out as well –
Can you freeze avocado?
Yes and No! I've had mixed results with freezing avocados. So it's going to be a little confusion here. I tried freezing perfect ripe avocados cut into half and lime juice drizzled over the surface. The color of some of the avocados did turn black inspite of lime juice! The texture is what my concern was. I did not like the texture of frozen avocados. So it's a NO.
YES – I did read something that you can puree avocados and drizzle with lime juice then store in freezer. But I never even went on to experiment this method, this freezer avocados may work for guacomole and for smoothies. I was put off with the texture of frozen avocados on the first go, I decided not to freeze avocados. You can try this though, but I can't give any inputs or feedback though.
I love to use fresh cut avocados as much as I can. So for this smoothie I did not freeze avocadas.
How to make vegan avocado banana smoothie?
The concept is uber simple – just whiz together avocado and banana in a blender, spoon it into a shallow bowl, and top it with your favorite stuff. Chia seeds, fresh berries or cherry or pom seeds makes a pretty and nutritious topping!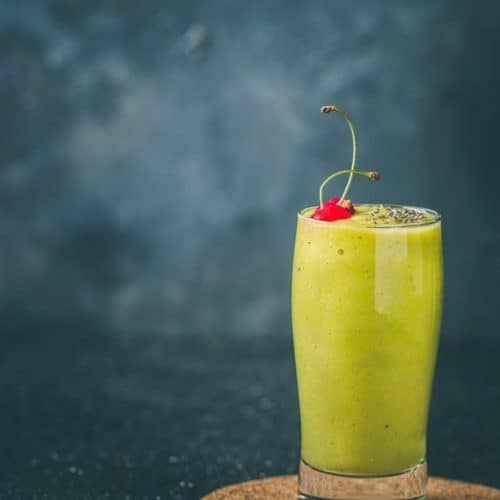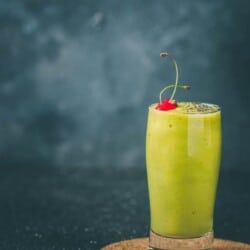 Avocado Banana Smoothie
Start your day with this healthy breakfast smoothie with avocados. With no added sweetener this smoothie is great for your pre and post workout sessions.
Ingredients
1 ripe avocado
1 ripe banana (chopped and frozen)
100 ml tender coconut water or coconut milk
For topping-
Chia seeds
Fresh cherries or any berries of your choice
Instructions
Put all smoothie ingredients in a blender and blend until smooth and no chunks remain.

Pour into a glass and add toppings.

Consume immediately.
Notes
If you want to freeze avocado, puree it and then freeze in ice cubes tray! Avocado cubes can be used to make smoothie