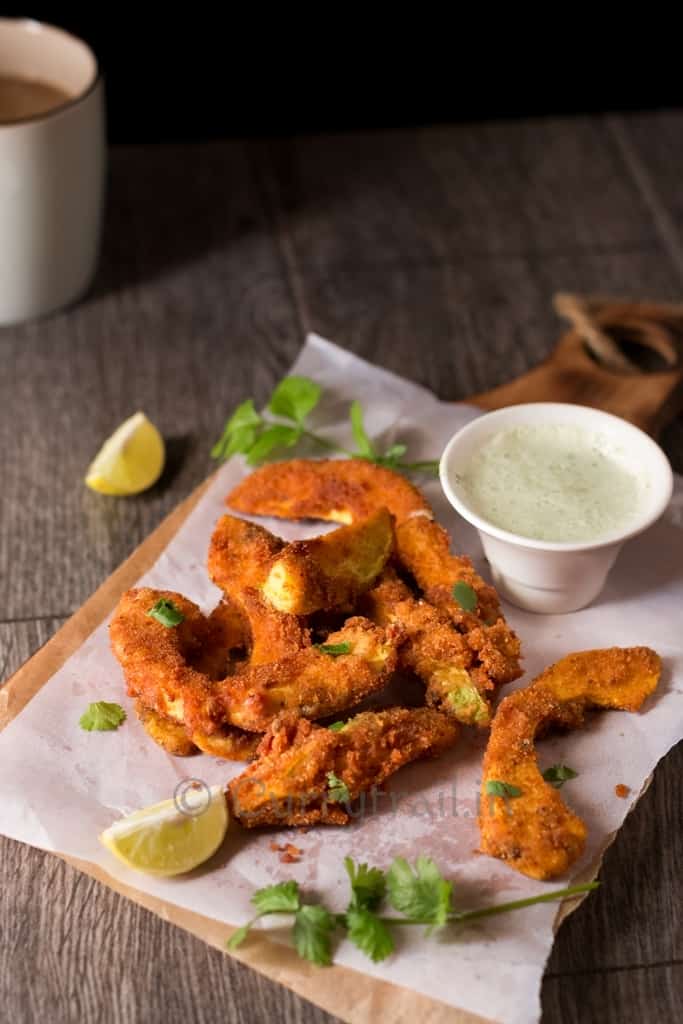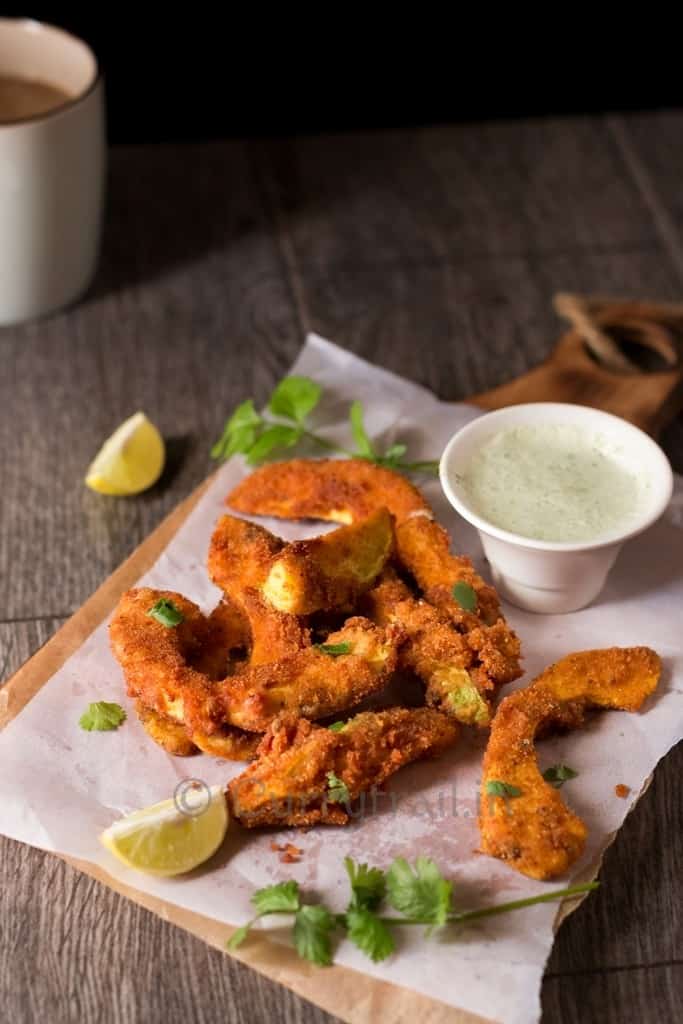 I know a world full of good parents who never give their family food which is fried or sugar, and also don't eat it themselves. I'm one among them. Yes I try to keep myself away fried stuffs and sugar including chocolate and I do that to my family too. But occasionally I do feed my family what's called as "not so healthy" food. This recipe is one of them.
There are times when I, a food obessive, a food addict even, find it difficult to think of what to cook and how to use a ingredient in my dish. It doesn't happen often and I recover my greedy wits promptly enough, but I have to admit my weakest area, the one most likely to buckle under pressure, is the kids after school snack, as I try to make almost every single day a different dish.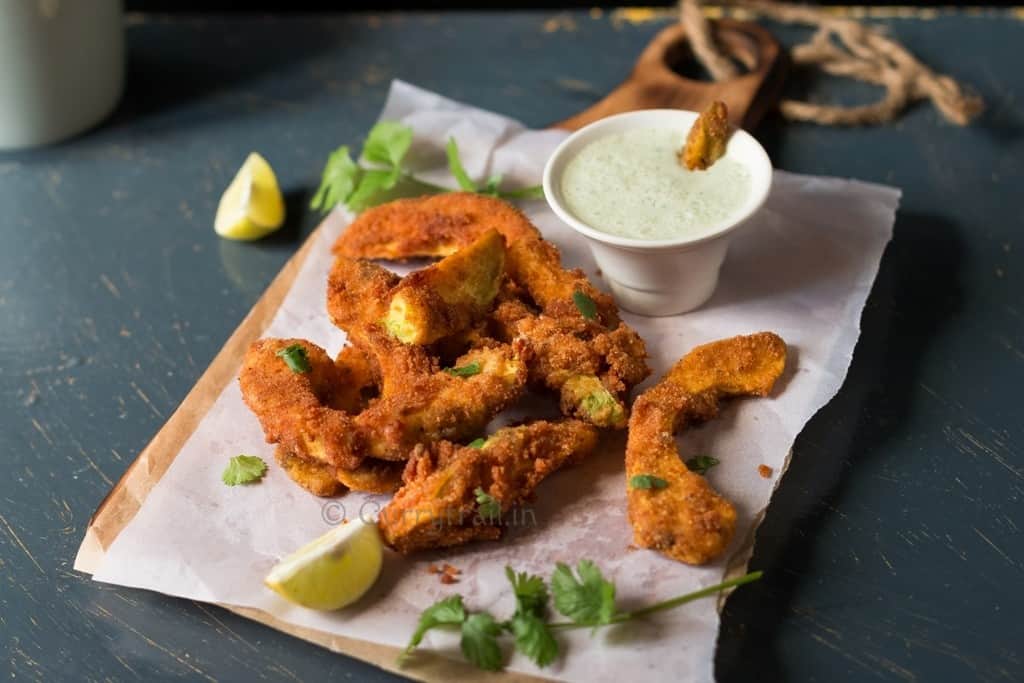 I had a few avocados that I had bought few days that need to be used up soon. When I had the thought of after-school snack and avocados I went blank. I have used avocados in vegan chocolate mousse, in sandwich, in soup before but this time I wanted to try some thing new that will make my kid eat the avocado without much of a fuss. I remembered seeing avocado fries some time back and that instantly gave me the idea to make avocado fries. Kids LOVE fried stuff, don't they?! And when the avocados are covered in a crunchy batter they wouldn't really bother much of what is inside! 😀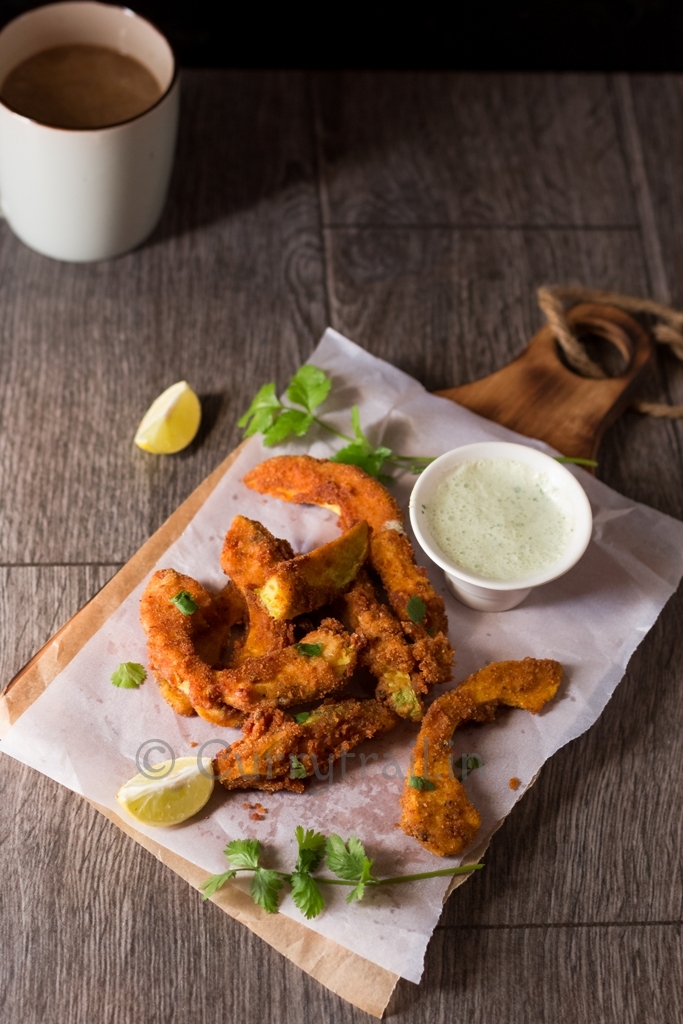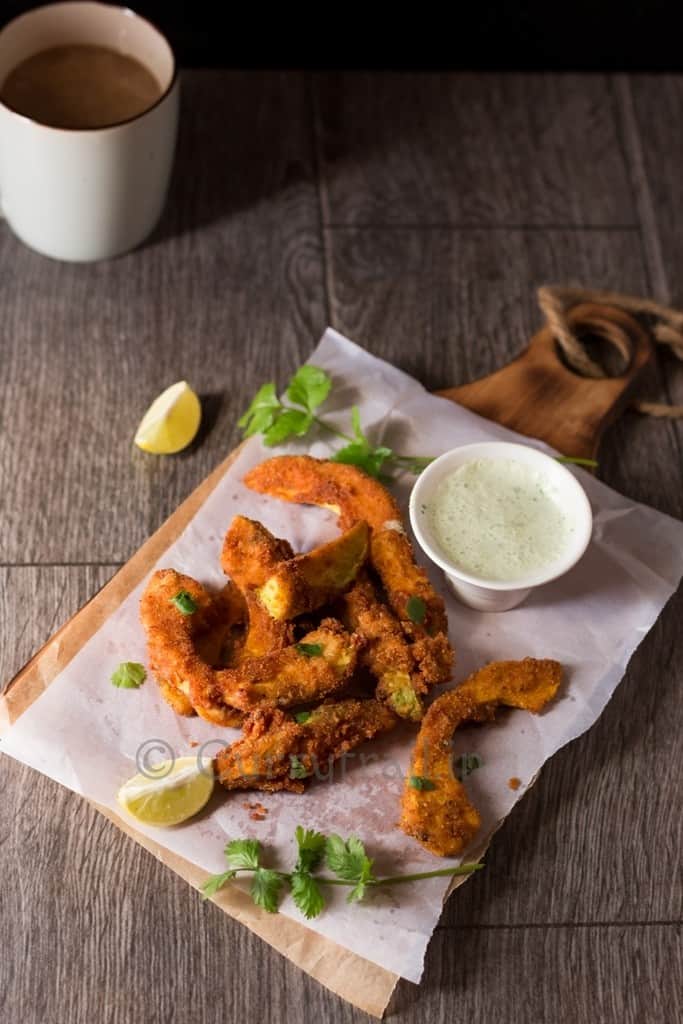 I have a hate love relationship with this food, AVOCADOS. I got introduced to avocados very recently. Initially I felt a little differently as I found them bland, slimy and all-around pretty gross. I can't believe i'm saying this. That was me until I tasted avocados first in my avocado egg sandwich and then vegan chocolate mousse using avocados. After tasting that I came to my senses and find them the most versatile ingredient.
Use these avocados in sandwich, use it as a spread or chop them and layer it over the bread, blend avocado with banana and cocoa powder and turn them into a most delicious guilt free vegan dessert, and simply blitz them into soup along with cucumber or other ingredient. Or transform them into delicious crunchy outside soft inside fries…SURE! What ever you want to use it in, just do, they are the most versatile food.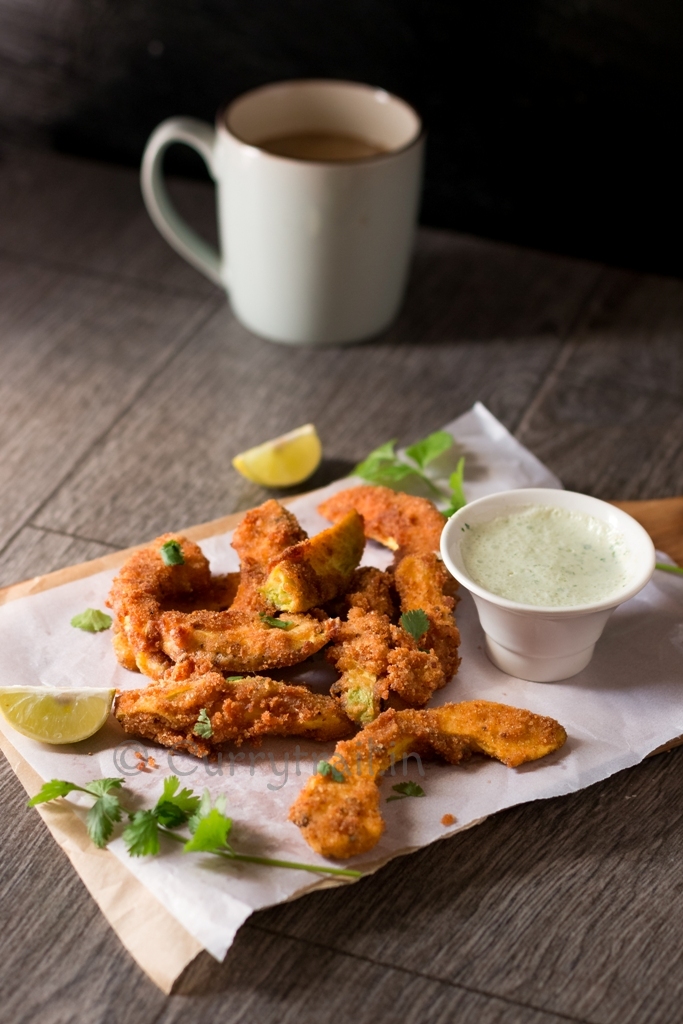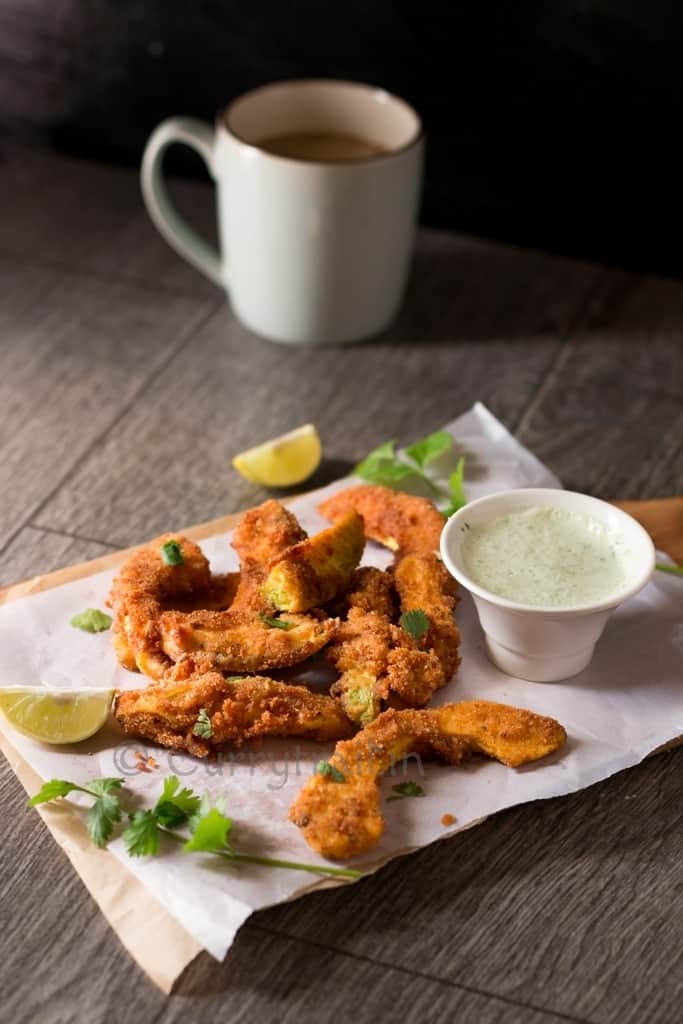 Here's my avocado fries recipe-
Ingredients:-
Serving – 1
Ripe and firm avocados – 1
Pepper powder – 1 tbspn(add more if you prefer to, as avocados are bland, adding more pepper will intensify it's taste)
Salt to taste
Roasted cumin powder – 1 ½ tspn
Lime juice – from 1 big lime
Bread crumbs – for coating
Egg – for coating
Oil for deep frying
Instructions:-
1. Slice the avocado open vertically and remove the pit. Slice then length wise inside the skin and make sure you dont pierce the skin. Using a spoon gently work it in between skin and flesh and scoop out the avocado slices. Discard the skin.
2. Now add pepper powder, salt, cumin powder, lime juice and with gentle hands mix. Make sure to coat all pieces of avocados with the spice powders.
3. Heat oil in a pan. First dip the avocado slices in egg and then coat it with bread crumbs. Slowly dip them in hot oil and deep fry it for 2-4 minutes on all sides until they are golden brown. Remove from oil and drain in on kitchen towel.Repeat for all the slices of avocados.
4. Serve avocado fries nice and hot with any sauce of your choice. I served them with hung curd, coriander leaves, roasted cumin powder, salt and lime juice all blend to gather until smooth.