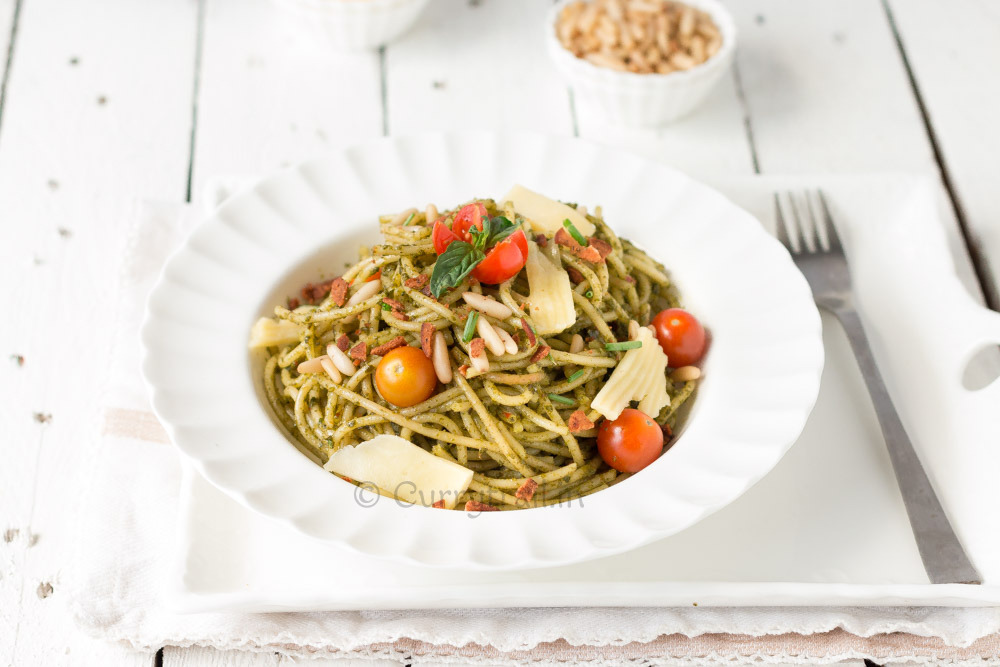 Yesterday my lovely girl came back from school and while having her after school snack she suddenly asked, "amma what is a spaghetti?". With a surprised look I asked her, "you really don't know? We had that noodles thing with chicken the other day and you said you liked it very much". She looked at me shocked, "that was noodles I ate, what is spaghetti amma"?! LOL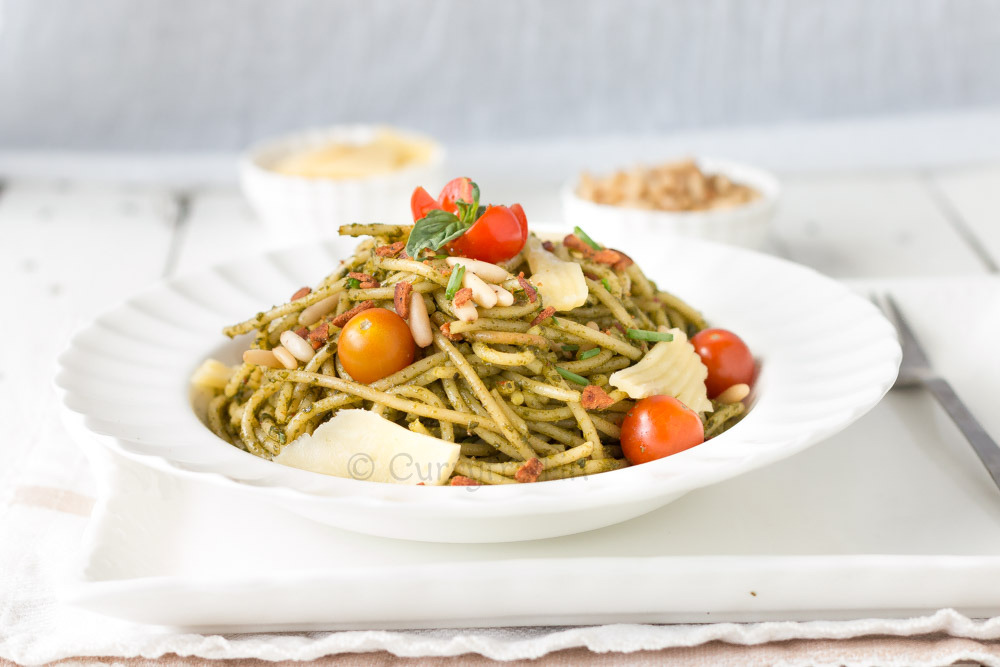 I was really surprised that I didn't mention to her about spaghetti, she has always been thinking it's noodles. It was difficult for me to explain to her the difference as I couldn't give technical differences. All I said was spaghetti looks a little brownish and noodles are white! 😀 😛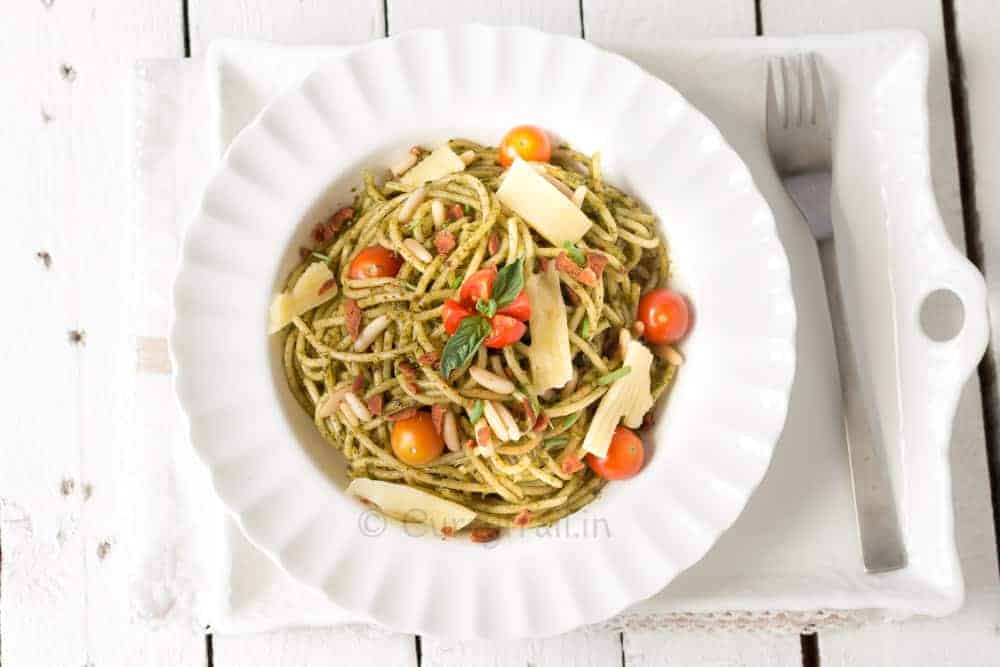 Her next question was "when will you make spaghetti amma"? 😀 So now I know she was very tempted to taste spaghetti and knows that an she can go to school and tell her friends that she had spaghetti!
Today I decided to make spaghetti for her lunch box, the Asian spicy pesto that I made yesterday was in the fridge, so I quickly tossed in the spaghetti and packed it for her lunch box! She came back home and happily said "amma, spaghetti was yummy and I shared with 3 friends of mine!" Happy me 😀 I'm sure to make more spaghetti recipes for my daughter now! 😀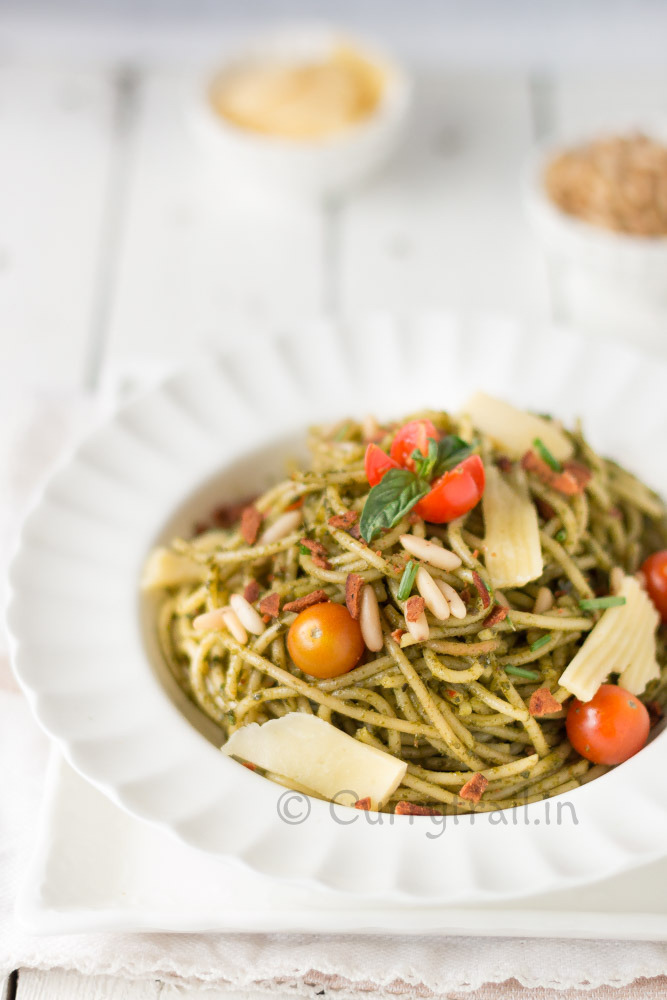 This is a easy and very simple spaghetti recipe. All I added was some onions, cherry tomatoes and pesto, that's it. The spicy Asian pesto gives a wonderful flavor from the peanuts to the spaghetti dish. Try it you will believe me!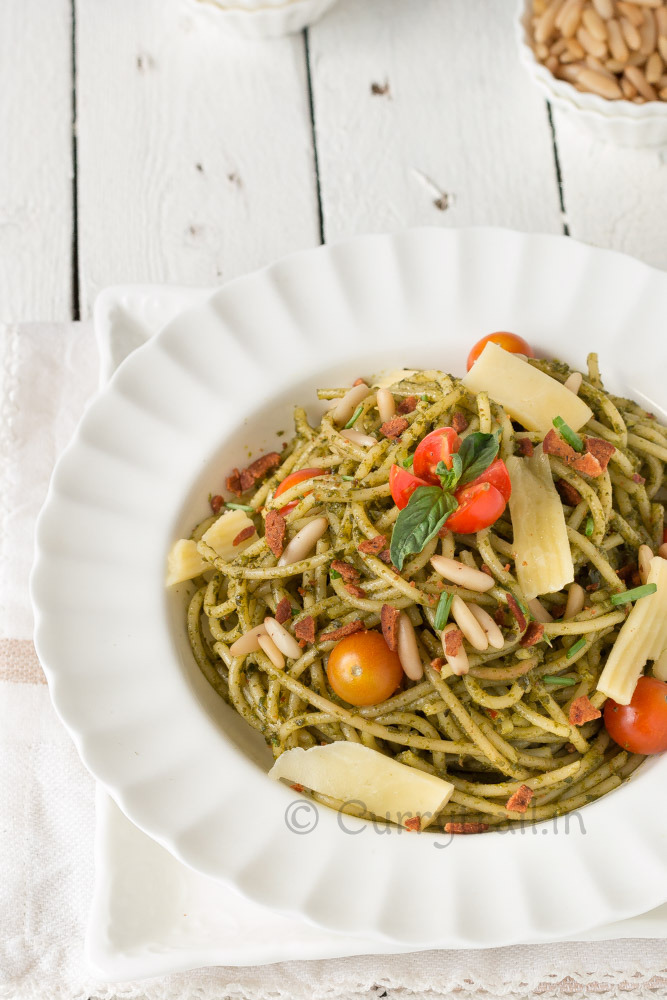 Here's Asian spicy pesto spaghetti(vegetarian)-
Ingredients:-
Asian spicy pesto – 1 cup
Spaghetti – 1 packet
Salt to taste
Onions – 1 medium finely chopped
Cherry tomatoes – ½ cup halved
Pine nuts – 3 tablespoons
Extra virgin olive oil
Instructions:-
1. Cook spaghetti as per packet instructions, the spaghetti has to be done al-dente. Do not over cook. Once cooked, immediately drain out and rinse under cold water, pour 1 teaspoon on olive oil on the spaghetti and toss it.
2. Heat olive oil in a wok, add onions and saute till they turn translucent. Next add cherry tomatoes and cook until tomatoes turn soft.
3. Now add the Asian pesto and cook for 2 minutes. Add salt to taste. I did not add any pepper powder or chilies as my pesto was spicy enough. If you prefer more spice add pepper powder.
4. Finally add cooked spaghetti and gently toss it until all spaghetti is covered with pesto.
5. It's ready. Transfer the spaghetti to a serving plate. Garnish with some halved cherry tomatoes, basil leaves, pine nuts and serve immediately hot!
This is one of the most simple and delicious spaghetti I have ever tasted! The spicy Asian pesto did the magic, suited so very well to my palate. This Asian spicy pesto is a wonderful,unique taste to boring and bland pesto. 😀