Blurred vision
Grey wet day
65 students waiting for a class!
Boy a day doesn't get tougher than this one!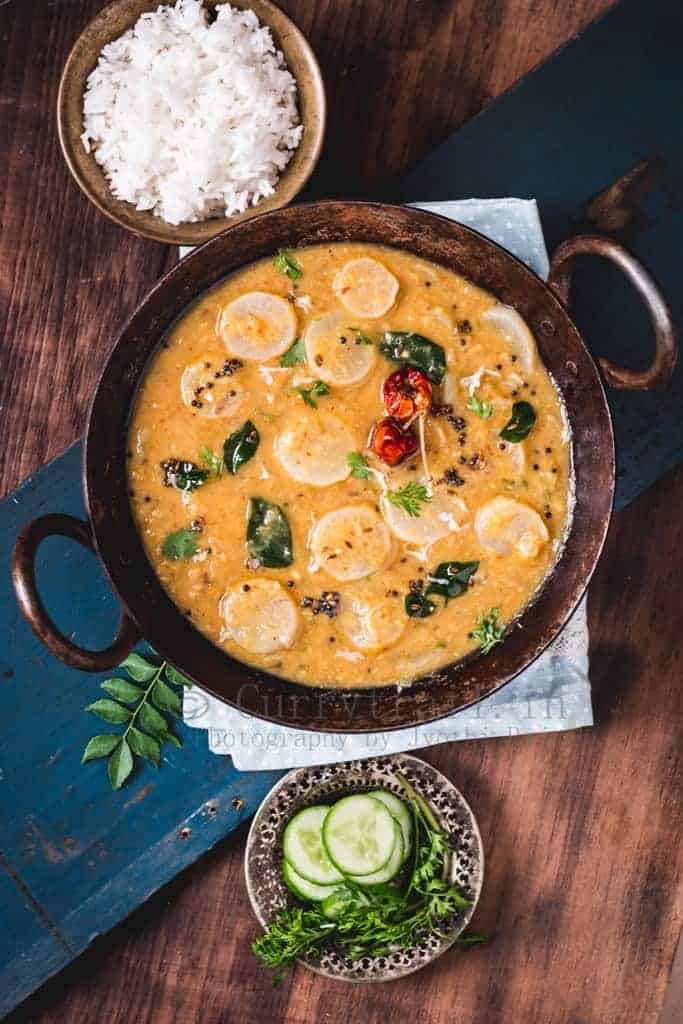 Rains were not the reason that made me think, "I should stay back at home today!" before I headed to the class. It was the blurred vision that made me think. And NO, I did not go blind, and no I don't have any eye sight problem (well atleast that's what I think). I just decided to go for an eye check up yesterday and I landed up here with a blurred vision. After a series of tests I was made to sit alongside Raj for a particular eye drop that is put in your eye before a particular test. Since I haven't hit the age yet where I have to wear glasses compulsorily, and I was special, the doctors decided to give me 2 types of drops. Just before the first drop was put, clear instructions was given –"you will have blurred vision for 3-4 hours!". Before I could accept the drops I rechecked "3-4 hours!:O" with a lot of shocking and surprising expression on my face. I told myself, "it should be okay, I should be able to manage, well, Raj is around! It's just for 3 hours!". The worst part was yet to come.
The doctors decided to give me an "special" drops called CTC (now don't ask me what CTC means, I have no clue!) and I was made to sit with closed eyes for more than an hour, not a minute I could sit still. That 1 hour felt real long. A lot of thoughts running in my mind, Wondering about that screeching sound from a long distance, curiosity to know how the person looked who spoke too loud next to me, inquisitive about that heeled shoe sound – to see how the lady was dressed, it sure was one difficult hour to sit still and not be able to see what's happening around was very frustrating.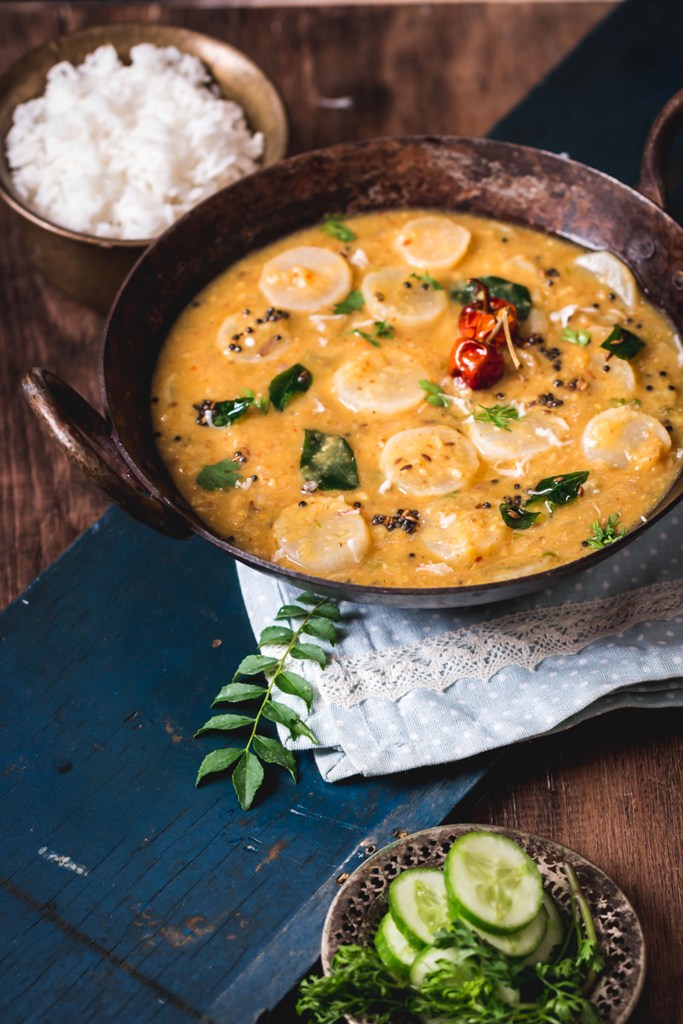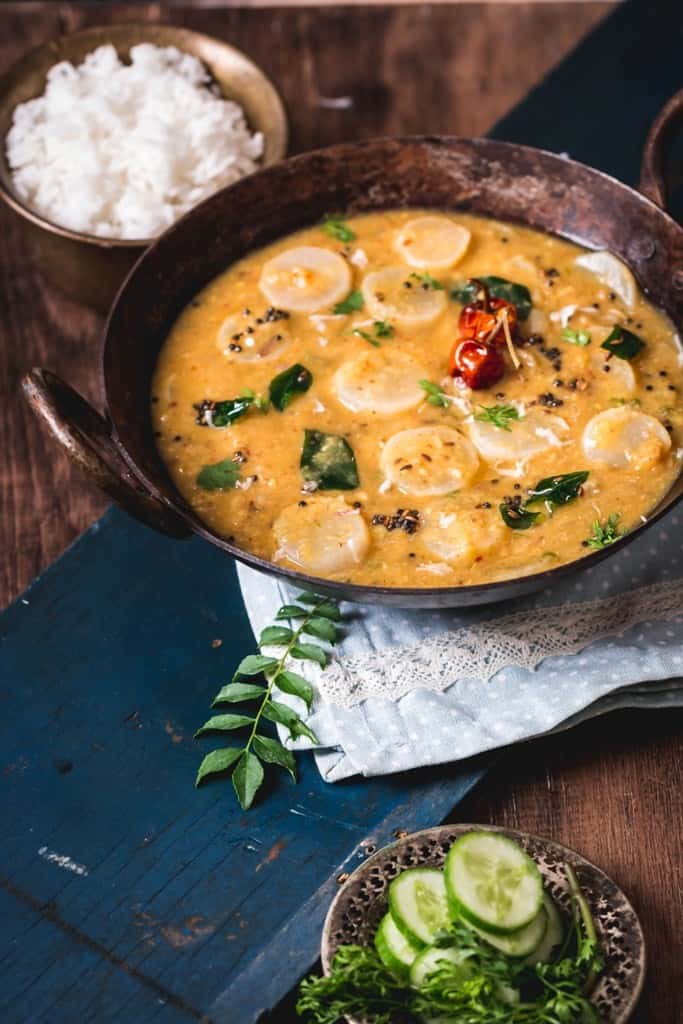 After all that 1 hour of sitting when the doctor rechecked my eyes, this happened
Doctor – "it could be just that you have strained your eyes, let's wait for 2 – 3 days and recheckn and see if you need glasses".
I restlessly question her back – "why 2 – 3 days?".
Doctor with a very cool voice – "your blurred vision will be there for 2 to 3 days, so it's better to check once your vision is clear".
I – "WHAT??!! You mean 2 to 3 hours right?"
Doctor – checks my file, points at the word CTC and says, "NO, 2 to 3 days. You are given CTC"!
I – "NOOOOO, I have work tomorrow, I have a class, I can't go like this"
Doctor – "But you won't be able to work, read for another 1 day at least!!"
I – …….
I really want to beat up someone, 😛 I was so annoyed, I did not go there to have blurred vision for 2 to 3 days. I came out with a unbelievable, shocking, annoying face. Raj was smiling. He asked – "Don't worry, it's okay to wear glasses". I almost with a shouting voice, – "NO, I'm not wearing glasses as yet, but yeah I'm gonna be half blind for next 2 to 3 days" and I explain him everything. He laughs again! My face was sure turning red!
Though I managed that day as mom was around to help with kids, food and everything else, It was a hard day at school. My children needed me to help them with so many issues with their program and robot, but I could not see a thing on the computer. I had a assistance and I made her help the kids.
Now while I write this post, I seeing letters that are double and I'm guessing I'm pressing the right key to type the right word(thanks to my typewriting skills I learnt during my school days :D)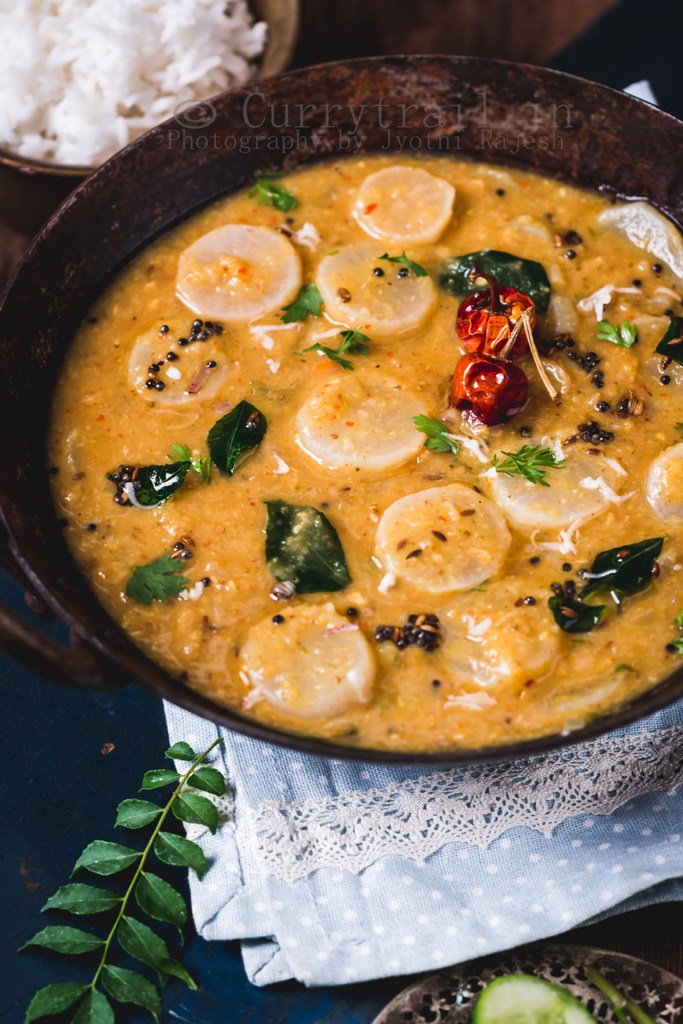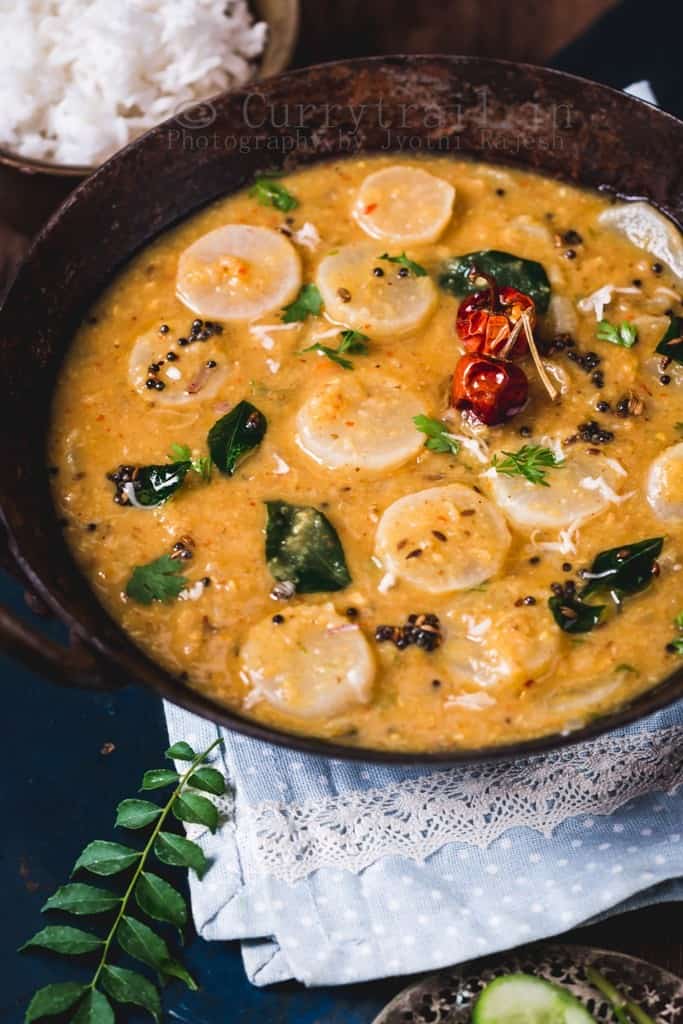 Even though the vision is blurred, this sambar had to get on the blog today. It's been waiting up in my draft for more than 2 weeks now and I did not want to postpone it anymore.
Arachuvita Sambar is a South Indian dish, specialty from Tamil Nadu made using ground aromatic masala. This sambar tastes the best with radish and I highly recommend you to try it with radish. But if radish is something that is not easily available to you, then you can try with any other sambar vegetables like drumstick, brinjal, beans- carrot-potato combination.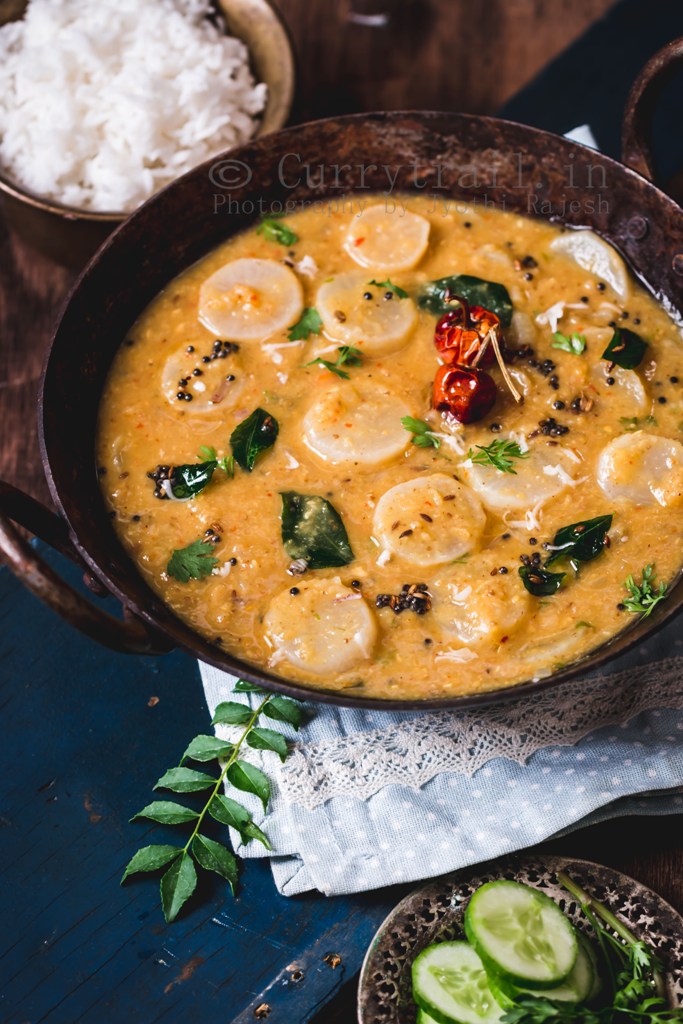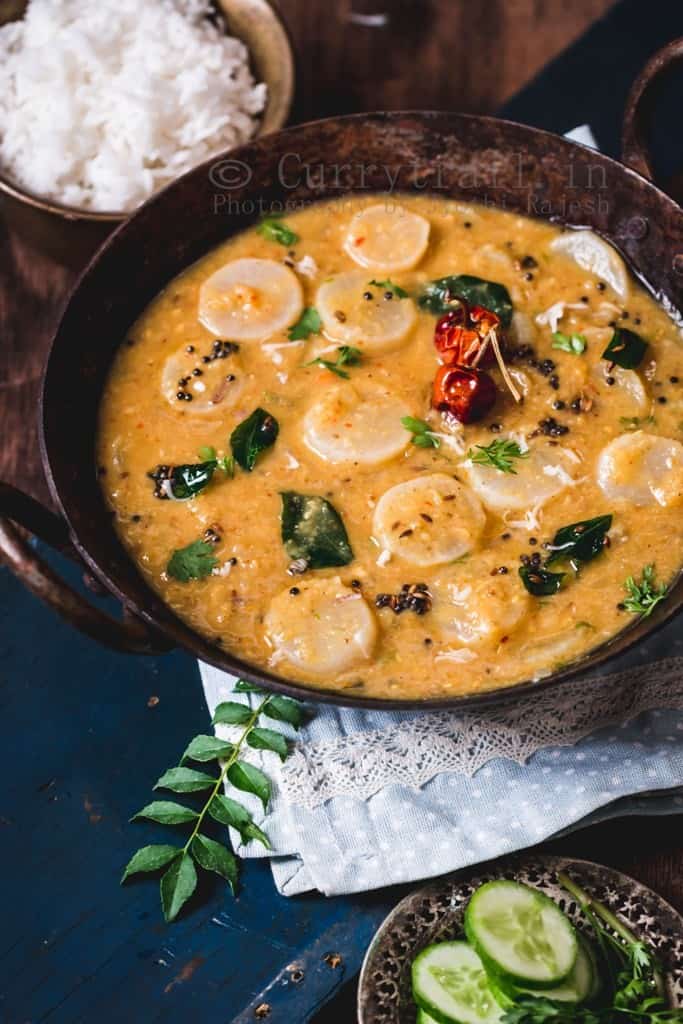 Here's how I make my arachuvita sambar
Ingredients
½ cup Toor Dal
3 medium sized moolungi (radish)
2 onions, finely chopped
6 cloves of garlic
1 teaspoon cumin seeds
¼ teaspoon turmeric powder
1 teaspoon + 1 tablespoon oil
Salt to taste
2 tablespoon tamarind juice
For ground masala
1 tablespoon kadalai paruppu(channa dal)
1 ½ teaspoon cumin seeds
1 tablespoon coriander seeds
6 to 8 dried red chilies
1 teaspoon ullundu (urad dal)
4 tablespoon grated coconut
1 teaspoon raw rice
¼ teaspoon vendeyam(fenugreek seeds, methi seeds)
For tempering
1 ½ teaspoon oil
1 sprig curry leaves
1 teaspoon mustard seeds
4 dried red chilies, small round ones
½ teaspoon cumin seeds
Generous pinch of asafetida
Fresh chopped coriander leaves for garnish
Method
Rinse dal well. Soak dal for about 20 minutes, this helps in cooking dal faster. Once soaked, discard the water from the dal and add fresh water. Add garlic cloves, cumin seeds, turmeric powder and 1 teaspoon oil to dal and pressure cook it for 2 whistles.
Now dry roast all the spices mentioned under the list "for ground masala" until it turns golden brown and a nice aroma is released from the spices. Do not burn the spices. You can even dry roast each ingredient individually. Remove from pan and let it cool. Then grind the spices into thick paste using little water. Keep aside.
In a kadai add 1 tablespoon oil. Add chopped onions and sauté till onions turns pink. Add chopped radish and sauté for about 4 to 5 minutes on medium flame or until radish is half cooked.
Add the ground masala paste along with salt to taste and cook for about 2 minutes. Add ½ to ¾ cup water, let the water boil and continue to cook till radish is ¾ cooked.
Now add the pressure cooked dal, mix well and cook for 5 minutes.
Add tamarind juice and cook for another 5 minutes on medium low flame. Adjust water accordingly, add water as required.
In another small pan heat oil. Add mustard seeds and let it crackle. Add curry leaves, dried red chilies and asafetida, mix well. Remove from stove and add this tempering to the sambar.
Garnish the sambar with chopped coriander leaves, mix.
Serve hot with steamed rice, potato roast, papad and pickle – pure bliss!