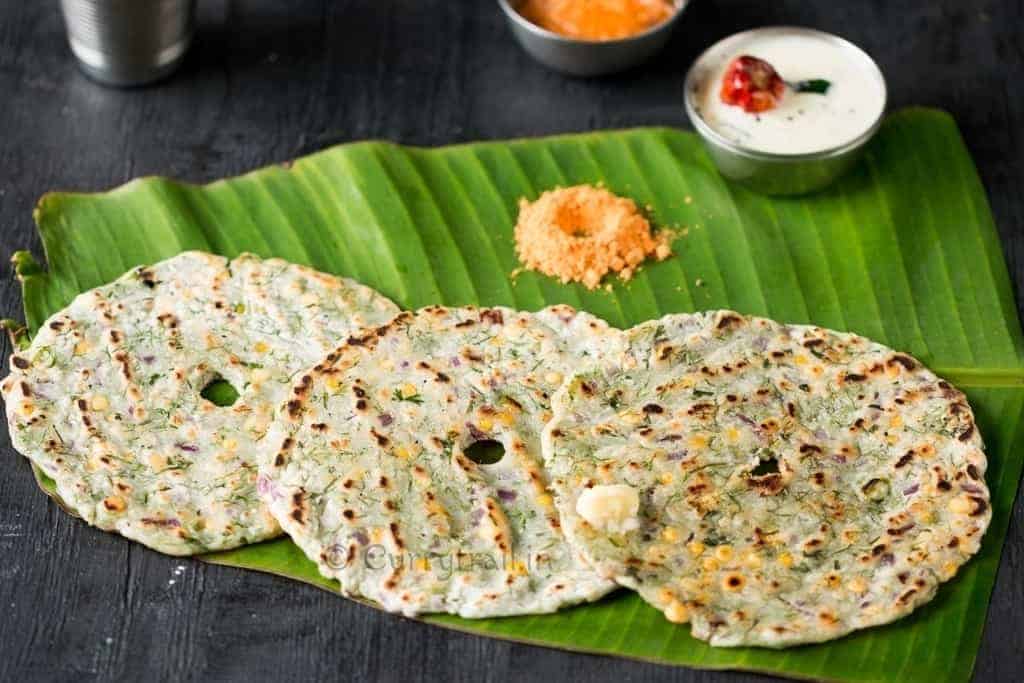 My first introduction to Akki Rotti was about 17 years back. The tenants who stay at my parents place would make the best akki rotti. One day, I returned home from college. Mom had setup my evening snack ready on the table. I saw the plate and had no clue what the dish was. The hunger pangs were so bad that I could not wait to ask mom about the dish. Tore a piece, it was not easy like dosa and I popped it quickly in my mouth. The first bite in and it was delicious. It had a interesting texture and taste. The bite was bit hard, very tasty and I could not stop eating it. After I swallowed a few pieces, my hunger pangs soothed. That's when I decided to ask mom. I walked to the kitchen with the plate. As usual mom was busy with day to day routine work, preparing our dinner. With mouthful and trying to work on biting the piece, I asked my mom (yes I know that was bad manners to talk with mouthful. But I was curious. Don't judge me now, that was more than 10 years back ;)) "What is this?". She looked at my plate and answered quickly indicating she had loads of work, "oh that!. Mrs. K gave it. It's "akki rotti"". That's my Akki Rotti story and the first bite I had.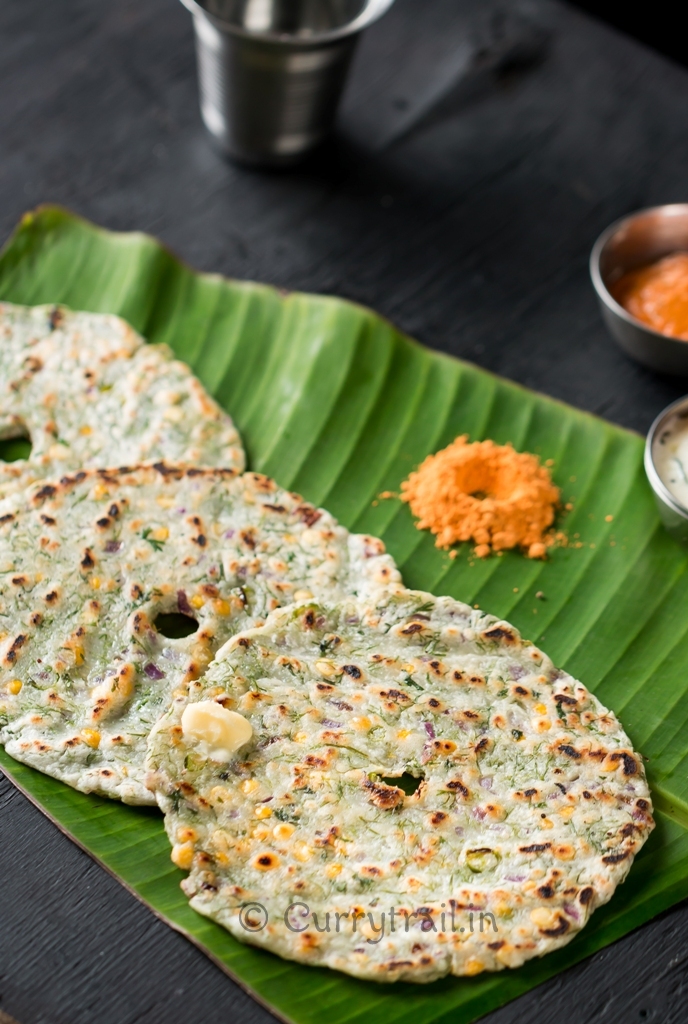 Akki rotti is a specialty of Karnataka. It a popular breakfast dish that is made of rice flour and varieties of vegetables and different types of spinach. Usually in many house hold dill leaves is the first preference in making akki rotti. Masala akki rotti is other thing that people make, which is second popular combination. During the winters when averekalu/flat beans is in season, the tender baby flat beans are used in making akki rotti along with other grated vegetables like carrots, cabbage. This rotti is pretty versatile for it is very mild tasting with a hint of sweetness of cooked rice and goes well will pretty much everything. Usually in Karnataka, akki rotti is paired with assorted chutneys, chutney powder, averakai Usli, ennegai(brinjal in coconut based curry), kumbalakai playa. A dollop of butter or ghee on the rotti is a traditional way of serving it. Akki rotti is also very similar to Thalipeeth made in Maharashtra.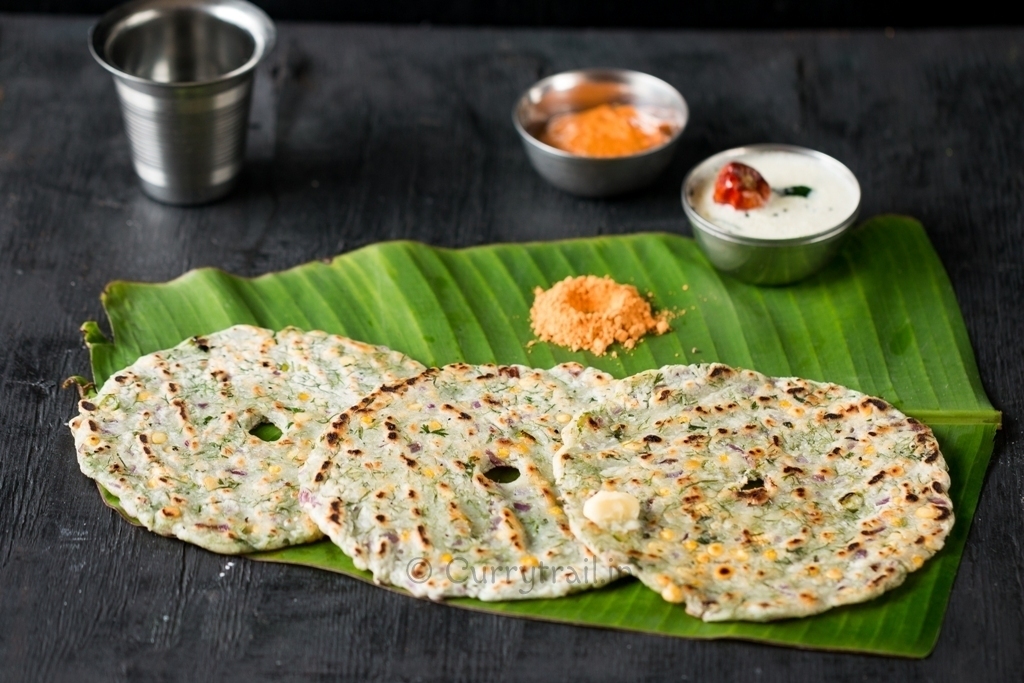 One major issue with akki rotti is that it turns hard quite fast and it cannot be stored after we cook it. To avoid that you can add some cream while making the dough. This prevents the rotti from turning hard and dry like cardboard. I used cream in the dough and the rotti's were soft for longer time.
Ingredients
1 cup rice flour
2 ½ tablespoon soaked channa dal
½ cup dill leaves
3 tablespoons coriander leaves
2 tablespoon fresh cream
1 onion
4 green chilies
Salt to taste
Warm water as required
Oil for cooking the rotti
Instructions
Clean, wash and finely chop onions, green chilies, coriander leaves, dill leaves.
Into a bowl add rice flour, soaked channa dal, salt, all the chopped veggies, fresh cream. Mix well. Add warm water little at a time and mix until you get smooth, non-sticky dough. The dough consistency is very important. It should be smooth. If the dough is hard, rotti's will turn hard.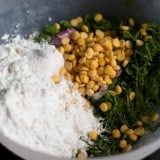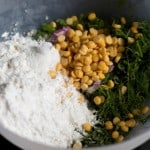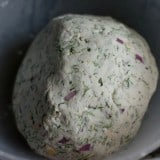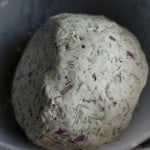 Heat a non stick tawa. Grease your palm and a parchment paper (or butter paper) with oil. Pinch a big ball of dough and flatten it on the paper. Make a hole at the center of the flattened rotti to ensure even cooking throughout.
Lift the paper supporting the rotti at the bottom and place it on hot tawa. Carefully supporting the rotti remove the paper. Cook on both sides until it turns golden brown. Add few drops of oil as you turn the rotti. Once cooked on both sides, remove from tawa. Repeat with rest of the dough.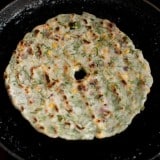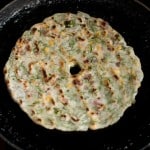 Serve akki rotti hot with chutney powder, coconut chutney, spicy tomato chutney or any curry of your choice.