A 4 ingredients recipe that needs 4 simple steps to make a delicious and healthy dessert!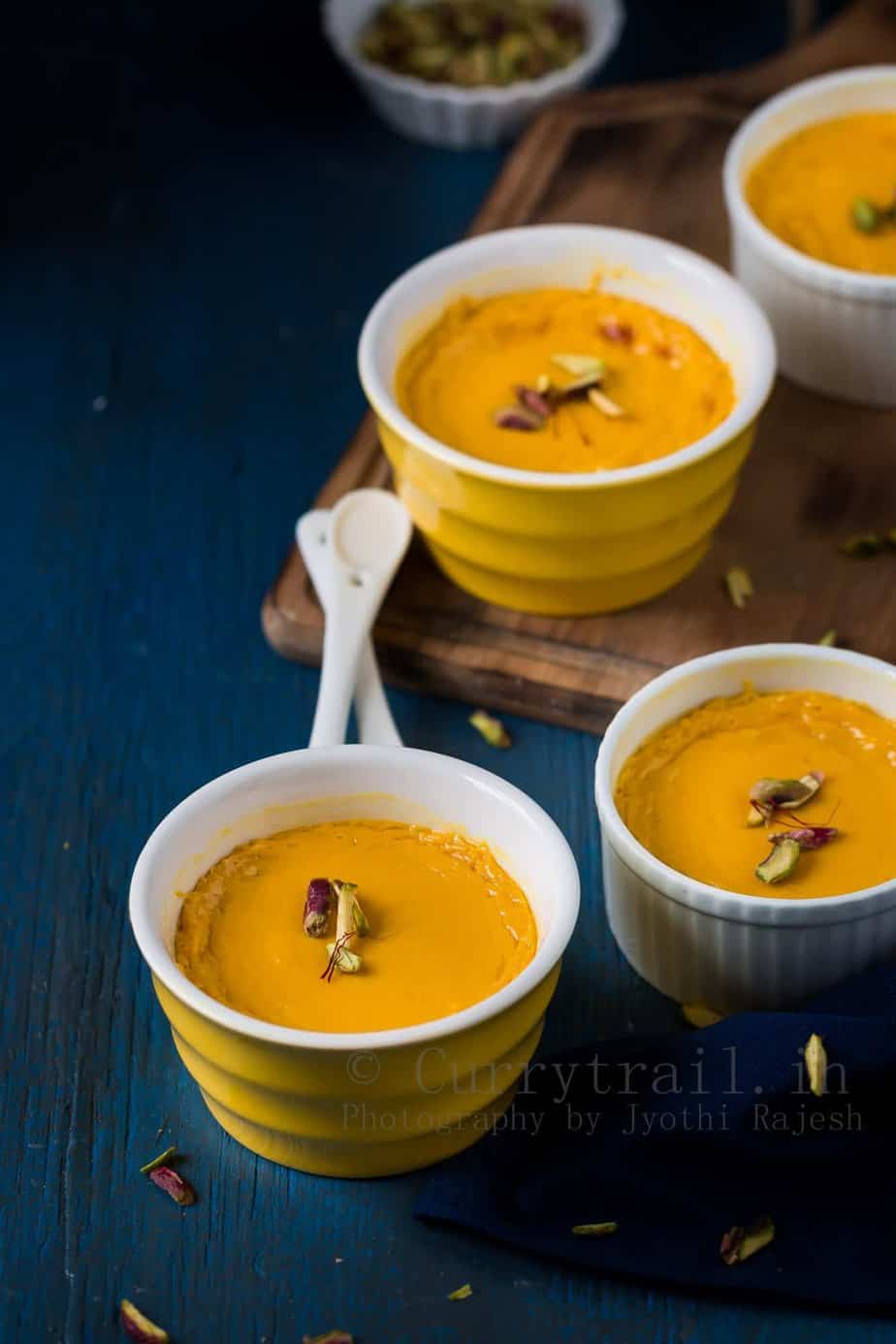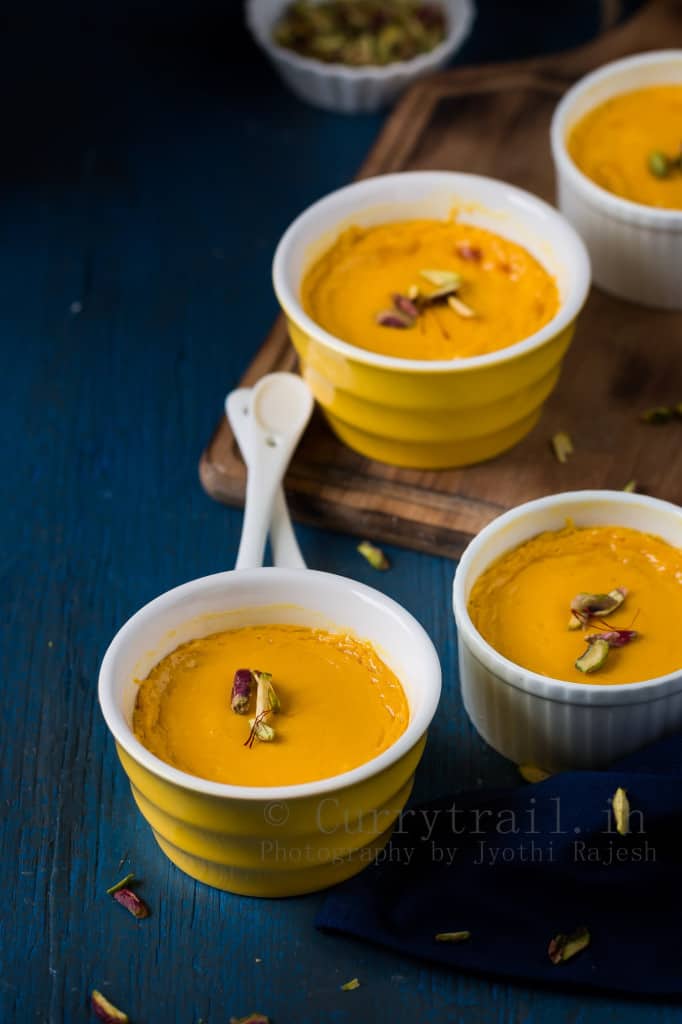 Now that summer is officially near to end, and we are bringing our umbrellas and raincoats to welcome monsoon. Though some part of the world is craving for long-hot summer days, we on the other hand are feeling better about summer getting over. Bengaluru did have the hottest days and the mercury soar as high as it could keeping us all wet and exhausted all day long. No amount of fan or air cooler could cool us off and we were literally getting roasted, even inside our homes. And the ridiculous number of blackouts caused a lot of outrage among people. It almost felt like life came to a halt.
Well, I'm glad we survived this summer yet again, cribbing a lot about heat, blaming as much as we could about the government not able to handle and fulfill the needs of the city. We will continue this saga yet again next year, and the year after that, and the year later too. One thing that is going to remain and get worse is out climatic conditions and all we would do is blaming it on deforestation, global warming and point fingers on as many we would. That's the sad truth.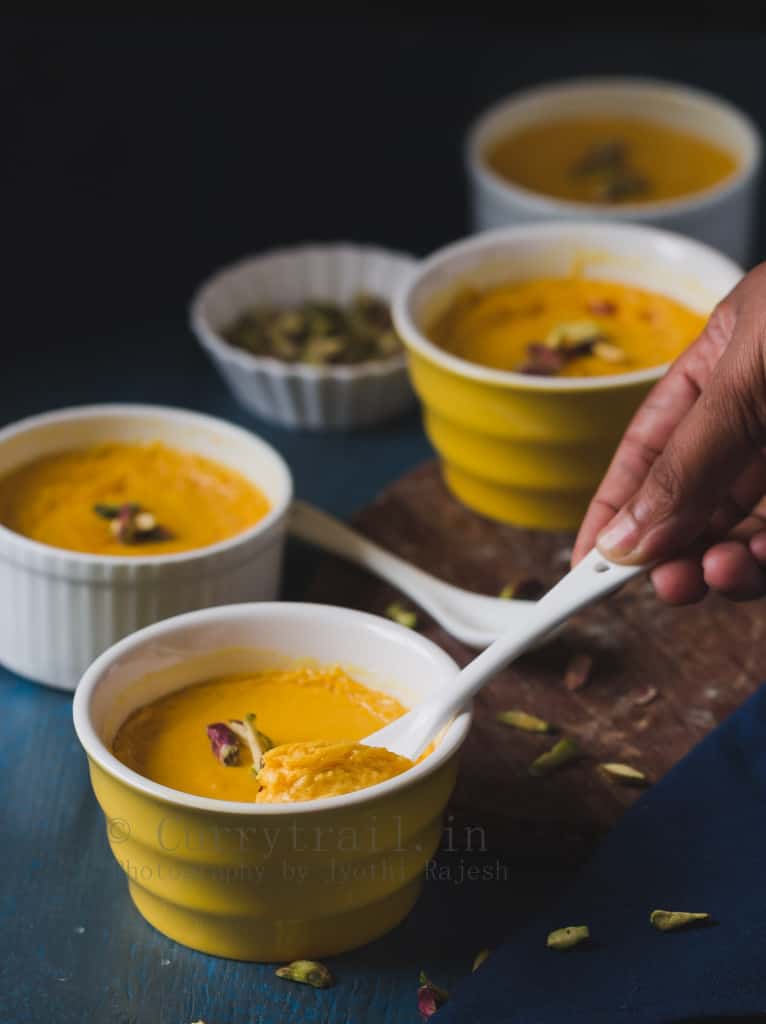 Amidst all these chaos and frustration, there is one thing that cheers me up. Mangoes! Yes the king of fruit is still here (though summer is almost gone) and I have not let a single day go by without eating mangoes. That reminds me that I might be on a high pimple alert. But hey pimples come and go, mangoes don't! They come once a year and I'm not missing out on them no matter what! 😀
While mangoes are D-E-L-I-C-I-O-U-S to eat it as it is, your big stock of mangoes on your dining table always calls out for ideas to use them, differently! I have posted a lot of mango recipes since last year. This time I decided to go with a simplest 4 ingredient aam doi or baked mango yogurt. In just 4 simple steps, this delicious baked mango yogyrt (aam doi) is ready.
Ingredients
1 large ripe mango puree
1 cup evaporated milk
½ cup condensed milk
1 cup hung curd
For garnish
Few pistachios
Few saffron strands
Method
Pre heat the oven to 180 degree centigrade.
In a bowl, whisk together ripe and sweet mango puree, evaporated milk, condensed milk and hung curd. Whisk well.
Pour the mix into individual ramekins or a large baking dish. Pour boiling water into a baking tray such that it covers half way with water. Place the ramekins carefully in the hot water bath. Bake in pre heated oven for about 25 to 30 minutes or until the yogurt mix is sets.
Remove from oven and let it cool off a bit. Then place the baked mango yogurt inside fridge to cool. Serve chilled.